News
This stat does not bode well for Tiger Woods' chances at the Masters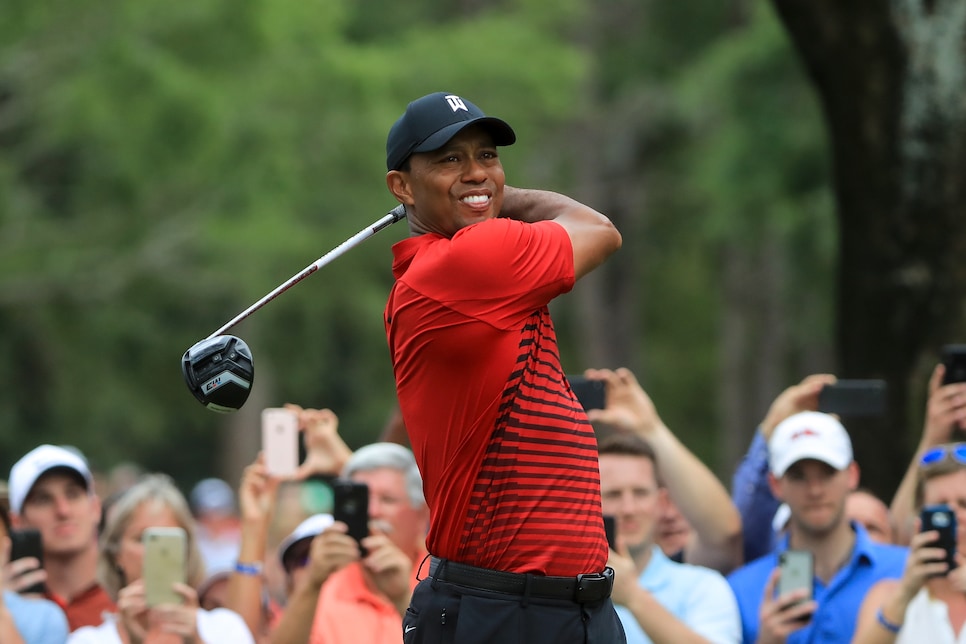 Tiger Woods gave us the moment we have long sought at the Valspar Championship, and his performance has made the wildest fantasy—winning the Masters for a fifth time—seem real. A wish fulfillment the wise men in the desert have acknowledged, making Woods one of the tournament favorites. And it's not just his weekend play that has lit this flame. The 42-year-old has shown progress throughout his comeback, and now heads to Bay Hill, a place where Woods has de facto jurisdiction thanks to eight career wins. As crazy as the premise is, Tiger should be one of the front-runners heading into Augusta National, right?
Not if one particular stat has anything to say about it.
It's no secret that Tiger has struggled off the tee in his latest comeback, ranking 104th (.044) in strokes gained/off-the-tee and 199th (48.96 percent) in driving accuracy. However, these numbers have been mostly dismissed because:
-- Tiger Woods damn near won an event.
-- He's still becoming comfortable with what his body can and can't do.
-- The belief that you can knock it all over the ball yard at Augusta National and not be penalized.
While there are varying degrees of merit to the first three points, the fourth is misinformed.
Yes, there's a little more latitude in driving accuracy at the Masters thanks to Augusta National's wide, rolling carpets, its (relative) open confines and lack of penal rough. That wild drivers like Seve Ballesteros, Phil Mickelson and, yes, Tiger, have enjoyed sustained success at the tournament augments this notion.
A look at the stats, however, shows stout driving is required if you want to slip into the green jacket.
We reviewed the Stokes Gained: Off-the-Tee pre-Augusta output from the last nine Masters winners. The takeaway? Recent history is not on Tiger's side.
2017: Sergio Garcia—1.254 (2nd)
2016: Danny Willett—.429*
2015: Jordan Spieth—.522 (12th)
2014: Bubba Watson—1.167 (3rd)
2013: Adam Scott—.877 (2nd)
2012: Bubba Watson—1.417 (1st)
2011: Charl Schwartzel—.457 (24th)
2010: Phil Mickelson—.136 (68th)
2009: Angel Cabrera—.557 (17th)
The reason for Willett's asterisk? Simple: He hadn't logged enough PGA Tour starts to qualify. It's worth noting, however, that Willett had five top fives—including a Euro Tour victory and two T-3s at WGC events—in 10 outings before his Masters breakthrough, so it's safe to assume he wasn't laboring in this area.
Though the data paints an ominous forecast for Woods, there is hope. Following shaky displays in his first three appearances, Tiger showed improvement at the Copperhead course, ranking 14th for the week in SG: OTT and 16th in fairway accuracy. He also remains in the nascent stage of his comeback, recording just 14 rounds this campaign. Four strong days at Bay Hill can do wonders for the average.
Moreover, there have been instances where a player has hit pay dirt at ANGC despite driving inadequacies, particularly Trevor Immelman (2008, .092 SG:OTT) and Zach Johnson (2007, .107 mark). Although even this comes with a caveat, as Johnson ranked sixth in accuracy, an attribute that propelled him to his Masters win (80.36 fairways hit) during the toughest scoring conditions in tournament history. For what it's worth, Tiger owned a .894 SG: OTT figure in his last Masters triumph in 2005.
This may strike some as absurd, especially as Augusta National has the reputation as a second-shot venue. But a player can't pull off the brilliant approach if their drives are in less-than-advantageous positions.
Of course, Tiger's already overcome numerous obstacles to get to this point. Compared to that, what's one little statistical hurdle?