The Loop
This crazy last-lap battle is being called one of the greatest finishes in NASCAR history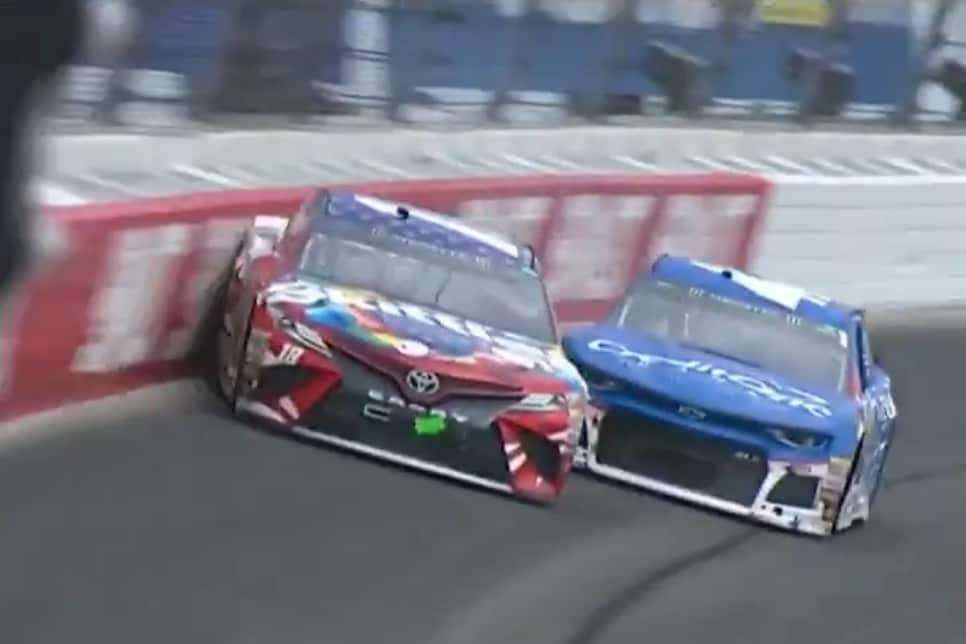 Here at The Loop, NASCAR probably doesn't get the R.E.S.P.E.C.T that is deserves. It's just hard to digest 400 miles of zoom zoom when LeBron is blowing up the NBA, there's a pair of ridiculous penalty paloozas going down in Russia, and Tiger has the putter working. While we were distracted by the other Sunday happenings in Sportstopia, however, the highlight of the day was going down at Chicagoland Speedway on the final lap of the Overton's 400. If you don't believe us, seriously just watch this:
What you see here is Monster Energy Cup leader Kyle Larson and longtime M&M car guy Kyle Busch doing their best impression of Cole Trickle and Rowdy Burns, only on a sanctioned speedway in 800 hp stock cars, not a public beach in rented Ford Tauruses. Larson puts Busch into the wall, Busch tries to spin Larson, there's lapped traffic everywhere, and in the end, when the smoke finally settles, Busch somehow, after getting into the wall TWICE in the final three turns, walks away with win. Was it dirty, with both drivers more interested in the other NOT winning as they were winning themselves? Sure, but rubbin' is racin', according to the second Days of Thunder reference in this paragraph.
It's also probably worth pointing out Dale Earnhardt Jr.—calling his first race in the booth for NBC—giggling like a kid in a candy shop as the sheet-metal warfare unfolds below him. Given the way these things always seem to go, we shouldn't be surprised that the NASCAR cosmos dropped the best finish in the last couple of seasons in his lap, but it's still cool to see a good thing come together like that.