finally
Believe it or not, this 38-year-old former amateur golf bad boy just won his first Korn Ferry Tour title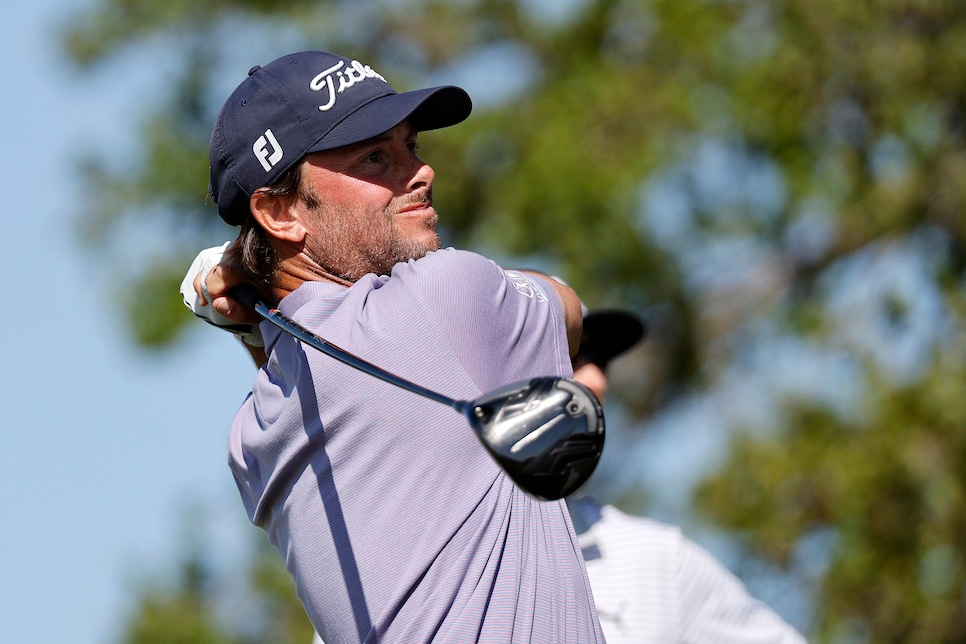 Spencer Levin hits his tee shot on the 18th hole during the final round of the Veritex Bank Championship at Texas Rangers Golf Club. He made birdie to overcome a six-shot deficit and win his first Korn Ferry Tour title.
Mike Mulholland
Spencer Levin has been a golf content generator for nearly two decades. It's just rarely been because of how well he's played.
That changed Sunday in Texas when the former amateur wild child shot a final-round 63 to erase a six-shot deficit and win the Korn Ferry Tour's Veritex Bank Championship at Texas Rangers Golf Club in Arlington. It's the first PGA Tour-affiliated victory for Levin and his first anywhere since the Spring International on the Canadian Tour 15 years ago.
Levin, 38, bogeyed the last hole of Korn Ferry Tour Q-School Finals last fall to keep from retaining full status on the tour in 2023. He secured his place in this week's field via Monday qualifying, then, six days later, he had claimed the biggest victory of his career after shooting 66-68-67-63 for a 20-under total to top Brett Drewitt by a shot.
"Once I got in, I knew I was going to play well this week," Levin said. "I didn't know I was going to win, but I knew I was going to play well. I've been hitting it great all week, and today was no different."
Drewitt got off to a slow start and was two over after 10 holes, which allowed Levin to remain in contention. The journeyman made six birdies in the first 11 holes, then made two more at Nos. 15 and 18 to take advantage of the situation.
Since turning pro in 2005, Levin won three times on the Canadian Tour (which was not connected with the PGA Tour at the time), lost in a playoff to Johnson Wagner in the 2011 Mayakoba Golf Classic on the PGA Tour and lost in a playoff to Kevin Tway in the 2013 Albertsons Boise Open on the then Web.com Tour.
"I think every pro golfer will tell you that regardless if they haven't done it, if they have a little bit of belief in them, they always kind of picture the day happening. And I've been picturing a day like this for a long time," Levin said. "It's nice that it finally happened."
Levin, a California native, was a hot-shot amateur back in the early 2000s, making an initial mark by reaching the quarterfinals of the 2002 U.S. Amateur while still in high school. He started his college golf career at UCLA but later transferred to the University of New Mexico. He was different, often rubbing people the wrong way because his antics were not necessarily seen as being traditional in golf circles. He wore a popped collar at all costs, he walked with an indescribable swagger and he chain-smoked cigarettes with the greatest of ease.
His biggest amateur achievements were winning the Azalea Invitational in 2003 and then a year later he captured the prestigious Porter Cup and Scratch Players Amateur, which helped him land on the 2005 U.S. Palmer Cup team. He also qualified for the 2004 U.S. Open at Shinnecock Hills and tied for 13th place to earn a trip back the next year at Pinehurst. The highlight of that week for Levin came during the first round when he aced the par-3 179-yard 17th hole.
There have been plenty of other head-turning moments from Levin over the years. At the 2016 U.S. Open at Oakmont he was caught on camera unleashing an epic club-slamming tantrum. Several years ago he was frustrated while walking off the green at a PGA Tour event that he took his hat off and drop kicked it with the type of form that would make an NFL punter proud.
None of the aforementioned escapades matter now. Levin is a winner on the Korn Ferry Tour, his status is safe for the remainder of the year and all of those years of grinding appeared to pay off Sunday in Texas, a state where he says he won a junior tournament, a college tournament and has always played some of his best golf as a professional.
"There's been so many ups and downs, I don't know, man," Levin said. "I really don't know. I think it was just a matter of just if you keep playing and you keep working at it and you keep having tournaments to play in, something good's going to happen and today's proof of that."