The Loop
There's a life-size chocolate statue of Marc-Andre Fleury in Vegas now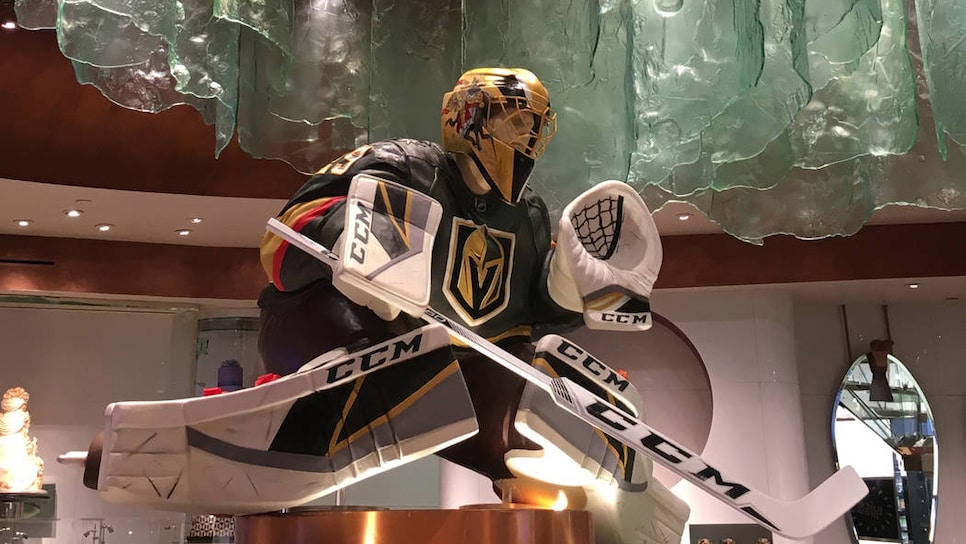 Las Vegas has hockey fever. Following the single best expansion season in American sports history, Sin City is gearing up for the Golden Knights' first-ever playoff appearance and, in typical Vegas fashion, it's gotten a little out control. For example, there's currently a five-foot-tall, 120-pound chocolate sculpture of Knights' tender Marc-Andre Fleury greeting guests in the lobby of the iconic Bellagio Resort & Casino. No, we're not making this up:
The passion project of Bellagio Patisserie executive pastry chefs Yamilet Hillers and Jerome Jacob, this ridiculously excessive, ostentatious, totally Vegas tribute is crafted from a mixture of milk, dark, and white chocolate carefully laid over a skeleton of styrofoam, wire, and Rice Krispie treats (yes, really). It isn't meant to be eaten, though surely more than a few drunk bachelor parties have tried.
Meanwhile, if this is making your mouth water for some good ol' fashioned playoff hockey, the Golden Knights—America's bandwagon team, in case you're looking for one—begin their postseason push Wednesday at 10pm against the LA Kings. Loser goes home without dessert.