News
There's a much smaller, but still enthusiastic volunteer force at Colonial this week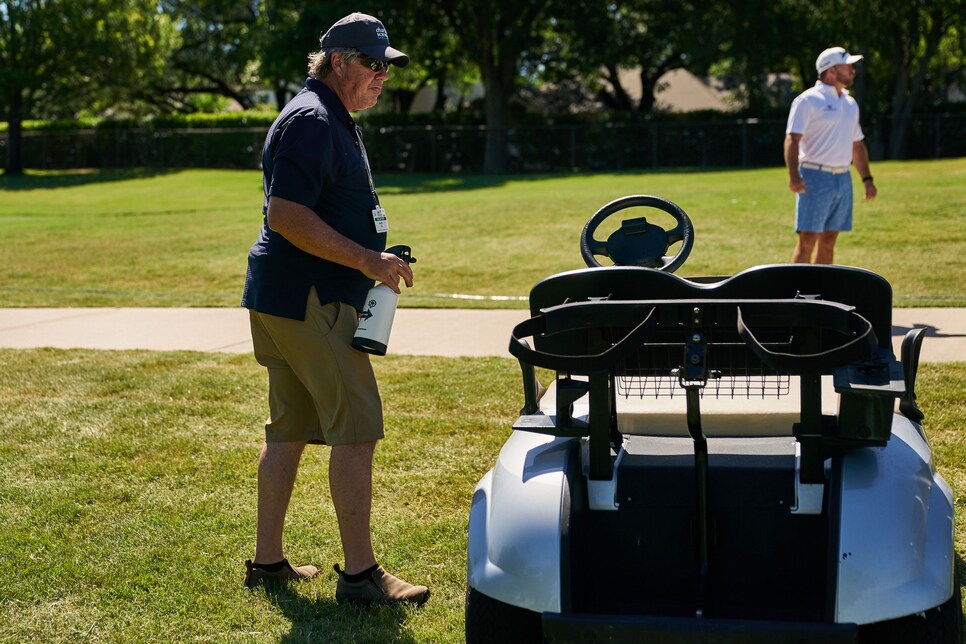 Volunteers at Colonial this week have plenty of sanitizing supplies. (Darren Carroll)
Darren Carroll
FORT WORTH — More than 900 volunteers originally were scheduled to work this week at Colonial Country Club. They couldn't wait to put on their new uniform shirts, reunite with old friends and do their parts, whether it be making sure practice balls were washed, players got safely to the first tee, corporate hospitality was satisfied or anything else needed to assure the Charles Schwab Challenge ran as smoothly as possible.
Yet this week, only 300 or so will be on hand at Colonial. The rest were thanked kindly for offering their service but told they weren't needed with the tournament being reduced in scope and scale due to the coronavirus pandemic.
When the PGA Tour elected to stage the event without fans in its return after a three-month break from competition, officials had to reduce the number of volunteers needed and re-organize those who remained. Some volunteer committees were eliminated entirely. Others were repurposed in ways their members never imagined.
Take, for example, Mike Ball and Steve Gray. Ball used to announce the players on the first tee, one of his many assignments in his 36 years as a volunteer. He will do no announcing Thursday through Sunday. There's no one around to announce to for.
"We've got no fans," Ball said.
Gray was the chairman of the pro-am committee for 15 years. He loved watching the reactions of the amateurs when they heard which pro they were paired with for the Monday or Wednesday events. But there were no pro-ams this year, so no such announcements were made.
Ball and Gray found other work, though. On Wednesday, they were sitting behind a black-draped table in the shade of a white tent, right in view of the practice putting green, waiting to see if a cart needed to be sanitized or if someone needed a pair of blue protective gloves. Their job didn't even exist at last year's event—or any time since the first Colonial back in 1946.
"And it probably won't again," Gray said.
Like many longtime volunteers, Ball and Gray joined the new safety committee, the "Dream Clean Team," as they call it. They said they felt fortunate; many of their fellow volunteers are at home. There are no concierge volunteers. No standard bearers. No marshals on the par-3 holes. (There is one marshal on each of the 10 par 4s, and two on the two par 5s. That's it.)
Rob Hood, the tournament chairman, said it was hard but necessary to turn away his volunteers, some of whom take their vacation to work during Colonial week. Beyond simply the fact there were fewer things to do, the reduction in volunteers also meant fewer people on the property at risk of getting sick—or getting someone else sick.
"We're all disappointed," Hood said he told them.
To those who did get an assignment, Hood said: "This is a tournament that's never been done before. We have the volunteer power to pull it off."
One of the oldest tournaments on the PGA Tour and with a core of volunteers who've been working the event for decades, Colonial was a good fit for the return of the tour, Hood and his volunteers say. People here know their jobs. They've been doing them for a long time.
"I think it was one of the greatest compliments," said tournament committee member Susan Nix, "that they entrusted us to be first."
Some wondered if it was safe this year. Ball, for example, is 67. Gray is 72. They fall well within the at-risk group for getting COVID-19.
They said they thought a lot about that but ultimately decided they could accept that risk.
"It wasn't an obligation," Gray said. "For me, it would've been an empty feeling, not being here."
Ismael Ortiz, 51, discussed it with his wife. "You know right from wrong," she told Ortiz, also on the safety committee. "I trust you."
Small but mighty, the volunteer corps now prepares for the first day of a golf tournament like no other. Each group of players will have a walking scorer and volunteers who manage the ShotLink scoring and statistics platform. The safety committee has its many tubs of wipes, vessels the size of mop buckets. They'll clean anything that's touched.
"This is such a big event for Fort Worth," said Christine Klote.
Klote, it should be noted, is a volunteer for the first time this year (safety committee, for the record). A member of the board of governors at Colonial, she easily could've withdrawn and not taken the chance. But she didn't.
"I think it was just important to jump in," she said.