Paul Azinger doesn't look it, but he's beat. It's a rare condition for the still-lean 56-year-old, but he has been up since dawn, spending most of the day fishing alone for snook and redfish in Tampa Bay, then taking his customized World War II replica motorcycle through its paces, crisscrossing the shimmering towers of the Sunshine Skyway Bridge.
It's the end of dinner with Toni, his wife of 34 years, and a guest at Pier 22, a quick boat trip from Azinger's waterfront home in Bradenton. Spread before him are the remnants of a giant platter of sushi, including the Zinger Roll, which also works as a term for one of the namesake's verbal runs. After a yawn, he embarks on another.
"You know, for the first time I can feel myself getting old," Azinger says. Despite his boyishness, this mild lament is a reminder that he has been a cancer survivor for 22 years. "When I run now, it's stiff, not athletic. If someone tosses something to me kind of low, I'm not even going for it. On the fifth tee at the Concession Club there's a bowl of apples, and if one's a little soft after the first bite, I used to show off by throwing it all the way over a pond. Now when I throw it, it splashes. I'm a retired person. Heck, I'm a grandfather."
But Azinger has always taken much of his energy from his interaction with other people — entertaining them with a story, empathizing, sharing an enthusiasm. His connection with his audience is why his laugh/cry eulogy for his friend Payne Stewart qualifies in golf history as a moment.
He has given our waitress, whose father is a Maryland crabber, a detailed tutorial on how to use the crustacean to catch tarpon. After polishing off a dessert of cobbler with ice cream and rising in an emphatic, evening-ending stretch, Azinger is momentarily exasperated to see two smiling men coming toward him. One is the restaurant owner, Hugh Miller, the other Bill Carollo, a former NFL referee now the director of officiating for the Big Ten.
If Azinger had a quick hi/goodbye in mind, he fails miserably, because within a minute he's engaged, helpless against his nature. With Miller, he talks about boats and how to refine the Zinger Roll, and he asks Carollo about pro football trash-talking. This spurs a 10-minute story from Azinger about playing in a pro-am with retired players Emmitt Smith, Marcus Allen and Vencie Glenn. Azinger does all three voices in various uncensored scenarios, a veritable Richard Pryor routine. Half an hour later, everyone exits laughing.
The man is a connector­—smart, interesting, often hilarious. "His ERQ [Emotional Relationship Quotient] is off the charts," says Dr. Ron Braund, a clinical therapist and corporate team-building consultant who co-authored Azinger's book about captaining the winning 2008 U.S. Ryder Cup team, Cracking the Code. "He is exceptional at reading people and situations and just making anyone he comes in contact with feel special. When I'm in Paul's world, there's hardly a time when I'm not thinking, Wow, this is fun."
It's why the winner of the 1993 PGA Championship and 12 PGA Tour events was so popular with peers on and off the course, why his U.S. team at Valhalla had chemistry, and why he has emerged as a star in the television booth, first at ABC, then ESPN and the BBC, and now in his first U.S. Open as lead analyst for Fox. His appeal is as a big kid—and an old head.
It says a lot about Azinger's charm that he wears well, because he's an obsessive with a hyperactive mind. All his life, once he locks in on things that interest him, he's immersed in the deepest of dives, always emerging as something far closer to expert than dilettante.
Take motorcycles. He has seven in his garage but has owned about three dozen, most of them in the past 10 years. Azinger used to find desolate back roads in Florida's interior to go fast, though he says that he has received only one moving violation on his motorcycles. When the BMW International Open, which Azinger won twice, asked him to attend a media day for its 25th-anniversary tournament, he requested and received as his fee the company's best touring motorcycle, along with two days on its test track for instruction from a professional driver.
Azinger decelerated in 2010—ostensibly his rookie year on the PGA Tour Champions—after a driver made a left turn in front of him on a Bradenton street. (The driver was cited for failing to yield.) He was forced to lay the bike down, breaking his left foot and three ribs. After recovering, he broke another rib the next year when he fell off his dirt bike in a remote area of phosphate pits in central Florida. He didn't tell Toni about it, making up excuses for several weeks about why he winced whenever she hugged him. And in 2013, he tore up his left shoulder in another street accident when a young driver decided to stop in front of him.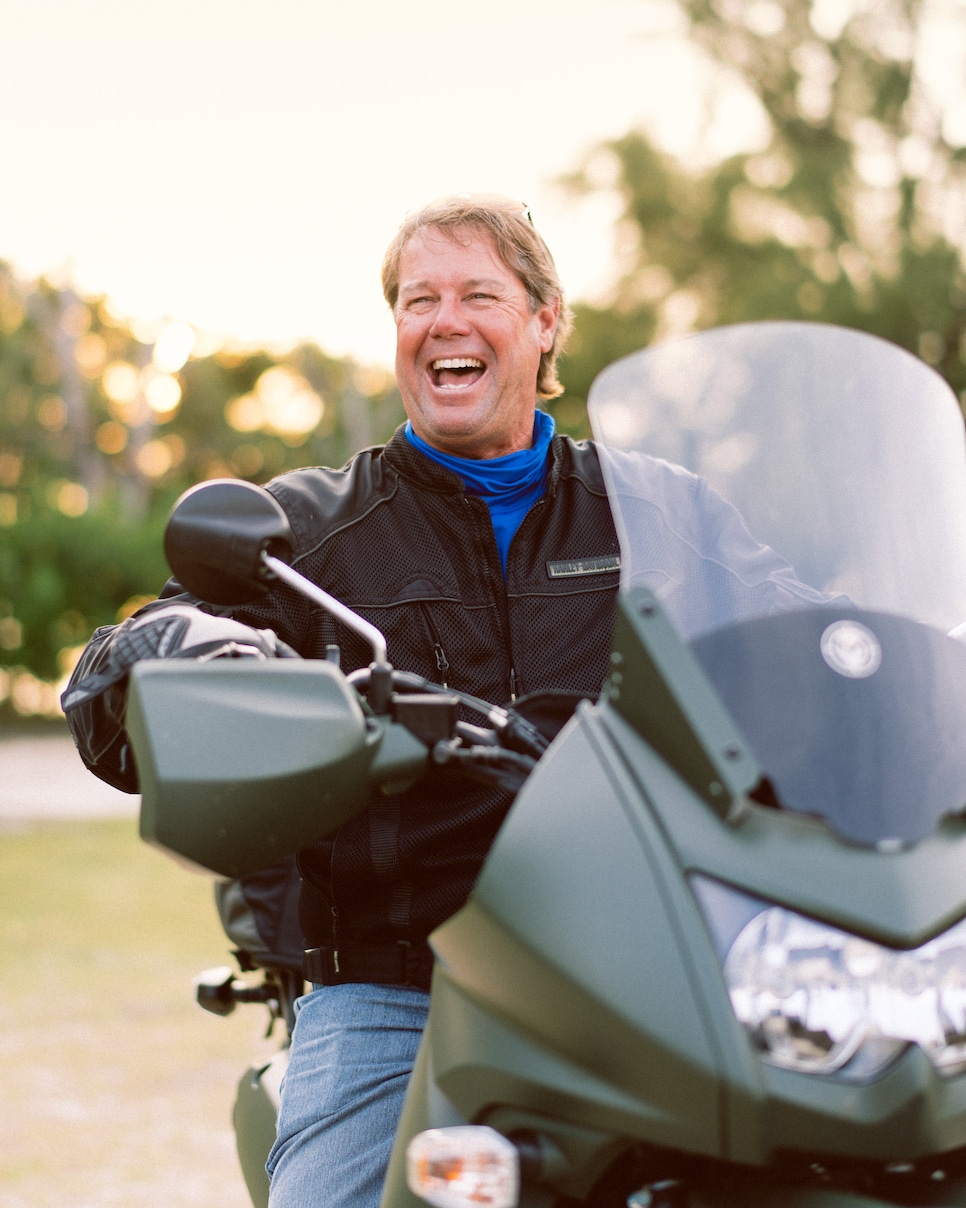 Now he takes longer, slower trips all over his home state and up and down the Eastern seaboard, his cellphone wired into his helmet. He maintains a goal of completing the Trans-America Trail, a grueling, nearly 5,000-mile, mostly off-road trek stretching from North Carolina to Oregon.
Fishing, Foosball and Poker
Azinger is even more avid as a fisherman. He grew up on the water. His late father, Ralph, owned a small marina in Sarasota, and Azinger has a dock behind his house with two boats, a big one and a little one. He unabashedly brags about his prowess, though he concedes that among all golfers, Andy Bean and Phil Blackmar are better. On his dock, Azinger suddenly interrupts a pantomime of various fancy casts and tales of bounteous catches to point out a distant but quivering dark spot on the water and says, "Watch this, bro." In a few seconds, several mullet fly out of the sea in unison. "Isn't that awesome?" he says with wonder.
Azinger also retains passionate but tenuous ties to foosball and poker. A recreational player of the former as a kid, Azinger hungered to get better and was mentored by his former caddie, Ted Scott (now Bubba Watson's longtime man), who was a world-champion doubles player in the tabletop sport in the early 2000s. Azinger's description of a sojourn to an underground tournament outside Louisville on the Saturday before the 2008 Ryder Cup, which he described as "a crack house for foosball players" devoid of "a stick of furniture" and "like 'Silence of the Lambs', walking into that basement," might be the most artfully embellished—and incongruous—first-person adventure ever told at a golf press conference.
Azinger loves cards—his mother, Jean, who passed away at 86 in March, was a tournament-level bridge player—and began playing Texas Hold 'em in card clubs. Although he says he never got in a game where the buy-in was more than a few hundred dollars, Azinger played in the televised World Series of Poker in 2006 and 2008 while backed by a sponsor. "If you pay attention, you can see tendencies and mannerisms in players and pick up tells," he says. "But no matter how good you are, there's still luck that you can't control. And I had a problem with players who try to provoke you with punk behavior. Those guys knew I couldn't come back at them, especially on TV, because I'll be the one who looks bad. So I've eased back on poker."
His pastimes illustrate two of the main Azinger traits. One is attention to detail. Says Blackmar, who has known Azinger since their mini-tour days in the early 1980s: "We get each other because we're both borderline OCD, but Paul turns his into stories. He just notices so much about people and the things he's learning, and his enthusiasm and sense of humor make him magnetic."
The other is competitiveness. "Paul just wanted it more than any player I've ever worked with," says Dr. Jim Suttie, Azinger's former coach at Brevard Community College in 1979. Suttie's work in shortening Azinger's swing helped turn him from a raw player who couldn't break 80 two days in a row to a winner on the PGA Tour by 1987. Consider Azinger's run-in with a man in his neighborhood a few years ago. "I was on my bike at night with my brights on, and this guy in a pickup took offense and drove real fast right at me, then got out of his car, started cussing me out in this drunk voice. And then he pulled into his driveway. I had to get even, and now I'd seen where he lived, so for more than a year, every time I drove past his house I would throw a water bottle on his driveway. He had to notice, but I never got caught. I don't know, it made me feel better."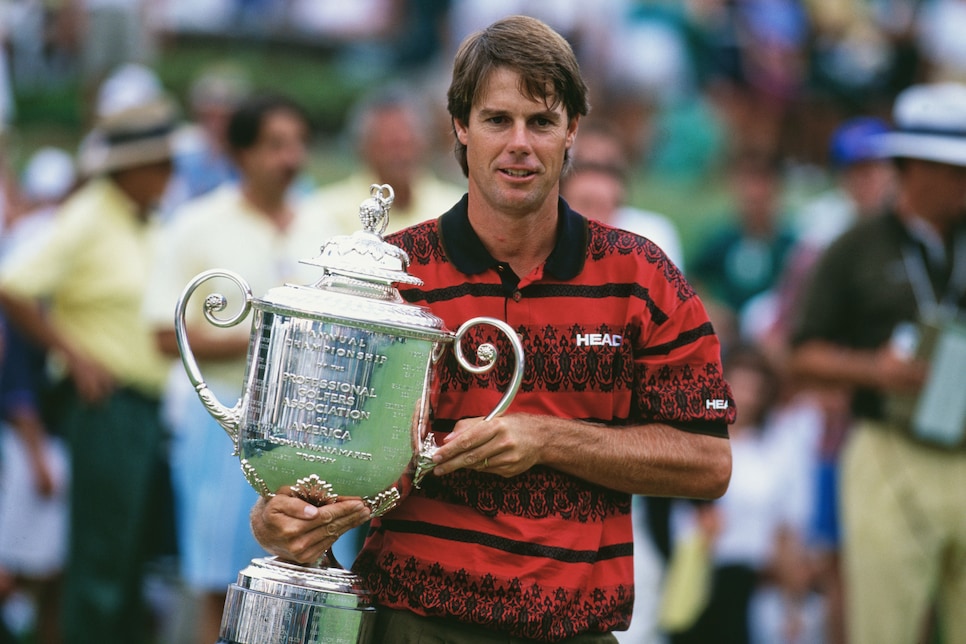 Paul Azinger holds the Wannamaker Trophy after his lone major win at the 1993 PGA Championship.
David Cannon
Admittedly, Azinger's pastimes are substitutes for his most intense obsession: 35 years of tournament golf as a professional. But Azinger's enthusiasm for posting a score began to wane when his game went into decline in the early 2000s. He stopped playing the regular tour full-time after 2006, transitioning more to television. The only times he has played in 50-and-over golf was in 2010, when he entered four tournaments and had a best finish of T-21.
He still practices at several courses in the Bradenton/Sarasota area, and he doesn't rule out a return to competition. But at the moment, Azinger is more fulfilled by working with young players like LPGA star Jessica Korda, mini-tour player Sean Jacklin (son of Tony), and Parker McLachlin, who after time with several teachers is trying to make his way back to the PGA Tour at 36 by allowing Azinger to guide him back to his natural swing.
"Paul embraces the uniqueness of individuals," says McLachlin, who first met Azinger at age 13. "He had a homemade swing, which forced him to figure out what would work under the gun and what didn't. It's like he took mental notes that cataloged all the trials and errors, which he can communicate in this really engaging, simple way. And you never forget that he played at the very highest level. More than most teachers, he knows that a bad shot is way more often a mental breakdown than a swing breakdown. All of that together sets him apart."
In teaching mode, Azinger is fully switched on, telling stories of players he has known, relating his experiences, preaching vivid visualization techniques and demonstrating his all-time arsenal of wedge shots. He also becomes even more playful and youthful. During playing lessons, he likes to set up a shot with tour-tested smack, like "I'm hitting it so good I have to apologize to the sweet spot," or, "This right here is why I don't play by myself. Because what's coming is too good not to share with my friends."
"I love that stuff," he says. "If I hit a terrible shot, it's so funny. But it's also a way to challenge myself to show off, and if I hit a good one, I can strut a little."
Of course, Azinger misses strutting on the big stage, something that in retrospect he was groomed for. His mother was a multiple club champion who once chipped in three times during an exhibition with Patty Berg. "She was an intense competitor," Azinger says of his mom, "and she loved to watch me play."
'I told [Bert Yancey], "I don't know if I can handle it. I get so nervous." He said, "You want to be so nervous you can't spit." '
Ralph Azinger, who passed away at 82 in 2013, was a decorated Air Force combat veteran who served in the Korean and Vietnam wars, and he was a major source of encouragement for his son. "He would always tell me that Arnold Palmer, Jack Nicklaus and Tom Watson were born in a sequence of 10-year gaps, and because I was 10 years younger than Watson, I was part of the continuum. Even when I wasn't much of a player, he got me to believe it. I had this unrealistic confidence." Adds Suttie: "Paul had something even when his scores didn't warrant it. We thought we should encourage him by telling him how good he really was, and he'd just say, 'Yeah, I'm that good.'"
Azinger credits Suttie and the late John Redman with giving him a simple model on which to build a swing, and he never varied from it. "But I took it deep with the mental approach," he says of learning deep-breathing techniques and progressive muscle relaxation with boxing trainer Mac McKee. "Ultimately," he says, "that was my edge."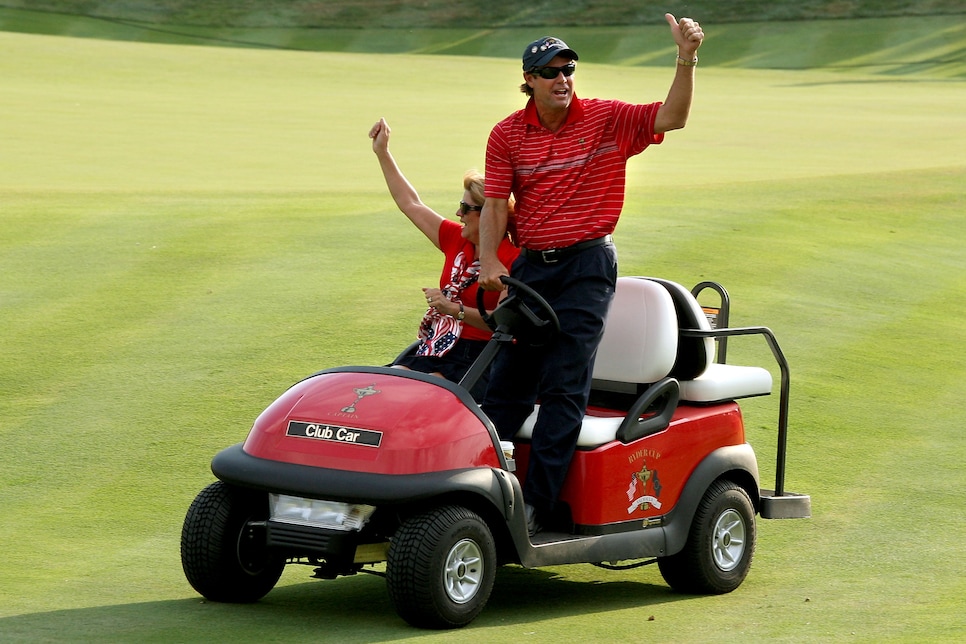 The signature close to his on-course career was when he captained the U.S. Ryder Cup team to victory at Valhalla in 2008.
David Cannon
Older players liked to help him, something that Azinger fondly remembers as he pays it forward. "I took to Zinger because he had moxie, and I believed in him because of how hard he worked," Lee Trevino says. "He played a lot like me, with a strong grip and an open stance, and he faded the ball. We pushed the ball at the target, with very little hand movement at the bottom. It's the type of motion you can groove."
The late Bert Yancey was another mentor. Azinger says, "I told him, 'I don't know if I can handle it. I get so nervous.' He said, 'You want to be so nervous you can't spit.' And that idea that nervousness and pressure can actually make you better if you accept them, it changed me. From then on, I never made a nickel when I wasn't nervous making it. What it comes down to is how you answer the crucial question: Can you swing with certainty when the pressure is highest?"
Azinger couldn't quite control it when he lost the British Open in 1987 to his future broadcast partner at ABC, Nick Faldo. But Azinger became more clutch, evolving into the emotional heart of three consecutive Ryder Cup teams. The Europeans became so conscious of him that Seve Ballesteros called the U.S. team "11 nice guys and Paul Azinger." In singles, Azinger beat Ballesteros in 1989, Jose Maria Olazabal in 1991, and halved with Faldo in 1993.
Only a week later, what had been a persistent pain in his right shoulder was diagnosed as lymphoma, and Azinger underwent an intense regimen of chemotherapy. When he came back to the game in late 1994, he was different.
"I've always been a chip-on-the-shoulder guy when I played," he says, "but cancer kind of chipped away at the chip." He managed to win one more time, by seven shots
at the 2000 Sony Open, three months after Stewart's death. Azinger is proud that he made another Ryder Cup team and another Presidents Cup team, but he never won again. "Bottom line, after cancer, I just didn't want to spend any time doing things that I knew were going to piss me off," he says. "And missing four-footers pisses me off."
Azinger is still working it all out. Fishing boats and motorcycles give him the solitude to think. Toni, who used to ride on the back during some of Paul's motorcycle excursions, still joins him for fishing. "We don't talk out there hardly at all," she says. "That's Paul's time to slow down, which he needs."
It's also where Azinger frames his best stuff for television, coming up with comments like, "Tiger Woods doesn't need a lesson. He needs a conversation." Or questions like, "Does the PGA Tour have a regulation flagstick?" Like Johnny Miller—who in 2004 wrote of Azinger, "I think he has the potential to be a better TV announcer than any other golfer, active or retired"— being a thought leader helps fill the void left by no longer competing.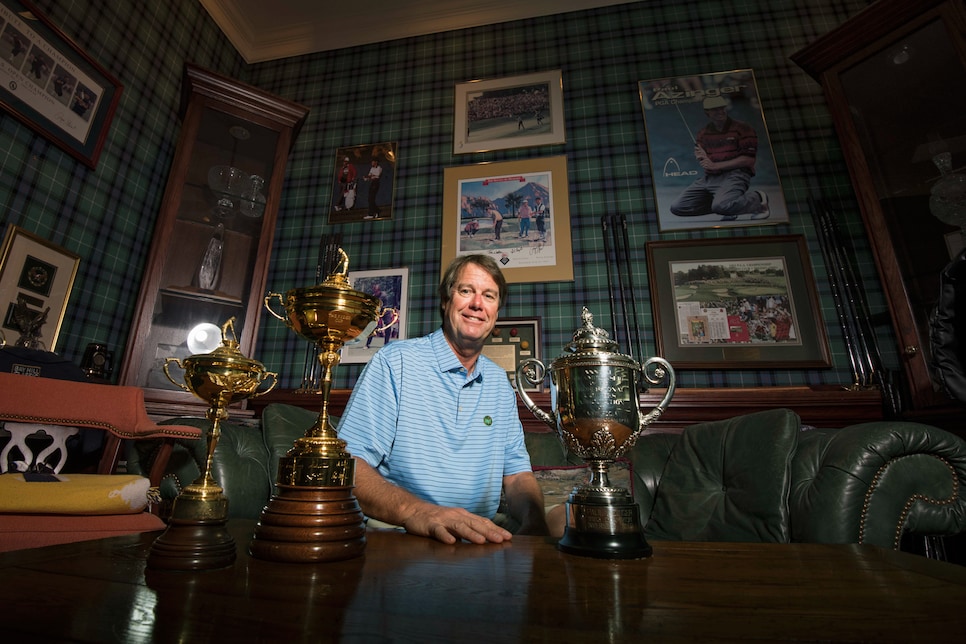 Azinger at home with his memorabilia from an impressive playing career.
Dom Furore
Mark Loomis, the coordinating producer of Fox's golf telecasts, was instrumental in hiring Azinger at ABC in 2006, and after Greg Norman and Fox parted ways early this year, initiated a reunion. "As a player, I noticed how comfortable Paul was in being honest with his answers," Loomis says. "And then I learned that he thinks about everything in golf and loves to talk about it. He's reached the stage where he drives the broadcast, and he's the kind of leader who makes everyone around him better. Paul is a glue guy."
Adds Peter Alliss, the dean of commentators, who became friends with Azinger at ABC and still works with him on the BBC's Masters telecasts: "Well, Paul knows how to hit the ball and play, he knows how to think, he's got an opinion, and he knows how to express it. That's a lot, but he also possesses a charm and a distinct character. He's been through some things, and it gives him perspective."
The "things" Azinger went through will focus a man. "Several times during chemo, I had to sign a waiver that said the drugs I was taking could give me cancer again in the future," he says. "So not that I live with dread, but you know, when it's really humid, I don't mind the sweat on my back, and when it's cold, I don't mind the chill. I'm very appreciative. I just try to pay attention to everything, and have fun."
As Azinger rode over the Skyway Bridge at sunset, he stood up on his foot pegs and looked out at the bay, checking tide lines for clues on where to fish the next day. But his helmet also tilted up for a long look at the towers in the fading light. Clearly, he was paying attention, and having fun.