In His Own Words
Paul Azinger: Inside the Team Room
25 years after winning the PGA and a decade after captaining the U.S. to a Ryder Cup win, Paul Azinger still has something to say.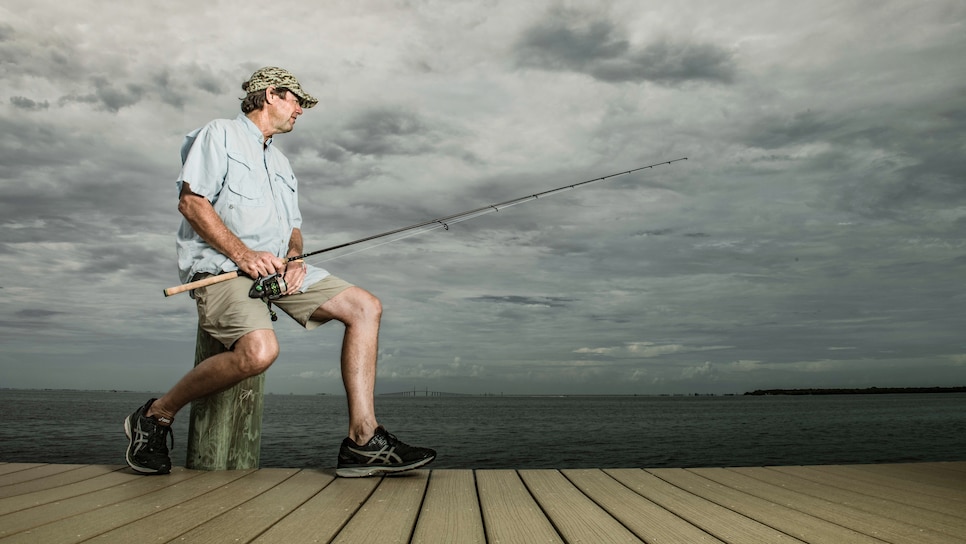 DR. FRANK JOBE CALLS ME ON FRIDAY NIGHT of the 1993 PGA Championship at the Inverness Club. I've just shot 69-66 and am near the lead. My shoulder had been giving me a lot of trouble, and I'd had the bone scanned. He tells me he's looked at the scan, and there's a big, black area around my right scapula. He says I should get it biopsied Tuesday after the championship. I know something's wrong because I can't move my right arm behind me to put my scorecard in my pocket. I can swing OK, and I'm playing the best golf of my career.
I'm in contention to win my first major. I say to Dr. Jobe the same thing you'd probably say. "Can it wait until after the Ryder Cup?"
LATER THAT YEAR we had it biopsied after the Skins Game and confirmed it was cancer. That was 25 years ago. Fortunately I won that PGA Championship in a playoff over Greg Norman. The non-Hodgkin's lymphoma I had has long since come and gone. My two daughters are grown, and my wife, Toni, and I have been married for 36 years. It's all good. It's also been 10 years since I captained the winning U.S. Ryder Cup team. I tend to look forward more than back. I'm currently the lead analyst of the USGA championships for Fox Sports, and I'm pretty busy. But it's neat to sit here with a glass of iced tea and reflect on past glories and the player I used to be.
THE WEEK BEFORE INVERNESS, I shot 62 in a money game at the Pine Barrens course at World Woods, a very tough track north of Tampa. In the previous two months, I'd won the Memorial and the New England Classic outside Boston. I'd had 11 top threes in the previous 10 months; not Tiger Woods stuff, but still very hot. The day before I left for Toledo, I had the best range session of my life. I had three buddies with me, and I said, "If I don't win, it's because I'm scared to win."
ON TUESDAY, I played a big-money game with Tom Watson, Hale Irwin and Fred Couples. On Wednesday night in the locker room, I saw Byron Nelson, who had been head pro at Inverness during the 1940s and considered it his home club. I asked him if there were any secrets to playing Inverness. He said, "The greens are so small that if you aim for the center of all of them, you'll have good birdie putts almost every time." That was a revelation. I did exactly what he said and ended up leading the field in greens in regulation.
THE TITLE "BEST PLAYER WITHOUT A MAJOR" WAS BEING THROWN AT ME, which I hated. I'd lost the British Open by one to Nick Faldo in 1987 at Muirfield after bogeying the last two holes. At the 1988 PGA Championship at Oak Tree, I led after three rounds. I played with Arnold Palmer the first two rounds—he drove it past me every hole, by the way—and was on fire. But the last day, I shot 71 and finished second to Jeff Sluman, who shot 65. By 1993, I'd had enough of close calls.
I'D WORKED REALLY HARD TO GET TO THE PGA TOUR. When I was at Brevard Junior College and couldn't break 80 two days in a row, I'd go the range at Rockledge Country Club and spend all day there. Those huge wire baskets that hold about 400 balls, I'd go through two of those a day. I'd build a callus on my left hand—under my golf glove—that would get so thick, I'd periodically have to cut it off with a box cutter, just like Moe Norman did. I was obsessed. I'd spent summers scraping and painting boats. I knew I didn't want to do that the rest of my life.
'I'd spent summers scraping and painting boats. I knew I didn't want to do that the rest of my life.'
SPEAKING OF MOE NORMAN, when I was 18, he came by my swing coach John Redman's range in Titusville, Fla., to hit balls. This was in 1978, and Moe's ball-striking was every bit what you've heard. One beautiful shot after another, and he'd talk while he hit, saying things like, "I swing through the course; everyone else swings around it." Years later, when I made it to the tour, Moe went on record saying I had the best swing out there, because like him I swung "through the course" without a lot of arm rotation. Moe hung around Florida a lot, and in 1996, when I was trying to get my game back, my brother Joe ran into him at Bay Hill and asked: "So, you still think Paul has the best swing in golf?" Moe answered, "No, no, he's finished. I like John Cook now. Paul Azinger ... no good, no good." My brother found the bluntness of it hilarious. He couldn't wait to pass it along. I laughed, too.
IN 1979, I PUT MY NAME IN THE CADDIE POOL for the LPGA Bent Tree Classic near our home in Sarasota. I drew none other than the great Mickey Wright. Ben Hogan once said she had the best swing in all of golf. Apart from her wearing tennis shoes and hitting it much longer than everyone else, one memory stands out. On the 10th hole she hit a big hook into the trees. As we're walking toward her ball, she said, "Paul, the shot that gets you into trouble will usually get you out of trouble." Sure enough, she went in there and whoom, hits this enormous hook that runs forever and winds up on the green, a truly amazing shot. I was still inexperienced, but watching her and people like Moe Norman, I was getting a good idea of what good ball-striking was about.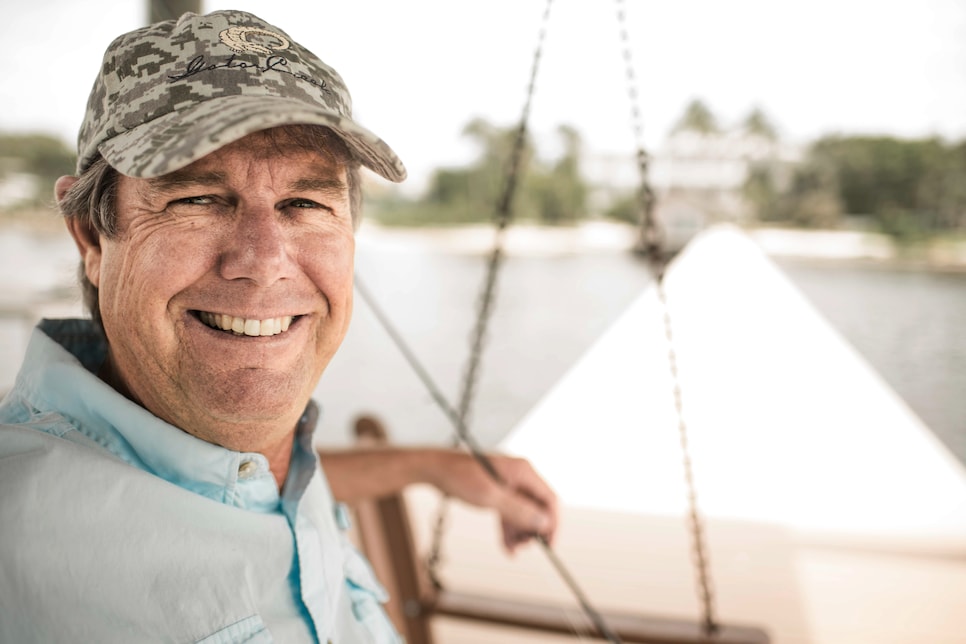 MY COACH AT BREVARD JUNIOR COLLEGE, Dr. Jim Suttie, told me the secret to great golf is to compress the ball. Whether you clip it or hit down on it is a matter of preference, but you have to compress it. And the secret of compression is to have your speed at impact and a little beyond, no earlier. Jackie Burke always says, "You can only release the club one time; it better be the right time." In my opinion, the players that compress the ball the most on tour are Henrik Stenson, Dustin Johnson, Rory McIlroy, Justin Thomas and Patrick Reed. They squish the tar out of it.
YOU ALWAYS HEAR REFERENCES TO "BIRDIE HOLES," but there also is such a thing as "double-bogey holes," and Inverness Club had several of them. My natural ball flight was either a fade or a shot straight as train smoke, but curving the ball toward trouble can be a tough proposition. That week, I didn't hesitate to draw the ball. Hitting shots the opposite of your natural flight, that's when you know you're in mid-season form.
STANDING ON THE 15TH TEE, in a four-way tie for the lead, I got a wicked cramp in my right calf, brought on by a combination of dehydration and pressure. Some guys—Jordan Spieth is the best current example—learn to handle pressure right away. It took me years. I guzzled a ton of water and fought to relax. It subsided, but then it hit me again on the 17th tee. I was so fortunate to hit a good drive there.
WHEN I GOT TO THE FIRST PLAYOFF HOLE, I was very relaxed. I never thought that Greg Norman was any better than I was. He might have been better, but in my mind he wasn't, and that's huge for me. At this point in my career my self-belief was at an all-time high. The only player that I felt was better than me was Tiger Woods. Tiger was on another level, ball-striking-wise, and he also happened to be the best putter who ever lived.
JOHN REDMAN TOLD ME WHEN I WAS IN COLLEGE, that to be successful you had to do three things great: drive it, wedge it and putt it. He said I was going to have eight to 10 wedge shots a day for the rest of my life. When did Dustin Johnson's game turn a corner? When he mastered the wedge. Why are Jim Furyk and Steve Stricker hanging in against the bombers? Because they're great wedge players. The wedge is a cornerstone of every great player's game, and at Inverness, I stuffed a ton of them.
ON THE FIRST HOLE OF THE PLAYOFF, I wedged it pretty close but missed. I hit another good wedge on the second playoff hole but missed again. Greg hit his approach to the back of the green and left his first putt well short. When he missed his par putt, I was the PGA champion. What a relief.
HERE'S A COINCIDENCE FOR YOU: My caddie that week, Mark Jimenez, was on Bob Tway's bag when Bob holed a bunker shot on the 72nd hole to win the 1986 PGA Championship. The man Tway beat was—you guessed it—Greg Norman. What are the odds? I've always wondered if Greg ever realized who Mark Jimenez was.
LONG BEFORE SWING ANALYSIS AND STATISTIC-TRACKING TOOLS WERE AROUND, Dave Pelz offered to track and interpret my stats. I thought about it and declined. I felt I could tell by myself what my weaknesses were, and I didn't want to be told that Tom Kite was miles better from 160 yards than me, because it would discourage me. One thing that amazes me about players today is their capacity to hear negative information and either ignore it or make it work for them. Between Golf Channel, Twitter and a million websites out there, there's a constant stream of information reminding you how much better the other players are. Unless you're Dustin Johnson and rank in the top 10 in a bunch of categories, I don't know how a player can take it. As a result, I think professional golf is much more difficult now.
SMALL CHANGES IN A GOLFER'S BEHAVIOR CAN TELL YOU A LOT. I was saddened when Hubert Green passed away recently, and it brought to mind an incident with him at the Hawaiian Open in 1990. Hubert was near the end of a tremendous career and had the lead going into the final round. He desperately wanted the win, which would've been the 20th of his career. I also was in contention and saw Hubert at the practice green before we teed off. He was off to the side, sitting on his bag. It was out of character for Hubert. I said to my caddie, "He must really be nervous." Golf can take its toll.
'I know [the Ryder Cup] got ugly at times, but it was also great because it stirred people up. ... It's unimaginable how that contentiousness would mix with social media today.'
JOSE MARIA OLAZABAL DANCED ON THE 18TH GREEN at Muirfield Village after the Europeans whipped America in 1987. That was the beginning of years of pretty deep animosity between the two sides. What was pure joy on their part, I took as gloating and rubbing our noses in it. Golf was a game where you tipped your cap. Only later did I understand it. But old habits die hard. When I captained at Valhalla in 2008, the European captain, Nick Faldo, arrived holding the trophy aloft. It started to get my dander up, but I quickly realized that if it were me, I'd have done the same thing.
THE NATIONALISTIC NATURE OF THAT RIVALRY from about 1989 to 2002 reminds me of the World Cup today. It's nationalism on display. I know it got ugly at times, but it was also great because it stirred people up and fan interest was off the charts. It's unimaginable how that contentiousness would mix with social media today. The way Rory McIlroy and Patrick Reed went at it, fist-pumping, screaming and exhorting the crowd but with the occasional smile and fair play from both sides, I thought, This is perfect.
RYDER CUPS MADE ME NERVOUS. I think nerves destroyed my taste buds. Before I teed off I could only eat one cornflake at a time. Sometimes under pressure, I could feel my pulse in my fingertips. It happened at the 1993 PGA Championship, and I told CBS' Jim Nantz as much during the post-round interview. But my 1993 Ryder Cup singles match against Nick Faldo was nervousness on a whole new level. It got worse as the match went along. We were last out, and it was suffocating. Instead of playing one shot and one hole at a time, I couldn't help but jump ahead and think, What if it comes down to me? I don't want them to celebrate at my expense. That's the worst thing you can do. It was brutal, and I was very fortunate to make a six-footer on the last hole for a half.
THEN THERE'S PHIL MICKELSON, who never seemed to be on edge when it came to golf. At breakfast the morning of Ryder Cup singles in 2002, I was going through my one-cornflake-at-a-time routine. I look over at Phil, and he's got a plate loaded with three waffles topped with two fried eggs. Lots of butter and plenty of syrup. And he's washing it down with a Diet Coke. I can barely choke down a cornflake, and there's Phil, cheerful and relaxed with a ferocious appetite. I envied him. I told him he might as well throw caution to the wind and have regular Coke. When we got outside, I joked with my caddie, "I think Phil could eat an entire horse." I wish I could eat like that when I'm nervous.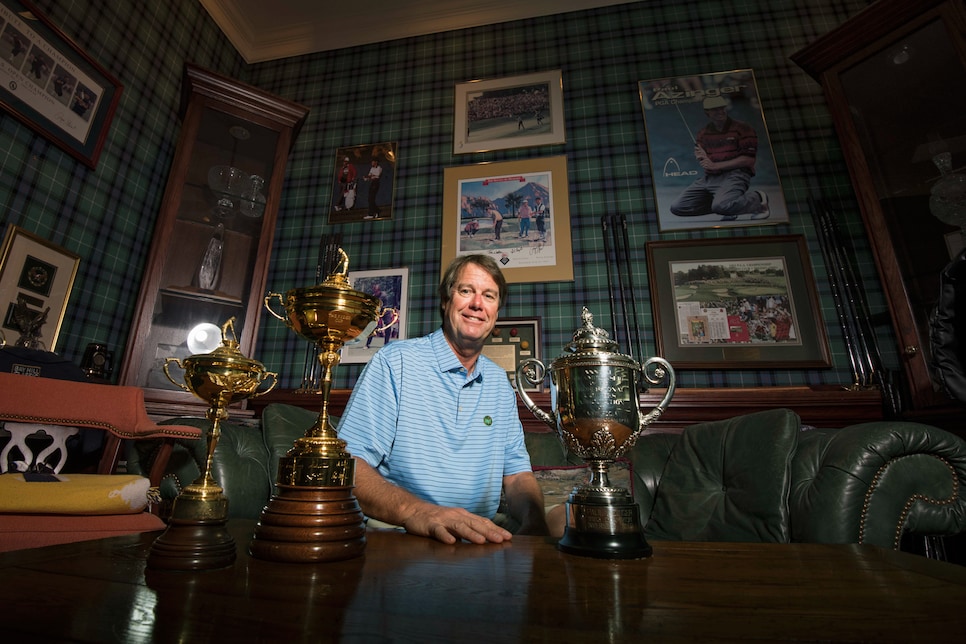 GREAT MATCHES SOMETIMES FLY A LITTLE UNDER THE RADAR. At The Belfry in 1989, Chip Beck and I played Nick Faldo and Ian Woosnam in the Saturday four-balls. We beat them, 2 and 1, and Chip and I were 11 under par when we closed them out. They were nine under, no slouch. The coolest moment happened on the 10th hole. Faldo holed out from the bunker to send the fans into bedlam, but we followed with a birdie putt to match them. The din of the crowd was deafening, but above it Chip yelled at me, "Zinger, you gotta love it!" I shouted back, "Why?" He said, "Because they've holed out from off the green three times and we're still 1 up!"
BEST AMERICAN RYDER CUP PLAYER OF MY LIFETIME, the guy you'd most want to be in a foxhole with, or a best-ball match for your life? Raymond Floyd, no doubt about it. At Kiawah in 1991, Chip Beck complained to Raymond, who was a veteran, about how Seve Ballesteros was coughing in our backswings and beginning to walk before we hit the ball. Chip was genuinely upset because he'd never faced gamesmanship tactics before. Raymond and Fred Couples were playing Seve and Ollie that day, and I watched when Raymond walked onto the first tee. His eyes were big, and he saw Seve and leveled him with a murderous stare. Raymond walked up to him and said something very close to his face so only he could hear, and whatever it was, Seve appeared a little frightened. I only heard the last fragment, which was, " ... and that's how it's going to be." Seve was no shrinking violet, but it's no accident that there was no gamesmanship in that match. Raymond behaved like the great captain he was.
GOING INTO THE 2008 RYDER CUP, I think Phil, Jim Furyk, Justin Leonard and maybe Stewart Cink secretly dreaded the event. The outcomes grew to be demoralizing. In 2006, Tom Lehman's team lost by nine points. We get torn down publicly each time we lose. As champions, I don't think it was easy for any of us to deal with that experience. My solution was to bring a Navy SEALs approach to team building. We broke the large group of 12 into three small groups of four each paired with an assistant captain, and each characterized by a dominant personality trait. We empowered each small group by allowing them to fill out their four-man pod with three of the captain's picks from a short list of players compatible with each pod's dominant personality. I only picked Stricker. This got our team engaged about a month before the matches started. It was a different type of responsibility, and they embraced it immediately. Serving as the Ryder Cup captain and leading 12 men was a mountaintop experience for me.
I WAS NOT PART OF THE RYDER CUP TASK FORCE that came about after the 2014 matches. Didn't really want to be part of it at the time. But secretly, I had input. I spoke four times with the PGA of America directly. I said, "You need more continuity. It's willy-nilly who the captains are going to be, and once you name them, you let them do what they want. Jack Nicklaus did it one way, Raymond Floyd did it another. And on it went. Lehman, Corey Pavin and Tom Watson did their own thing. It was always completely different. When the players showed up, they never knew what they were going to get."
I pointed out to the PGA of America what Europe has done since I could remember. "The succession of captains should be similar to the succession of officers at the PGA of America, treasurers working their way up and so on, like a business." I pointed out that one of the smart things Europe does is to name captains who had served as assistants and had experience. I also felt the captain should always have a strong Ryder Cup and PGA pedigree. I lobbied hard for Davis Love III to have another shot at it for 2016.
It all was just my two cents, but I was passionate about it. The task force ended up working in 2016, in part because the players had a much more active hand. Davis wound up being captain, too. I think the PGA of America has it figured out. Jim Furyk is the perfect choice.
THE RYDER CUP IS UNUSUAL in that, during the lead-up and while you're in it, it's the most important thing in the world. You bond, emotional things happen in the team room where guys open up and sometimes even cry. And when it's over—and I'm talking two days later—it's kind of forgotten. It's like, We won. Yay. So, are you playing the fall season? Regular tour life resumes immediately. Life is about living in the moment. When the moment's over, you move on.
BUT THE BONDING DEFINITELY IS REAL. At The Belfry in 1989, each player in the team room spoke in turn. When it was Ken Green's turn, we were curious what he'd have to say, because he's kind of a lone wolf. He said, "When I came here, I didn't like anybody in this room and disliked a lot of you. I want to tell you, I was wrong. I love all of you." That was powerful, because it's really what the Ryder Cup is all about.
THERE ARE TWO KINDS OF PLAYERS: chip-on-the-shoulder guy and love-of-the-game guy. At the time I won the 1993 PGA Championship, I was classic chip-on-the-shoulder. I was an overachiever from a humble background who wasn't expected to become much of a player. I always had a lot to prove. After the cancer, I became a love-of-the-game guy. I'd faced my mortality and was so grateful to have my health back. it softened my perspective. In a head-to-head battle, the chip-on-the-shoulder guy is usually going to beat the love-of-the-game guy. Not always, but usually. I was a pretty good player after the cancer episode in 1994 but just wasn't the same. Where it really showed up was when I turned 50 and could play the Champions Tour. I went out there and saw all these hungry Hall of Famers still eager to go at it and just decided that wasn't me anymore. I didn't retire, I just stopped showing up.
THERE WAS NOTHING ABOUT GOLF THAT SOMEBODY DIDN'T HAVE TO TEACH ME. My swing is unusual, which leads people to assume it's homemade. I had a few tendencies, such as my strong left-hand grip, but everything was supervised and constructed around it. Same with learning to concentrate, I read books to learn how to do it. Slowing my walking pace, controlling my breathing, it was all textbook stuff. I became pretty good, but I realized golf is simple. But it's not easy.
THERE ARE VERY FEW TRUE FUNDAMENTALS IN GOLF. The grip isn't one. The Hall of Fame is full of guys with different grips, different swing planes, different positions at the top and many different setup positions. You know how you sometimes stand over a shot and know you're going to stripe it before you take the club back? There's something mysterious in the setup we haven't identified yet that brings on that feeling. There's something about the sequence of motion in the downswing that is a fundamental. The golf swing is two turns and a swoosh, in that order.
'In a head-to-head battle, the chip-on-the-shoulder guy is usually going to beat the love-of-the-game guy. Not always, but usually.'
IN THE 2002 RYDER CUP, I holed a bunker shot on 18 to halve a match against Niclas Fasth. One mental trick that worked for me is having the ability to "redirect." When the pressure's on, you just reframe the situation. I was incredibly nervous, as usual. It was a close match all day, and he was a really exuberant competitor, fist-pumping after every shot. Niclas is a really good guy, but I told myself, This guy doesn't deserve to win. The redirect lifted some of the pressure. We halved a match I might otherwise have lost.
WHEN THE 1993 RYDER CUP TEAM started to take shape and the visit to the White House came up, it was reported that I was not going to go because Bill Clinton was president. It was a 1993 version of fake news. Of course I went. We all went and had a great time.
I HAVE THREE FAVORITE GOLFERS. Jordan Spieth, for his heart, the way he's honest and articulate, and the way he talks to his golf ball. Patrick Reed, for having the guts of a burglar. And Bryson DeChambeau, for his next-level smarts and doing it his own way.
THE MIRAGE IN LAS VEGAS, 1989: Steve Wynn, who I was friendly with, got my brother and I tickets to the third Sugar Ray Leonard-Roberto Duran fight. Second row, which isn't as good as it sounds because reporters and photographers are standing up in front of you. We were sitting near Sugar Ray's corner, right next to his parents. At the end of the second round, as Sugar Ray walked to his corner, he looked at his father and winked. I told my brother, "This fight is over." There was a confidence in that wink that I as a pro athlete recognized. Sure enough, Sugar Ray handled Duran with ease.
I LOVED FOOSBALL BACK IN THE DAY. Got pretty good, though when I ran into some really good players, I found out I wasn't as good as I thought. Now Bubba Watson's caddie, Ted Scott, was really good, a world amateur doubles champion. Foosball, unfortunately, is a game you can't cash in on. Like I told Teddy, "If the sport doesn't have the potential to put you on a Wheaties box, you probably aren't going to get rich doing it."
POKER RAN ITS COURSE WITH ME, TOO. I got completely disillusioned. I played in a couple of World Series of Poker events, but it turned into a total punkfest, all kinds of crappy behavior. And there's too much luck involved. You can get your chips in right and still get beat. Golf has bad bounces, but you're mostly in control. The beauty of our game made me look at poker in a bad light.
I'VE BEEN A LEAD ANALYST FOR 12 YEARS. I really have only one personal rule, and that's to never repeat verbally what the viewer just saw. It's amazing how much that still happens. That's when viewers, knowledgeable ones especially, hit the mute button. When I walk out the door to fly to a tournament I'm broadcasting, Toni gives me a kiss good-bye and the same words of advice. "Just remember, nobody's tuning in to hear you," she says. It's humbling. And dead-on accurate.