News
The world's biggest international amateur golf competition is being overhauled. Here's what you need to know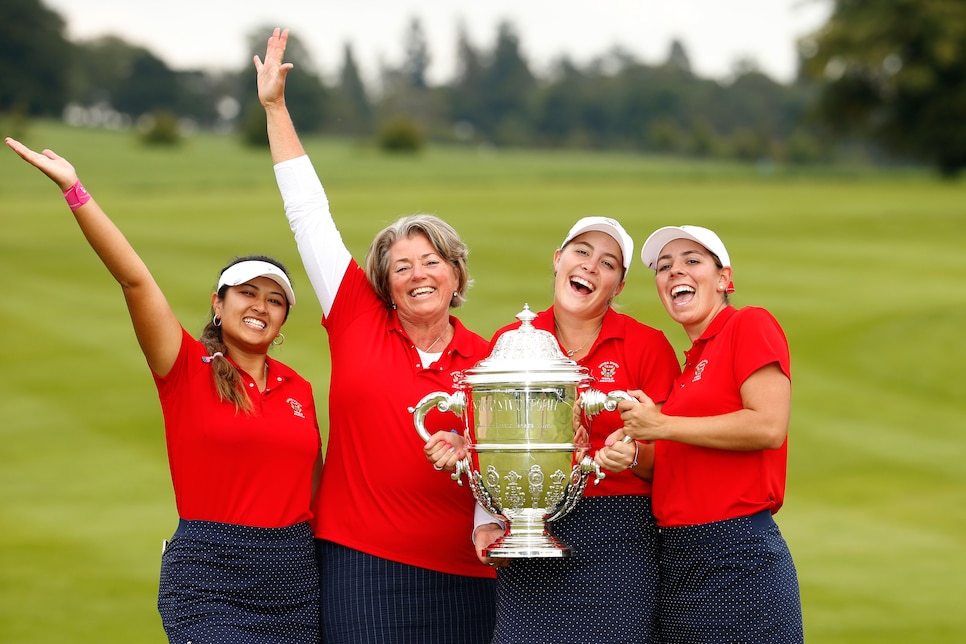 U.S. team members Lilia Vu, captain Stasia Collins, Jennifer Kupcho and Kristen Gillman celebrate after winning the 2018 Women's World Amateur Team Championship in Ireland.
Copyright USGA/Steven Gibbons
Before the COVID-19 pandemic impacted competitive golf at every level around the world, the International Golf Federation was already reviewing what to do with the World Amateur Team Championship. The biennial competition dates back more than 60 years and remains a signature event on amateur golf calendars. But the administration of the separate women's and men's tournaments, held in consecutive weeks on two courses, had become unwieldy as they grew to include upwards of 72 countries, many of whom struggled to fill three-player rosters with truly competitive golfers. There was also the fact that the event is played in even-numbered years, which overlap with the IGF's administration of the Olympic Games.
Combined with the new realities that the coronavirus presents (which forced the cancelation of the 2020 event), IGF officials announced on Thursday a handful of changes to the WATC moving forward after the conclusion of their latest meeting (held virtually).
• After the 2022 playing in France, the competitions will move to odd years, creating a one-time instance where they'll be held in consecutive years.
• The 2023 WATC will be hosted by the Emirates Golf Federation, marking the first time the event will be played in the Middle East. Both the women's and men's tournaments will be played in Dubai on the Greg Norman-designed Fire course at Jumeirah Golf Estates. Specific dates are to be determined.
• The 2023 event will be the first held with a "reduced scope." Only one course will be used for the competition and a maximum of 36 teams will invited. According to the IGF release, this will "lessen the cost and complexity of hosting the event, as approved at the IGF's 2018 biennial meeting."
The competition itself appears to be remaining the same. Countries will field teams of up to three players competing in 72 holes of stroke play. The two lowest scores count to the country's team score for the day, with a team champion decided after the end of four rounds.