News
Victorious Americans end 20-year winless drought at Women's World Amateur Team Championship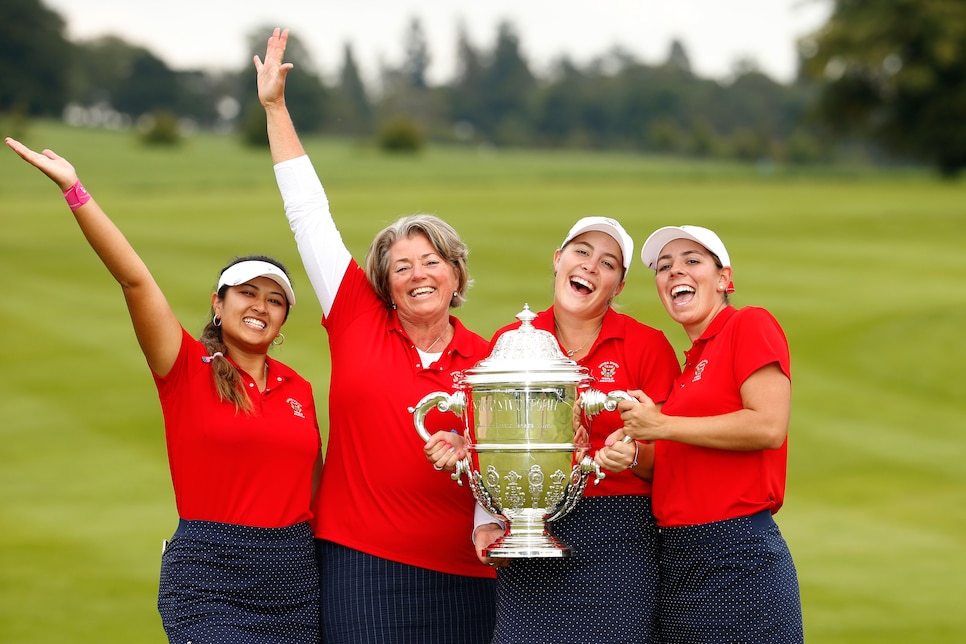 Copyright USGA/Steven Gibbons
If there was pressure on Jennifer Kupcho, Lilia Vu and Kristen Gillman to be the trio who finally broke the USA's 20-year winless drought at the Women's World Amateur Team Championship, it hardly showed. Yes, the No. 1, 2 and 3 ranked golfers in the world got off to a slow start during the first round at Ireland's Carton House Golf Club, placing tied for eighth. But in the end, they stayed patience, focused and determined.
A second-round 16-under 130, thanks to a pair of 65s from Kupcho and Gillman, gave the Americans the lead that they'd maintain for the rest of the week. A closing 10-under 136, with a 67 from Gillman and 69 from Kupcho, gave them a 29-under 551 and a 10-stroke victory over Japan.
"I am so proud of these girls," said USA captain Stasia Collins. "I am so proud of this team, and I am really happy for them and thrilled for the United States. They will always be known as the gold medal winners for the 2018 World Amateur Team Championships—no one can take that away from us."
The trio of college starts at Wake Forest, UCLA and Alabama, respectively, had played together on the victorious U.S. Curtis Cup team in June. Their growing friendships with one another had galvanized the group that helped make the task at hand less daunting.
Team USA had previously won the Espirto Santo Trophy a record 13 times, but had not been victorious in the biennial event since 1998 in Chile. Kupcho was just 1 at the time, Gillman and Vu not even that old.
Amazingly, no U.S. squad had even finished in the top three since 2010. Yet with the top three amateur players in the world competing for the red, white and blue, expectations were big.
"We have the strong bond already from the beginning," said Kupcho, who won the NCAA women's individual title in May. "We all wanted to win for each other, and I think that was a big thing coming out of yesterday. And, I think that's how we got our big lead coming into today."
"It means so much to us," added Gillman, the reigning U.S. Women's Amateur champion. "We worked so hard and we fought on every shot. When three people are all playing well, it is tough to beat us."
Japan's second-place finish was the first time the country had earned a medal in the event in 28 appearances. Finishing third and earning the bronze medal was South Korea, winner in three of the last four playings of the WWATC.
South Korea's Ayean Cho was the low individual scorer for the week at 17-under 273, two strokes clear of Kupcho and Japan's Yuka Yasuda. Gillman finished fourth at 12 under and Vu finished T-17 at two under.