News
UCLA's Lilia Vu wins fourth straight individual title, and suddenly there is a heated race for women's college player of the year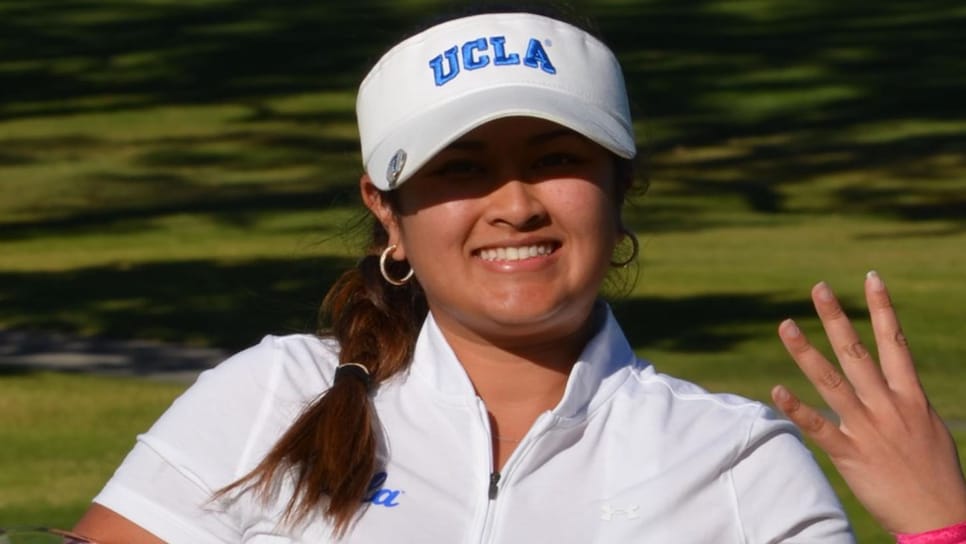 With three wins in five fall starts, and top-three finishes in the other two, Stanford's Andrea Lee was doing to the college player-of-the-year competition what many top women's players have done in the recent past: turn it into a runaway. In the last 12 years, less than half the consensus picks for POY had serious competition.
It wasn't just Lee's official results that were impressive. In February, the 19-year-old sophomore who played on the 2016 U.S. Curtis Cup team, boosted her reputation when she shot a 12-under 58 at Stanford Golf Club. Yep, time to text the engraver.
Except somebody forgot to tell one of Lee's Pac-12 rivals that the race was over. With her victory at the Arizona Wildcat Invitational on Tuesday, UCLA's Lilia Vu has won a school-record four straight individual titles dating back to last fall. The two-time first-team All-American seeming has caught up to Lee if not passed her as the 2017-'18 college season edges closer to the postseason.
Vu's latest win wasn't just impressive—she shot a 14-under 202 to win by three strokes at Sewailo Golf Club in Tucson—it was historic. It lifted the 20-year-old junior from Fountain Valley, Calif., into first place on the all-time Bruin career victory list with eight, passing 2016 national player of the year Bronte Law. It also broke the UCLA 54-hole school record of 203, set by Sydnee Michaels at the 2008 NCAA Regional.
"I'm pretty proud," Vu told the Daily Bruin. "I didn't expect to break the other record for lowest tournament total, so it's pretty cool."
During Vu's recent run, Lee has been in the field twice, posting her "worst" showing of a T-18 finish at the Bruin Invitational. For the season, Vu and Lee are 2-2 head-to-head. Vu's adjusted stroke average is now 69.08 while Lee's is 70.29.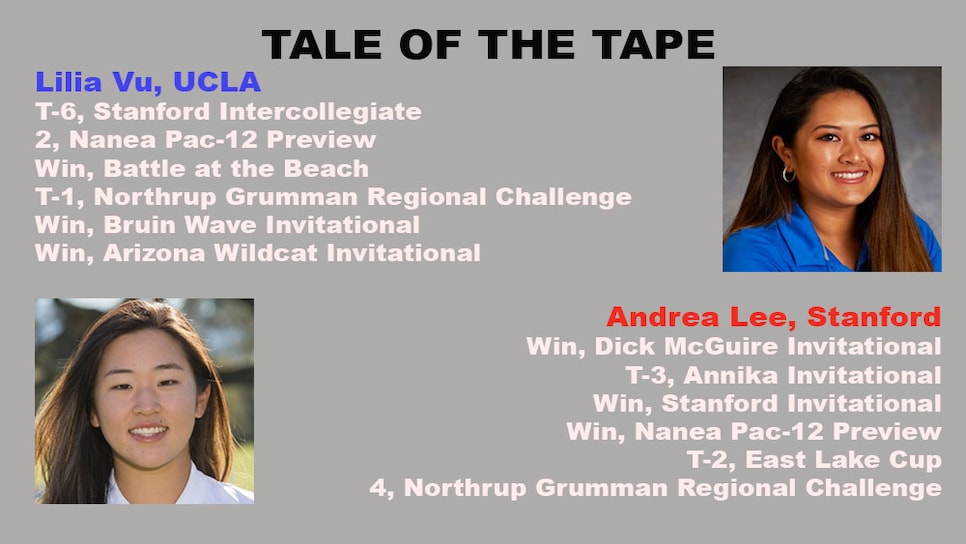 "I think she's really got a really good understanding of course management as it relates to her game and her strengths and weaknesses," UCLA women's coach Carrie Forsyth said of Vu. "She is not at all afraid of not hitting a driver off the tee, and just hits the right club for her to put herself in the right position with the club that she likes."
The crazy part of Vu's recent run? Forsyth actually had to sit Vu out of the first tournament of the fall, the Annika Invitational (which Lee won), because of poor play. When Vu returned to school after the summer, her game was out of sorts. She struggled to hit fairways during four rounds of qualifying for the Bruins first tournament, finishing last on the team with a 33-over score.
Suffice it to say, being benched help motivate Vu. It focused her practice and forced her to be more efficient with her time, on and off the course.
"I think it's just a lot of hard work and being able to be open to new things and always learning new things," Vu said. "It's being open-minded and taking what you can get."
Better yet, UCLA, the top-ranked team in the country, and Stanford, ranked No. 4, are both in the same fields in at least three more events this spring—SDSU March Mayhem (March 26-28), Silverado Showdown (April 8-10) and the Pac-12 Championship (April 22-24)—given Vu and Lee a chance to settle things on the course.