News
UNLV men win tournament in one of the most statistically unique ways you can imagine

Ask any college golf coach and they'll tell you there's nothing they enjoy more than seeing one of their players hit a crisp approach shot into a green, the ball checking nicely near the hole to set-up an easy birdie.
UNLV men's coach Dwaine Knight was lucky enough to see that a lot this past week from his squad as they played the National Invitational Tournament at Omni Tucson National's Catalina course. The Rebels, unranked in the latest GCAA coaches' poll and 35th in the Golfstat computer ranking, stormed to the team title, shooting an eye-popping 50-under 814 and beating runner-up Arizona State by 12 strokes.
All told, the fivesome of Shintaro Ban, who won the individual title by two strokes with a 16-under 200 total, Garrick Higgo, Jack Trent, Harry Hall and Justin Kim made a collective 86 birdies over 54 holes, 22 more than the second-best squad (Iowa State).
In the process, Knight got to see a sight he hadn't ever witnessed from his own team in his 40-plus years as a Hall of Fame college golf coach: a scorecard in which every round from all five of his starters was in red figures.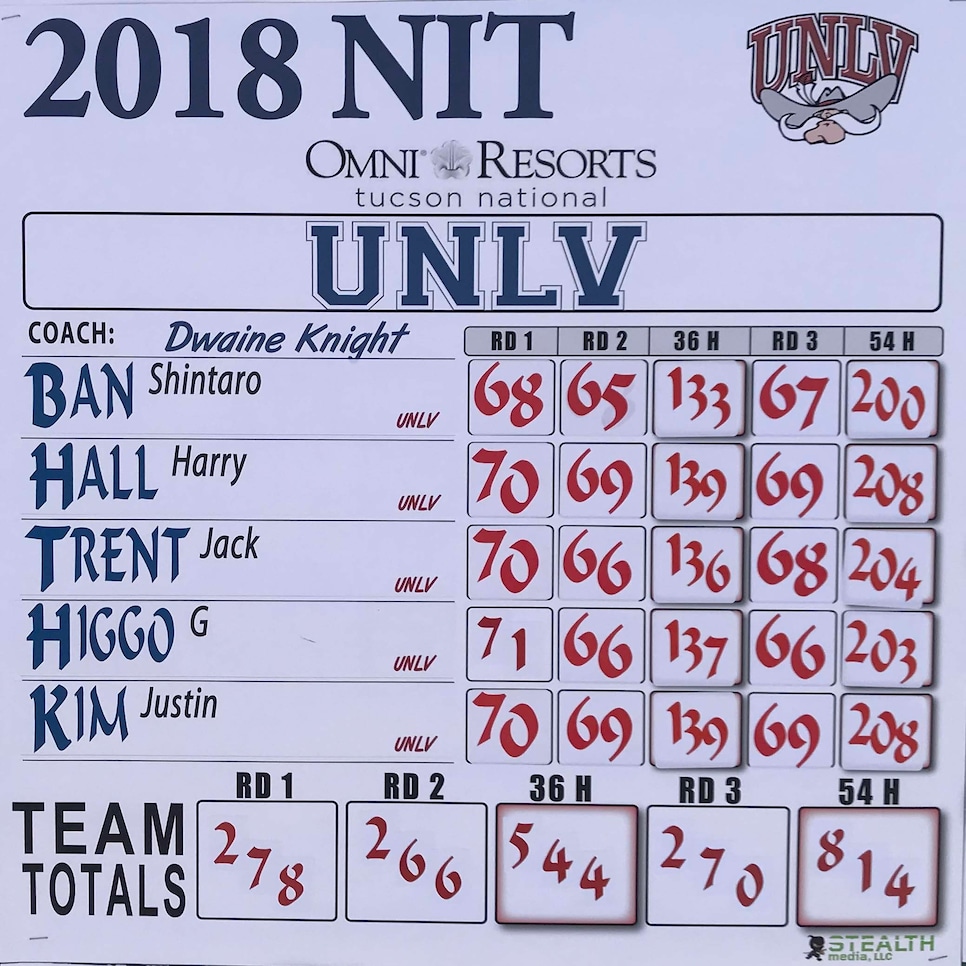 Courtesy of Dwaine Knight
"That's what made this so unique," Knight said. "We've gone low as a team, but never had something like this where ever play broke par in every round."
Indeed, the 50-under team total isn't a school record for UNLV. In 2015, the Rebels won the Jackrabbit Invitational with a 60-under 804, three strokes off what most consider the NCAA 54-hole record. However, two players on that team shot a total of three rounds of even par or higher, keeping the team scorecard from being entirely red.
While traditionally scores at the NIT are low, the Rebels' accomplishment isn't hurt when you look at the play from the overall field. The average individual score of the 92 players competing this past week was slightly over par (72.21) and the average 54-hole team score was 854.37, or roughly 9½ strokes under par. So UNLV finished more than 40 strokes better than the team average en route to their first victory of the 2017-'18 season.
Yep, that will lead you to seeing an awful lot of red.