The Loop
The wink and fist bump that paid off for Snedeker
The Rory & Tiger Show proved a dud on Sunday, but this was no one-ring circus and Brandt Snedeker was no sideshow.
Snedeker is a Flying Wallenda, one wound as tight as the rope on which he seems to walk precariously when in contention, and heretofore known as much for his tumbles as he is for navigating his way to victory.
This time, against a field of the best players in the world, he prevailed in style, winning the Tour Championship by three strokes and a bonus of greater import than the $10 million he received for simultaneously winning the FedEx Cup. He won one for a friend.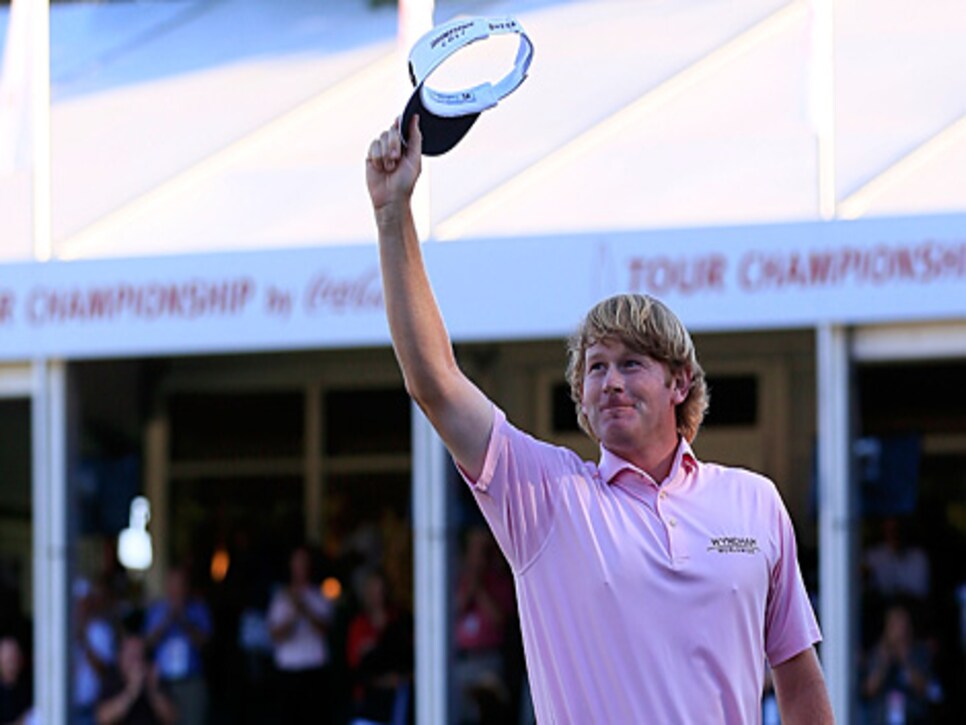 Snedeker, 31, is an emotional player, who weeped after stumbling on the back nine at Augusta National with a chance to win the Masters in 2008. The lesson that carried him to victory on Sunday was that golf was not a matter of life or death.
On Sunday morning, Snedeker went to Shepard Center, a renowned rehabilitation center in Atlanta, to visit Tucker Anderson, the 19-year-old son of his long-time instructor Todd Anderson. On Sept. 7, Tucker was in an automobile accident that nearly cost him his life.
"Tucker . . . I was thinking really hard about him," Snedeker said after his final-round 68 at East Lake Golf Club in Atlanta. "It made me calm that this is not the most important thing in my world. I asked him if he thought I'd beat Rory McIlroy today. He gave me a little wink."
He also gave him a fist bump, according to his father, "for good luck today," Todd wrote on Twitter. "Hope it brings Tour Championship and FedEx Cup victories!"
Neither McIlroy (tying for 10th) nor Woods (tie for eighth) were a factor in the final round, not the outcome for which the carnival barkers touting the FedEx Cup were expecting. McIlroy and Woods entered the Tour Championship one-two in the FedEx Cup standings and finished two-three. Not that it mattered. McIlroy will still be the PGA Tour player of the year, which remains the more impressive and accurate yardstick by which a player's year is measured.
The players' goal is winning the tournament, notwithstanding the $10 million lottery ticket the winner of the FedEx Cup receives.
"Now that I've been out here for a while, I realize you don't play for money," Snedeker said Saturday. "You play to win championships and the money comes with that."
In his case, he received $1.44 million for his Tour Championship victory, giving a total haul of $11.44 million for a hard day's work.
It was easy only at the last hole, after he had holed a 27-foot birdie chip at the 17th green to increase his lead to four. Earlier in his round, at No. 6, he hit his tee shot into the water, leading to a double bogey that invited all comers to join him in contention.
There also is his history, which includes a four-putt from 12 feet on the last hole of the BMW Championship in 2009, a triple bogey when he needed only a bogey to qualify for the Tour Championship.
"I'm a jumpy guy to say the least," he said earlier. "So my biggest thing is trying to stay patient under the gun and realizing that not every shot is a make or break shot on Sunday."
Snedeker is eminently likable and a rising star, a combination worthy of his standing in for the absence of a Rory and Tiger showdown. This was Snedeker's fourth victory and one that reinforced the faith U.S. Ryder Cup captain Davis Love III had in him when he made him one of his four captain's picks.
And Snedeker was not at all jumpy on Sunday, a day that began with a wink and a fist bump from an ailing friend, who was proven right. Snedeker did beat Rory McIlroy on Sunday, a feat that typically pays off big these days