The Loop
The USGA and R&A should adopt this playoff format (among other things)
Hacker (real name) came up $15 short on Sunday -- something that hardly ever happens. He doesn't count the money when he collects it before the Sunday Morning Group tees off, and he doesn't keep track of who has paid and who hasn't, yet the total is almost always exactly right. I know that I wasn't the one who forgot to pay, because I've been on Martha's Vineyard with my family. I've played golf just once, at Farm Neck Golf Club, the course I shared last summer with my close personal friend, the President of the United States. There's a new sign near the first green: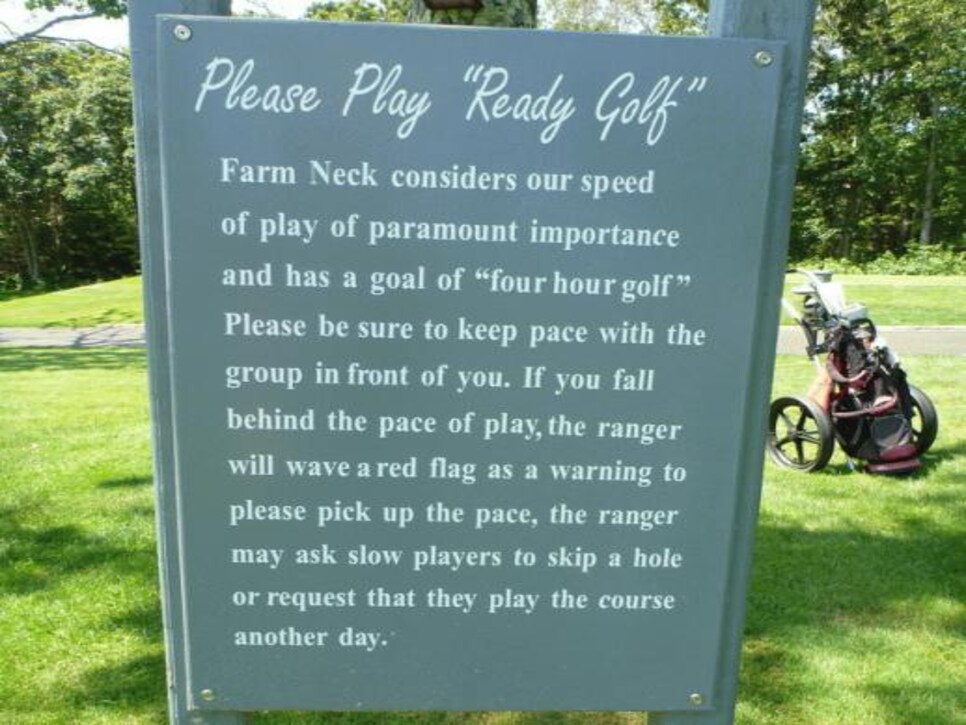 They used to ask people to play in four hours and fifteen minutes; four hours is better, although three and a half would be better still. I went as a single, and was grouped with a retired guy and two of his grandsons, who were in high school. They hadn't played much golf before, but both of them were baseball players, and every so often they really clobbered the ball.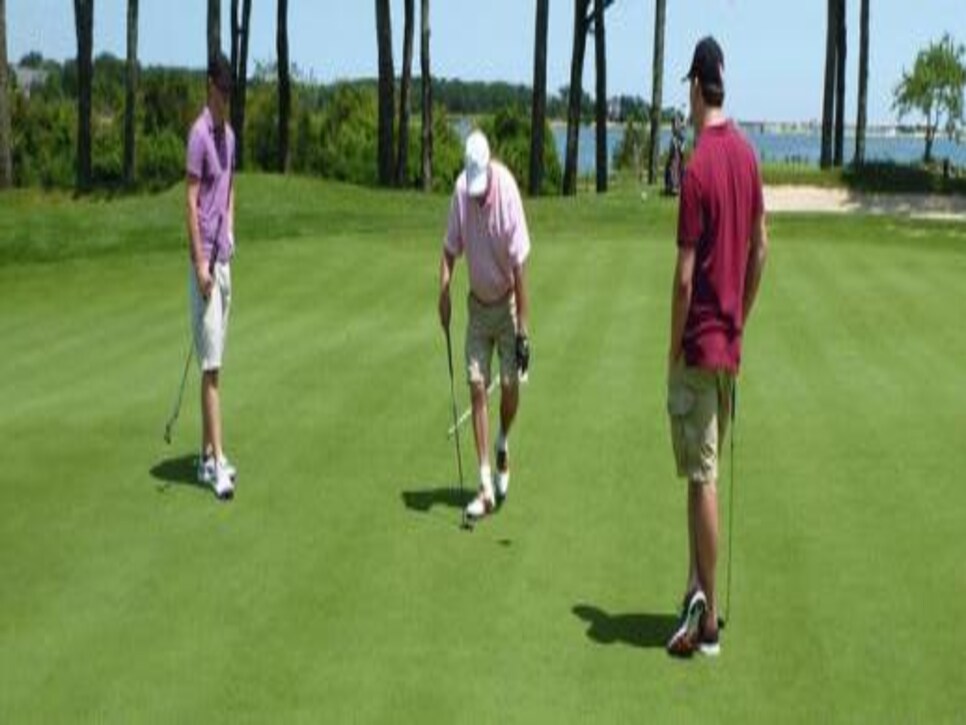 I had missed the previous Sunday at home, too, because I was playing in a two-day amateur tournament at Richter Park Golf Course, a terrific muny about 40 minutes from where I live. Three S.M.G. guys -- Rick, Tony, and I -- played in the senior division, and we did pretty well: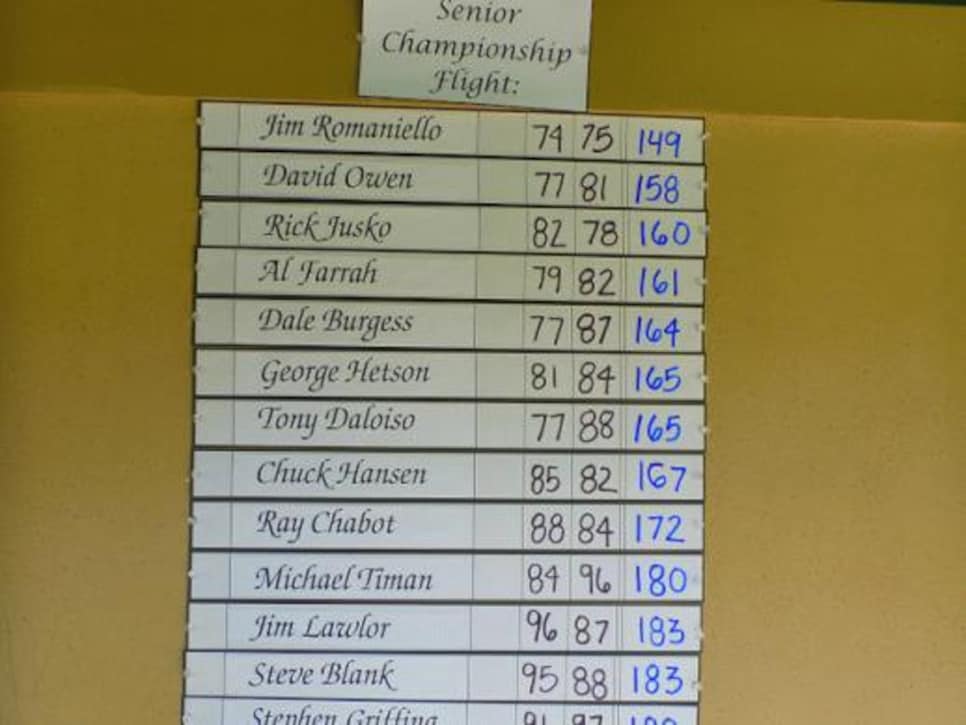 After 25 holes, I was tied, for about five seconds, with the guy who eventually won, but then I had some problems, including a quadruple bogey (from the middle of the fairway) on the eleventh hole. Still, the tournament was fun. And the guys who didn't play at Richter had fun, too, because on Sunday S.M.G. had its first playoff of the year, after three teams tied at 16 under par. I'm kind of sorry I wasn't there, because our playoff formats are the best in golf. On Sunday, the guys came up with a new one, in which the tied players had to sit in a chair on the patio and throw a ball onto the practice green by bouncing it off a picnic-table bench, closest to the hole.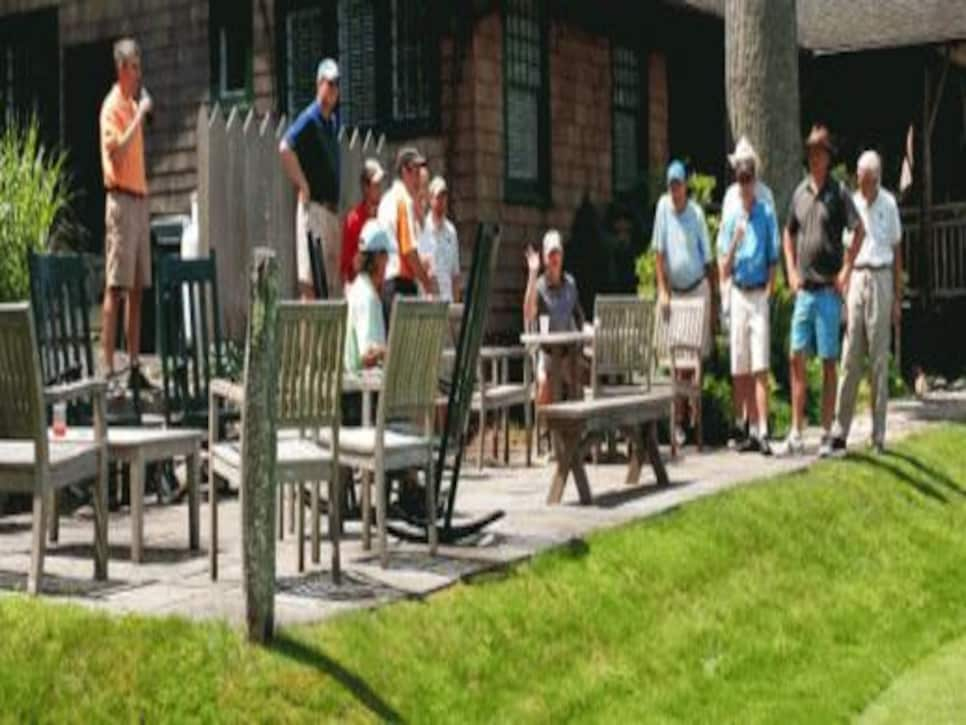 Hacker (who took the photo above) sent me a report:
Barney chose the bench to bounce the ball off of, and we made the guys sit on the far side of the round table, about nine feet from the bench. The stymie rule was in effect, as always, and we decided that any ball would count, even if it was off the green. We were worried at first that no one would be able to hit the bench, but that turned out not to be an issue, because Stan was the only one who missed it.
I'll be back home soon -- too late for that playoff, but just in time for the Men's Member-Guest.