News
The U.S. Open's 18-hole playoff dies a not-so-sudden (but much appreciated) death
USGA officials could no longer put traditional ahead of practicality—and players applaud the decision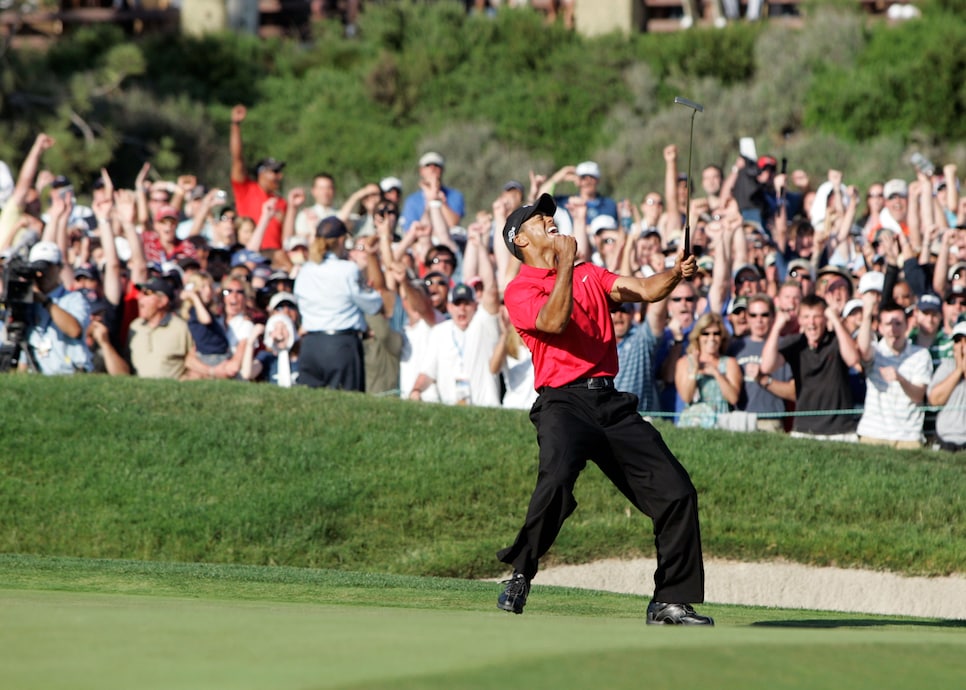 Photo By: Icon Sportswire
There is a chamber in our hearts where nostalgia flickers, and it brings us each a unique comfort. But nostalgia is neither practical or marketable. We simply don't have time for it, even if we have more capacity to feel it as we age.
"Nostalgia is always doomed and dooming," according to author Sherman Alexie.
That was precisely the sentiment I felt when the USGA announced Monday that it was ending its traditional 18-hole playoff in the U.S. Open in favor of a two-hole aggregate format. The USGA had been the last holdout among the four major championships to shorten its playoff, though it already had abandoned the 18-hole variety in the U.S. Women's Open and the U.S. Senior Open. Starting this year, each of those championships, as well as the inaugural U.S. Senior Women's Open, will adopt the new two-hole scheme.
I can't say I disagree with the decision, though a two-hole playoff seems oddly truncated when scheduled amid our longest days, thanks to daylight savings. But in today's fast-paced world, when patience is a virtue only where it is not extinct, the ability to bring the championship to a resolution quickly was an idea whose time had come.
And time isn't just of the essence, but takes on an increasing worth in this digital age.
"We live in a Snapchat world. I think you can make arguments for and against. In this case, I'm not sure two holes is enough, but at least the players are warmed up, ready to go, and you get it done." —1987 U.S. Open champion Scott Simpson
"There was a time when they [18 holes] did make sense before television, before the modern era of wanting everything decided immediately," Mike Davis, USGA chief executive, told the Associated Press. "There is no correct way to determine [how to break] a tie in stroke play."
No, there isn't. But the USGA, which steadfastly refuses to adopt lift, clean and place as an accommodation during rain-soaked championships, made a clean break from tradition this time, recognizing the attraction of expediency in an age when college football employs a quick-hit overtime format and Major League Baseball toys with the idea of shortening extra-inning games by allowing each team an at-bat with a runner on second base.
"It's not a surprise, frankly," said three-time U.S. Open winner Hale Irwin when reached by Golf World on Monday. Irwin defeated Mike Donald in the 1990 championship at Medinah in the first U.S. Open decided by sudden death after the two men completed their 18-hole playoff in a tie. "I'm sure there have been a lot of opinions expressed to see a winner determined on Sunday, be it fans or media or Fox Sports, which is paying umpteen millions to broadcast the U.S. Open. I think tradition had to take a backseat here to the times we live in."
Irwin, who received a copy of the USGA release Sunday night, only disagrees with the length of the new format, not the decision itself.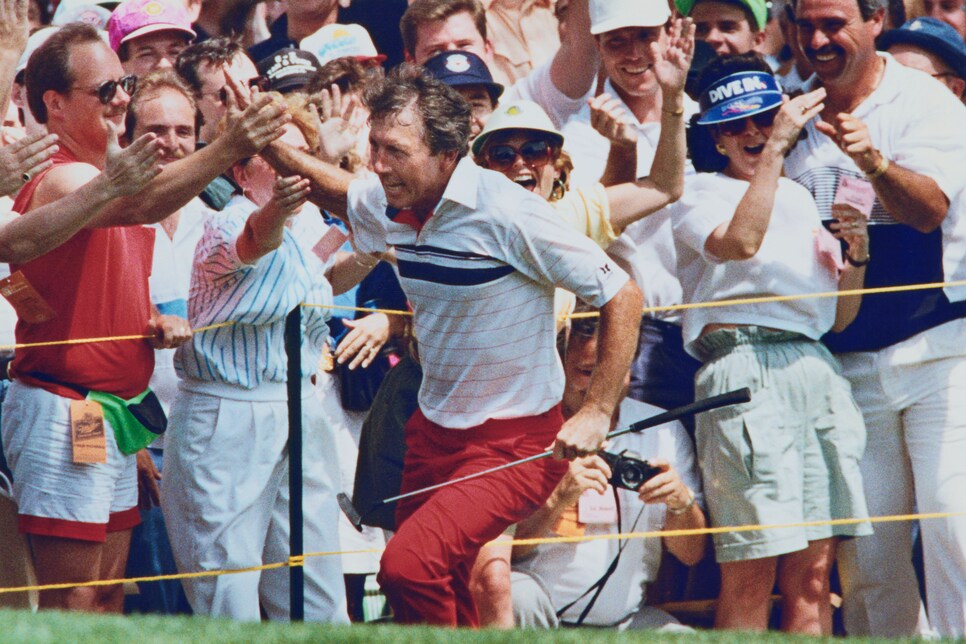 "I would have liked to see three- or four-hole playoffs," he said, citing the designated playoff length for the PGA Championship and the British Open, respectively. "As a player, I would want as many holes as possible to determine a winner. That extra 18 holes was a grind, but it felt necessary."
Indeed, there was something apropos, something viscerally congruent, with determining the winner of golf's toughest tournament with a long and enervating playoff. It was inconvenient, sure, but forcing players to confront inconvenient circumstances over 72 holes has been the hallmark of the U.S. Open, last year's red-figured championship notwithstanding.
There have been 33 playoffs in the 117-year history of the U.S. Open, the last in 2008 when Tiger Woods outlasted Rocco Mediate in 19 holes at Torrey Pines. There are some who would argue that the 18-hole format was anticlimactic, but Woods' victory over Mediate, while playing on that damaged and fragile left leg, seemed to offer plenty of drama. Same for Irwin's win in 1990. And though Curtis Strange defeated Nick Faldo by four strokes in 1988 at The Country Club in Brookline, Mass., the duel, with its Ryder Cup undercurrent, was great theater.

"Hey, I loved the 18-hole playoff. It was fun," said 1987 U.S. Open champion Scott Simpson, who four years later lost in overtime to the late Payne Stewart in 1991 at Hazeltine National, 75-77. "It was back and forth. It was not anticlimactic. But, you know, time marches on. We live in a Snapchat world. I think you can make arguments for and against. In this case, I'm not sure two holes is enough, but at least the players are warmed up, ready to go, and you get it done."
Rickie Fowler, Justin Rose and Webb Simpson, the 2012 U.S. Open winner, who were among some 30 players waiting in Palm Beach International Airport for their flight to Mexico for the WGC-Mexico Championship on Monday afternoon, agreed that a more immediate conclusion to the championship was overdue, though they too were puzzled over the USGA opting for a mere two holes.

There is no debating that, even if the sentimental part of us is inclined to disagree. But in 1931 at Inverness Club in Toledo, Ohio, Billy Burke and George Von Elm engaged in the longest playoff in golf history when their scheduled 36-hole playoff ended in a tie. With no sudden death at their disposal, they had to endure another 36 holes, and Burke won by a stroke. The next year the USGA shortened the format to 18 holes.
That's the thing about nostalgia. Some things are best left to it.