The Loop
The unlikely story of two 11-year-old beginner golfers making back-to-back holes-in-one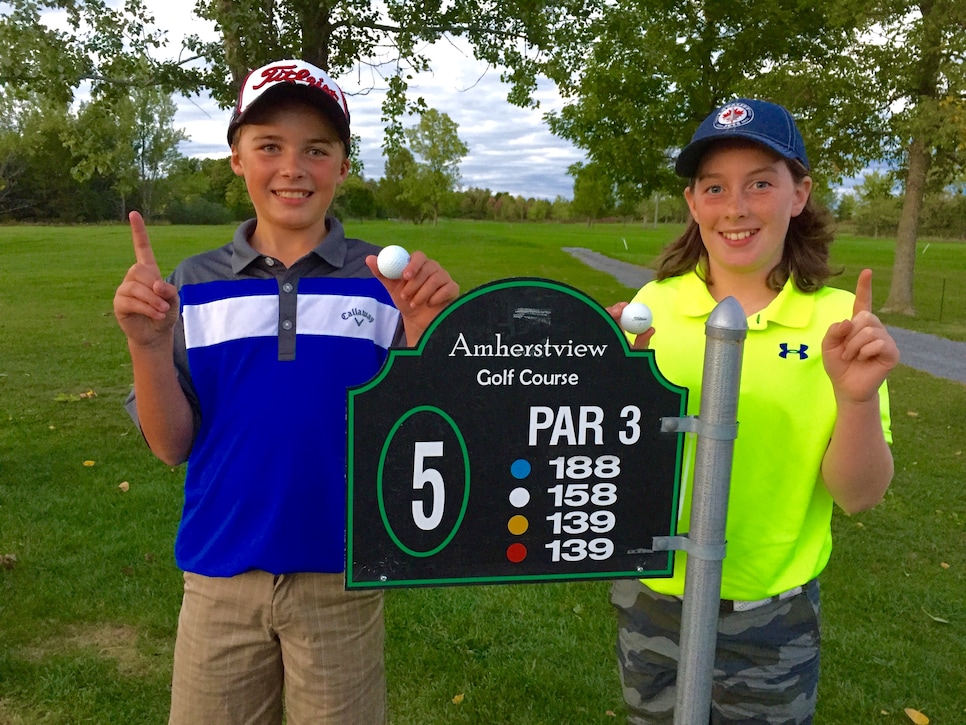 Nolan Fox and Kaeden Trainor weren't golfers a year ago. Which is what makes the incredibly rare golf feat accomplished by the two 11-year-old hockey fanatics from Ontario last Sunday all the more fascinating.
On the 128-yard fifth hole at Amherstview Golf Club in Ontario, Fox and Trainor made back-to-back holes-in-one -- in the same group.
How unlikely is that? The odds of two average golfers acing the same hole in the same foursome is 20 million to 1.
How about kids of this age, and playing experience? None of the 56 instances reported to Golf Digest in history show golfers this young, making Fox and Trainor the youngest in our archives. Talk about unlikely.
"Since I'm still a kid, I know I don't think I realize that well how big of a deal it is," Trainor said. "But it's awesome, I'm walking around school and people are coming up to me and being sarcastic saying, 'Oh, can I have your autograph?' It's been funny."
You can only imagine the extraordinary claims we hear about. This story, however, checks out for us, with an adjoining group on the course observing the moment -- and the golf course confirming the feat. After Fox dunked his tee shot with his 2-wood, Trainor actually stepped up intending to try to match his buddy.
At the same course just a couple weeks prior, Trainor had been playing with his father, Brian, and nearly dunked one in the hole. They snapped a photo to mark just how close it was. All of a sudden, it was a goal of Trainor's to make an ace some day.
So when Fox's ace dropped, Trainor got motivated.
"I was happy for him, but I was kind of mad at the same time," Trainor said. "I was like, 'Darn it, he made a hole-in-one. That's really cool, but I want one also.' "
His buddy, Fox added: "I sort of know that feeling from hockey or soccer, sports where you have to score points. You do get motivated."
The motivation worked. Trainor thought his tee shot was going left, but it took a couple big bounces then it rolled in.
"That just made it such an awesome experience," Fox said. "It was just out of our mind that both of us would hit it on the same hole, same day.
"We were so surprised and shocked. And we still are."
Then came the part about telling people.
"I thought I'd be more excited when it happened," Trainor said. "But I was more so thinking to myself, 'Oh my gosh. Nobody's gonna believe this happened.' "
But word spread quickly at Amherstview. One of the superintendents on the course radioed to the pro shop, alerting general manager Mike Dillon.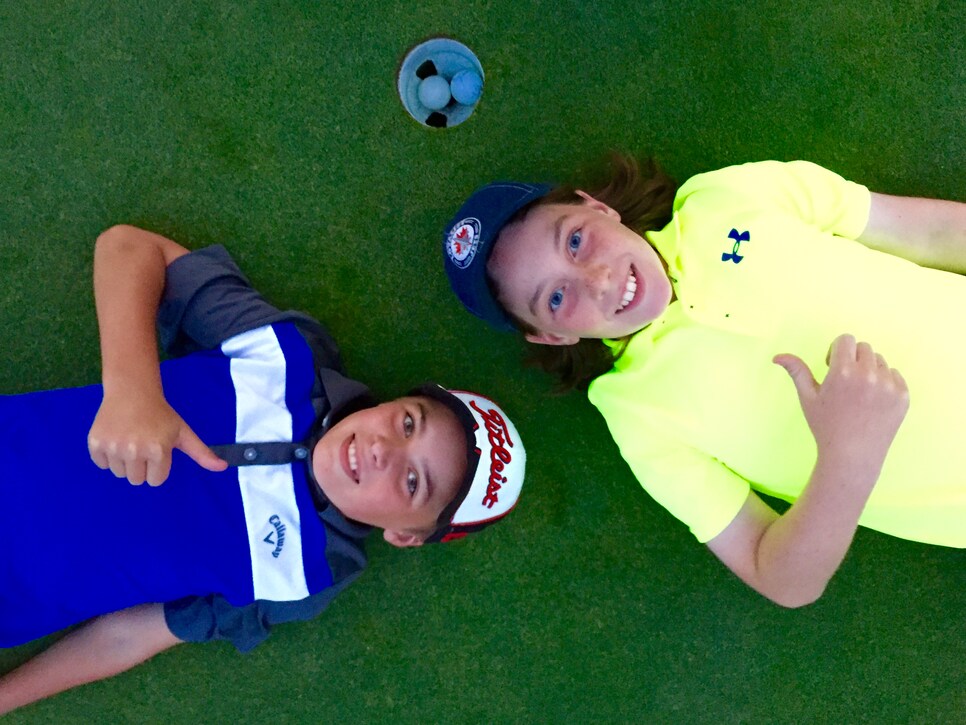 With the kids being far from drinking age, Kaeden Trainor's father, who was at the club's range with his younger boys, Lincoln and Mickian, came in and made good.
"Kaeden's father came in and bought Gatorades for everybody," Dillion. "It was really a cool thing. It's been a crazy year here -- someone made a hole-in-one on a par 4 earlier in the year."
Kaeden and Nolan became local heroes over the past week. Interviews with news outlets. Ceremonies in the community. And before the first travel-hockey game of the season, for the team they both play on, the coach presented them with commemorative plaques in front of the entire travel team.
Of course, the boys went onto each score goals.