The Loop
I reorganized my two posts counting down my top 20 of 2008 so it's in one spot and in sequence.
After hitting over 25 states, playing a little less than 200 rounds and logging millions of miles (slight exaggeration), here's my list of my favorite public golf courses I've played in the past 12 months. This is based on quality, condition, service, overall experience and value. Not to throw out a political disclaimer, but obviously these are all great courses. When you put them side-by-side and insist on picking a winner, it makes for great golf conversation.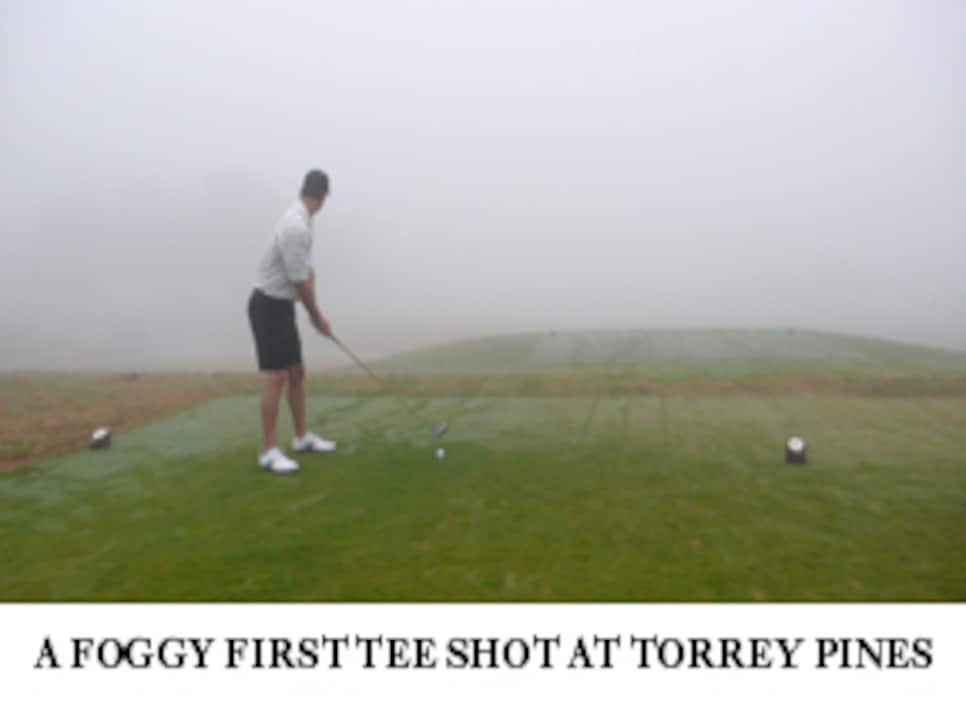 No. 20-Torrey Pines (South Course) in San Diego, Calif. [$181] To play where the pros play--that's what we all like to do, right? We also like to hit shots on courses with oceanside views in a section of the country that's allergic to adverse weather. The conditions of the original design by Billy Bell Sr., built by his son and renovated by Rees Jones, weren't great the day I played (the fairways were burnt-out) and the fog was so thick that I can't really say I played the front nine, so I'll try to go back again and give it another look next year.
No. 19-Tidewater Golf Club and Plantation in Myrtle Beach, S.C. [$209] Here's more memorable holes along the water for not a ridiculous amount of money. Designed by Ken Tomlinson, the third and fourth holes are two of my favorites I played all year.
No. 18-TPC of Myrtle Beach in S.C. [$185] I'm putting it a notch ahead of Tidewater because the clubhouse and the golf course (designed by Tom Fazio and Lanny Wadkins) are both bigger and better. My story about Myrtle Beach is coming out in the February issue (on newsstands the first week of January).
No. 17-Old White at the Greenbrier in White Sulphur Springs, W.V. [$225] A clear indication you like a golf course is when you putt-out on 18 and all you want to do is go back to the first tee and play it again. That's the feeling I had when I played Old White (an original Seth Raynor, recently restored by Lester George).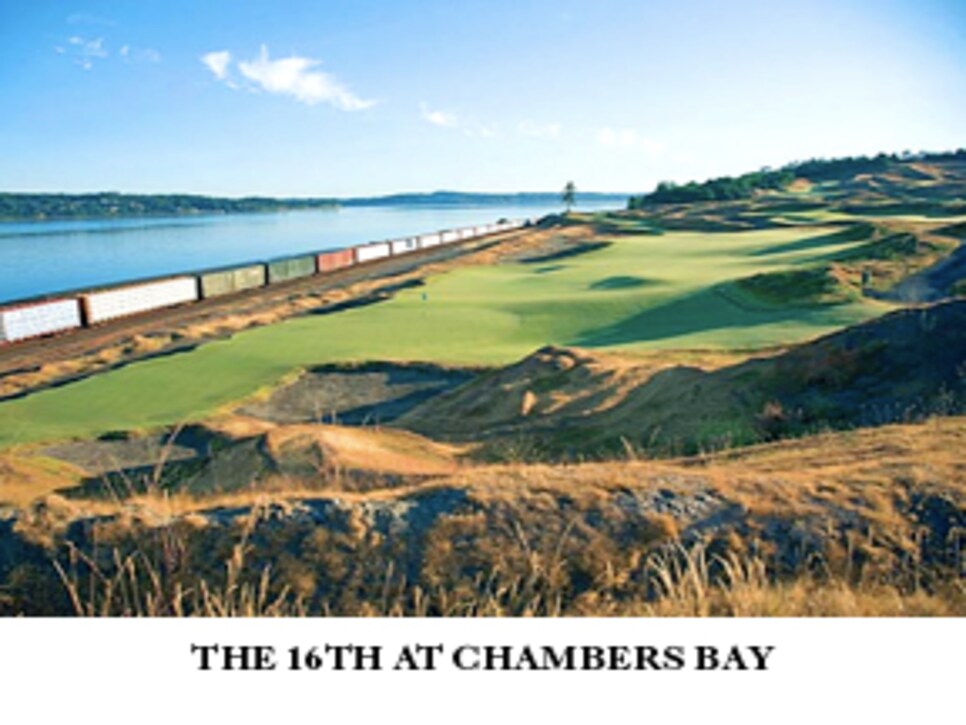 No.16-Chambers Bay in University Place, Wash. [$171] It's brand new and yet it's impressive (an old rock quarry turned hole in the ground, turned championship caliber golf course by Robert Trent Jones II) and I can see why they gave it the U.S. Open in 2015, but at some point in the near future they'll need to fix those funky greens (they roll at about a seven on the Stimpmeter).
No. 15-Dunes Golf and Beach Club in Myrtle Beach, S.C. [$200] It's as public as Pebble Beach (there's a lot you have to do and pay to play) but the golf course, designed by Robert Trent Jones, may be the best of "the Grand Strand." The only thing in need of a redesign at the Dunes Club is the hospitality of some of the staff, who tend to may more attention to the "members" than the paying public.
No. 14-Bandon Trails in Bandon, Ore.__ [$265] I put it at No. 14 for a reason. Until Bill Coore and Ben Crenshaw fix their 14th hole, this is as high as it will get on my list. The course starts out (holes 1, 2 and 3) and finishes (holes 16, 17 and 18) slightly better than either Bandon or Pacific Dunes, but that 14th hole is a deal-breaker for me. I've played it six times and I still can't figure what to hit off the tee, where to hit it off the tee, and trying to land an approach shot on that dining room table of a green is as much fun as an intimate evening with Steve Williams.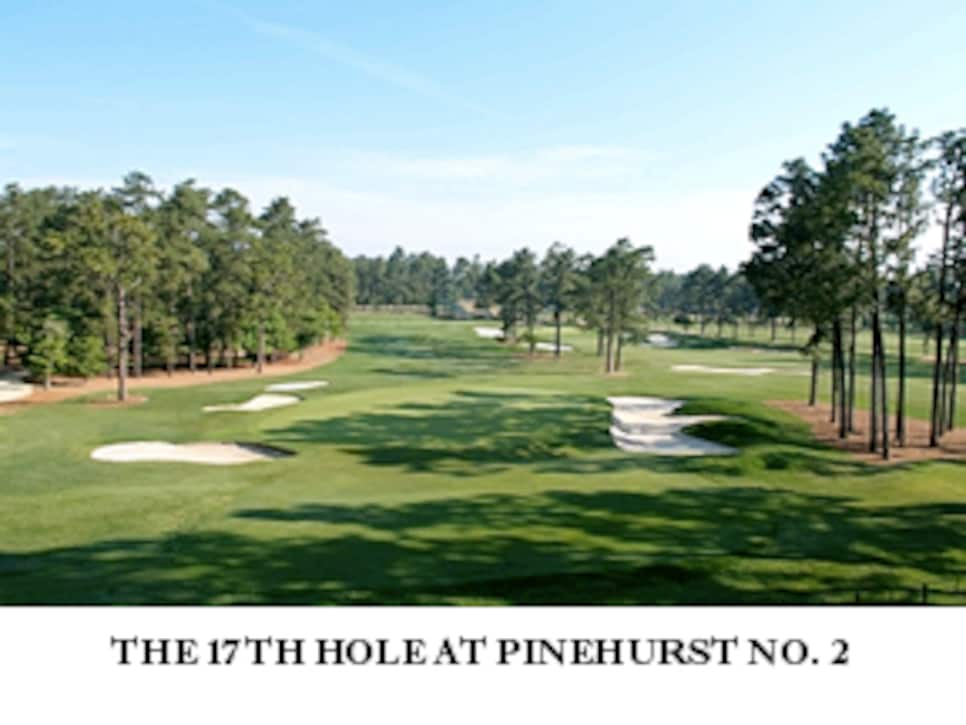 No. 13-Pinehurst No. 2. [$379] This is a tee time once every 10 years for me. I mean no disrespect to Mr. Donald Ross, and deep down (literally) I know he couldn't care less about what I think, but I don't hit enough good shots in a round to have them trickle off the front (and the back) of every green. I can see why the professionals like it, because they're so good they're always in search of a challenge, but I'm better off taking my amateur act to Pinehurst No. 4, No. 8 or down the road to Pine Needles.
No. 12-PGA West Stadium Course in La Quinta, Calif. [$235] Are you feeling good about the game of golf? You've had a run of good scores and you're walking around your home course with the swagger of a New York City pigeon. Well then, take your chest feathers to La Quinta and meet the cat they call humility in the form of the Stadium Course. Pete Dye brings the best to their khaki covered knees every year for the final stage of Q-School. He will do the same to you.
No. 11-The Classic at Madden's on Gull Lake in Brainerd, Minn.__ [$109] The golf course was already there, they just cut some trees, mowed some fairways and greens and stuck some flags in the ground. Scott Hoffman hardly moved a mound of earth to build it and it was one of the more enjoyable walks I had all year. At $109, it was also one of the biggest bangs for my company buck.
No. 10-Bandon Dunes in Bandon, Ore. [$265] I couldn't keep the best of David McLay Kidd out of my top 10. To get links land, bump-and-run shots and fast flying weather systems without having to cross "the pond" feels like you stole something. Critics argue the British Isles is an easier trip than getting to Mike Keiser's personal playground, but I happen to think the pilgrimage to the remote part of the Oregon coast is an enjoyable part of the process (and it weeds out the golf wannabes).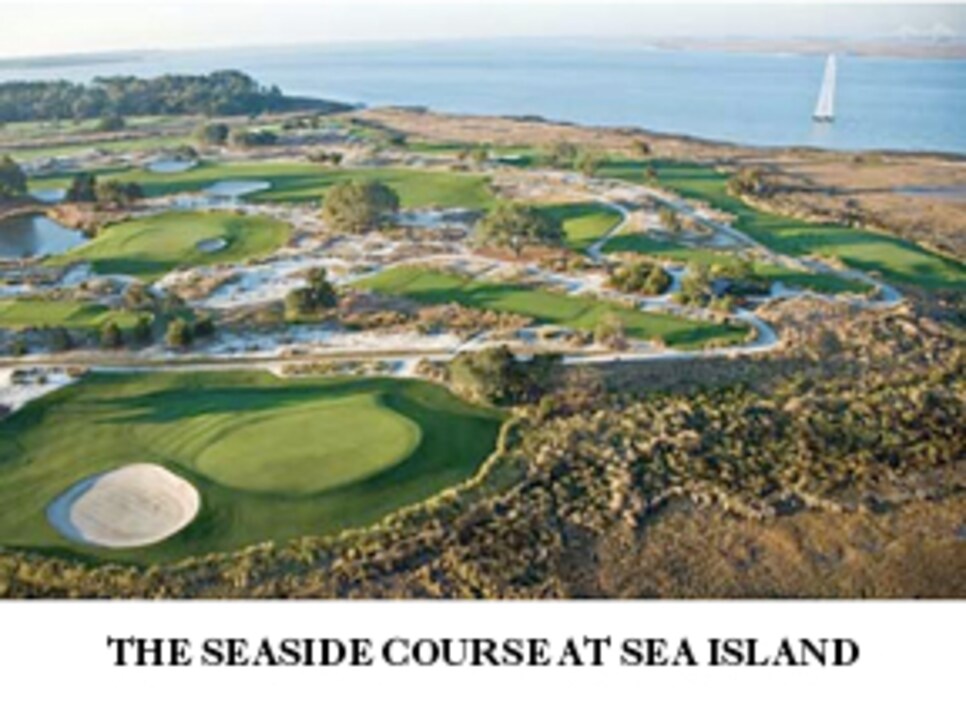 No. 9-Sea Island G.C. (Seaside) in St. Simons Island, GA. [$325] My favorite Tom Fazio (so far). The wow factor of the fourth hole is one of the best in golf. I remember thinking; I have to get all the way over* there *in two shots? You can't beat the practice facility, the setting and the over-the-top southern hospitality.
No. 8- Caledonia Golf and Fish Club in Pawleys Island, S.C. [$195] When I go back to Myrtle Beach, I'm going to build my trip around 36 holes (minimum) at Caledonia. This was my first time playing a Mike Strantz design, but it won't be my last.
__No. 7-Kapalua G.C. (Plantation) in Kapalua, HI. __[$295] I caught this course, designed by Bill Coore and Ben Crenshaw, on a day when wind wasn't a factor and I had my best round of the year, (which always affects an opinion of the place you play). For as much attention that's passed out about the back nine, specifically 17 and 18, I was just as impressed with the front nine.
No. 6-Pine Needles Lodge and G.C. in Southern Pines, N.C. [$235] There's nothing to dislike about Pine Needles and there's no way you could spoil this walk around my favorite Donald Ross. Be sure to build it into any and all Pinehurst itineraries and give my best to my innocent crush and owner--Peggy Kirk Bell. She'll be around and if you're lucky, she might give you some Hall Of Fame swing tips.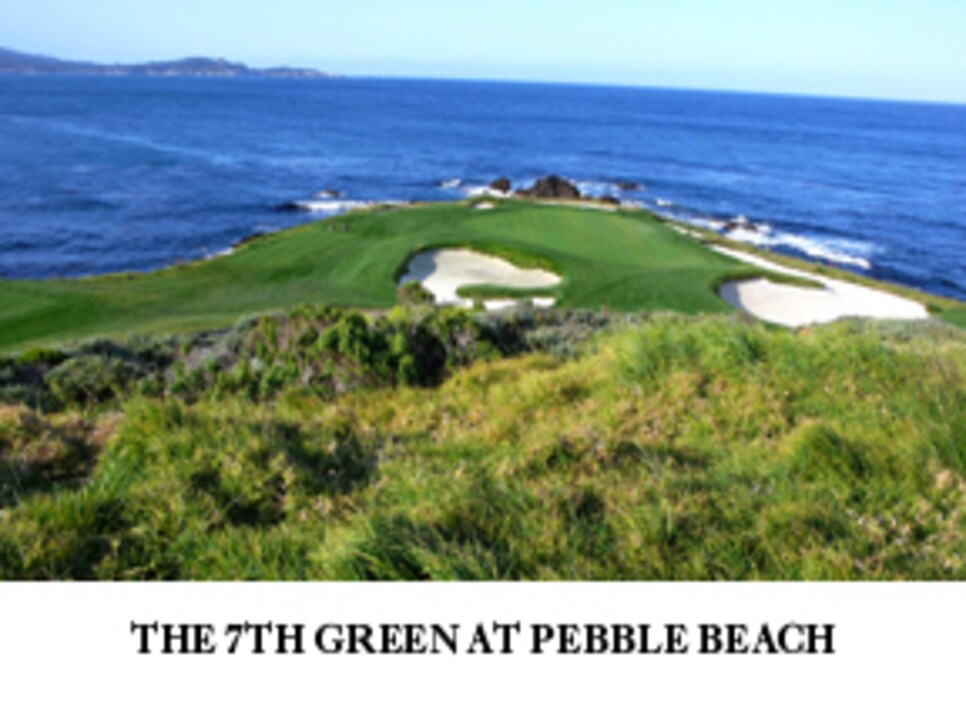 No. 5-Pebble Beach Golf Links in Pebble Beach, Calif. [$475] There are reasons why it's at No. 5. on this list, beyond the fact it will cost you your first born and a traveling nanny to tee it up. From the punched greens (no warning from the pro shop), a lame caddie (he needed a caddie for his stamina and attitude), the delivery cars and trucks that rolled up the service roads at 16 and 17, and the price for all of the above, it all left me with the sinking feeling you get when you lose your wallet. I leave it in my top five because it's still Pebble and it has seven of the most scenic holes in the world, but "the best" should always be held to highest of high standards. A plea to the people of Pebble; Don't forget to care about your paying customer or we'll pay to go somewhere else. As my mom always told me, "The minute you think you're irreplaceable--you're replaceable."
No. 4-Spyglass Hill in Pebble Beach, Calif. [$315] It's the most complete test of every club in your bag, course management, patience, temper, and your inner-Eldrick. It's No. 4 on my list because it's so more expensive ($330) than Bethpage Black ($120), but if value weren't a factor, Spyglass, designed by Robert Trent Jones Sr., would be in my top spot.
No. 3-Pasatiempo in Santa Cruz, Calif. [$200] I'm factoring in value, an original Alister Mackenzie design, a Tom Doak redux and a first through the18th hole assessment of golf quality. It was a pleasant surprise tucked into a residential spot in Santa Cruz. I'd suggest making this a priority on your to-play list and don't leave without swinging by the Hollins House at the top of the property for a cold beer.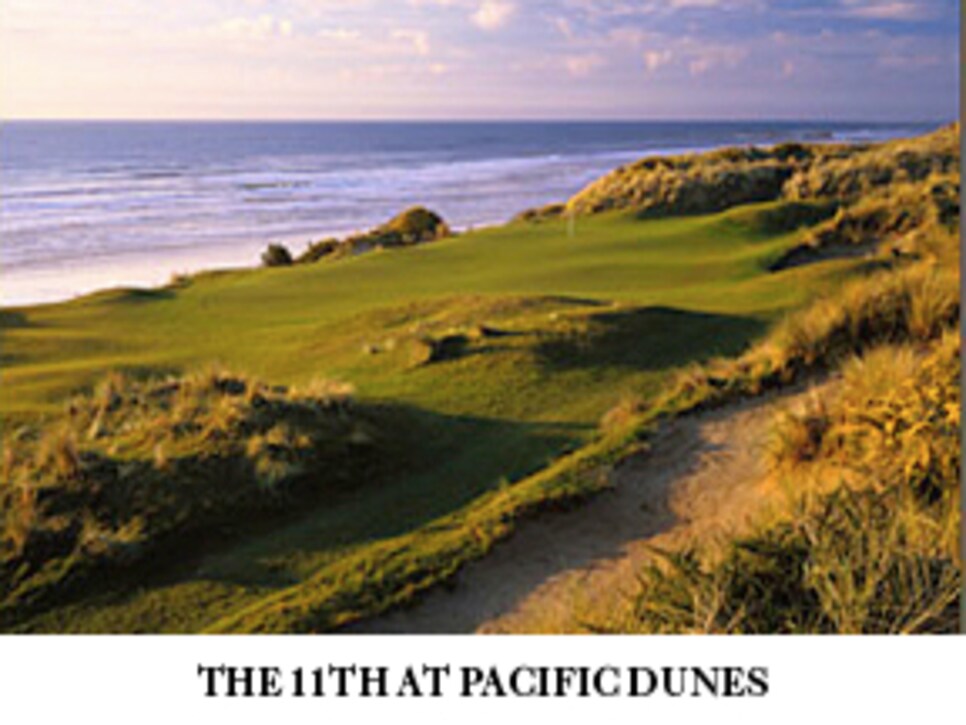 No. 2-Pacific Dunes in Bandon, Ore. [$265] The ongoing debate on which of the three courses is better (Pacific, Bandon or Trails) may be irrelevant (or not) with the arrival of the fourth course (Old Macdonald in the summer of 2010). For now, Pacific Dunes, designed by Tom Doak, gets the top block of this golf-on-the-Oregon-Coast medal ceremony.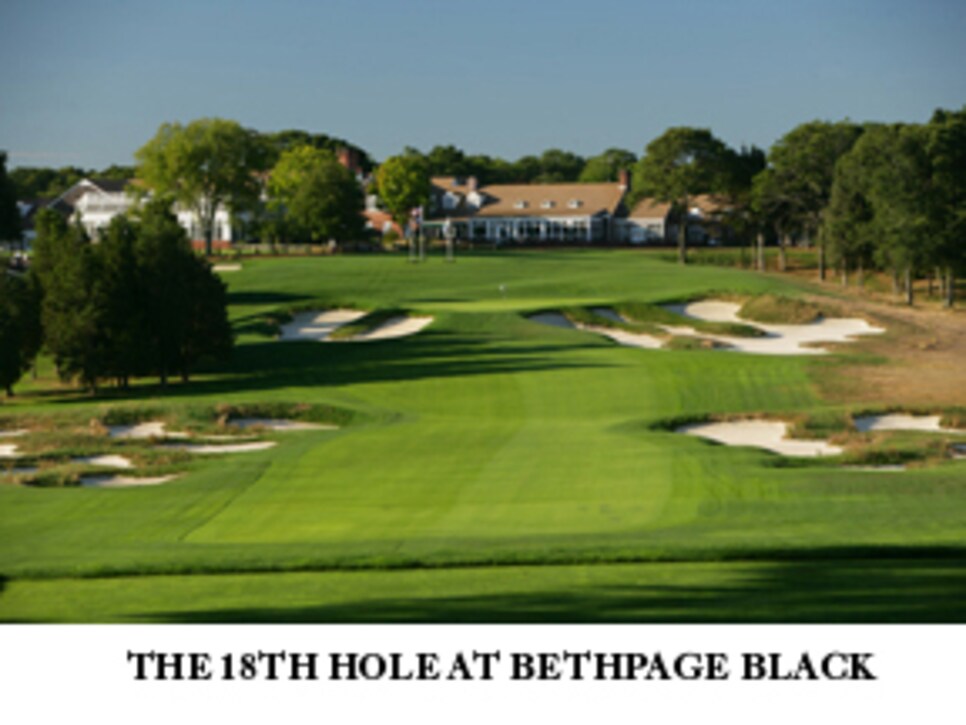 No.1-Bethpage Black in Farmingdale, N.Y. [$120] The Black is the endzone for blue-collar golfers playing a course admired and utilized by the blue coats of the USGA (Bethpage Black is hosting another U.S. Open in '09). New York residents pay $52 during the week and non-New Yorkers pay $104. Like a Spyglass or Stadium Course at PGA West, if you don't bring your relative A-game, by the end of the round, you may want to quit the game. But, at the same time, the best part about the Black and the definition of what I consider a fair challenge--if you play it from the right tees (whites are plenty) and stay within yourself (whatever that means), you feel like a good score is attainable. Go 4-4-4 through holes 10, 11 and 12, the toughest stretch of par 4s in the Northeast, and you should buy yourself something special. I've never slept in my car to get a tee time to play the Black--but I would.
This grouping of golf is like trying to judge a Ms. Hawaiian Tropic contest, but I've worked it up in the spirit of discussion.