The Top-10 Moments In Pro Golf That Turned Supernatural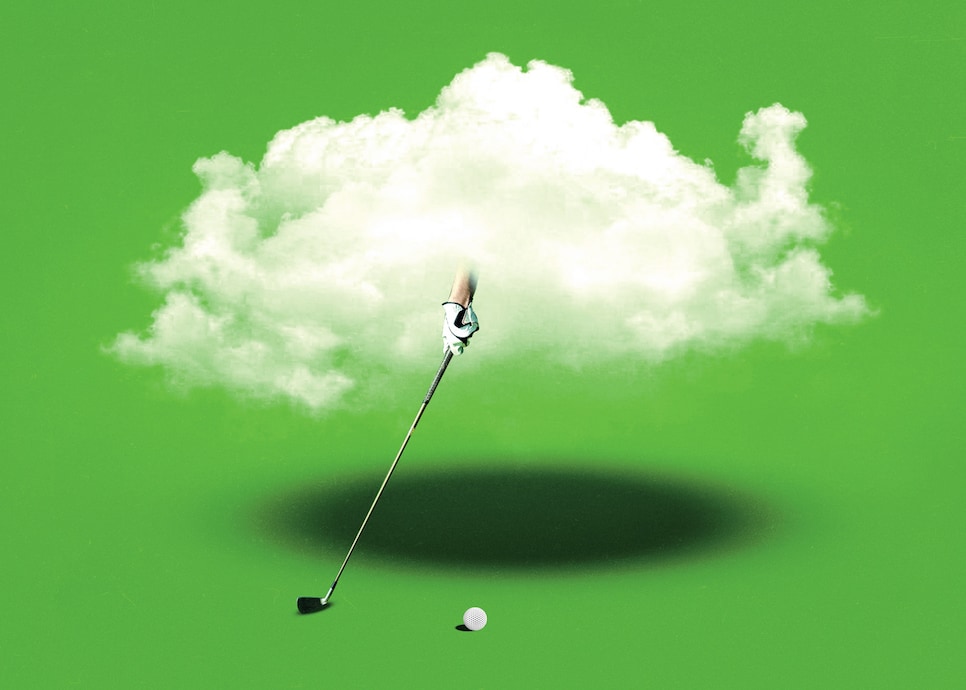 Photo By: Illustration by Nicolas Ortega
The last thing a pro would seem to need is a miracle. They are blessed with so much already—action-figure physiques, swings issued straight from heaven, and as video replays show daily, a surfeit of good bounces. In truth, the astounding things that have happened to them over the years are for our benefit as much as theirs. They instill a sense of wonder, add to the lore, and suggest we might be on the receiving end next.
What qualifies as a miracle, anyway? The criteria is rubbery, but it begins with an event that indisputably is a one-off, something that could never happen again. Four players making aces on the same hole on the same day at a U.S. Open, as happened in 1989? Not quite; the cup was cut where balls funneled, making it more fluke. But Arnold Palmer's aces on the same hole on consecutive days? What a combination of a place, person and time. When Fred Couples' ball hung on the bank at the 1992 Masters, it was as though providence was tapping Freddie (and millions of fans) on the shoulder and whispering, I'm here.
Herewith, the top-10 miraculous events that have happened to those who play for pay.
1.) BOBBY JONES WALKS ON WATER
1930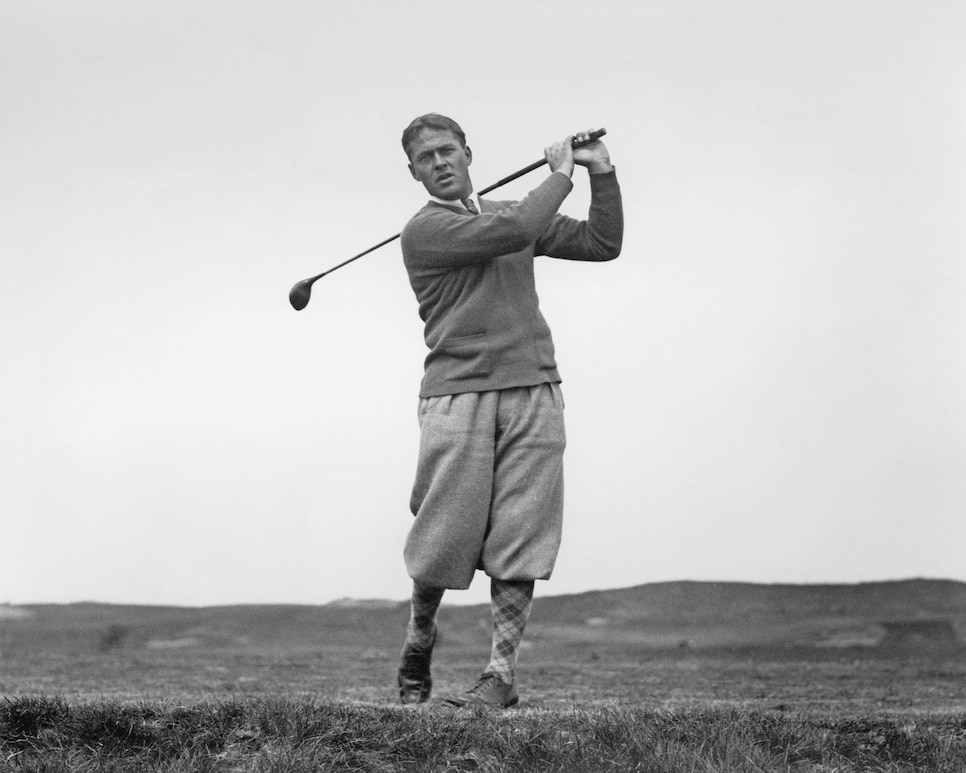 During the second round of the 1930 U.S. Open at Interlachen Country Club outside Minneapolis, Bobby Jones attempted to reach the par-5 ninth hole in two. Just as he began his downswing, Jones saw out of the corner of his eye two young girls sprinting into the fairway. Jones flinched, and his ball, badly hit, seemed destined to go only halfway across a lake in front of him. The ball, however, struck a lily pad and bounded forward, free of the water and only 30 yards short of the green. This dose of Jones magic—and the fairly routine birdie that resulted—was consequential. He won that U.S. Open, his fourth, by two strokes over Macdonald Smith.
2.) BOBBY CRUICKSHANK'S COMEBACK
1932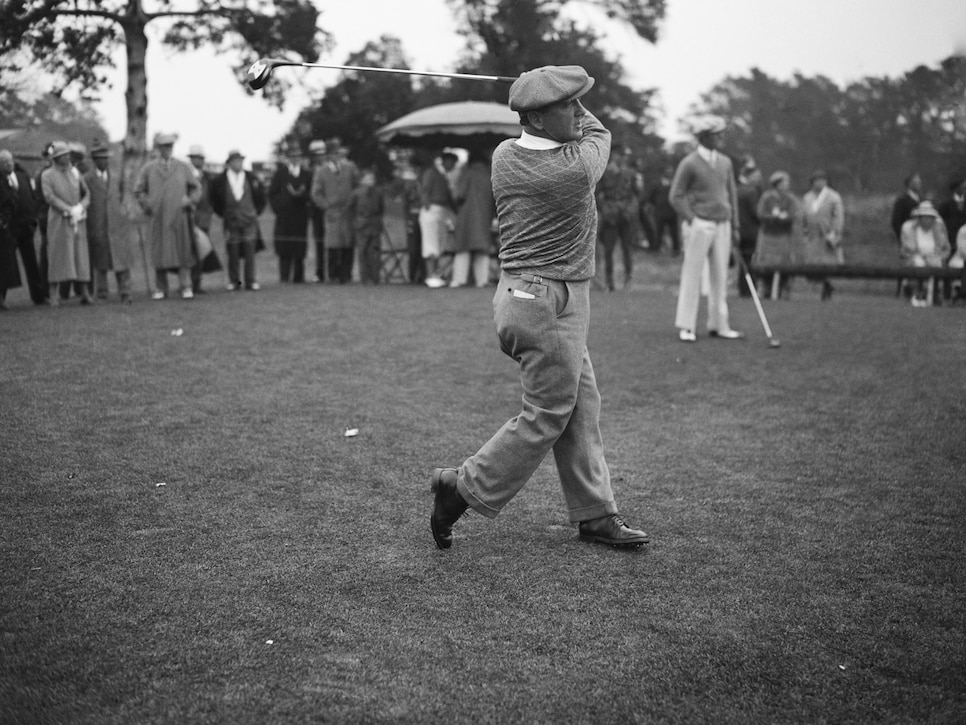 In a 36-hole, first-round match at the 1932 PGA Championship, Al Watrous, a successful tour player and later head pro at Oakland Hills, led Bobby Cruickshank, 9 up, with 13 to play. Watrous, feeling sorry for Cruickshank, conceded a six-foot putt for a halve on the sixth hole. Big mistake. Cruicky, mainly through spectacular putting, which included a 70-footer on the 15th hole, came back and tied the match in regulation, then won on the fifth extra hole. "I played well," Watrous later recounted. "My advice to you is, don't ever concede your opponent a putt—not even a two-incher!"
3.) HOMERO BLANCAS' 55
1962
Now 79, Homero Blancas was an excellent PGA Tour pro who excelled as a senior. But as a young amateur, Blancas produced what is perhaps the most phenomenal round in golf history. In 1962, at a Texas barbeque-circuit event known as the Premier Invitational, Blancas shot 55, an incredible 15 under par. The par-70 course was just over 5,000 yards and consisted of a single nine holes using two sets of tees. Still, he made 13 birdies and an eagle. Detracting from the miracle not at all was the fact he missed a three-footer. The score to this day has never been bettered, though in 2012 an Australian pro, Rhein Gibson, equaled it in a non-competitive setting.
4.) NICK PRICE'S ULTIMATE UNPLAYABLE LIE
1977
Upon finishing a two-year stint in the Rhodesian Air Force in 1977, Nick Price's first order of business was to get his game in shape to join the European Tour. Playing a course named Elephant Hills in what is now Zimbabwe, Price was preparing to drive when he saw a family of bush pigs—stout, short-haired animals common in South Africa—trotting away diagonally a short distance from the tee. Price hit anyway but, out of practice, thinned the shot, the ball never rising more than 18 inches off the ground. The ball struck one of the bush pigs in the hind quarters, disappearing below its small tail. Call it a plugged lie or a distant cousin to the hole-in-one, one thing is for certain: The shot will never be duplicated.
5.) BEN CRENSHAW AND THE HARBINGER OF DOOM
1984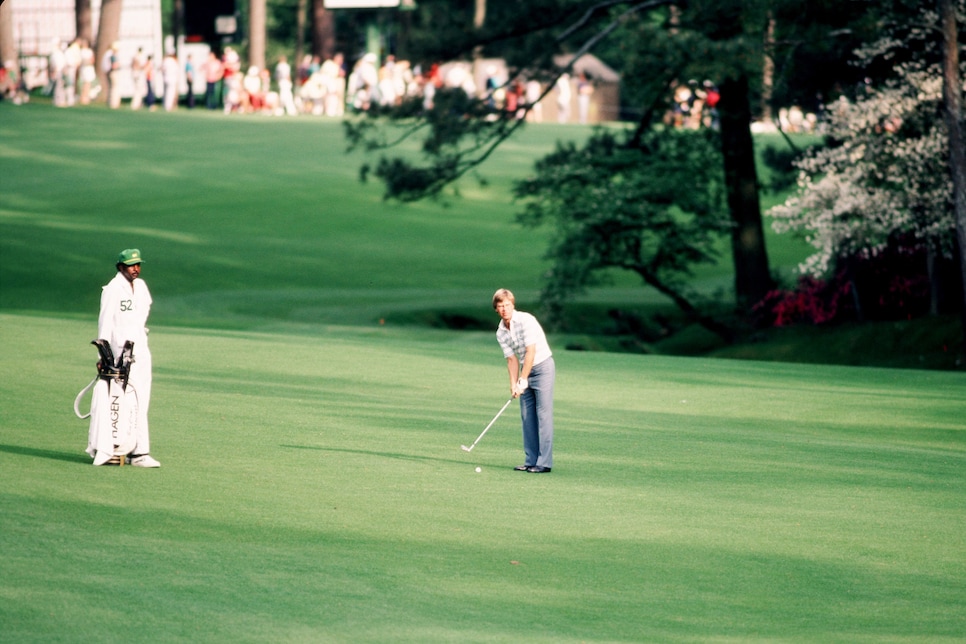 Amateur Billy Joe Patton was leading the 1954 Masters when he went for the green on his second shot at the par-5 13th and 15th holes. Both times he found water, and he eventually missed the Sam Snead-Ben Hogan playoff by one. It was the ultimate cautionary tale of overly aggressive play. Fast-forward to the 1984 Masters. Ben Crenshaw, holding a three-stroke lead on Sunday, drove at the 13th squarely into go/no-go territory. While debating what to do, Crenshaw glanced at the gallery and saw in the sea of faces none other than Patton, then a 61-year-old member at Augusta National. This chance sight was all Crenshaw, a golf historian and "big believer in fate," needed. He laid up and went on to win by two.
6.) ARNOLD PALMER'S DOUBLE
1986
On a Tuesday preceding the 1986 Chrysler Cup, Arnold Palmer made a hole-in-one on the 187-yard 12th hole at TPC Avenel in Maryland. Delirium ensued. The next day, Arnie came to the same hole and, wielding the same 5-iron, aced it again, this time on the fly. Odds of a pro golfer making a hole-in-one: 2,500-to-one. On the same hole in consecutive tournament rounds: Actuaries struggle, but one estimate puts it on the order of 10-million-to-one. Roughly impossible—unless you're Arnold Palmer.
7.) FRED COUPLES DEFIES GRAVITY
1992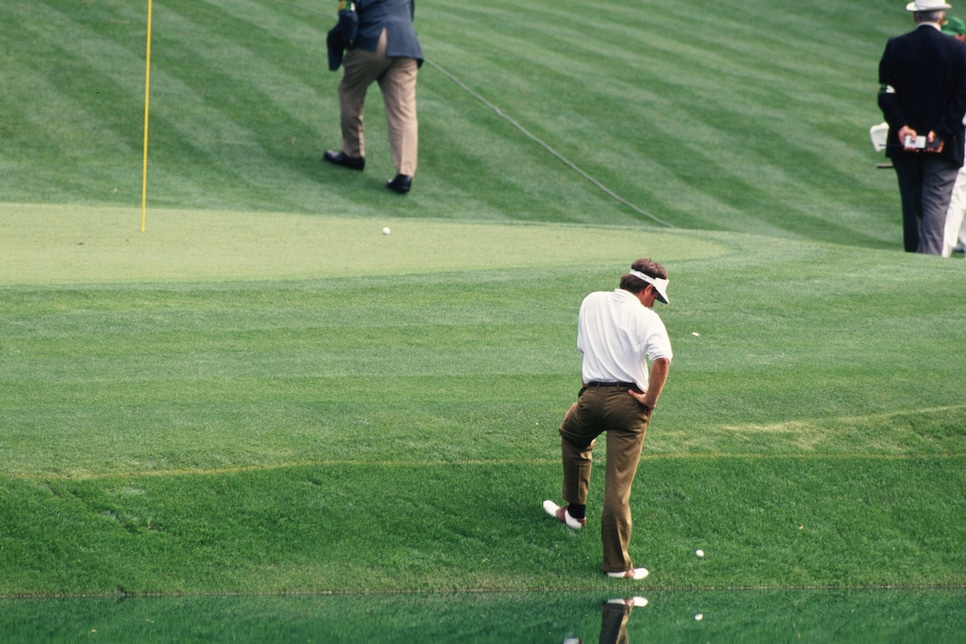 By 1992, Fred Couples was a living miracle already, his dreamy swing, fame and good looks more than should be endowed on one person. In the final round of the Masters, it went to another level. Holding a three-stroke lead, he went at the flag on the right side of the 12th green. His ball came up short, slamming into the front bank. But instead of rolling back into Rae's Creek, as we've seen happen scores of times, it hung up. He chipped to within a foot, saved par and, two hours later, slipped into the green jacket.
8.) DAVIS LOVE III AND A TIMELY RAINBOW
1997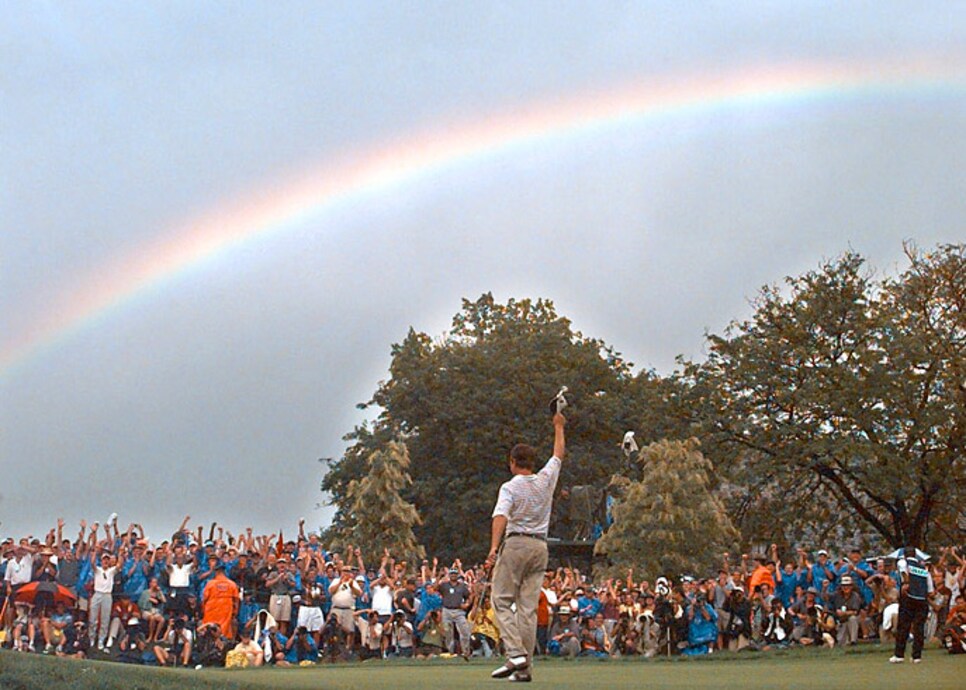 The famed teacher Davis Love Jr. and his son Davis Love III were as close as a father and son could be. The elder Love taught, nurtured and advised his son well into adulthood. Thus, when Davis Jr. died in a plane crash in 1988, the loss to Love III was incalculable. At the 1997 PGA Championship at Winged Foot, as Love III putted out for his first major- championship victory, a moisture-laden cloud and sunlight conspired to produce a rainbow, which disappeared only moments later. Meteor-ological happenstance or a late father's affirmation to his son? Is anyone cynical enough to assume the former?
9.) ANDREW MAGEE'S UNBELIEVABLE ACE
2001
Never a particularly long hitter, Andrew Magee took aim at the 332-yard, par-4 17th hole at TPC Scottsdale during the 2001 FBR Open while Steve Pate, Gary Nicklaus and Tom Byrum were still on the green. Magee's drive gamboled onto the green, caromed off Byrum's putter and rolled in. A stunned official reacted by lifting his arms to signal a touchdown.
It remains the only ace on a par 4 in the history of the PGA Tour. Given time, the feat will almost surely be equaled, but the nature of it—the ball making contact with two clubfaces on one shot, then winding up in the hole—was a reminder that the world of golf spins on a slightly tilted axis.
10.) TIGER WOODS' GREATEST U.S. OPEN VICTORY
2008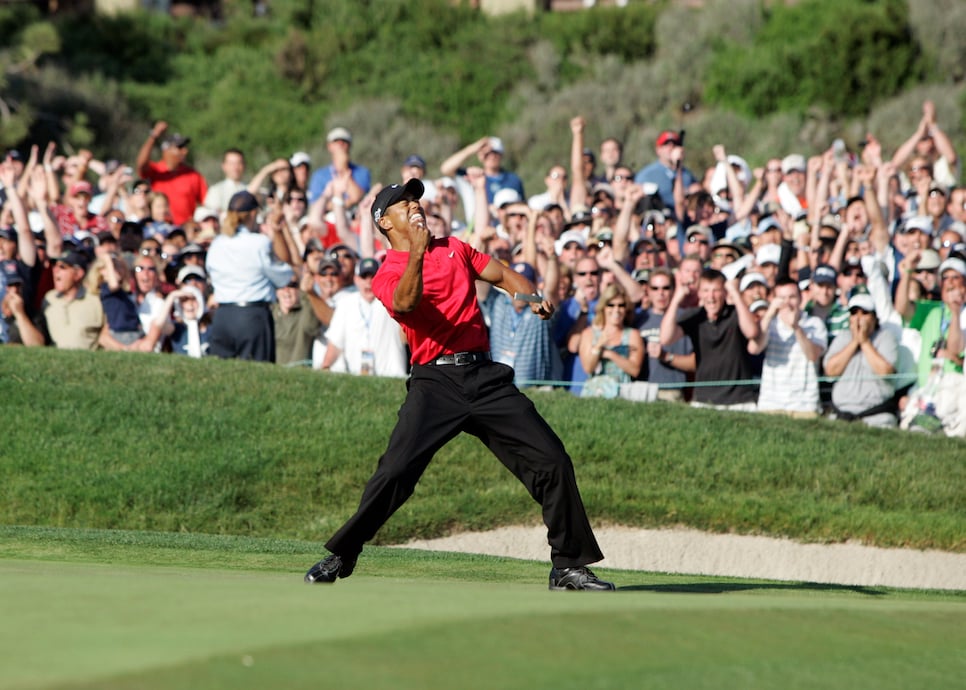 A double stress fracture of his left tibia. A torn anterior-cruciate ligament. Excruciating pain on practically every swing from start to finish. Tiger Woods' triumph over Rocco Mediate in a Monday playoff to win the U.S. Open at Torrey Pines slowed trading in the financial markets, but there was far more to it than Tiger playing through pain. At key points in the 91 holes (which included a good 25 miles of walking), Tiger's play included chip-ins, monster putts and clear routes to the green when his drives went awry. When you combine positive nods from the golf gods with a big stage and Tiger's force of will, the result is a historical aberration.