Even for a guy who has tried hypnosis, meditation, Extraordinary Golf, Rolfing, and assorted sessions with Bob Rotella and Gio Valiante, all in an effort to escape mediocre golf, the idea that a horse could make me a better putter seemed far-fetched.
But that was the deal: Putt. Meet a horse. Putt again. Reflect.
Now, I'm not a horse person. Have never been on a horse. I've read enough about them to know they are able to sense fear. Kind of like that old saw players had about Jack Nicklaus. I know I'm afraid, they know I'm afraid, and I know they know I'm afraid. My only comfort stemmed from the fact that a player I greatly admire, major champion Anna Nordqvist, swears by it.
So on a hot morning in Mesa, Ariz., I follow Debbie Crews, the Arizona State University sport-psychologist consultant who worked with the 2017 NCAA champion women's golf team, to a little tent next to a horse corral. She hands me three balls and an off-brand putter that's about 20 years old. I'm to putt along the artificial-turf carpet and make three in a row from each foot marker, progressing as far as I can in five minutes. I clear six feet without a miss, flub a couple, finish with middling results. Debbie gives me a short questionnaire and one of the questions is: "Name three descriptors of your putting." I write, "Relaxed, thinking, old tips."
There are five or six horses in the corral. Most are combinations of brown and black, and one looks bigger than a Budweiser Clydesdale. "Choose any one you like, put this on it, and walk it out the gate," Debbie says, handing me something I'll later learn is a bridle. I've had my eye on a white horse that seems gentle and—I'm no dummy—is near the gate. She's a draft horse called a Percheron, originally a French breed. I, of course, know nothing about this. I don't even know her name is Nellie. I'm simply using the singles-bar standard: She's attractive, seems approachable and doesn't look like she'll bite. Her back is about level with my shoulders, and she's as wide as a golf cart. When I fumble with the bridle and Nellie lowers her head to help me, I know I've chosen wisely. It takes forever to get the bridle on, but eventually we're heading out of the corral. "OK now, here we go,"
I say, faking confidence. "That's the way!" I almost add "girl" but at this point I'm not sure if Nellie is a girl. (I know, I know.)
During the next hour I groom Nellie, hold up her hooves to clean them (terrifying), and lead her up and down a lane, asking her to "giddy up," "ease up," and "whoa." As we walk, Debbie first asks me to direct Nellie using only the rein. Then only words. Seriously.
I knew going in this pseudo telekinesis would be part of it, but I don't feel any less confused. How the heck is this horse going to just do what I think?
I let go of the rein entirely.
To my surprise, for a few steps I feel a connection that might allow such communication to happen. I walk her to the barn, turn, and think, This is going well. I want it to end that way, so I hurry to the finish, hoping she'll follow. Maybe I really am in charge?
I lose Nellie. "When you're not there, she senses it," Debbie says. "Horses are mirrors. They know you, and they don't lie. Keep the connection. Stay present. She'll tell you if you lose it."
With Nellie back in the corral, we revisit the questionnaire. Did you pick the horse? Yes. Did your horse pick you? Maybe.
My second putting session feels slower, but isn't. I finish by canning three 10-footers. Probably the best I've ever putted in my life. "Wow," Debbie says. "That's better than some tour players I've had."
My three descriptors this time: Relaxed, focused, determined.
Horse therapy has been around since the ancient Greeks. Hippocrates wrote of riding's beneficial effects for the physically disabled, hence the other name for Equine Assisted Therapy (EAT): Hippotherapy. More recently, equine interaction has been used by psychotherapists, often with autistic children. The intelligence, warmth and imposing size of horses tends to engage patients fully. Improved self-esteem is one of the most often-mentioned benefits.
Applying EAT to athletics is yet to become widespread. But Crews thinks it's a way to undo mental scar tissue. "I've found that when athletes are doing their sport they have so many coping strategies, denials, automatic patterns that don't serve them," Crews told me. "The horses help you see what's really going on inside." (Warning: If you do one of these programs, beware liberal friends. "Oh, great," one of mine told me. "Now all the horses that were supposed to be helping needy kids are helping rich golfers!")
Crews is associated with the Hunkapi program in Phoenix, which conducts equine therapy for children and adults with physical and emotional problems. The program's director, Terra Schaad, explained why horses are effective. "Horses aren't distracted. They're present all the time. If it feels good, they go forward; if it doesn't, they go back. If a horse moves away from me, and there's not another reason, like food over in the corner, I ask myself, 'What's the sensation I'm feeling?' "
Schaad described one recovering abuse victim, who, after much coaxing, finally managed to approach a horse. "She put on the bridle, and it was tears. That feeling of being home, being accepted, of being loved, even . . . she felt all of that at once." We might live whole days without that kind of engagement, Schaad says. "Whether you are one of our clients or an athlete, the idea is to re-create that. To be present, to sense what your body is doing. And the horses help you."
'HORSES ARE MIRRORS. THEY KNOW YOU, AND THEY DON'T LIE.'
Crews has put cerebral sensors on humans and horses as they interact and has found that as the engagement deepens, the brain patterns of the two beings enter a complementary state. She also uses these sensors to help golfers re-create this state of focus—or flow—when playing. The headset I used was connected to a tablet playing music. My job was to will the volume lower, and when the music got soft, Crews suggested, I was ready to putt. I'm not sure how I made that music softer, but I did. And I was.
Louisianan Robert Merrill Jr., an instructor with Athletic Motion Golf—he led the 2015 Louisiana Mid-Am after two rounds before turning pro—recently completed Crews' Better Your Best program. It included the headsets, the horses, archery and darts. The equine interaction, he says, was life-changing. "I guess it's kind of a self-fulfilling prophecy because I wanted it to work, but my wife will tell you I'm a different person," Merrill says. "I used to power through things. I had a lot going on. If need be, I left people behind. You can't do that with a horse. You can't power a 2,000-pound animal. You better have a connection. I've read all the sports psychology you can get and done some of the programs, but looking back, they were Band-Aids. There was always a squirrel in the attic of my golf game. Now I feel the way I did when I was a kid. The squirrel's gone."
Anna Nordqvist completed the horse element of Crews' program the week before she won The Founders Cup, her seventh LPGA Tour title. "There are things you can measure, like with TrackMan, and things you can prepare for," Nordqvist says, "but if it were all about preparation and measurement, there would be many great golfers. Sometimes the situation is not one you could have prepared for. You've got to figure it out, and the experience with the horses told me I can do that. It comes back to me sometimes on the golf course. I go, 'Hey, you had no idea what to do then, and you figured it out. You can do this.' "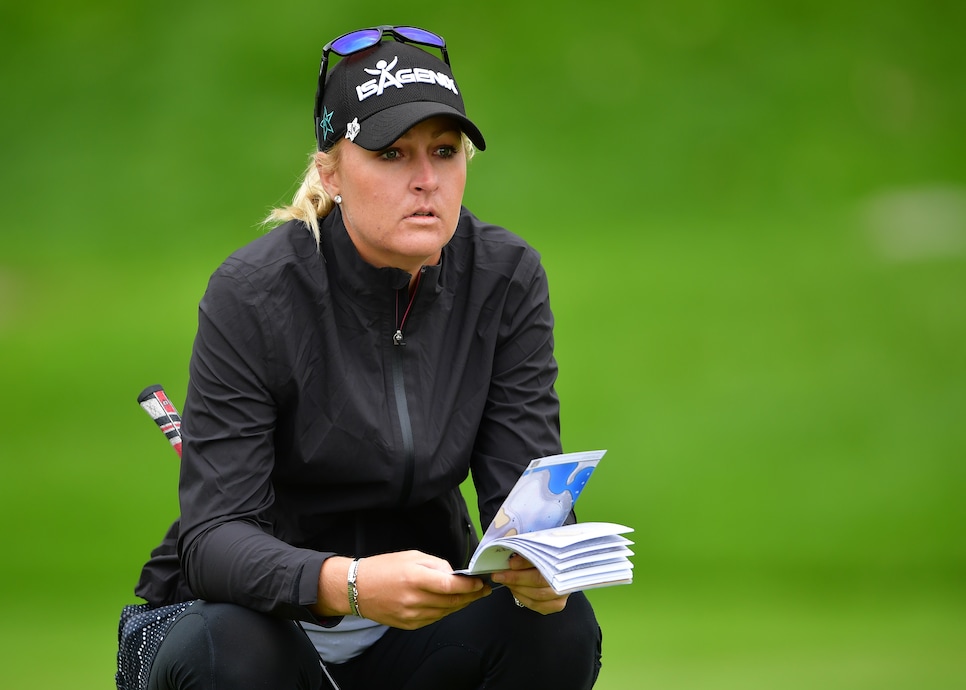 ASU coach Missy Farr-Kaye took her team through the program and then went again with her assistant coach before the team's NCAA victory this year. For her, interacting with the horses is about leadership, hers included. "I'm like a recovering perfectionist," Farr-Kaye told me. "I'm always worrying, Have I done enough? Have I said the right thing? But after that session with the horses—it took me forever to choose the perfect one—I was like, Wait, the team knows. The horses know. Let it be. You've done what you can."
Each of those high-achievers, it turns out, chose Feathers, the male Alpha in Debbie's corral. "Do you know where Nellie stands in the pecking order?" Crews asked me. "Middle?"
I guess. "Last," she says. "But she's the one who has learned everything we've ever asked her to. Who can handle all kinds of work situations."
Am I a better golfer for having met Nellie? I hope I'm a more adaptive golfer. My notes from my day with Crews: "Patience! On the golf course I often want to escape. I play fast, I play hurried. When a goal is in sight, or after bad shots and it's out of reach, I hurry. If shots don't feel right, I drop out. To fix it I repeat mantras: Bear down. One shot at a time. Enjoy the moment! I lay positive words over the negative ones. The mountain gets higher."
Merrill told me he has consistently played two or three shots better since his session in Mesa. My first round back was frustratingly normal: high 80s. Then I played two nine-hole rounds that were, for the first time in months, under 40. The second, during which I hit the ball only OK, was one under par.
My takeaway is that there is no talking oneself into good golf. There is only noticing when you're fully with it, fully there, and re-creating that sense when it's absent. A golf round is like a walk with a horse. If that sounds too Yoda-ish for you, and way too hard to accomplish, remember Crews' words: You'll know.
And, yes, I'm sure Nellie chose me.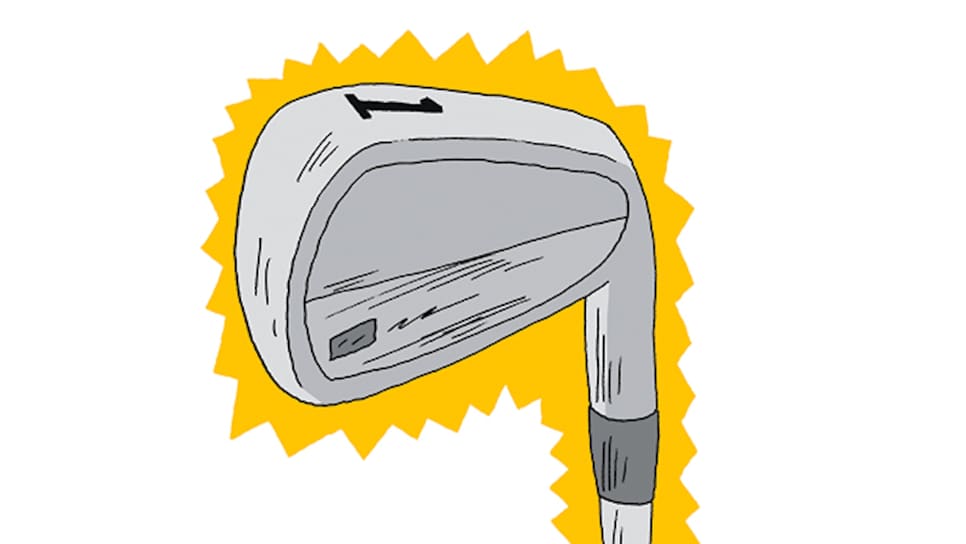 Illustration by Peter Arkle
THE BORROWED 1-IRON
In 1987, I was the head pro at Hay Harbor Club, the short but scenic nine-holer sometimes called "the little course" on Fishers Island in New York. My habit was to take my long irons out of my bag, and so one Sunday morning when I arrived for a game at Fishers Island Club (No. 11 on Golf Digest's list of America's 100 Greatest), I realized I was under-equipped. Not to worry—my playing partners said I was welcome to borrow from their bags as needed.
With a back pin, the par-3 fifth hole was playing about 220 yards. I asked my friend Charlie—who incidentally, was debuting a new set of Ping Eye-2 irons I had procured for him—if I could borrow his 1-iron. I hit it solid, and was picking up my tee when the group ahead started jumping up and down. An ace.
The ball in the cup was a Titleist 1. It occurred to me I could mount the ball along with the club on my office wall with the inscription: "1-iron, one swing, hole-in-one." Charlie says, "I was going to hit 2-iron, but I guess it's a 1. Give me that club."
I explain that he can't hit it, tell him about my plan. I'll get him another 1-iron, even a new set, anything. But he insists. "It's my club," he says.
He wipes a shot into the greenside bunker and hands me the club.
"I don't want it now," I said. My first thought was that he'd ruined the story, but I realized it was the opposite. "I own you now, Charlie" I said, and I retell the tale every chance I get. Which is a lot, because I'm now the head pro at Fishers, where Charlie is still a member. —Dan Colvin with Max Adler
A BABY AND AN ACE
I was nine months' pregnant and ready to pop. Restless, I headed to River Oaks Golf Course in Ceres, Calif., with my husband and in-laws for a quick nine. I'd picked up golf three years before, and having a big belly didn't help my form much—I was spraying the ball all over the course.
When we got to the 125-yard eighth, my mother in-law bested both the guys by hitting her shot to five feet. She turned to me and said: "Honey, the only way you're going to beat that one is if you get a hole-in-one."
Laughing, I stepped to the tee and hit it solid. The ball went right at the flag, hit the green and disappeared. I assumed it rolled off the back.
When we found my ball in the cup, I burst out laughing. How could someone so freaking pregnant make a hole-in-one? Everyone yelled and jumped around.
We played the ninth, and as we were packing up to leave, I wasn't feeling right, so we headed for the hospital. My water had broken, and I was going to have the baby. As they wheeled me away I told the nurses, "I just made a hole-in-one, and now I'm having a baby—this is the best day ever!" I'm not sure they believed me because they looked at me like I was crazy.
A few hours later, I gave birth to a beautiful little girl. The story made the front page of our local newspaper, so we didn't have to send out a baby announcement.
I've had two more daughters since that day, but I'm still working on that second hole-in-one. —Allyson McCandless with Brittany Romano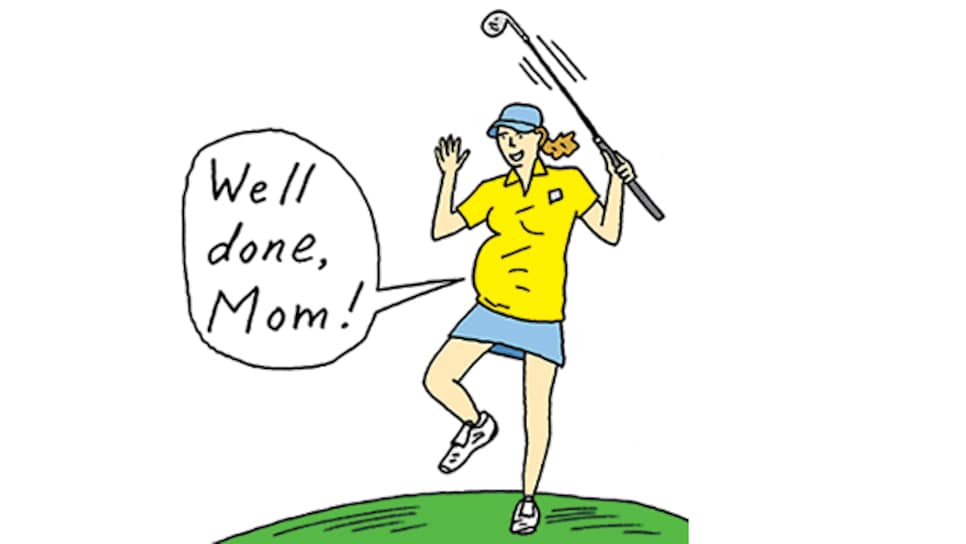 Illustration by Peter Arkle