News
The Woods-DeChambeau bromance continues with Tiger singing Bryson's praises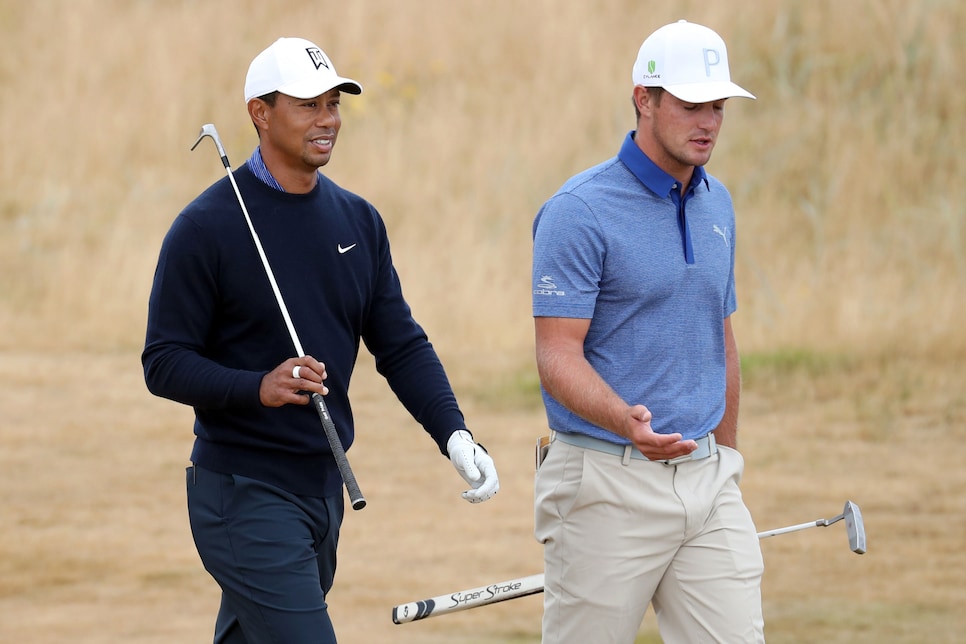 NORTON, Mass. — Tiger Woods still remembers one of his early encounters with Bryson DeChambeau. It was at the 2016 Ryder Cup at Hazeltine National.
Woods was there as a vice captain, having missed the entire season due to injury. DeChambeau was simply a spectator, having just earned his PGA Tour card following a victory at the Web.com Tour's DAP Championship a few weeks earlier. Still, the quirky young pro with the Hogan cap and single-length irons had enough chutzpah to show up in Minnesota anyway, figuring he'd be on the other side of the ropes soon enough so why not see what the atmosphere was all about. It earned him a cart ride with Woods.
"To see how smart he is, [I asked him] what are our odds or percentages of X and X, if you put this pairing, in this session, what are the odds of us winning," Woods said. "And he said I'll give you half the hole. And he came back with the answer."
Two years later, the two are likely to be captain's picks and teammates when the U.S. heads to Paris next month. On Tuesday at the Dell Technologies Championship, DeChambeau said he'd welcome a pairing with Woods, adding that he thinks they'd have "great chemistry" and could "intimidate" some people. A day later, Woods agreed.
"He and I playing together would be fantastic," Woods said. "I know that we think about the game completely differently. I'm very much a feel-oriented guy, and he's very much a numbers guy, but for some reason we get along great and we work."
It wouldn't be the first time they've played together. Though they've never been paired in a tournament, the two have teamed in several practice rounds together this year.
It makes sense. Both are golf nerds. Their games also would match up well. Woods has been wild with his driving much of the year, ranking 119th in strokes gained/off the tee, while DeChambeau has been much steadier, ranking 16th in the same category. Where DeChambeau has been somewhat average around the green, Woods has been much steadier.
This year's Ryder Cup would also be DeChambeau's first, while Woods would bring a wealth of experience to the pairing. The physics major from SMU and Woods, a Stanford alum, also apparently speak the same language.
"I understand what he's saying and he understands what I'm saying," Woods said. "That's been fun."