News
The state of Tiger's comeback (so far)
Fans and critics will interpret Woods' first three starts in different ways but one thing seems hard to deny: There's real suspense again when he tees it up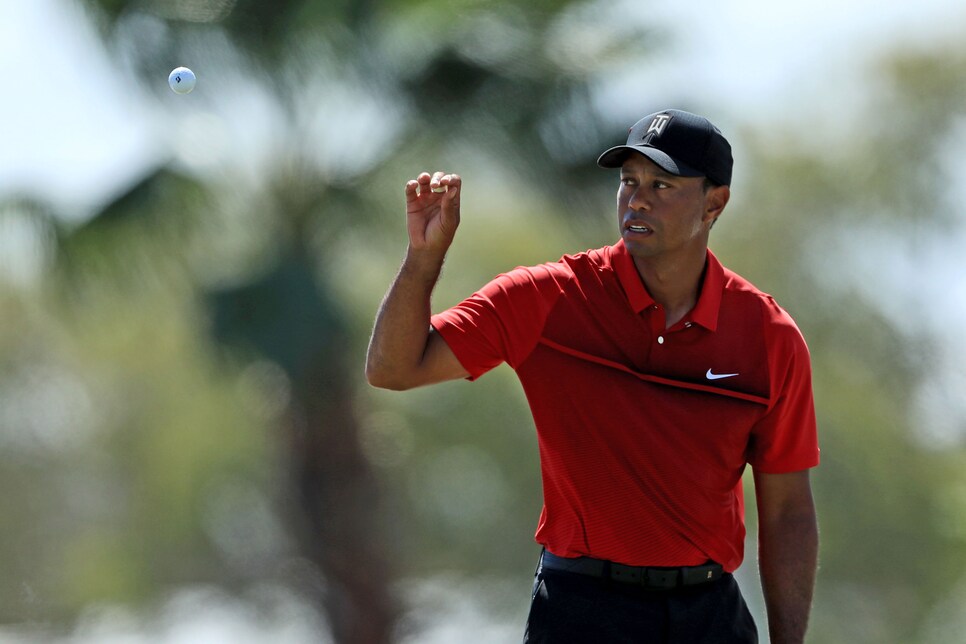 Photo By: David Cannon/Getty Images
It was, without question, a good week for Tiger Woods. Not only did he play in a second straight tournament, he played well. He didn't have a single bad round at PGA National, one of the toughest courses on the PGA Tour. He finished 12th at the Honda Classic, his best showing on tour since he tied for 10th at Greensboro in August 2015—before his back miseries kicked in and cost him most of the next two years.
Although you wouldn't have known it reading internet headlines on Sunday morning, Woods was never in serious contention to win, but he was well within the top 20 all week. It began quickly on Thursday with two birdies on his first four holes, as he pieced together rounds of 70-71-69-70. He talked in his usual Woodsian way about feeling as if he was, "back in the flow," and how he knew he just needed more "reps."
At no point did the subject of his glutes come up. Which was a good thing.
Naturally, as each round went by without any sign of either a major charge or a major retreat, the hyperbole built. It climaxed on Sunday with Jack Nicklaus, sitting in the CBS tower watching Woods play the 18th hole, saying, "The question now with Tiger is, can he stay healthy? If he does he can be as good as ever."
Good as ever? That's not happening. Chances are no one will ever be as good as Woods was at his best, especially a 42-year-old who has been through seven surgeries and hasn't won a golf tournament since 2013 or a major since 2008.
It isn't Woods' fault that every time he tees it up the hype-train goes into overdrive. It's a given that Golf Channel obsesses about his every move—see the always cheerleading "Tiger Tracker"—but ESPN, which doesn't really cover golf much anymore, sent Andy North to Palm Beach specifically because Woods was there and did updates on his performance beginning Wednesday. And Tom Rinaldi was there interviewing Woods after his final round as if it was the second Sunday in April rather than the last one in February.
So then, hyperbole aside, what did this week tell us? Most important: Woods was able to play two weeks in a row—granted playing just six rounds thanks to his missed cut at Riviera—without any signs of pain or fatigue, even if he didn't play well coming down the stretch on Sunday. He drove the ball better than at Torrey Pines or Riviera, and his short game was—again—solid, most of the time. His attitude was, for the most part, good, as well. There were only a handful of the trademark eye-rolls or "Why me?" looks.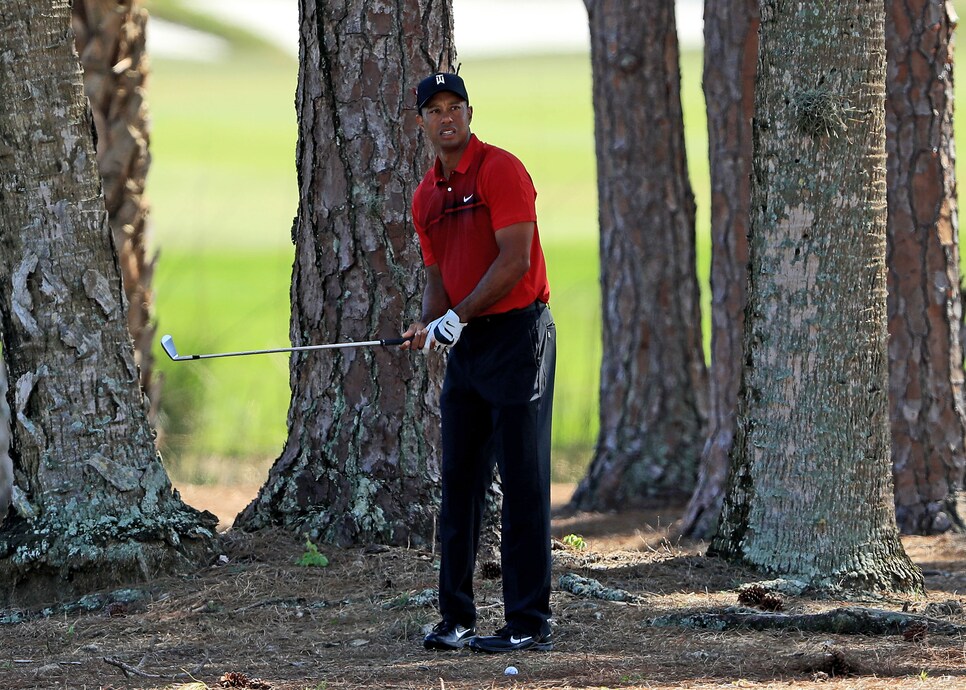 David Cannon/Getty Images
Still, a 12th at Honda is a long way from contending at Augusta. He has yet to put himself into position where he was under real pressure, except perhaps on Friday at Torrey, when he was grinding to make the cut.
His finish on Sunday, while hardly a big deal, was disappointing. If you know Woods, you know he badly wanted a top-10 finish. He had gotten to three under par for the day and the tournament through eight holes before bogeying the ninth. He wasn't going to win, but the top 10 was a very real possibility until he rinsed his tee shot at the par-3 15th (the second time in three days) and then three-putted the 16th. In all, he played the Bear Trap in eight over par for the week. There's room for improvement.
For all the happy-talk about his swing speed and the notion that "he's close," what exactly is he close to? Is he close to being competitive on the PGA Tour? Absolutely. Is he close to winning a tournament? No, but he's trending in the right direction. Is he close to being one of the best players in the world? Absolutely not.
It's worth noting that Woods was paired Sunday with 21-year-old Sam Burns, who is currently playing on the Web.com Tour and got into the tournament on a sponsor's exemption. There was a time when a kid with Burns' résumé probably would have passed out on the first tee while shaking hands with Woods.
The list of Woods' Sunday victims through the years who simply couldn't deal with the pressure of playing with him or his intimidating presence is just about as long as his list of career wins. When Woods last played a late Sunday round at the 2015 Wyndham Classic, he was paired with Scott Brown. Brown shot 68 that day, Woods 70. On Sunday, Burns shot 68, Woods 70. The days when Woods can win a tournament just by pulling out the red-shirt are pretty much behind us.
So the question now is where does Woods go from here? As in, where does he play between now and the Masters? Woods is very much a creature of habit. He has yet to play in a tournament during this latest comeback that he hasn't played in the past. Woods' isn't eligible for this week's WGC event in Mexico. A week off probably isn't a bad idea anyway. But name me one good reason he shouldn't play at Innisbrook outside Tampa in two weeks other than stubbornly refusing to change his past routine? Like PGA National, Innisbrook is a tough test and would give him some of those extra reps he needs. Plus, it's the chance to play two weeks in a row again given that he'll no doubt play at Bay Hill the following week.
In all though, Woods has to feel as if he's ahead of schedule. He's played in three real golf tournament on three real golf courses and is still standing. No walk-offs; no misfiring glutes.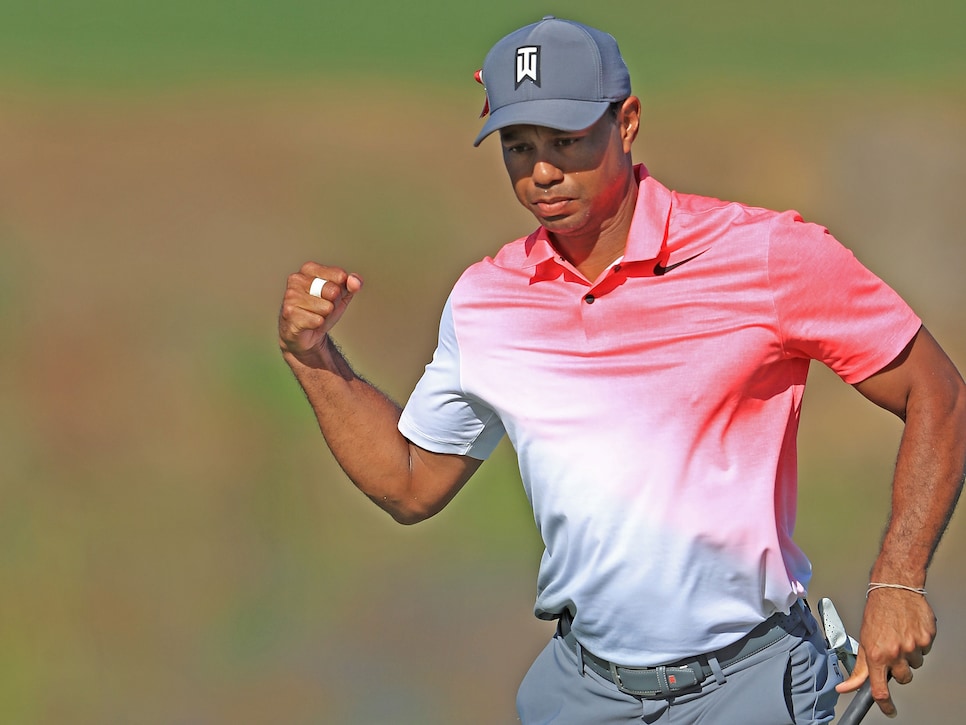 Sam Greenwood/Getty Images
It isn't as if he's improved steadily. He regressed at Riviera, a track where he never had much luck even in his heyday. Another missed cut this week and the whispers that he's not capable of making this comeback work, would have grown louder.
The truth is, even though we have a handful of answers, we really can't know what's in store. But at the very least there's suspense again when Woods tees it up. For a long time, the only over-under worth discussing was how many holes he might last in a given week. Now, the more relevant question is can vice-captain Woods—he was named to that position for Paris last week by U.S. Ryder Cup captain Jim Furyk—become playing vice-captain Woods by the fall?
That's real progress. And it would be quite a story.