News
Tiger Woods' expectations have gone up following a tournament—and a Sunday—in the hunt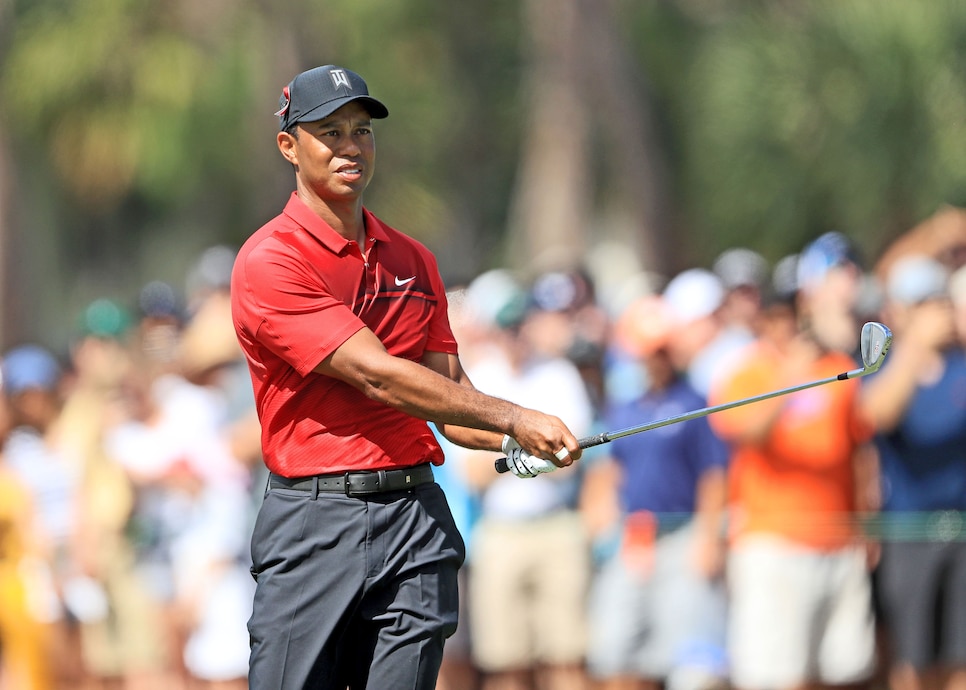 David Cannon/Getty Images
PALM BEACH GARDENS, Fla. — Tiger Woods bombing drives, living pin high, playing meaningful golf on a Sunday.
This is what progressing nicely looks like.
Woods led the field at the Honda Classic in driving distance and was first in proximity to the hole. He even sniffed the periphery of contention in the final round, climbing to within three of the lead after making his fourth birdie of the day, an 18-footer he holed on the 14th at PGA National.
His undoing, like a lot of players in the field this week, came on Nos. 15 through 17, arguably the toughest three-hole stretch on the PGA Tour. Woods played those holes in a combined nine over this week, including three over on Sunday when he rinsed his tee shot en route to making double-bogey 5 at 15. He followed with a three-putt bogey on the par-4 16th, and that was that. A even-par 70 at day's end left him with an even-par 280 for the week and a 12th-place showing.
Try this on for a intriguing "what if?" Had Woods played those holes in even par for the week, he would have won by two. That he didn't isn't really the point. He still has some cleaning up to do, yes, but this was a step in the right direction in his third official PGA Tour start of 2018.
"I didn't really know what to expect," said Woods, when asked if the progress he has seen has ratcheted up his expectations. "My expectations have gone up. I'm hitting the ball better. I knew I could putt it, I knew I could chip it, but I didn't know how well I was going to hit it.
"I've had to get used to certain things. I can't do what I used to do. I can't hit the same shots, the same body positions. They are different," Woods continued. "I'm getting used to it. I'm getting more accustomed to it and I'm very pleased about what has transpired, especially this week. So each and every time out, I'm getting better and I'm getting a feel for my playing senses and also getting a rhythm of the rounds."
To say that Woods' progress is ahead of schedule wouldn't be an understatement, even as great as he has been throughout his career.
He briefly held the lead last December at the Hero World Challenge in his first competitive golf in 10 months but ultimately finished ninth in an 18-man field, and wide fairways and lack of rough covered up some holes in his game.
Then came the Farmers Insurance Open at Torrey Pines, a place he'd won eight times as a professional. He finished in a tie for 23rd, but needed four birdies over his final nine holes on the North Course just to make it to the weekend.
Last week at Riviera and the Genesis Open, there were various parts of his game that abandoned him, from his driving to his putting. He got exposed at a course he has never played well, and missed the cut.
This week, at a mostly windswept PGA National, with thick rough, water everywhere and an eight-under total atop the leader board, some of those holes were filled. He still struggled at times with the driver—in the opening round he hit the fairway just once in five tries—but by Sunday he was clearly in a different place with his game and his mindset.
"I was very, very impressed with how he played this week," winner Justin Thomas said. "He can get it around Torrey. He's played and won enough at that place, and yeah, driving is a premium there, but he can still get it around there and you can get it around there, if you know what you're doing. Here, you can't drive it like that and get it around. So he obviously drove it a lot better. He played a lot better.
"But it was funny," Thomas continued, offering a vignette that hinted at Woods' mindset in South Florida, "because every other time that I've had a chance to win or in L.A., I get a text from him or hear from him, you know, kind of giving me a little advice or just kind of wishing me luck. Got crickets last night. I knew he had one thing in mind, and we both had the same thing in mind, so I thought that was pretty funny."
For the first time since the 2015 Wyndham Championship more than 900 days ago, Woods could talk about trying to win and it actually meant something.
"I feel very positive about [the week]," he said. "I feel like I've really hit the ball well. I missed the golf ball in the correct spots and I had control of my ball. That's something I'm very proud of.
"Each and every time I've come out to tournaments, I'm getting the feel of the round faster. I've been away from tournament golf for so long, that I'm starting to feel the rounds. I'm starting to get into it quicker, feel the pace, feel the shots and get a better sense of it. The more I play tournament golf, the better I'll get at it."
With the Masters just over a month away, it couldn't happen at a better time.