The special moment at Augusta between Tiger Woods and Valentino Dixon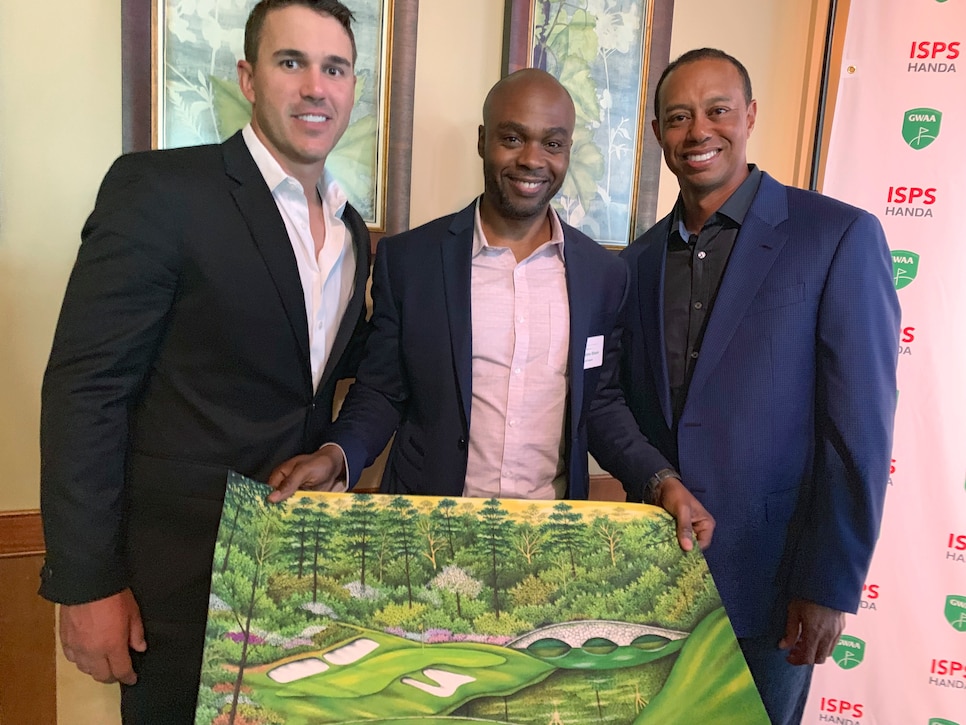 Editor's Note: Our Masters Preview Issue was printed before the postponement of the 2020 Masters. Read more here >>
We don't always put the defending champion on the cover of our Masters Issue, but this was a foregone conclusion. The work for the cover story began the moment that fifth green jacket was slipped on Tiger's shoulders, and the burden of a fraught decade lifted off. In the ensuing days and weeks, as the declarations reverberated across Twitter that golf was saved and would never be the same, contributing editors John Huggan and Dave Shedloski, along with GOLFTV's Henni Zuël, quietly set about interviewing everyone who was close to the action while memories were sharp. This conscientious start was followed with a sustained effort to collect even more voices as the season wore on. Their oral history of Woods' win, with contributions from our Daniel Rapaport and John Strege, took a year to make. Posterity was in mind, but we hope you enjoy it now.
Tiger's grin on the cover belies world-class exhaustion. We captured this image in Jupiter, Fla., the first week of November, not too many hours after Woods had touched down from Japan with his record-tying 82nd PGA Tour trophy as a carry-on. Somewhat shamelessly, we milked every moment we could, putting Tiger through the paces of stills, video and sit-down interviews over a full day, half of it in the hot sun. At the very least, we kept a steady supply of fresh shirts, water and Diet Coke his way.
Beside this page is Valentino Dixon's color-pencil twist of the cover photo shot by Walter Iooss Jr. As you might remember, Dixon—who from behind the walls of Attica Correctional sent us drawings like messages in a bottle to bring attention to his wrongful murder conviction—recently walked free after 27 years and was Golf Digest's guest illustrator at the 2019 Masters. Although Dixon wasn't there on Sunday to witness history—he left Augusta on Friday to attend the National Innocence Network Conference in Atlanta, then flew home to Buffalo to watch the final round on TV with his mother—his role deserves mention. Fate did swirl strangely above Rae's Creek last year, which he has sketched as the fabric of Tiger's polo.
When Valentino and I arrived on Tuesday, the first place we went was Amen Corner. It had been a photo of the par-3 12th, brought by Attica's warden, that first sparked Dixon's unlikely interest with golf. During his past fraught decade, Dixon spent more hours drawing this hole than any other. So to finally see these acres in real sunlight, to know the true spatial relationship of the greens and tee boxes and swaying pines, to see the delicate moss growing on the Hogan Bridge, was quite a thing for him.
On Wednesday at the golf writers' dinner, Dixon fulfilled a dream by giving his favorite golfer a signed print—a drawing of Augusta's 12th, of course. Dixon told Woods, who was there to receive the Ben Hogan Award, "You're gonna win this week." To which Woods responded, "I'll do my best. But I'm going to have to beat this guy right here," and nudged Brooks Koepka, there to receive the award for 2018 Player of the Year.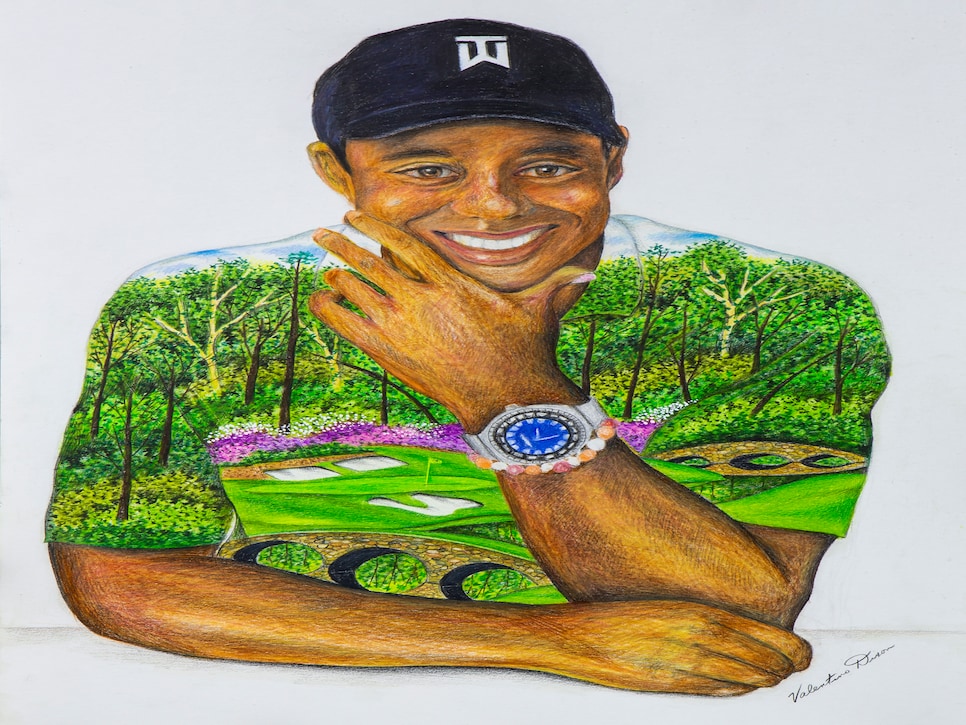 Illustration by Valentino Dixon
Of course, Tiger's always a pre-tournament favorite. Last year a nongolf expert from Wisconsin bet nearly all his life savings on Tiger and won $1.19 million. And with what other golfer would Dixon, an ultimate outsider to the game, possibly find affinity? But admit, the tournament was decided rather eerily at the 12th, where four of the final six players in contention on Sunday rinsed tee shots, including Koepka, who tied for second. If you can't recognize the intertwined magic of Tiger and Valentino's parallel and long-awaited redemptions, then your imagination is somewhere along the bottom of Rae's Creek.
Since Augusta, Dixon has continued to travel at a frenetic pace to make up for lost time. He has been to Australia, Europe, Canada and much of the United States. He has water-skied, tried sushi, swam with dolphins, visited a bull ranch, you name it. But frivolous, he's not. Along the way, he's producing and hosting a YouTube video series, "Draw and Talk With Me," where he inspires guests to find their artistic talent while probing social issues. His guests have included former NFL star Ronde Barber, a class of Parkinson's sufferers, a Buffalo police officer and many more. His ambition goes far beyond winning a lawsuit against the city of Buffalo and Erie County, which has been filed.
Dixon will be at the 2020 Masters, this time at the invitation of Augusta Mayor Hardie Davis Jr., who is proclaiming April 6 in his city Valentino Dixon Day. "The resiliency Mr. Dixon has shown in going from tragedy to triumph, that is just like the spirit of the Masters Tournament," Davis says.