The Loop
The Scene At Cypress . . .
On Aug. 28, 2006, Casey Reamer shot an 80 at Cypress Point. The next day Reamer, the head professional of one of the greatest golf courses in the world, made eight birdies, a bogey and an eagle for a 63 and tied the course record. He joined Jim Langley, the former head pro, and a name maybe more familiar to the masses: Ben Hogan. "It was an out-of-body experience," said Reamer.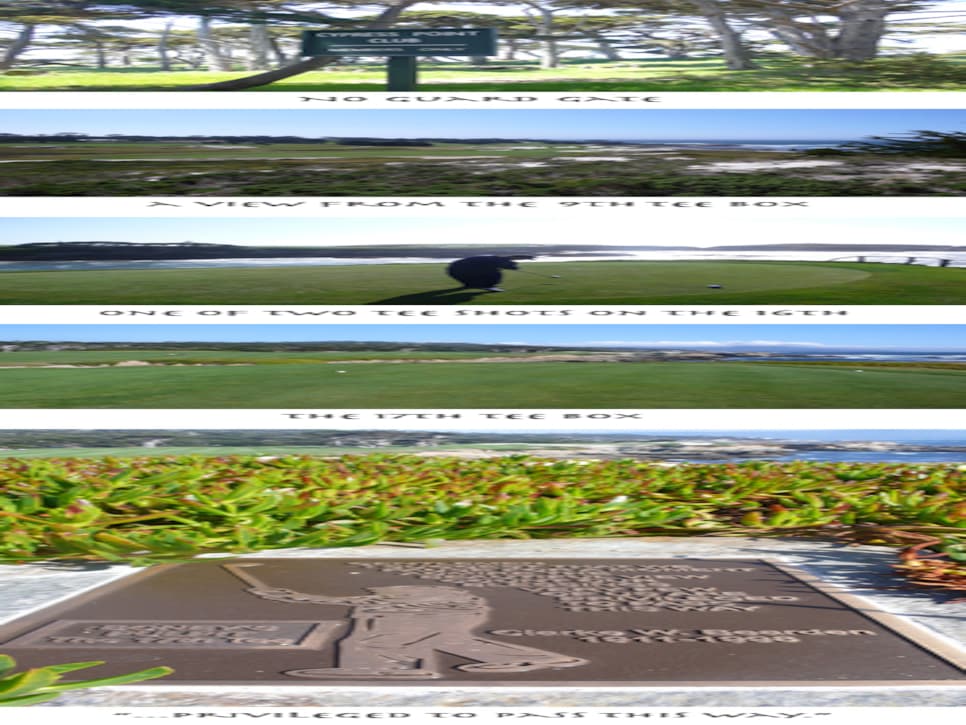 I was a guest of Reamer's recently for 18 holes at Cypress. It was my first time at the Alister Mackenzie course that opened in 1928. On the back of the scorecard there's a quote from Mackenzie reflecting on his creation:
"I do not expect anyone will ever have the opportunity of constructing another course like Cypress Point, as I do not suppose anywhere in the world is there such a glorious combination of rocky coast, sand dunes, pine woods and cypress trees."
I was even par through the first six holes. Then I proceeded to hit balls onto the rocky coast, climb sand dunes in search of the results of bad swings and hit shots that bounced off pine woods and cypress trees. I carded a smooth 91 (that's 19 over the last 12 holes). I'd like to blame the back nine on a three-club wind, but it had more to do with the fact that I suck as a golfer and as a human being. I've never felt so small or pathetic and I came very close to throwing myself off one of those rocky coasts.
That being said, my score didn't matter. After all, it was Cypress, and it was so good. I put it in the block of my favorites (in no particular order): Turnberry, Pine Valley, Lahinch and Baywood (the 5,900-yard course in Arcata, Calif.)
Cypress was the site of the 1956 battle between Ben Hogan and Byron Nelson versus Ken Venturi and Harvie Ward, recently written about by Mark Frost in the book, The Match.
Much like Reamer, the entire facility is non-pretentious. There's no guard gate at Cypress. Just a simple and small green wooden sign as you approach the clubhouse that reads: "Cypress Point Club--Members Only." There's a little locker room where members such as "J. Welch" or "C. Schwab" have their names written by hand on their old wooden locker boxes. The understated green rugs might need changing. The black-and-white photos of Eddie Lowery are crooked and in most cases, could use a new frame. The golf shop is small and overlooks the first tee, which runs along the understated six-stall driving range. There are no yardage markers on the course, and it's one of the only places I've played in awhile where the original blue tees are still the back tees. Cypress tips out at 6,509 yards. (The U.S. Open at Torrey Pines was stretched to 7,643 yards.) Cypress has plenty of natural defense mechanisms and challenging shots without having to back up every tee box 50 to 80 yards. It's the Wrigley Field of golf courses. It might not be big, but it has history, charm and exclusivity.
It's not hard to be blown away by Cypress. Literally and figuratively. My first tee shot on the par-3 16th (one of, if not the most famous hole in golf), from 218 yards into the wind, was hit hard and straight with a driver but still came up short. My ball rested quietly with all of the other lost balls, baby waves and baby seals at the base of the rock wall. I re-teed and hit it left of the green, chipped up and made 5.
I'm told ANY member of the staff can play Cypress on Monday or Tuesday, and they're allowed to bring a guest once a month. (It turns out you don't need to join Cypres--you just need to get to know the cook.)
My caddie, Laurent Ruffie, has been at Cypress for three years. Ruffie's from France, and members have a hard time with his name, so most of them call him Frenchie. On Nov. 3, Frenchie became the 19th person, and the only caddie, to have aced the 16th at Cypress. Frenchie's real name is now on the same plaque that includes the likes of Bing Crosby.
As I was walking off the tee at the 17th, Reamer called me over to a patch of ice plant. Inscribed on a plaque was a quote from Clarke W. Bearden, a member who died in 1998. When Bearden played Cypress' 17th, he liked to say, "Gentlemen, I suggest that we pause for a moment, admire the beautiful view, count our blessings. Very few of us are privileged to pass this way."
Wise words and a healthy perspective rising from a clump of shrubs.