The Loop
The Ryder Cup: Where a little trophy looms large
MEDINAH, Ill. -- This week, it's about the little trophy.
Once upon a time -- say 1927 when English seed merchant Samuel E. Ryder commissioned his little trophy -- American golfers were a species all but unique. The Atlantic separated our multitudes from Great Britain's handful of brilliant players. Australia? Convicts and kangaroos. Asia? Even Christopher Columbus couldn't find Asia.
For a long time, the Ryder Cup sent strangers against strangers, Us against Them, so much so that in 1991, at Kiawah Island, our guys showed up in Rambo camo gear to drive back the invaders. As if the event were promoted by the boxing impresario, Don King, we called it the War by the Shore. We won. We rioted. It was shameful.
No more. Now we're all in this together. Now, in the ever-shrinking world of professional golf, this week's 24 Ryder Cup players are friends, colleagues, business partners. They travel together, eat together, practice together. They know wives' names, kids' names. They know the other guy's story, as the every-inch-an-American, Bubba Watson, said about the every-inch-an-Englishman, Ian Poulter: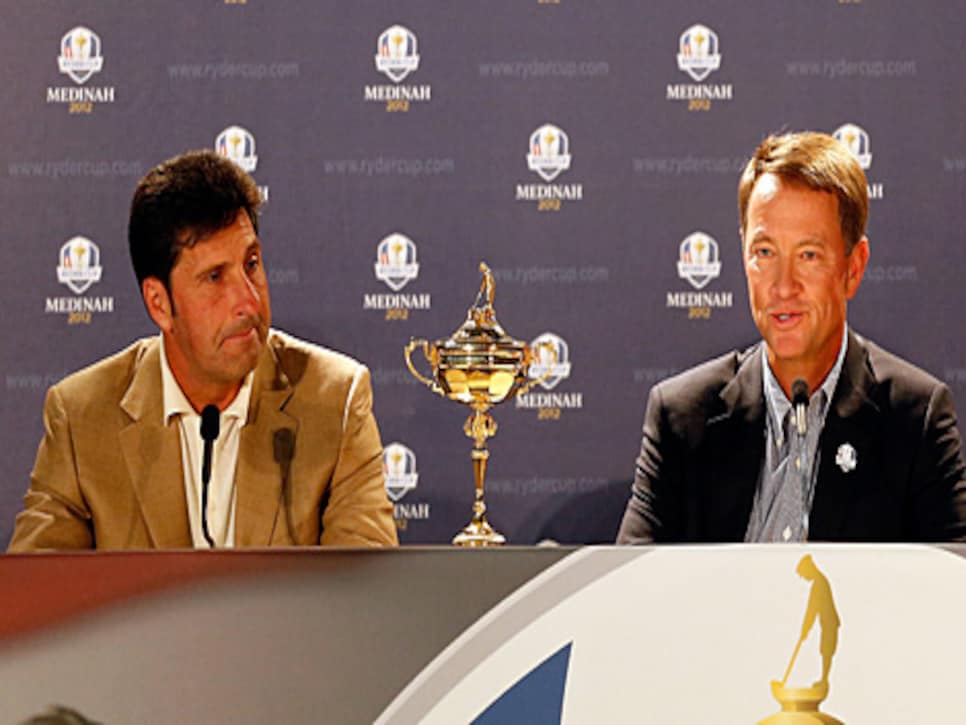 "Love Ian Poulter to death. It's amazing, watching where his career started and where it is now. It's amazing to listen to him talk about where he picked up range balls, worked in the pro shop, did everything, and now he's at the Ryder Cup. So I love his passion. I love, I respect him very much, and I love how passionate he is about winning it."
It's the little trophy. Watson, the Masters champion, met the press Thursday morning. He spoke for 15 minutes. Early on, he mentioned "that little trophy." Five minutes later: "It's just for the love of that little trophy." Winding down: "And again, it's the little gold Ryder Cup." Wrapping up: "Any golf tournament we play in, we don't care who we're playing against, we just want to win whatever trophy there is. If it's a green jacket or if it's a big trophy or a small trophy, we're trying to win that trophy. So our passion is for that trophy."
The Ryder Cup trophy is 17 inches high. It's nine inches across. It weighs four pounds. The golfing figure on top was modeled after Abe Mitchell, one of Great Britain's leading professionals in 1927, once a gardener and Samuel Ryder's personal instructor. It's a miniature alongside the PGA's 27-pound, 28-inch high Wanamaker beer barrel. It's an understatement next to Augusta National's clubhouse replica (the green jacket gets the glory, but the silver piece is ineffably elegant). Ryder's cup is even smaller than the claret jug, 21.65 inches tall.
Even the most gimlet-eyed cynic has to admit, well, OK, maybe it is the trophy because it can't be about the money when there isn't any to take home. In the name of each U.S. player and the team captain, the PGA of America donates $200,000 to charities.
It really is about the players' instinctive sense of competition amped up by thousands of home folks -- all of it there at Medinah Country Club when the players arrived from their money grab at the Tour Championship (where the winner took home $11.4 million and last place was worth $686,000).
Webb Simpson, the U.S. Open champion, said he didn't get out to Medinah on Monday. "But Tuesday, first practice round, we get to the first tee and there's 10,000 people," he said. "I felt like I was in the final group of a major . . . ." He played with another Ryder Cup rookie, his buddy Keegan Bradley, "and we were laughing about that first-tee feeling. We've been on tour now for awhile, and you don't really get butterflies in practice rounds or pro-ams. But it was a different story Tuesday."
For Matt Kuchar, this is his second Ryder Cup, the first two years ago at Newport, Wales. He said, "I think walking to the first tee on Tuesday, I knew we weren't in Wales. That was just such a big difference to me. It was so exciting knowing that we were on home turf and there was such an eruption of excitement when we got to the first tee. It was an awesome feeling."
Bubba Watson again: "The first day, going up on the first tee, I had a pretty big roar, and that was pretty special to know that the crowd was behind us, behind me. It was very nice to see that Chicago and all the fans that traveled here that like me as a person, I guess, cheered for me that loud. . . . I might have teared up a little bit. . ."
So there'll be fans in the gallery who've painted their faces red, white, and blue, just as there'll be folks wearing purple fright wigs in honor of their unbarbered boy hero, Rory McIlroy. There will be cheering for American successes that rises to decibels matching those from airliners en route to nearby O'Hare International. And there will be tears -- for that, we have a promise from Watson.
"I'm probably going to cry at some points this week because I just cry every week, it seems like," he said. "So there's going to be good shots I'm going to cry about. There's going to be bad shots I cry about. . . "
They're not tears of war. No, no, it's not about hatin' on them durn furriners.
"It's just," Bubba Watson said, " that trophy."