News
The Ryder Cup picture just became clearer—and more complicated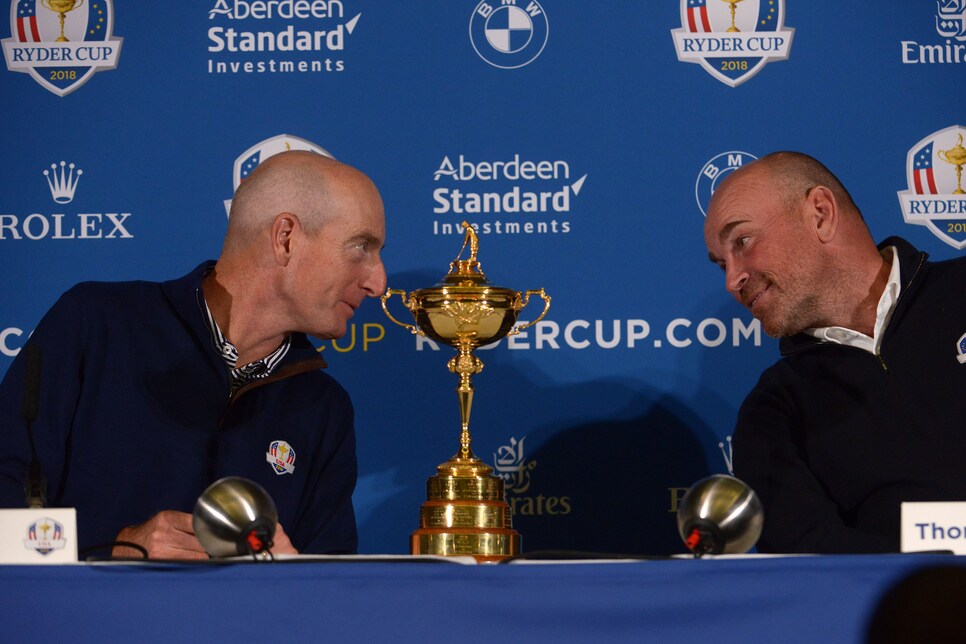 Photo By: Frederic Stevens/Getty Images
Bryson DeChambeau made Jim Furyk's life a good deal more complicated this past weekend. With his dominant victory at The Northern Trust—the opener of the so-called PGA Tour playoffs—DeChambeau made it pretty much impossible for Furyk not to name him as one of his four Ryder Cup captain's picks next Tuesday.
For the record, they are "so-called" playoffs because how do you take something seriously when finishing T-3 at the fabulous Northern Trust earns a player more points than winning a major? Another topic for another day.
DeChambeau narrowly missed making Furyk's team on points, dropping to ninth place after the PGA Championship—one spot from being an automatic qualifier.
It is hardly unprecedented for captains to pass on the ninth-place finisher in the points race. In fact, Furyk (2014) is the only player to finish ninth on the U.S. points list since 2010 and make the team: Anthony Kim was ninth in 2010; Hunter Mahan finished in that spot in 2012 and Bubba Watson was last-man-out two years ago. Furyk was an automatic pick because Tom Watson reduced his team's captains picks from four to three that year.
Prior to his bravura performance at Ridgewood, DeChambeau was likely to join that list. Furyk has made it clear that he thinks experience is critical on the road and DeChambeau, at 24, will be a Ryder Cup rookie and the youngest player on the U.S. team. What's more, he is very clearly an outside-the-box thinker and U.S. captains very much want everyone inside-the-box when they walk into the U.S. team room.
The minute the PGA ended with Tiger Woods 10th on the points list and Phil Mickelson 11th, they were locks to be two of Furyk's picks. Matt Kuchar, who finished 13th, was also a likely pick because of his experience and because he brings a looseness to the U.S team room that is desperately needed.
Now though, Kuchar may have to play his way into the final spot during the next three tournaments because Furyk has to seriously consider Tony Finau, if only because Finau can be a birdie-making machine.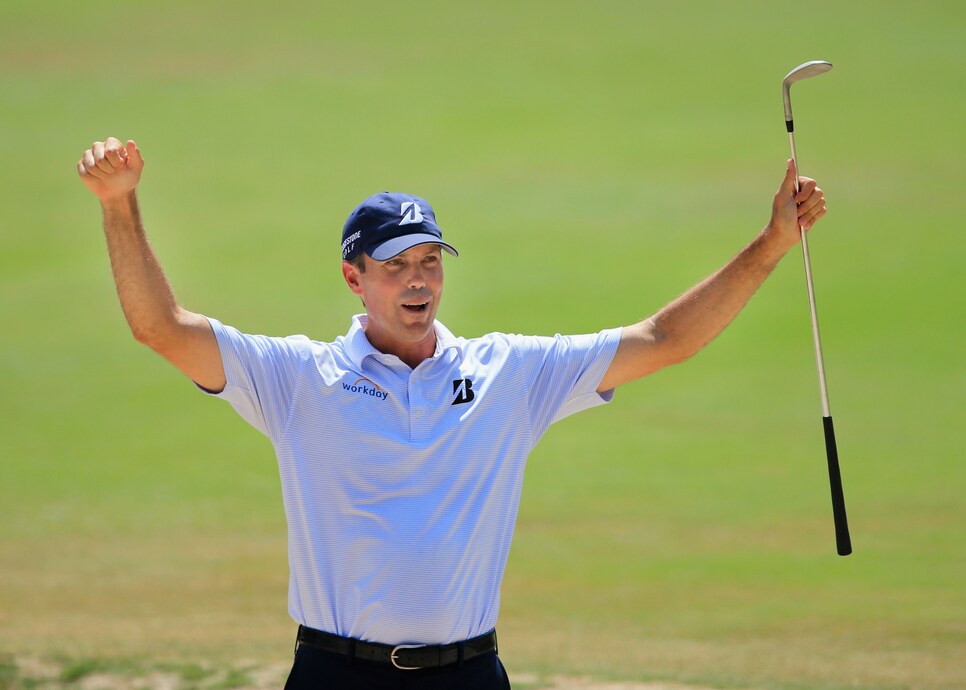 David Cannon/Getty Images
If Furyk were to pick Finau, that would give the U.S. team three rookies—Finau, DeChambeau and Justin Thomas. Kuchar did finish two spots ahead of Finau in the final points standings, and combined with his experience and his unique personality, that could give him an edge when Furyk announces his last pick after the BMW Championship.
It's worth remembering that two years ago, the first time the Americans withheld their final pick until later in the process, that year after East Lake (a.k.a. the "Billy Horschel pick," after Horschel's back-to-back wins came too late to make the U.S. team in 2014) Davis Love III went with the hot hand, taking Ryan Moore over Watson.
Watson hadn't played especially well during the summer and Moore did—capping his late run by losing a playoff in Atlanta to Rory McIlroy. Love's instinct to go with the hot player paid off: Moore played well at Hazeltine and scored the clinching point on Sunday with a come-from-behind win over Lee Westwood.
Furyk will announce Woods, Mickelson and DeChambeau the day after Labor Day and then sit back and see what happens in Philadelphia before making his final decision on the Horschel pick.
Europe's points list race ends this coming weekend after the European Tour's Made in Denmark tournament. European captain Thomas Bjorn will announce his four captains picks the day after Furyk announces his first three.
Europe's biggest problem at Hazeltine was a lack of experience: Darren Clarke had six rookies on his team and, playing on the road, most struggled. The notable exception was Thomas Pieters, who went 4-1, winning three matches paired with McIlroy and his singles match.
McIlroy has talked often in the last year about the fact that the experience those six players gained at Hazeltine will help next month at Le Golf National, outside of Paris.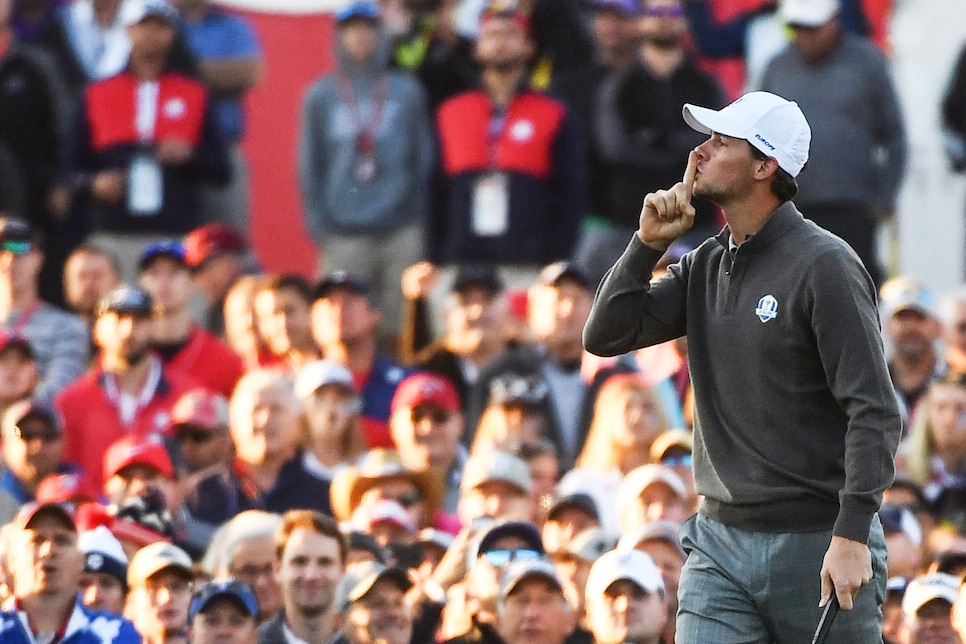 It is entirely possible, however, that only one of those players, Rafael Cabrera-Bello, will be on the team. Danny Willett, Chris Wood and Andrew Sullivan aren't in contention to make the team on points or as a captain's pick.
Pieters might still be in the mix if only because of his strong play at Hazeltine, but is a long shot at best. Matthew Fitzpatrick might still have a chance if he plays well this week, but also may not make the team.
As of this moment, Bjorn is going to have five rookies on his team: the mercurial Jon Rahm; Tommy Fleetwood; Tyrell Hatton; Alex Noren; and Thorbjorn Olesen. McIlroy, Francesco Molinari and Justin Rose are the only veterans who have locked up spots off the two European points lists.
That means Bjorn must add experience with his captains picks: Ian Poulter, who has had an excellent comeback year and is just outside an automatic spot on the points list, is a lock. Poulter is one of the great Ryder Cup players of his generation and his fire was clearly missed in the European team room two years ago even though he was a vice captain.
"It's not the same when you're not playing," he said. "There's only so much you can say to guys. I NEED to be playing again."
He will. So will Henrik Stenson, the temperamental opposite of Poulter, but a rock in the team room, who, like Kuchar, brings a good deal of humor to the room. He and Rose have been Europe's most consistent team in recent years, and Bjorn is not going to break them up.
That leaves two spots. Chances are Bjorn will overlook Sergio Garcia's terrible summer (he did show signs of life in Greensboro) and name him to a ninth Ryder Cup team. The Ryder Cup has always brought out the best in Garcia, dating to his debut in 1999 at The Country Club as a 19-year-old—the youngest player in Cup history.
Garcia teamed well with fellow Spaniard Cabrera-Bello at Hazeltine, which is why Bjorn will probably pick both or neither. In all likelihood, it will be both.
The European standings could change this week and if Olesen doesn't hang on to the last spot, he's probably not going to be on the team. Bjorn would probably opt for a more experienced player like Fitzpatrick, Pieters or perhaps even Paul Casey.
Furyk has no such decisions to make. DeChambeau took care of that Sunday: a ninth-place points finisher who wins against a quality field—by four shots—after the points race is over has to be picked.
So do Woods and Mickelson because, well, they're Woods and Mickelson and have played well this year. Furyk will probably announce on Tuesday that Zach Johnson will replace Woods as a vice captain unless he gets hot and grabs the last spot.
That makes sense, too, because it appears likely that, with Woods likely to play for at least a few more years, the U.S. needs to start lining up a captain for the 2022 matches in Italy.
Steve Stricker is going to be the captain at Whistling Straits in 2020. Johnson would come next, followed by Mickelson at Bethpage Black in 2024 and, in all likelihood, Woods in 2026.
Pencil in DeChambeau for 2040. Just kidding … sort of.