News
The right golfer won the FedEx Cup title even if he didn't win the Tour Championship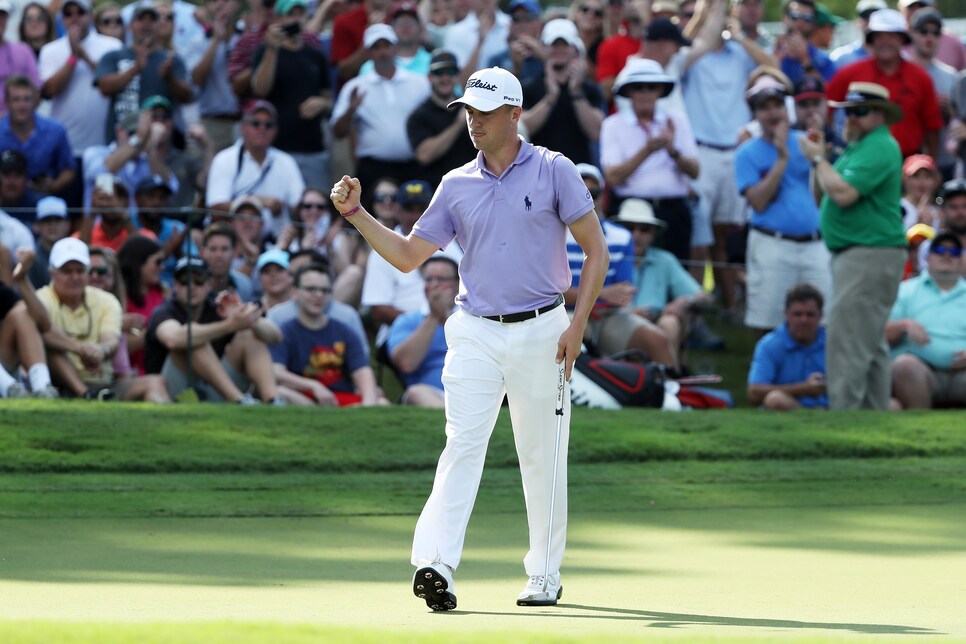 Sam Greenwood/Getty Images
ATLANTA — While Xander Schauffele was on his way to becoming the first rookie to win the PGA Tour's season-ending Tour Championship on Sunday at East Lake, the algorithmists back in Ponte Vedra Beach, Fla., were hard at work telling us who might win the FedEx Cup and the $10 million that goes with it.   Overnight leader Paul Casey. Justin Thomas. Jordan Spieth.
At one point with a handful of holes to go, a possible playoff between Thomas and Spieth for all the lettuce and the sterling-silver spun trophy designed by Tiffany & Co.
"I laughed when I saw that," Thomas said. "I thought honestly, this probably will happen and the golf world will completely blow up and lose its mind if Jordan and I were in a playoff for the FedEx Cup."
Schauffele, who came into the week 26th in the points standings and with about as much chance of winning Powerball as the tour's granddaddy of 'em all, even had an outside shot on Sunday before ending up third.   "I almost cheated my way into winning the FedEx Cup when [JT] really deserved it," said Spieth, who had he finished second and Thomas, Dustin Johnson, Marc Leishman and Jon Rahm all finished T-2 or worse, would have done just that.
There were two other scenarios in which Spieth could have finished third or fourth and also won, which had he done so he would have been the first player since the inception of the FedEx Cup to have captured the end trophy without having won a Playoff event.
In the end it was a moot point. Thomas, who ended the year with five wins, including a major, finished second alone at East Lake, one stroke back of Schauffele after a stellar final-round 66 to take home his first FedEx Cup trophy.
"Feels very weird," Thomas said. "It's odd getting something so tremendous, one of my best achievements in my career without winning a golf tournament, so it feels different, but it's still great."
Clearly what's not so great is the system, something that, as reported by the Associated Press earlier in the week, could see an overhaul in the future.
This is to take nothing away from Thomas. No one won more than he did this season (Johnson was second with four, while Spieth had three victories, including a major) and one of those victories came during the playoffs two weeks ago at TPC Boston. In 25 worldwide starts, he had a dozen top-10s and for good measure also had a 59 at the Sony Open in Hawaii and a 63 in the U.S. Open.
When it came to this week, Thomas didn't want to know about all the math behind the FedEx Cup. All he cared about was winning, and he nearly did it for a sixth time this season.
"I knew if I won, finished second, maybe tied second I probably had a good chance depending on what Jordan did today, but I truly didn't know," he said. "It is weird just because I compared it earlier to Q school … you almost get out there not trying to win, you're trying to finish a certain thing.
"If you told someone that going into a tournament, you're like, Yeah, I'm just trying to finish better than 45th, it's like why are you going? What's the point of even going? I thought about that out there on the course today. It's like why am I'm going to try for finish third?"
Even Schauffele, someone who 12 months ago didn't even know if he'd have a tour card, or midway through the year wasn't sure if he'd be able to keep it, said it felt a little strange.
Not that he was complaining. Nor was Thomas.
Both walked away winners, the first time that has happened since 2009 when Phil Mickelson won the tournament and Tiger Woods the FedEx Cup. It also happened in 2007.
One tournament, two trophies. It's always been a possibility and will continue to be.
At least the right player won the big one. It wouldn't have felt that way otherwise.