The Loop
The post-9/11 sports moments that helped heal America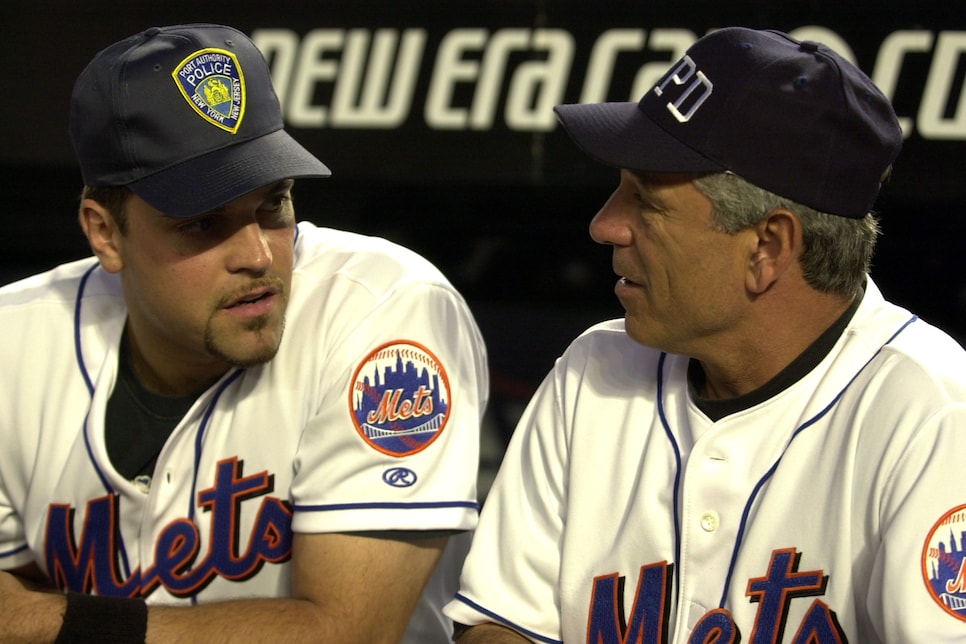 It's as easy to say sports don't matter as it is to forget they're not the most important thing on earth. But at 8:46 a.m. on September 11th, 2001—as Flight 11 careened into the North Tower—both of these diametrically opposed perspectives were rendered simultaneously and horrifyingly true. In the hours and days that followed 9/11, sports were nothing more than a footnote. Games were postponed. Superstar athletes became fellow terrified citizens. Wins and losses were measured in far more disturbing tallies.
As time wore on, however, a fear-fatigued nation began looking not for an escape—there was no escape—but a distraction, turning carefully back to what they had been staring at, talking about, and obsessing over before the world changed: Sports. And in turn, sports—from one lip-quivering home run to the Patriots first-ever Super Bowl—delivered exactly what was asked of them. Three hours of reprieve. A reminder that things could feel normal again, even if they would never quite be the same. Now, 19 years later, the following moments, small pinpricks of light in the shadow of the greatest national tragedy in American history, remain as vital as ever, standing as reminders that while sports are just sports, sometimes that's more than enough.
September 17th, 2001: Jack Buck recites tribute poem before Cardinals game
While much of what is remembered as the MLB stumbled back into its routine following 9/11 belongs, rightfully, to New York, one of the first and finest tributes actually took place about 1,000 miles west. At 77, the health of legendary Cardinals broadcaster Jack Buck was failing, but when he took to the field to recite this self-penned poem for a rapt Busch Stadium, he didn't misplace a single syllable. By the following June, Buck had passed away, but his bone-chilling couplets continue to echo around St. Louis to this day.
September 21st, 2001: Mike Piazza hits the homer heard round the world
No matter the final score, the Mets couldn't have lost when they returned to Shea Stadium on September 21st for the first baseball game played in New York City since 9/11. In the bottom of the eighth with the Mets trailing 2-1, however, Mike Piazza made certain the scoreboard reflected the sentiment, blasting arguably the most unforgettable home run in MLB history. To say there wasn't a dry eye in the house doesn't even begin to do this one justice.
October 30th, 2001: George W. Bush throws first pitch at Yankee Stadium
Say what you want about George W. Bush (or the Yankees, for that matter), but on October 30th, as the beleaguered President took the mound at Yankee Stadium against the advice of practically every security adviser in D.C., he tossed far more than a first pitch. What ended up behind home plate was instead a rallying cry for an entire country and a reminder that intimidation only works on the intimidated.
February 3rd, 2002: The "Patriots" win their first Super Bowl
If Hollywood wrote this script—in which an emblem of NFL futility dubbed the Patriots makes a surreal run to their first championship in the months following a devastating American disaster—we would call it cheesy, but in actuality it was anything but. In hindsight, we can chalk this one up to the greatest coach-quarterback tandem to ever operate in the NFL, but at the time, the symbolism simply couldn't be ignored.
February 3rd, 2002: U2's Super Bowl Halftime Show
Midway through that kismet collision of football and real life, U2 (again, say what you about them but…), took to the stage to offer a deeply moving rendition of "The Streets Have No Name," as the names of everyone lost in the 9/11 attacks scrolled behind them. When Bono finally, triumphantly revealed his jacket's stars-and-stripes liner, the Superdome erupted as one. Needless to say, the next time someone tells you Lady Gaga was the best Super Bowl Halftime Show they've ever seen, politely remind them about this.
February 8th, 2002: NYPD singer performs "God Bless America" at the 2002 Winter Olympics
Now known as "the voice that healed the nation", NYPD tenor Daniel Rodriguez sang at everything from the World Series to the Indy 500 in the wake of 9/11, but none of those appearances can compare to his performance of "God Bless America" at the Opening Ceremonies of the 2002 Winter Olympics in Salt Lake City. The Olympics have not returned to the States since, but when they do—2026 in Los Angeles—we hope they remember to give Rodriguez a call.
May 31st, 2002: Pat Tillman enlists in the Army
What follows—Tillman's tragic death in the mountains of Afghanistan—is a gut-wrenching story, but his decision to turn down a new contract from the Arizona Cardinals and enlist in the U.S. Army eight months after 9/11 remains one of the most selfless displays of heroism in sports. As JJ Watt has since proved, athletes can make just as much impact from the sidelines as the frontline, but Tillman's ultimate sacrifice remains unparalleled in the world of athletics.
June 21st, 2002: USA advances to first (and only) World Cup quarterfinals appearance
At the 1998 World Cup in France, the USA finished 32nd. Dead last, for those of you keeping score at home. Four years later, galvanized by low expectations, emerging stars like Landon Donovan, and the specter of 9/11 in the rearview, the USMNT logged the single finest World Cup performance in American history. Toppling established powers like Portugal and Mexico before narrowly (and controversially) losing to Germany in the quarterfinals, the scrappy 2002 side not only put American soccer on the map, but also reaffirmed a lesson history has taught us time and time again: The United States is at its best when the chips are down.