The Loop
The Open: Roars or Groans?
__*Oakmont is back to being penal, to be sure baldly and unapologetically so. But with all that airspace above its hourglass fairways, treacherous greens and bottomless hazards, it's a perfect venue for shotmaking, not target practice. *Ron Whitten __
Sometimes you readers procrastinate as much as we do. Steve Glaser's letter from Texas just arrived on what the changes have wrought at Augusta?!????:
A great tournament nearly spoiled? You know what is missing from this tournament now? The roars. As Augusta National makes its course more and more difficult, the big losers are becoming the fans. You don't hear the huge roars when Phil rolls in a 10 footer for par, or Ernie chips back from over the green to save another par. As a televison fan a big part of the enjoyment was listening to the huge roars as contenders made some birdies and mounted a charge on the back nine on Sunday at the Masters. Now a "charge" is someone hanging in with pars as others fall by the wayside. Not quite the same thrill is it?
Well, you're late, Steve, or early, as the case may be. My question is, have the changes at Oakmont, removing all the trees, bringing the wind back into play (if it can maneuver around the small city of tents and grandstands) firming things up, will all that set us up for roars or groans in Pittsburgh? (More groans than usual that is). Most golf insiders LOVE the changes at Oakmont, most of the members have come around. But how will it play with the fans? To use Steve's measurement, will a "charge" of pars deliver thrills? And if the winning score for the second major of the year also hovers at par or over, how will that sit with you folks?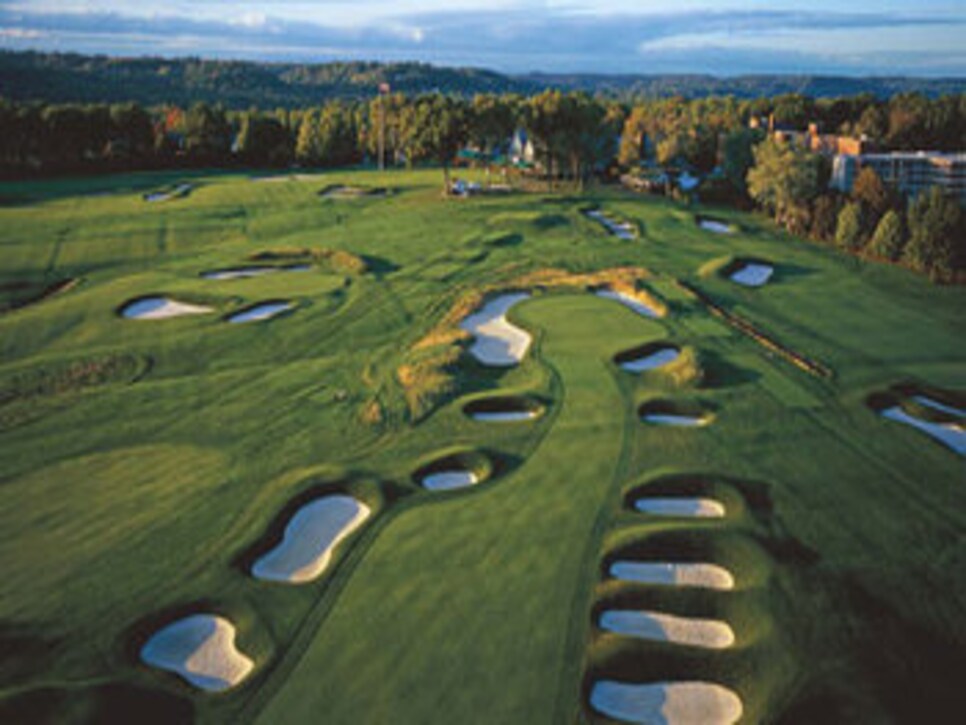 One last thought. Oakmont planted the trees because it wanted to be prettier. My impression, having played after most of the tres were removed—they've removed more than 5,000—is that it is absolutely beautiful in its new state. Walk it early in the morning, as we did, or late in the afternoon, and Oakmont's as pretty as any links. The removal of trees and shrubbery around the greens allows you to see the movement in the land. Gorgeous.
But whether it's groan gorgeous or roar gorgeous may come down to the weather. Right now, there's not much rain in sight. You could say the same thing about birdies.