Masters
The new Masters press building shows how far this little tournament has come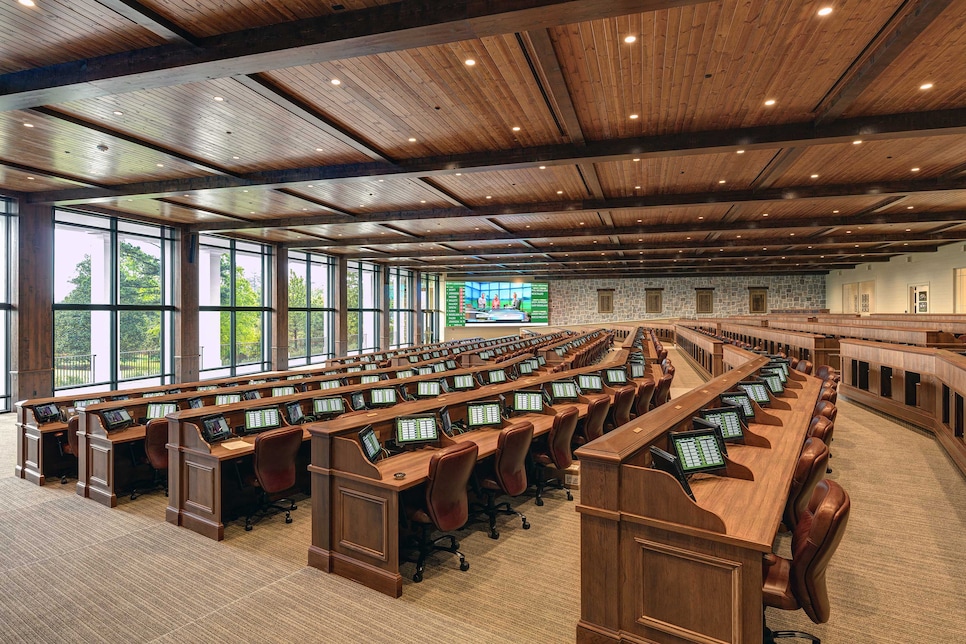 Photo By: MillerBrown/Augusta National
AUGUSTA, Ga. — Sportswriters do their typing in some strange places. In the cockpit of a two-seater plane over Mississippi. In a men's room stall in Barcelona. Poolside in Hollywood (so I could type that someday). But this ... this in Augusta ... this Press Building ... this new, majestic accommodation for journalists from around the world. This is the strangest, loveliest thing yet.
It's what a Marriott would be if Mr. Marriott didn't care what it cost.
"Number I've heard is $65 million," a local scribbler said.
To stand in front of this humongous Press Building is to feel small, very small. The façade features a dozen mighty columns, glistening white against gray stonework, each piece elegant. Somehow, in landscaping finished only six months ago, pine and magnolia trees have risen fully grown. It's what Tara would have been if Scarlett had hit the lottery.
This Press Building—not a press box, not a press row, a Press Building—has monumental entry doors. There's an atrium 30-feet high. A skylight up there. A grand staircase winding to a second level. There, a restaurant. There, a veranda. There, a museum box imprinted with words from Bobby Jones: "To gain any sort of fame isn't enough to do the job. There must be someone to spread the news."
So Jones and Clifford Roberts, the founders of Augusta National Golf Club, courted the press in the beginning. With the 1930s most celebrated sportswriter, Grantland Rice, as their advocate, Jones and Roberts suggested that writers traveling north from baseball spring training should drop in to cover a little golf invitational tournament in April.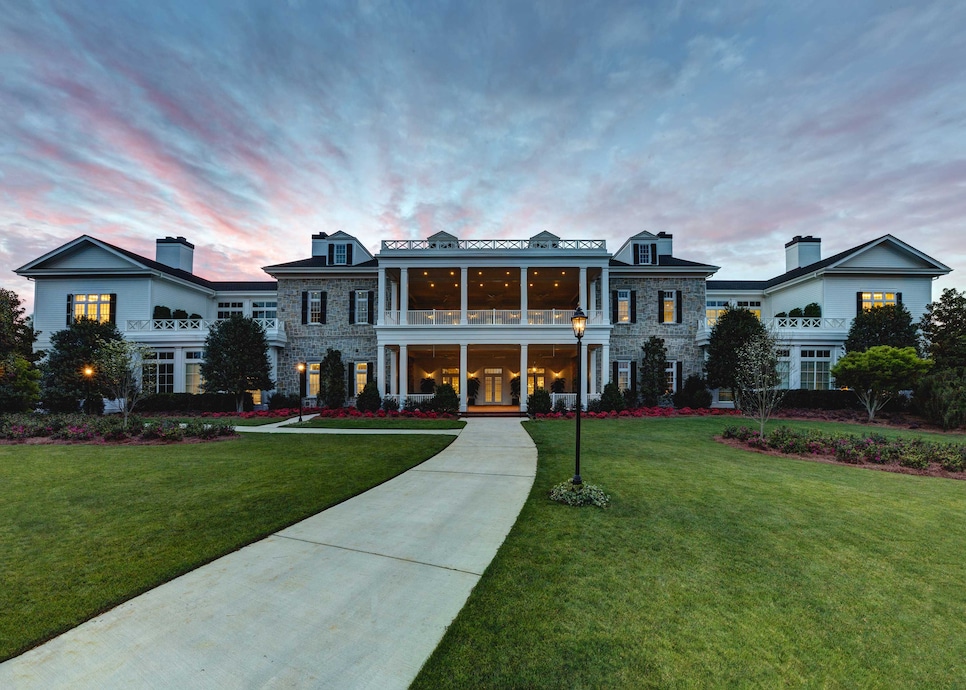 MillerBrown/Augusta National
Drop in today, you ascend that staircase and arrive at what they're calling the Arena. There a sportswriter could cover the Masters without leaving his rich, leather chair. At each of 350 seats, Internet connection. At each, two television monitors. From every seat, a view of two giant video screens showing scoring, interviews, and action on the golf course. A wall of windows opens onto the Augusta practice range. For those intrepid scribes who insist on seeing actual golfers play actual golf, shuttles whisk them to the actual golf course.
Also a museum of sorts, the Press Building reminds us of Masters history at every turn, even a turn into a room behind a "Gentlemen" brass plate. There was a sports page from the Detroit Free Press of April 8, 1935—Grantland Rice reporting from Augusta, burying the lede this way …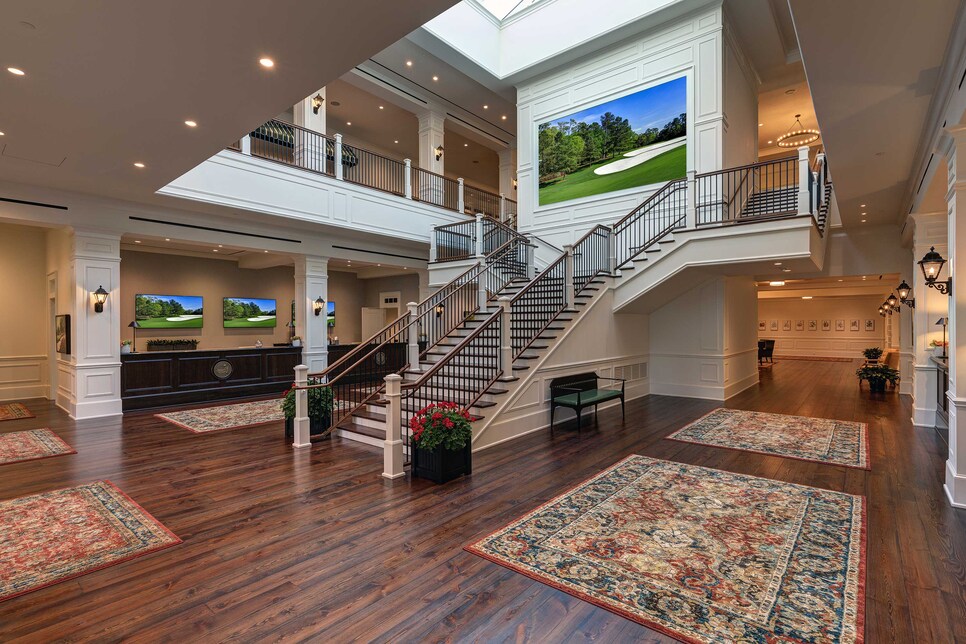 MillerBrown/Augusta National
"Millions of stars and duffers have played billions of golf shorts in the 500-year history of the ancient greens. But Gene Sarazen played one in the final round of the Masters tournament at Augusta that holds all records for all time."
It was three fat paragraphs later before Granny let his readers in on Sarazen's double eagle at the 15th that helped him into a playoff that he won the next day. Granny likely typed his stuff from the clubhouse veranda, the first of the press arrangements here. Then came a press tent, followed in 1953 by a tin-roofed Quonset hut near the first fairway and, in 1990, by a building so grand the Miami Herald's Edwin Pope called it "our Taj Mahal."
Ah, the Quonset hut. I miss the Quonset hut. Perhaps it had been salvaged from Fort Gordon. It had a spartan, military feel. Rows of wooden tables. Steel typewriters clattering on deadline. To work in that clatter while a rainstorm beat on the tin roof was to imagine going over Niagara Falls in a barrel. No such noises in the Press Building today where computer keys work their magic soundlessly. Besides, the Quonset hut had Waxo Green. Dudley (Waxo) Green of the Nashville Banner. There was a scribe who could tell you a story that would hold all records for all time.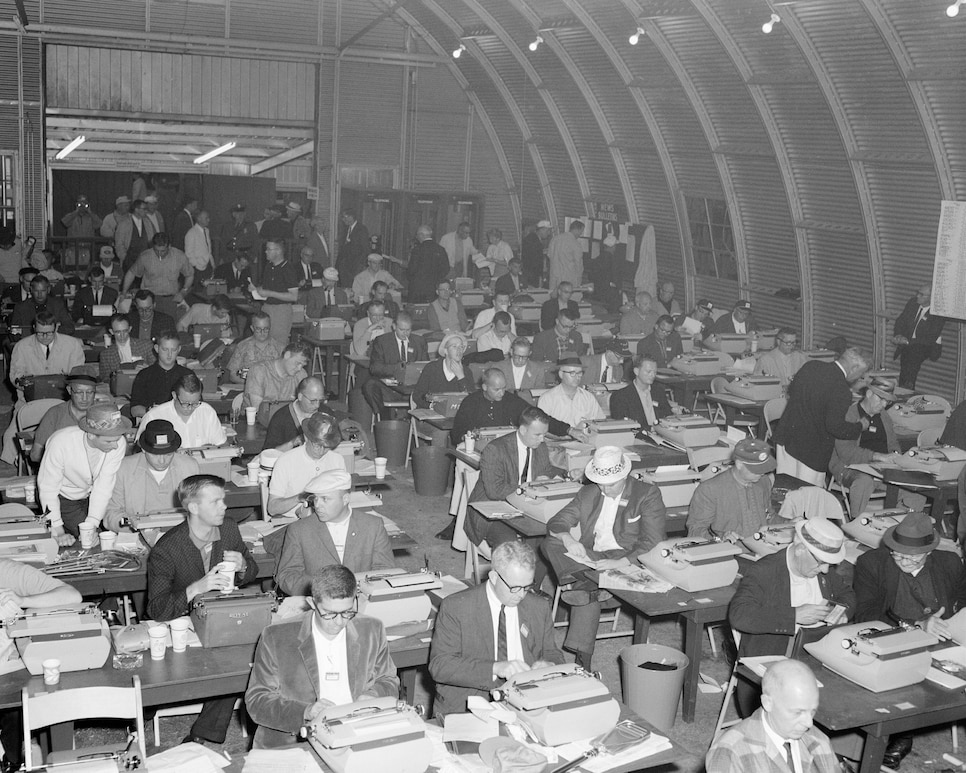 The original Masters media center, AKA the Quonset Hut, in 1962.
Augusta National
"My granddaddy fell at Shiloh," Waxo once declared, and all within hearing distance of the great man's Tennessee drawl believed him.
"And my granddaddy fell at Gettysburg," he also said.
"And my granddaddy fell at Appomattox," he said. "My granddaddy was the drunkenest sumbitch in the Confederate army."
I should not whine even a little bit when luxury has been imposed on me. As the basketball coach John Calipari reminded his University of Kentucky charges not long ago, "There's no crying on the yacht." But still. If Augusta really wanted to please us, they could have moved the 18th green right outside our windows.