The Loop
The Michelle Wie Limited Trust
__"Right now all I need is confidence to play well." __--Michelle Wie
She shot 82, but a lot of the talk--yours and the press room's--today remains with Michelle Wie, for whom golf isn't loads of fun right now.
The St. Pete Times site had this snipey quote from former Wie instructor Gary Gilchrist:__ "What I saw on the range the day before she teed off for her first round, I was absolutely blown away that she even teed it up the next day, " Gilchrist said. "I would've had to have had a few drinks before I teed off. She was hitting it everywhere. She couldn't hit a driver at all." __ Ow.
Gilchrist makes it sound like a technical problem but in Ron Sirak's report for our web site, it sounds like confidence is the big issue: "The part of her game that seems to be suffering most is trust. What appears to be going on is more a crisis of confidence than it is the result of an injury."
On the range, David Leadbetter, Wie's coach, had Michelle swinging with a Gary Player-like step-through move in which she would follow the flight of the ball by taking a step toward the target.__ "It's forcing me into trusting my shots,"__ Wie said. "Because right now all I need is confidence to play well."
Lead did a tip like that for Golf Digest and former Digest Schools instructor Ed Bowe suggested that very drill in our Breaking 100, 90, 80: "Try Player's walk-through drill If you are taking big chunks of turf or skull the ball when you swing, you may be hanging back on your rear foot at impact, trying to scoop it in your anxiety to get the ball off the ground. Instead, let the club's loft get the ball airborne. As a drill, try Gary Player's classic walk-through swing. When you make contact, continue moving on as if you're walking after the ball."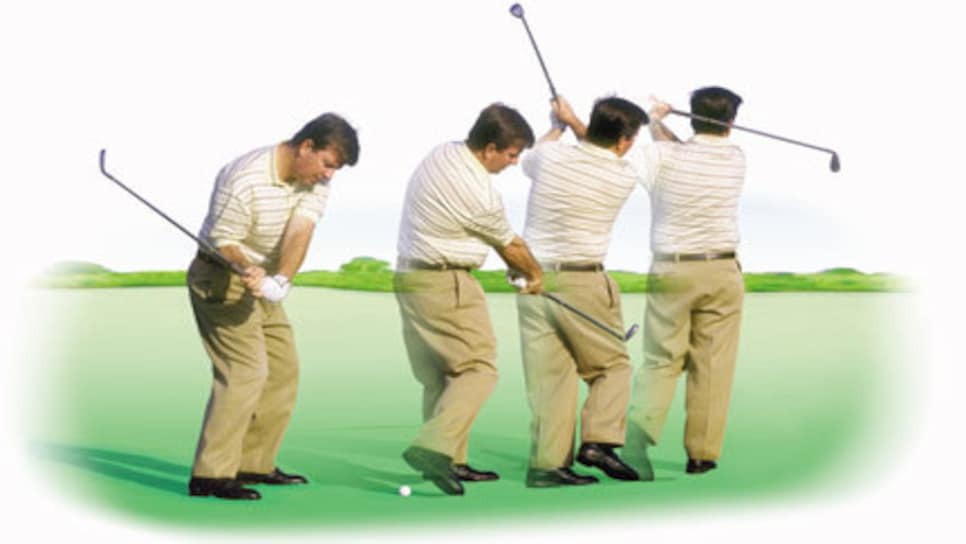 If you don't trust your swing, in other words, you hang back, flip the wrists or block it, which is what Gilchrist was seeing. Misses both ways, a pro's worst nightmare.
Nevertheless, I'm betting, against all odds, that Wie wins one this year.