The Loop
The Memorial Tournament, Taylor Swift's big news, and should the NCAA Championship be match play?
If you're reading this, I can already hear your outrage. How dare you question this format?! Did you not watch the championship matches on both the men's and women's side? Were you NOT entertained?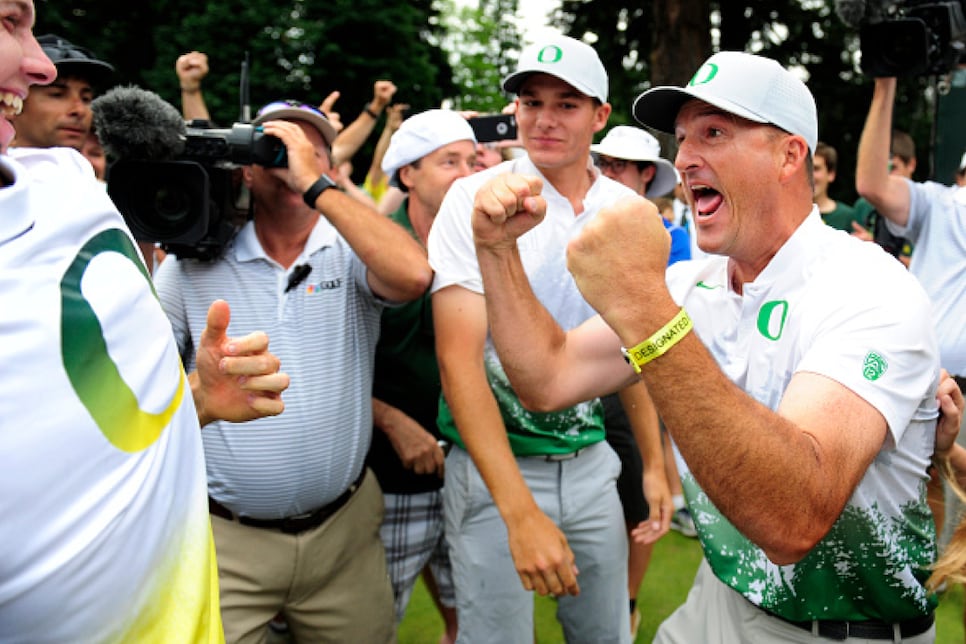 Of course I was. In fact, I can safely say both finishes were the first time I've given up on some sleep to watch college golf. Both Oregon's triumph over Texas and Washington's win over Stanford were absolutely thrilling. That can't be argued. What can be argued is whether this match-play format yields the best champions.
Did you know that in the eight years since the NCAA switched away from exclusively using stroke play (stroke play is still used in qualifying and to determine an individual champ) neither a 1 or a 2 seed has won on either side? That's zero for 16. Does match play make this tournament more unpredictable? Definitely. More exciting? Probably. But better? I'm not so sure.
OK, but that sure was fun to watch. And after being enthralled by those two finishes, I don't feel as strongly against match play. But I still think it's worth a debate. Here are some other things to talk/argue about on the course this weekend:
The Memorial: The Big 3 got all the pub heading into the week, but Dustin Johnson grabbed the headlines on Thursday. A win at Jack's place and he probably emerges as the fourth favorite to win at Oakmont in a couple of weeks.
NBA Finals: I'm as big of a LeBron fan as they come, but if you can't win Game 1 when Stephen Curry and Klay Thompson play as bad of games as they're going to play all year, then you're in trouble. Sorry, Cleveland, but that long-awaited championship doesn't look like it's coming anytime soon. (Reverse jinx! Please!)
The Man in the High Castle: My apologies for being a bit late to this Amazon Prime show, but I highly recommend it. Based on a book of the same name, the premise is that the Axis powers won World War II and took control of the U.S. Creepy? Yes. Intense? YES. And the best part about stumbling onto a show late? You don't have to wait as long for Season 2. Although Amazon could be a little more specific than "end of 2016"…
Taylor and Calvin: Sad news out of celebrity romance world. Well, unless you're a single guy with big dreams. Taylor Swift is single again.
Not sure what happened here between Taylor and Calvin Harris ("Talvin?"). Surely, Calvin couldn't have dumped the lovely Taylor . . . right? Either way, I'm sure we'll hear all about it on her next album.