News
The LPGA's newest pioneers
This foursome of unique women grew up to become tour pros in places where it hadn't been done
Photo By: Photo by Walter Iooss Jr.
There's no perfect formula for creating a tour player, no list of requirements to check off in the development of a young golfer that will guarantee arrival to the pro ranks. Still, you would think there are a few necessary things. Easy access to a golf course, for one. Or the ability to hit off of grass. Or even just someone else's path to use as a guideline. It's the lack of these resources, and many others, that makes the fact the following four women have their LPGA Tour cards all the more impressive.
Maria Torres, Laetitia Beck, Tiffany Chan and Olafia Kristinsdottir are from four very different parts of the world. Torres grew up in Puerto Rico, Beck in Israel, Chan in Hong Kong, and Kristinsdottir in Iceland. Each is the first woman from her respective country/territory to have earned an LPGA Tour card.
In 2008, 121 international players from 26 countries were members of the LPGA Tour. This past season, 31 countries were represented, four more than on the PGA Tour.
These women's stories are different, but the same in that each was bold enough to dream of professional golf in a place where playing the game is not seen as a norm. They are all pioneers, having navigated a unique route to the LPGA Tour.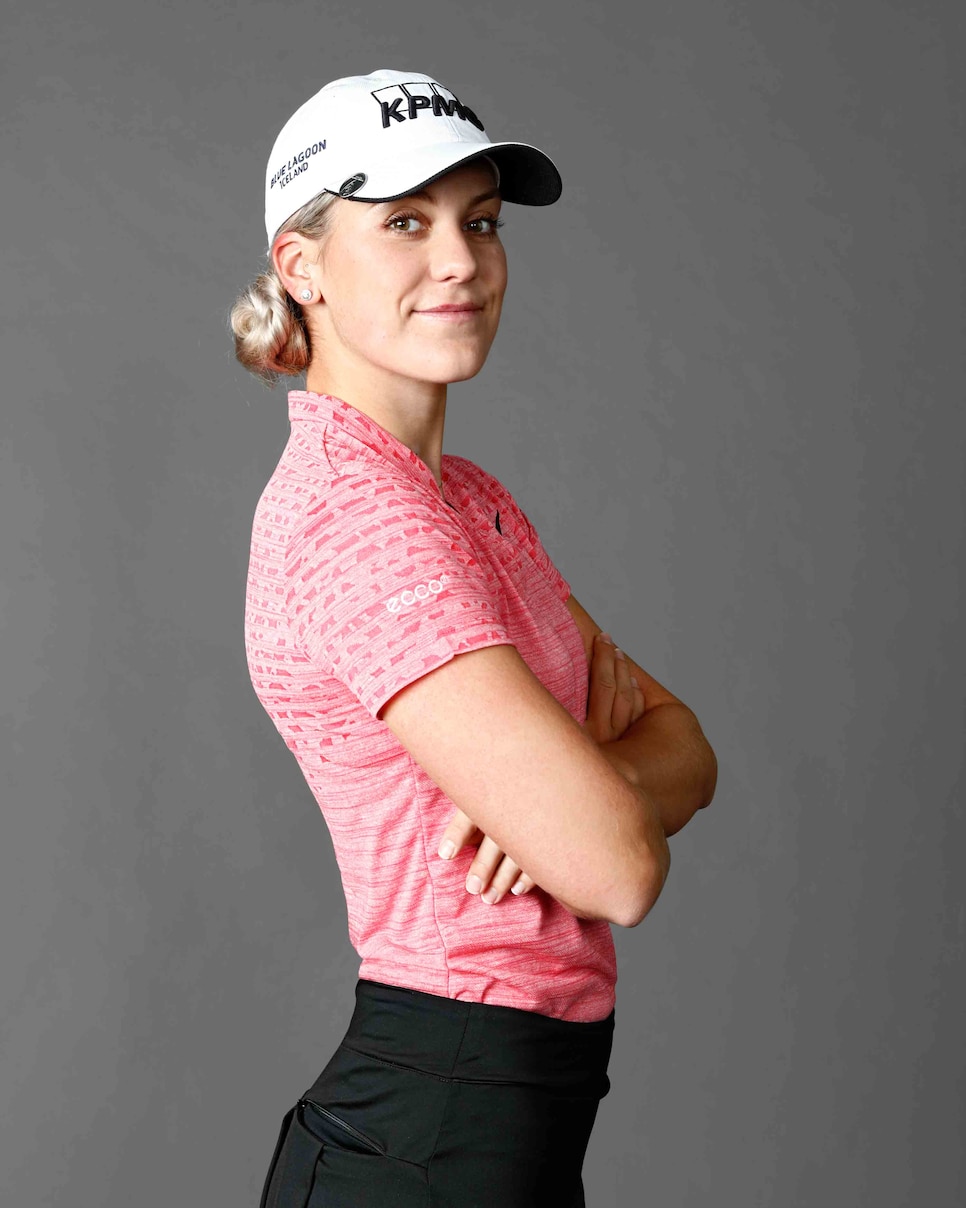 Photo by Walter Iooss Jr.
OLAFIA KRISTINSDOTTIR
COUNTRY: Iceland
AGE: 25
ROOKIE YEAR: 2017
Playing golf in Iceland must mean practicing indoors a lot. We have a short season, May to September. But it's light all day in the summers. It was the most normal thing to switch to indoor practice, and all of a sudden we're hitting into nets and putting on carpets to holes in the floor. Not until I came to the U.S. did I realize that was atypical.
HOW DID YOU END UP AT WAKE FOREST?
I wrote to the top-20 golf schools in America with all my results. Wake and a few others recruited me, and I liked Wake Forest the most.
WAS IT HARD TO ACCLIMATE TO LIVING IN THE U.S.?
There wasn't that much of a social or cultural difference. But at the golf course and in life, you sometimes go through ups and downs. Whenever I'd have something down happening, it was extra hard because I was so far away from home.
WAS LANGUAGE A FACTOR?
They put a big emphasis on language in our schools, so we grew up speaking Icelandic, and then learned Danish and English in fourth grade. And then I learned Spanish, too. Still, university is different where they're using big words. I studied economics and struggled a bit with all the terms, but it came to me.
IF YOU'D STAYED IN ICELAND FOR COLLEGE, WOULD YOU HAVE PLAYED GOLF?
We don't really have sports programs with universities. Being a student is like a full-time job, so you'd be really exhausted. You cannot really focus on both.
NO ICELANDIC WOMAN HAD PLAYED ON TOUR BEFORE. WAS IT STRANGE TELLING PEOPLE YOUR PLAN?
I remember thinking, Should I tell people this is my goal? I wasn't sure if I should even say it. But you have to dream. And Icelanders are known to be dreamers and having big hearts, and chasing it.
"I'm lucky. my job is that i get better. Physically, mentally, emotionally, I get to improve it all." — Olafia Kristinsdottir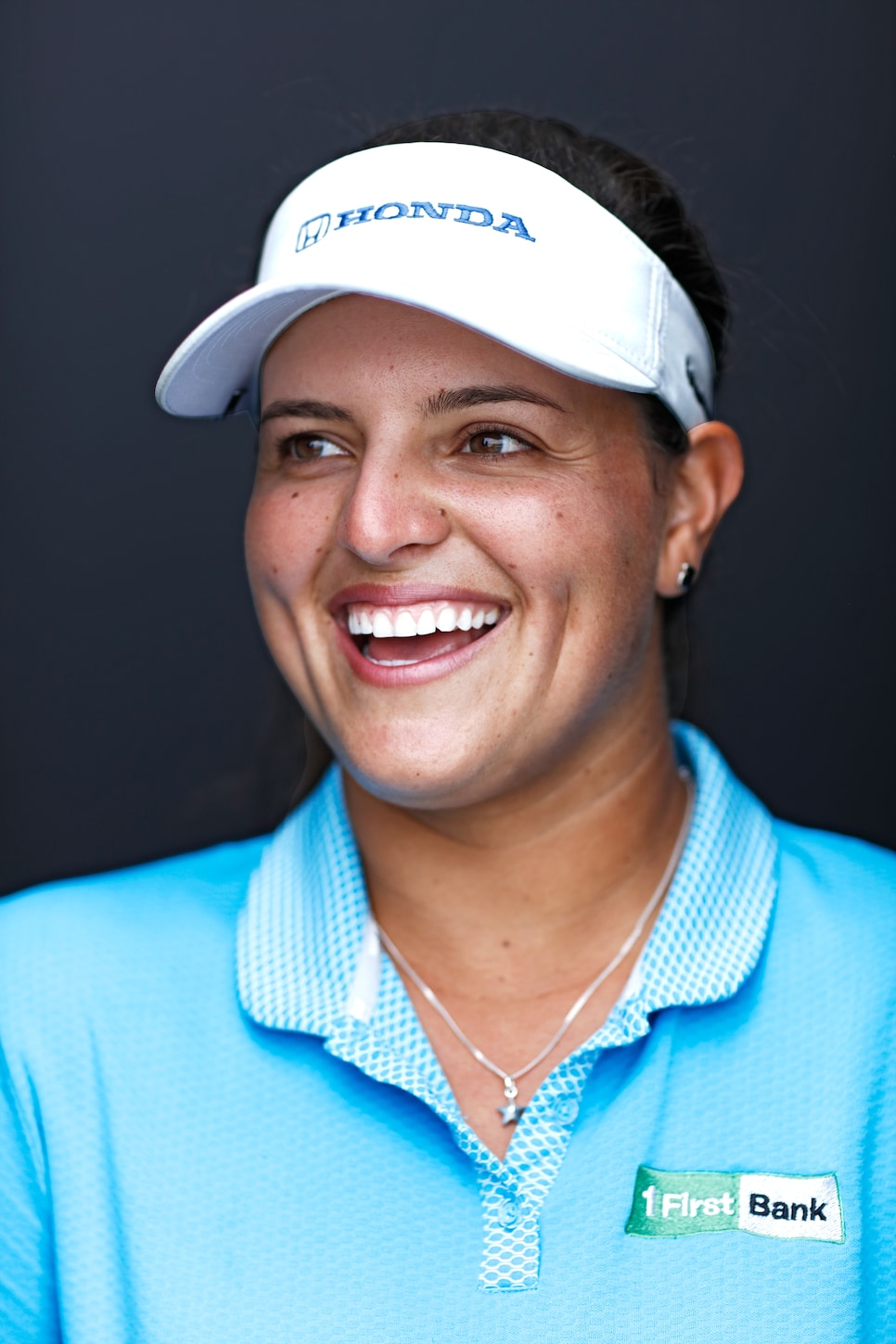 Photo by Walter Iooss Jr.
MARIA TORRES
COUNTRY: Puerto Rico
AGE: 23
ROOKIE YEAR: 2018
HOW OLD WERE YOU WHEN YOU STARTED PLAYING?
Nobody in my family plays golf. We always drove by a range on the way home from equestrian, and one day my dad asked if I wanted lessons. I was 7, and that's how it started. Getting to know what you really love at that age and finding that passion—it's a special thing.
HOW WAS YOUR ACCESS TO COACHES AND COURSES?
Our high school team had one day almost every week to play all day. After school, I'd go practice. I just kept adding days. I wanted to go to college and play professionally. When you're a kid, you have these dreams. But to actually be here, it's surreal.
YOU HAD AN INTENSE Q-SCHOOL EXPERIENCE. WHAT HAPPENED?
After the first stage, I went home, and then Hurricane Maria hit. It was so hot—no power, no washing machine, no air conditioning. You learn you take a lot for granted. My grandma had a gas generator that we used to run an AC unit in one room, so that's where we all slept. The lines to get gas were seven hours long. So much of it was horrible, but people came together to help one another. Sometimes after a bad thing, you get a good thing.
HOW DID YOU MAKE IT BACK FOR THE NEXT STAGE?
I didn't know how I was going to get out, but I needed to practice. I put a bucket out in a kids park and hit to it. I putted on the carpets in the house. After a week, my sponsor had a private plane come get me.
HOW DID YOU FOCUS ON GOLF WITH EVERYTHING GOING ON AROUND YOU?
I wanted to be supporting my family, but they were like, go—you have to go and chase your dream. It was emotional when I got the card. Even if I hadn't gotten my card, giving it my all, it made everything worth it.
"I zone out a lot. if you ask my family, they'll say I'm on my own planet. But it's a wonderful planet." — Maria Torres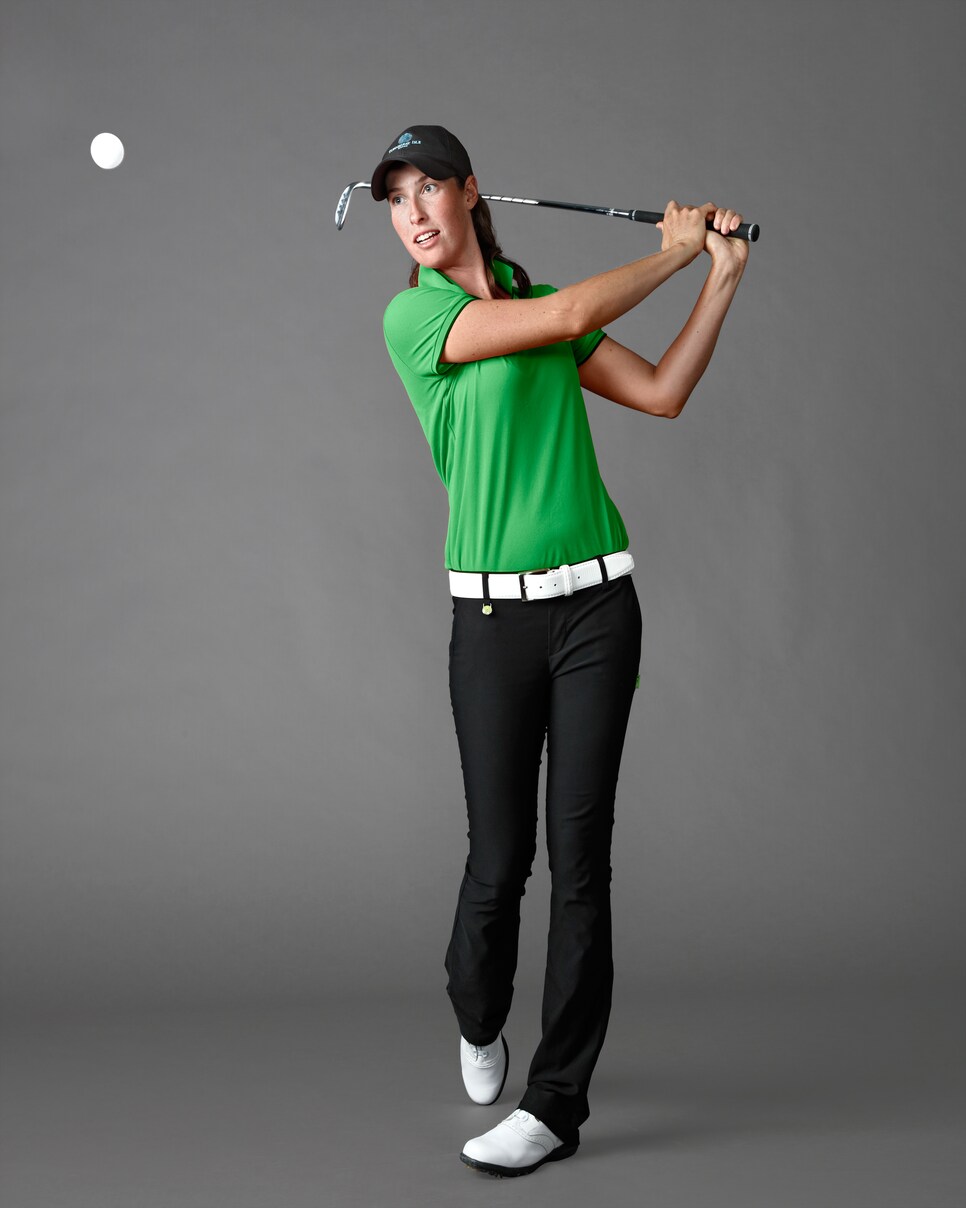 Photo by Walter Iooss Jr.
LAETITIA BECK
COUNTRY: Israel
AGE: 26
ROOKIE YEAR: 2015
HOW DOES AN ISRAELI GIRL GET INTO GOLF?
My parents played golf a bit in Belgium. When I was 6, we moved to Israel, and we bought a house near the only 18-hole course in the country. I loved tennis, too.
WHEN DID YOU DECIDE TO TAKE GOLF MORE SERIOUSLY?
When I was 12, I played in my first Ladies Israeli Open, and I won. I was athletic, but we realized I had to focus on one sport. Other sports you need a team or partner, but I could play golf alone. As my life became about my passion, I started having fewer friends, for sure. But I didn't feel like I was missing out on anything.
WHEN DID YOU HIT YOUR CEILING WITH GOLF OPPORTUNITIES IN ISRAEL?
I had to go where there were more courses and tournaments. I was 14 when I went to IMG Academy [Bradenton, Fla.].
It was hard in the beginning. I was in a strange country, the culture is so different. I have food restrictions and holidays—I missed how normal that was in Israel. The weekends got a bit lonely. I was kind of weird, and it was hard for me to socialize. But I don't need to socialize much. The golf was amazing.
IT SOUNDS LIKE SO MUCH TO ACCLIMATE TO. HOW DID YOU KEEP GOING?
I debated going home. But I knew if I went back, it meant no more golf. I wouldn't have fulfilled my potential. Slowly, I returned to Israel less and less.
"I went from playing twice a week to five days. Within a year, I went from like a 15-handicap to a scratch." — Laetitia Beck
Photo by Walter Iooss Jr.
TIFFANY CHAN
COUNTRY: Hong Kong
AGE: 25
ROOKIE YEAR: 2018
HOW DID YOU GET INTO GOLF?
I learned with my dad, and when I was 8, the Hong Kong Golf Association started a junior program. There were around 70 of us. We only played on the range, which was all mats. Eventually I was put on the elite team, which went to a course three times a month.
WHAT WAS IT LIKE GOING FROM THE RANGE TO COMPETING ON COURSES?
It was so hard. You don't know how to chip, you constantly three-putt. It took me years to feel comfortable with my short game. We had good swings that we knew a lot about, but we couldn't score.
HOW DID YOU BALANCE SCHOOL AND GOLF?
In Hong Kong, everyone's so focused on academics that they ignore sports. I was lucky—my parents didn't force me to get A's. I had freedom to go to tournaments, but when I got back, I had to make up all the work.
DID YOU TRAVEL MUCH?
Our American coach got us a sponsor so we could take trips. We went to junior tournaments all over—Thailand, Singapore, Korea, Japan. We'd come to the U.S. for a month in the summer, too. We had so much fun. But our team was almost always last. No one looked up to us.
COMING TO THE U.S. FOR COLLEGE AT 19, WHAT WAS THAT LIKE FOR YOUR GOLF?
I finally had full access to a course and the ability to practice short game. It was amazing. I hit so many balls. I spent my 21st birthday at the course by myself all day.
THOUGH IT WAS ALSO A BIT OF A ROUGH START?
ASU recruited me, but a month before I left, we found out that an academic requirement made me ineligible. So I went to junior college in Oklahoma. Two months in, our coach disappeared. Our season was done. It was the most horrible experience. I felt lost. But it got better when I transferred to Daytona State [Fla.], finished junior college, and then transferred to USC.
HOW'S TOUR LIFE TREATING YOU?
It's great. All the Korean, American and Taiwanese players, they have people to play with and already seem to know, like, 60 percent of what to do. I'm a blank slate. I will do whatever I can to stay.
"Everyone in Hong Kong thinks I'm super-rich. They don't understand. They see golf in movies, and it's always rich guys playing." — Tiffany Chan