The Loop
The line at this Las Vegas sportsbook an hour before March Madness tipoff has to be seen to be believed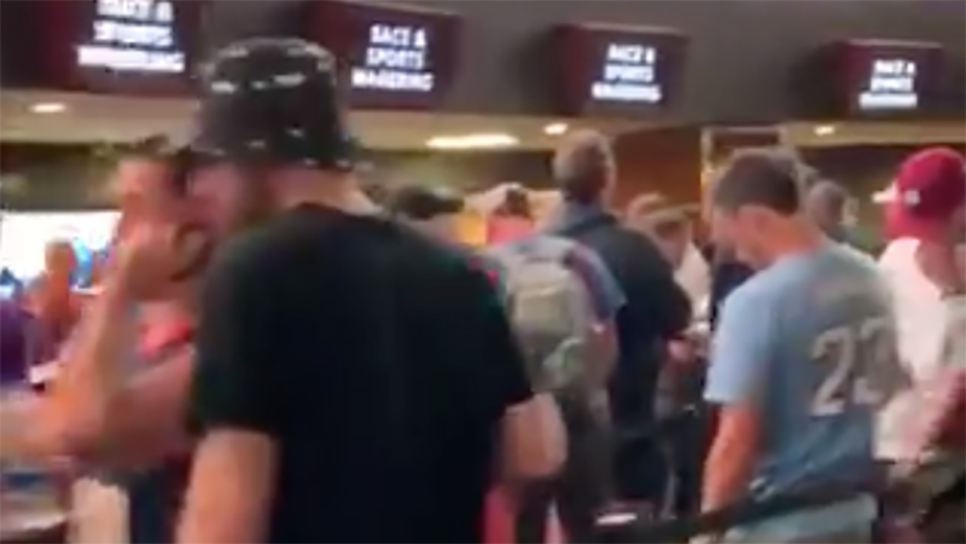 Hope springs eternal, folks. No matter what's going on in the world—no matter how many times we've been railroaded or hosed—people will continue to believe that things will get better, that they're just one little win away from turning it all around. This, in a nutshell, is both humanity's greatest strength and biggest folly, as evidenced by the labyrinthian line at Las Vegas sportsbook SuperBook about an hour before tipoff of Louisville and Minnesota—the inaugural game of March Madness 2019—on Thursday afternoon.
A veritable ouroboros of misplaced optimism, this queue makes a TSA security check on Thanksgiving eve look like a walk in the park. From dudes in Jordan shirseys and basketball shorts to tucked-in jeans dads and the quarter-zip investment-bro squad, the serpentine mass of humanity touches upon every vibrant hue of the Vegas cultural rainbow. One in five of these jabronies will manage NOT to dent their kids' college fund on a Sweet 16 run for the UC Irvine Anteaters and yet every one of them thinks he's that guy. Thus is our hope. Thus is our downfall.
One interesting thing to note as you dig into the granular traits of people who are so sure they know more about sports than everyone else that they're willing to re-mortgage their futures on it, is the startling absence of women spending the wee hours of their weekday mornings waiting in line to bet on a bunch of 18 year olds to put a little orange ball through a little orange hoop. If there's any remaining debate about which is the superior, more intelligent gender, this should just about settle it.