The Loop
The latest beer pong and golf fusion is a putting game that looks pretty awesome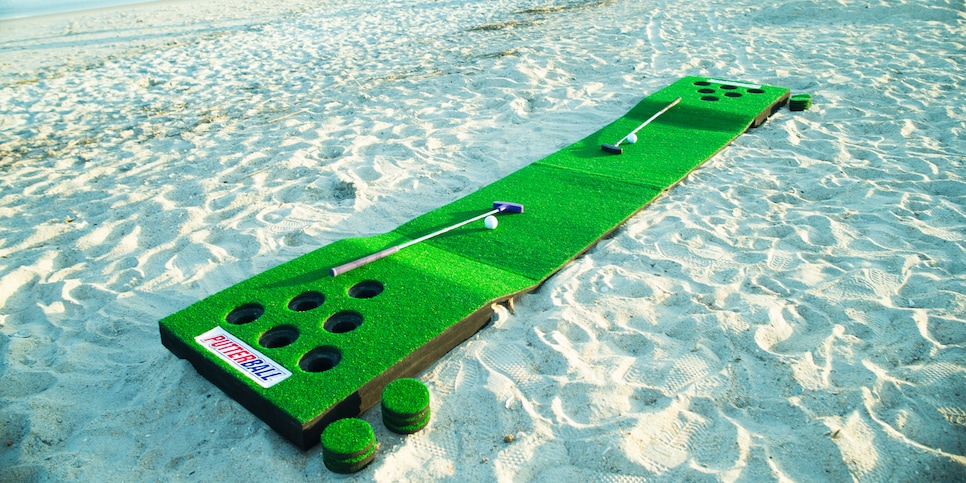 We've seen a number of beer-pong-meets-golf products hit the market over the past year. The latest entry is a little different from the others, though, and it looks like a game we wouldn't mind playing at a tailgate or a party.
The Putterball is designed to appeal to non-golfers as much as golfers, requiring slightly less skills than the Chippo or Beer Pong Golf. As they say on their Kickstarter page:
"When we say that anyone can play Putterball, we damn well mean it. Other backyard golf games require the skills of a PGA Tour pro to enjoy. We're not about that life. We love the game of golf as much as the next person, but we are realists. We know golf is f***ing hard. With that being said, anyone who has ever played mini golf (we estimate about 99% of the population) has the chance to become a Putterball master. The other 1 percent should drink an extra beer first."
We can't disagree with the fact that golf is hard. And anyone who is playing some form of golf is good for the game, so we can get behind this.
Here's a video from Putterball:
The Putterball is a foldable board made of high-density durable foam with six holes on each side. Just like beer pong, when you make a cup, you take it out of the game -- or in this case, you cover it with one of the grass cups.
It looks pretty easy to play. There are some rules that go along with the game, but if it were us, we'd just play this like cornhole is played -- switching which side gets to putt after every turn.
You might not need the short game skills like other games, but we'd be lying if we said we wouldn't play this at a tailgate or on the beach. We'll take any excuse we can get for working on our putting stroke.