News
The laid-back, but competitive, world of college club golf
College club golf has few of the perks of varsity play, but the chance to stay in the game makes it an attractive alternative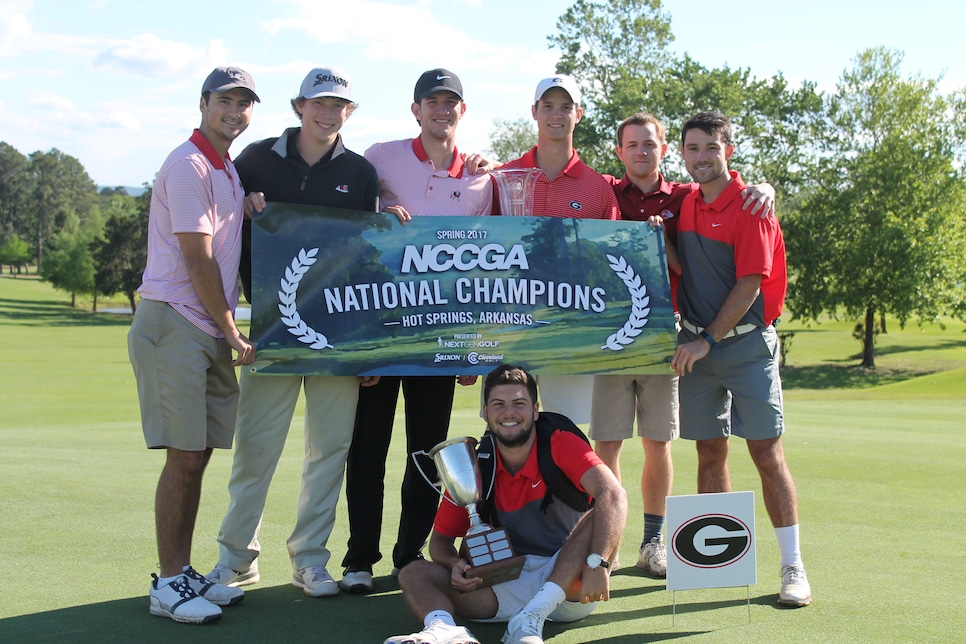 It was noon last Monday, and Jordan Davis' cellphone rang, but he didn't hear it. The University of Georgia junior had finally come down off the high of winning a college national championship and he was catching up on some of the sleep he had missed the previous evening.
The entertaining story would be that Davis and his Bulldog teammates had been out all night celebrating their triumph. The true story was they were just trying to get back home. Their two-car caravan drove through the night, a 10-hour trip from Hot Springs, Ark., that ended in Athens at 5 a.m. (OK, so they did indulge themselves a little, stopping at a barbecue joint along the way for a victory meal.)
Their return to campus was greeted with … well … nothing. There was no athletic-department-sponsored pep rally, no golf-cart parade at the University of Georgia Golf Course the way perhaps the school's varsity men's golf team might have been honored. This Bulldogs squad had beaten a field of 32 schools—including Florida, Alabama, Oklahoma State and Stanford, among others—from around the country to win the National Collegiate Club Golf Association Championship, but it was an accomplishment achieved in virtual anonymity.
And yet Davis is OK with that, as he explained after waking up, checking his messages and apologetically returning the missed call. "I really can't begin to describe how excited I am, we all are," he said. "Nothing beats that winning feeling."
Davis had led the way, shooting a one-under 71 on Sunday at Hot Springs Country Club, UGa's low individual score. But he insists the victory was a team effort. Joe Reichard, the club president, made a birdie on the 18th hole to close out a 78. John Michael Klopfenstein also made a birdie on the home hole for a 77. Andrew Kahn, having made a triple bogey on his second hole and starting six over through four, finished at five over, posting an impressive 77. Every stroke was critical in the play-eight, count-five format, the Bulldogs winning by a narrow two strokes over Grand Canyon.
This had been a goal of Davis' since he started playing on the squad as a freshman in the fall of 2014, his older brother helping found the club the previous year. Even if nobody knew what he had done, he did, and there was satisfaction in that simple fact.
Depending on what school you're talking about, there is little glamour in college golf. No matter what school you're talking about, there is no glamour in college club golf. And yet Davis is OK with this, too. The laid-back nature of playing for Georgia's club team lets him stay active in the sport he loves while keeping it just that, a sport, not an obligation or a condition of attending school.
"I played high school golf, but I didn't really consider playing college golf," said Davis, who grew up in Rome, Ga., about 120 miles west of Athens. Why? "Because I didn't think I was terribly good."
Whether that's being humble or honest, Davis is content with the decision. "I've always had talent," says the scratch golfer who will play in U.S. Open local qualifying later this month, "but I wouldn't say I had the work ethic." Still, he didn't want to give up the game entirely.
Davis' story is a familiar one to Kris Hart, who helps oversee the NCCGA through his company, Nextgengolf. Hart played varsity golf for three years at Bryant College, but as he puts it, "life got in the way." Yet while not being able to play varsity golf, he also didn't want to cut all ties from the game. (Nextgengolf also provides outlets for play among 20 and 30 somethings who live in urban areas).
"Golf is a sport of a lifetime, but when many people go to college or just start working out of school, it's a sport they don't have much access to," Hart told me last December when he spoke about the NCCGA during the college golf coaches' convention in Las Vegas.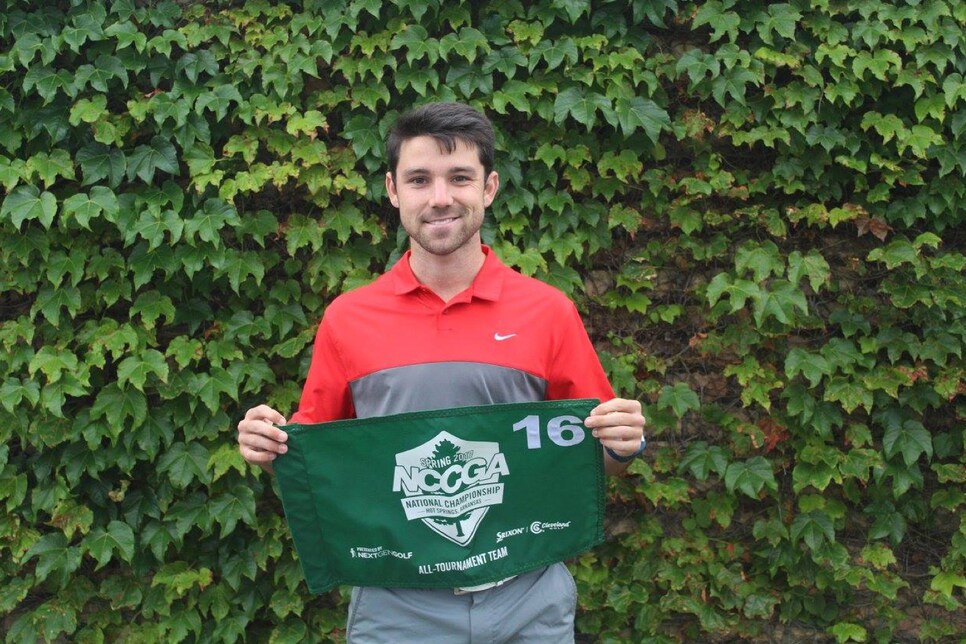 Hart says there are roughly 400 schools that have club golf programs. Georgia's team is a healthy one, with 35 members this spring. The roster includes a handful of former varsity players at Division II and Division III programs who, after transferring to Georgia, decided they too wanted to stay connected with the game. Each club member pays $200 in dues to be part of the group, which cover much of the travel expenses to tournaments (along with a small subsidy from the school). More comes out of their own pockets, too, most notably greens fees at Georgia's golf course (the club players do, however, get a discount).
There is no coach, no formal practice and only two official events each semester, a regional tournament that serves as a qualifier for that season's national championship. When the guys want to play during the week, they message each other in a text chain and quickly fill out foursomes.
Georgia's first success on the national level came in November, when the team won the NCCGA's fall national championship at Walt Disney World Resort outside Orlando. When the team also won the spring championship, it became the first in the seven-year history of the NCCGA to win both titles in a given academic year.
There are plenty of friendships among Georgia's traveling group. Davis' car left at 11 a.m. on Thursday morning. They reached the Memphis area by late afternoon when the guys realized the Spurs and Grizzles were playing an NBA playoff game that night. "We said, 'Hey, you want to go to the game tonight?' " Davis said. "We looked online, and tickets were only like 20 bucks. And we were like we can't pass up on that."
With time to kill before the game, the group stopped at a public course along the highway and got in some practice. "It was an awesome, awesome time."
The 36-hole tournament itself (with a practice round the day before) was impressively well run, particularly considering the challenging weather conditions. The rain was never so hard on Saturday to stop play, but made things tricky. Yet the low individual score was a 66, shot by the University of Missouri-Columbia's Dillon Eaton.
"The quality of the competition is pretty impressive," Hart said. Davis estimates that roughly 15 of the 38 schools have a chance at winning.
Georgia's chances looked a bit slimmer given that they didn't travel with its full compliment of eight players. Holding a 36-hole qualifier at home in the days prior to the championship, the squad had narrowed the team to its eight traveling players, but one guy had to back out because of a final. Another stepped in to replace the player, but then another dropped out three days prior to the event, so Georgia went short-handed. It's another example of the difference between varsity and club golf.
The team shot an opening 376 in the rain to grab a one-shot lead on Grand Canyon, Davis shooting an opening 79. Come Sunday, overcast skies cleared by day's end. With his closing 71, Davis finished T-16 individually, nine stroke back of Eaton. The Bulldogs a closing 382 to take the title.
"It was an awesome feeling," Davis said. "Golf is not really a sport that gives a lot of positive feedback for the most part. It was a really great feeling to do that for my team."
Davis' other dream would be for the club team to compete in a match against Chris Haack's varsity squad, which earned an NCAA Men's Regional berth on Thursday for the 22nd straight year.
"We've been talking about that for years," Davis said. "Last year we posted a seven under team score for a two-day tournament. We were thinking that was competitive. We would definitely have to have our best day of golf to compete with them, but man, that would be a lot of fun."
But there isn't much interaction between the two groups, Haack's roster limited by the university to a handful of scholarship players.
Davis' play with the club team has inspired him to be more active with his practice. He's even forgoing a summer business internship to try and play amateur golf events. His schedule is starting to fill up with qualifiers for the Southern Amateur, North & South, Georgia Amateur and the U.S. Amateur.
"Last summer I missed the U.S. Am qualifier by a few shots. It was like a switch in my head, I'm really good enough," Davis said. "And my parents were like, Go for it, you're probably not going to have another chance like this in your life. So I've been going 100 percent lately. Over the last few years I've really sort of locked down and worked through it.
How do you know things have changed? After Davis hung up the phone, he was on his way to the course to practice. National champions don't rest on their laurels.