News
The jinx that goes with Justin Thomas' bogey-free streak and four other takeaways from Day 3 of Workday Open
Justin Thomas, with Collin Morikawa among those chasing him, is trying to become the first player to win at Muirfield Village without a bogey on his card.
Sam Greenwood
Justin Thomas still hasn't made a bogey this week at Muirfield Village Golf Club. Is there any wonder then that Thomas, always among the leaders in birdies on the PGA Tour, leads by two over Viktor Hovland going into the final round of the Workday Charity Open?
Here are our five takeaways from Saturday's round.
How good is Thomas' bogey-free run? Since 1983 (when the tour started tracking these things), only two players—Scott Hoch in 1987 and Jim Furyk in 1997—have gone their first 54 holes at Muirfield Village without a blemish.
On Saturday, Thomas' streak came close to an end early. At the 187-yard fourth, his tee shot sailed long to the back of the green, leaving more than 50 feet coming back. Then his lag came up seven feet short. He made the putt.
Five holes later, Thomas again needed to negotiate another long one when his approach from the right rough landed on the left side of the green, again more than 50 feet from the hole. He rolled it to just inside five feet and made par. The streak was never threatened the rest of the day and he shot his second straight 66.
Interestingly, neither Hoch nor Furyk went on to win in the years they went bogey-free through the first 54 holes at MVGC. Naturally, Thomas would like to avoid joining them in that dubious honor.
"I've done that many times," Thomas said of his bogey-free play. "But I've never won the tournament. I'd rather win the tournament than go bogey-free."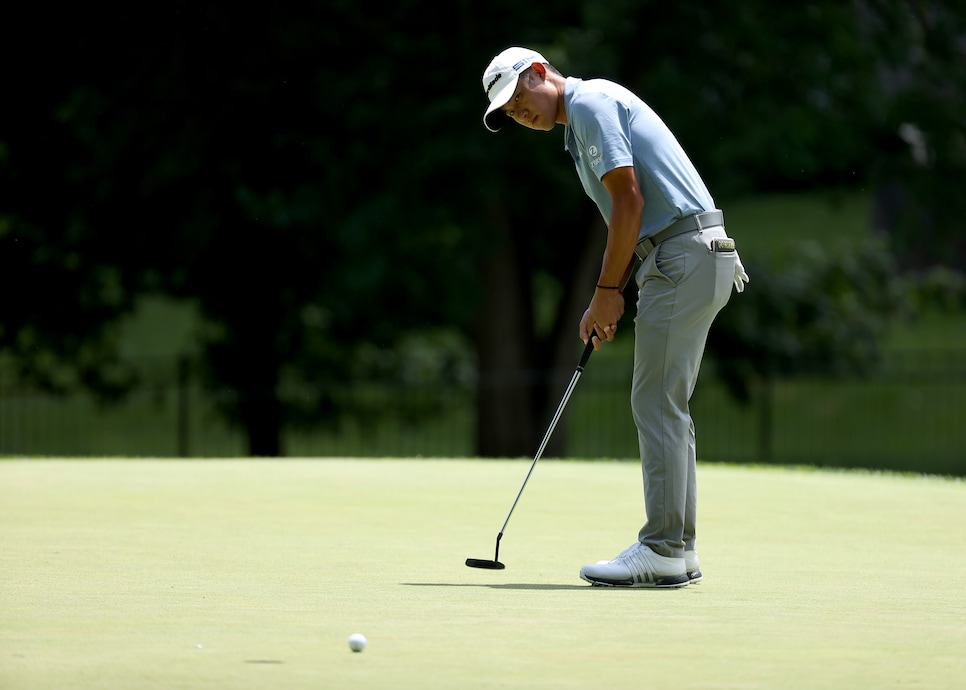 Collin Morikawa putts on the second green during the third round of the Workday Charity Open.
Gregory Shamus
The first two rounds, Collin Morikawa rode a hot putter—to the tune of 5.60 in strokes gained/putting—to scores of 65-66, and it looked like he might run away with things.
The third round was a drastically different story for the 23-year-old when it came to the flat stick.
It started in earnest at the seventh, where after being forced to lay up from a fairway bunker on the easiest hole on the course, he hit his approach to 13 feet but missed the birdie putt on the par 5. Two holes later, he three-putted from 19 feet and made bogey.
There were other slip-ups, too, be it on the green or elsewhere.
On the 10th, Morikawa missed a 15-foot par save following a tee shot into the right rough, from where he couldn't get home. At the par-5 11th, his birdie try from nine feet rolled on by. The following hole, after going over the back bunker on the par 3 and leaving himself just outside 15 feet after his pitch, he missed again. Then on the 17th, he failed to get up and down from a greenside bunker and made bogey after missing from 12 feet.
It wasn't just the putter that cooled but where Morikawa was leaving himself—he hit just 11 of 18 greens in regulation.
"Iron distances weren't working," said Morikawa, who made three birdies, three bogeys, shot even-par 72 and trails by three after heading into the third round leading by three. "Couldn't really figure out wind directions, how much to adjust."
In the end, Morikawa's strokes gained-putting on Saturday was just 0.188, and it would have been worse if not for the 15-footer he rolled in for birdie on the last, which was a welcome sight.
"I think it's huge," Morikawa said. "You talk about a bogey that first day, obviously that didn't hurt as much, but this one today felt a lot better. It was good to see something going in."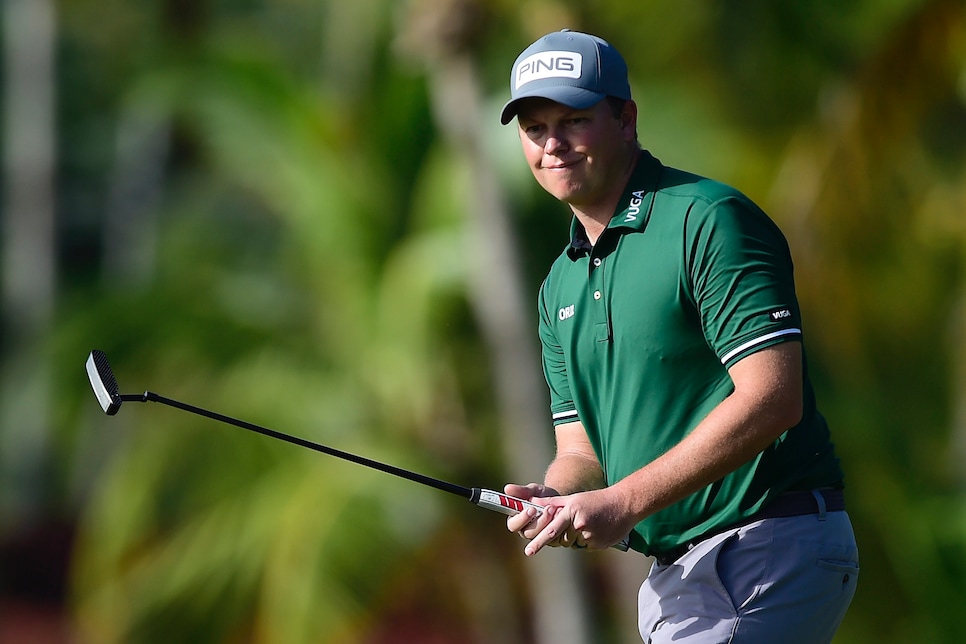 MJ Daffue reacts following a putt attempt in the second round of the 2020 Puerto Rico Open.
Jared C. Tilton
Daffue's wild ride continues
How about this for a week: In the two-spot Monday quallifier for the Workday, M.J. Daffue [pronounced Duffy] made 11 birdies and shot 63 to earn a place in the field in what is just his second career start on the PGA Tour. Then, sitting a shot outside the cut line, he stuffed his approach on his last hole of the second round—at the par-4 ninth—to two feet to set up a tap-in birdie to get into the weekend.
Saturday, he took things a step farther.
The 27-year-old South African, who has played most recently on the Korn Ferry Tour, made five birdies and an eagle—and had a chip-in to save par on the fifth—on his way to a 65 for the low round of the day. That moved him 35 spots up the leaderboard and into a tie for eighth and in line for the biggest payday of his career.
Not that he's thinking about the money, he said—a top-10 finish would get him into the 3M Open in Minnesota in two weeks.
There are plenty of reasons to root for him on Sunday.
In 2014, Daffue's mother-in-law tripped over a manhole cover, got hit by a car and died. Understandably, his career suffered.
"The end of '13 to about middle of '15—I wouldn't say that it was caused by her death— but obviously I was struggling with a few self-problems like depression and stuff like that," he said. "It affected my game, especially when you start playing bad. You just go deeper into the hole."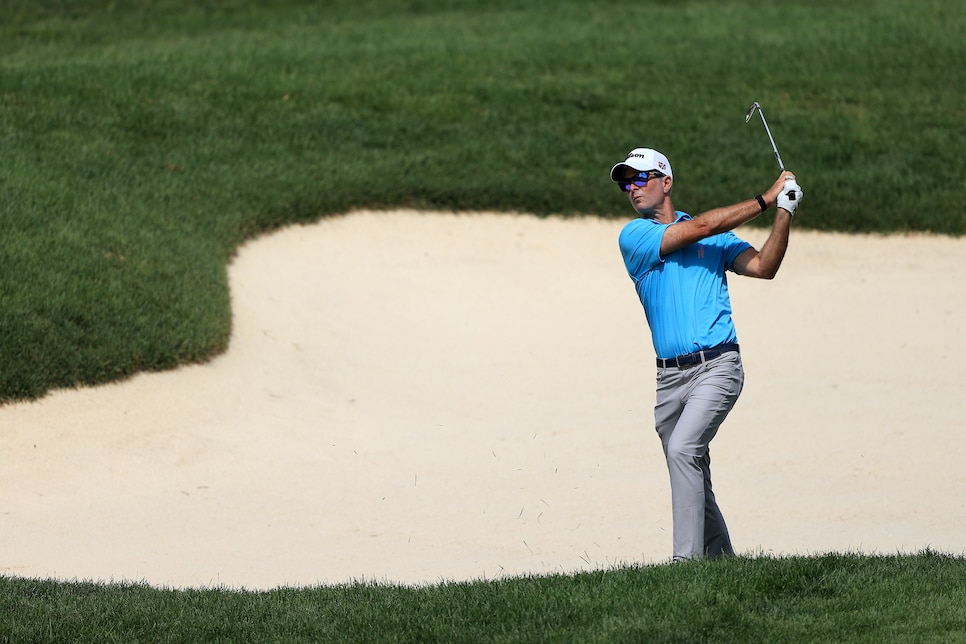 Kevin Streelman plays his second shot on the 11th hole during the third round of the Workday Charity Open.
Sam Greenwood
Kevin Streelman is not Justin Thomas
Though Kevin Streelman and Justin Thomas are similar in stature—both are 5-foot-10 and Streelman outweighs him by 15 pounds at 175—their games are, well, a tad different. Especially off the tee.
Streelman is averaging just over 296 yards in driving distance, which ranks 110th on tour this season, while Thomas checks in just above 302 yards, good for 49th. The difference between the two manifested itself further on Saturday.
On the 432-yard 13th at Muirfield Village, longer hitters shortened the hole by taking an aggressive line over the trees on the left side of the slight dogleg. Doing so worked out for Thomas, who squeezed off a 362-yard shot that left him just 80 yards to the hole (he missed his 15-footer for birdie).
Streelman? Different game.
While the 41-year-old did manage a 328-yard tee shot, it didn't quite have the distance or fade to get back to the short grass to take advantage of the sloping fairway. He ended up in the rough, missed the green to the right, then failed to get up and down and made bogey. Streelman enters the final round five strokes back of Thomas.
After—surprise—inclement weather interrupted play on Friday at Muirfield Village, Saturday was sunny and breezy with no rain.
More bad weather is expected for Sunday in Dublin, Ohio, so the tee times for the final round will be moved up, with players going off in threesomes off the first and 10th holes again, between 7-9 a.m. ET. As a result, television coverage of the final round will begin on Golf Channel at 9 a.m. before moving over PGATour.com and CBSSports.com at 11 a.m. Tape-delayed coverage, meanwhile, will be shown during CBS' normal broadcast window from 3-6 p.m.