The Loop
The Grind: Tiger's video game era ends, Rory finally wins & DJ/Paulina tour Thailand
Welcome to another edition of The Grind, where we're sad to see the end of an era. EA Sports will no longer make a Tiger Woods video game, meaning a (big) piece of our college experience has died. Sure, there were torrid affairs with FIFA and Madden, but TW was that steady love that you could always count on, even if everyone else was busy trying to do actual work. It taught us problem-solving skills (What's the best way to plot my way around Pebble Beach?), instilled confidence (I just shot another 54! Woo!), and made us learn to deal with adversity (I lost with a 54?!). College education in this country might never be the same.
OK, our trip down memory lane is over. Time to look at what else is happening in the world of golf:
Ryan Moore: Moore defeated Gary Woodland in a playoff to win the CIMB Classic in Malaysia. Perhaps he could be the new face of a EA Sports golf-themed video game? "Ryan Moore 2015. If it's in the game, it's in the game." On second thought. . .
Rory McIlroy: Yes, it was just one round, but McIlroy beat Tiger Woods for a second consecutive year in their China exhibition match. Yes, Woods was sick, but winning anything again had to feel good for the slumping McIlroy. Plus, he played along, literally, during an opening ceremony for the BMW Masters (below). McIlroy had another indifferent finish in that event, but we're trying to be positive. Look at that lovely form playing the drums!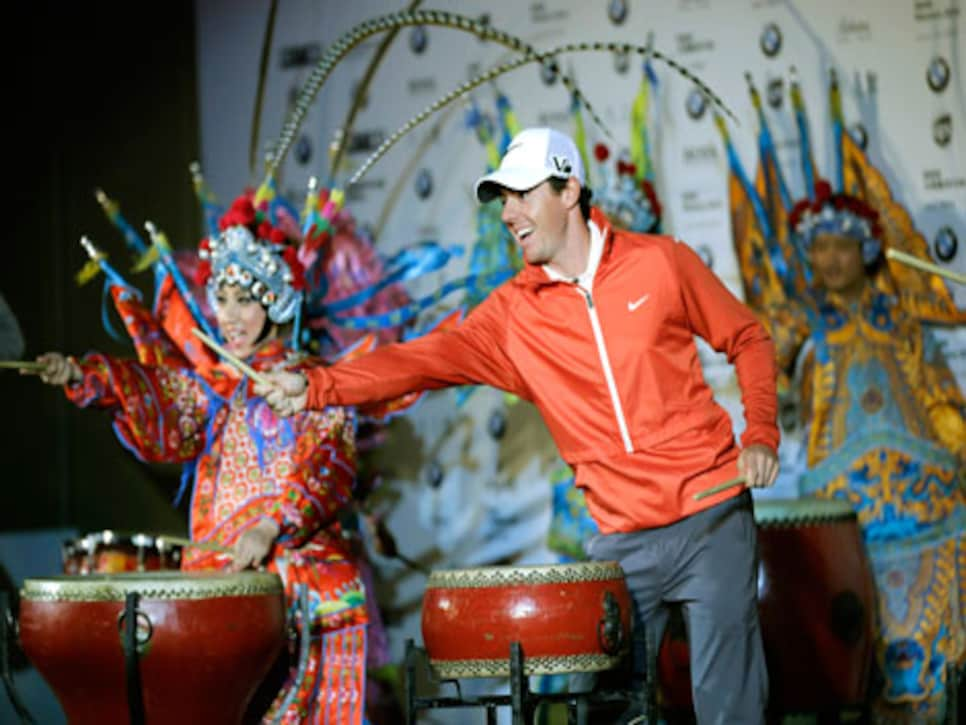 Suzann Pettersen: The Norwegian made an ace in the second round and won for a third time in five starts, defending her title in Taiwan. Dare we call her 'Ms. October'? Six of her 14 career wins have come during this month. Ms. October it is!
Chris Stroud: Another week, another one of our brilliant fantasy sleeper picks for this season comes through. If you're keeping track at home (Don't worry, we are), Jimmy Walker won, Chesson Hadley finished T-5 and now Stroud posted a T-3. You're welcome.
Gonzalo Fernandez-Castano: We've been waiting for this guy to win so we could show you pictures of his model wife, Alicia. But sadly, there were no pictures of the couple following his triumph at the BMW Masters. Never fear, we found a couple good ones from earlier this year. Again, you're welcome.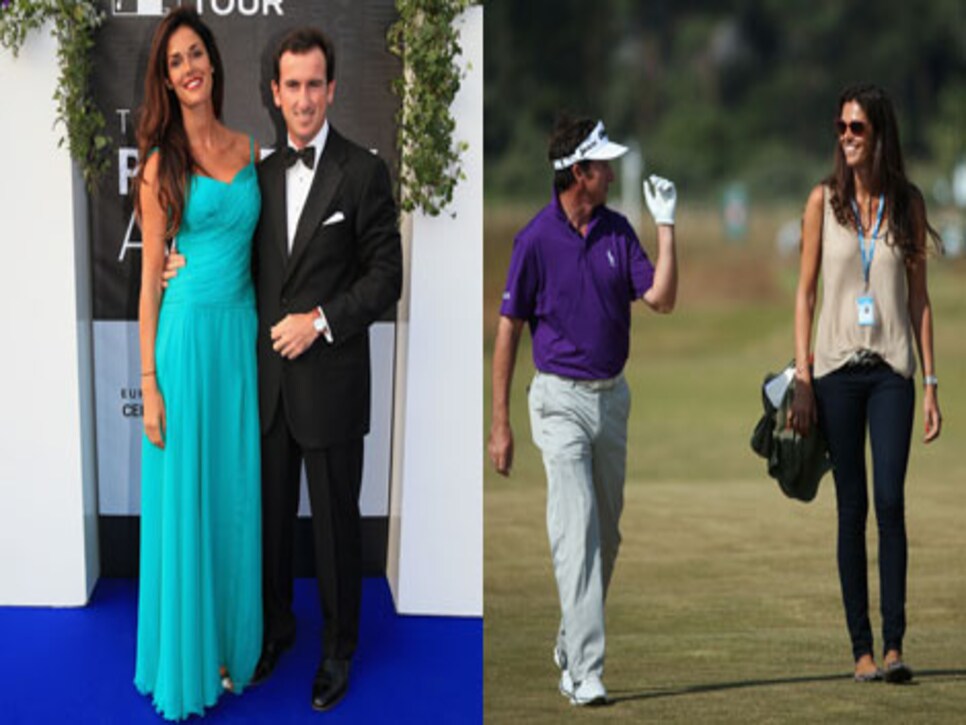 'Cheatgate': The Brandel Chamblee-Tiger Woods saga continues. First, Chamblee apologized on Twitter, but does apologizing on Twitter count? Tiger doesn't seem to think so. In any event, Tiger says he is moving forward . . . except he's also saying the next move is up to Golf Channel. What next move? Nothing will ever make things right between these two. So let's just drop it. Please.
Simon Dyson: Speaking of cheating allegations (Yay!), the European Tour was abuzz after video surfaced of Dyson tapping down a spike mark on his putting line. He was disqualified, but could still face more discipline. What's Brandel Chamblee's take on the situation?
Speedgolf: I'm all for speeding up pace of play, but sprinting between shots seems a bit much. Here's video from the Speedgolf World Championship at Bandon Dunes. Yeah, because when we finally get out to that golf mecca, we want our round to be over as soon as possible.
The PGA Tour heads to Shanghai for the WGC-HSBC Championships. Wow, that's a lot of initials.
Random tournament fact: This is the only World Golf Championship event that's not held in the United States. Hmm. __
THIS WEEK IN DUSTIN JOHNSON-PAULINA GRETZKY-WILD JUNGLE ANIMALS PUBLIC DISPLAYS OF AFFECTION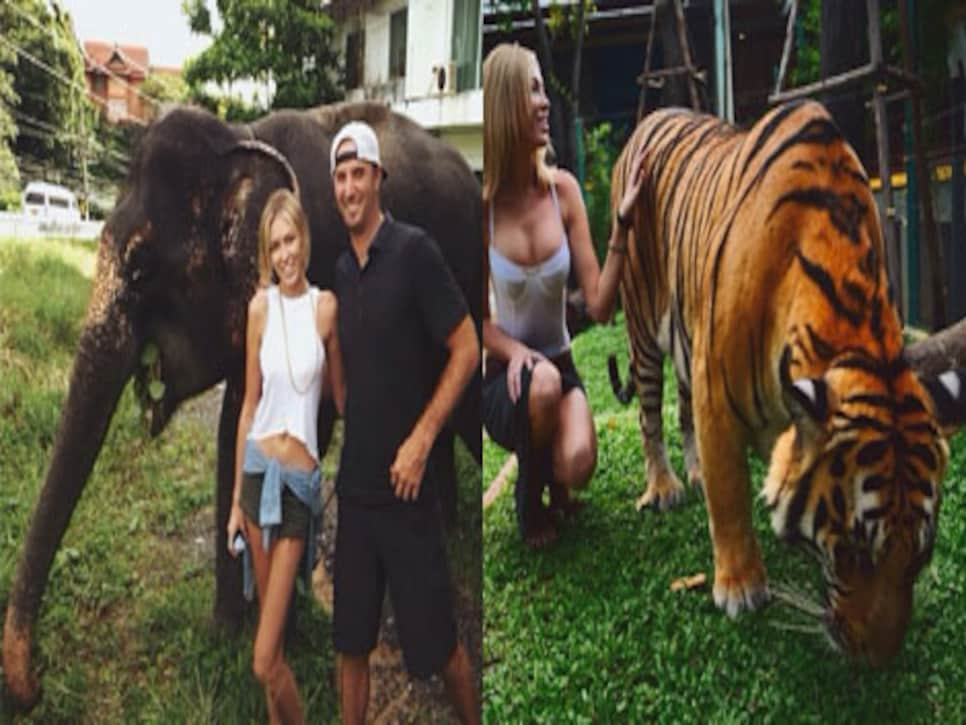 Wait, there's more! Paulina was nice enough to put together an Instagram video of highlights from her and DJ's trip to Thailand. Well done.
That's former NBA center Yao Ming with Keegan Bradley and his girlfriend, Jillian Stacey. Yao Ming is the giant in the center, in case you were wondering.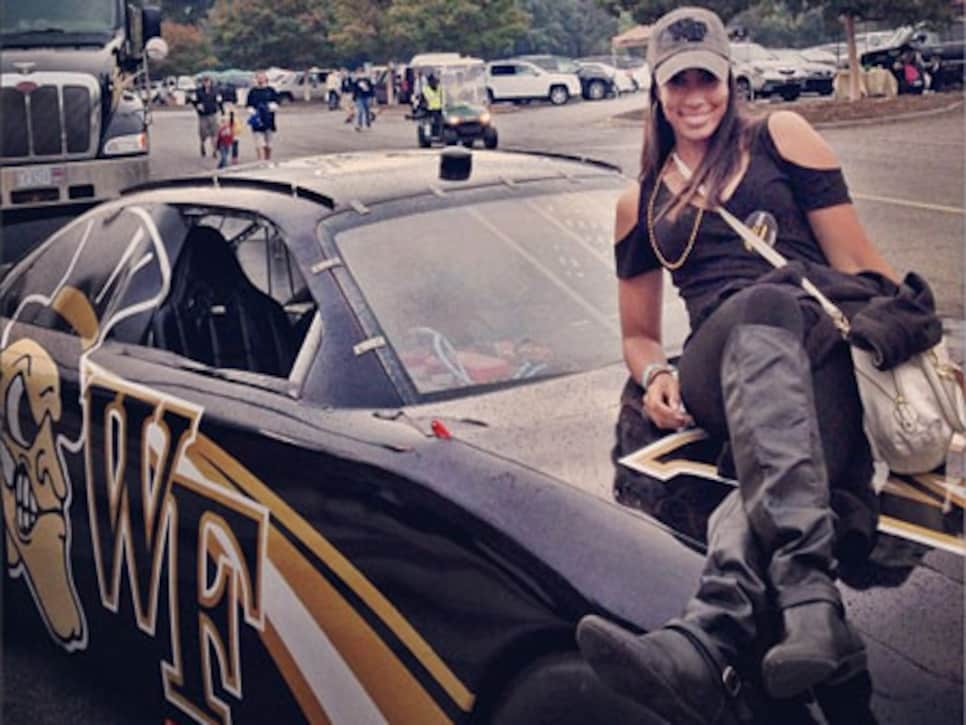 Fellow Wake Forest alum Cheyenne Woods shows off her school spirit (Go Deacs!). In non-surprising related news, Cheyenne Woods is our new favorite golfer.
RANDOM PROP BETS OF THE WEEK
-- DJ and Paulina will go back to Thailand for their honeymoon: 5-to-1 odds
-- There will be a smog delay in Shanghai: 2-to-1 odds
-- Yao Ming has trouble finding Halloween costumes that fit: LOCK
Microphones caught Tiger Woods' agent, Mark Steinberg, jokingly telling  his client to prominently display his Rolex during the China exhibition match sponsored by Omega. __
__Those luxury watch rivalries are fierce!
Lydia Ko, 16, was granted full LPGA membership. Considering she's ranked fifth in the world, this seems appropriate. . . . The NBA season starts today. A.) We're excited; B.) It gives us an excuse to link to our latest slideshow of notable NBA golfers. . . . Lee Chang-woo won the Asia Pacific Amateur and a coveted spot in next year's Masters. He just better beware of rules officials putting him on the clock. . . . Max Adler won Golf Digest's 33rd annual Editor's Putter at Pound Ridge Golf Club. Of course he did. We used him as a model (above) for an instruction piece just last week!
RANDOM QUESTIONS TO PONDER
What is it like for Tiger Woods when he goes trick-or-treating with his kids?
Does Rory McIlroy actually play an instrument?
How many hours did I spend playing video games in college?