The Loop
The Grind: Tiger wins another non-major, a famous slogan dies & PGA picks
Welcome to another edition of The Grind, where we're sad to see the end of an era. We've reached the season's fourth and final major, but its longtime slogan, "Glory's Last Shot," has been dropped. Sad face. It seems with the PGA Tour's FedEx Cup Playoffs looming, tour commissioner Tim Finchem would prefer it if the PGA Championship isn't made out to be the last truly important tournament of the year. Instead, the PGA Championship will simply be referred to as. . . the PGA Championship. Let's all try our best to adjust and move on.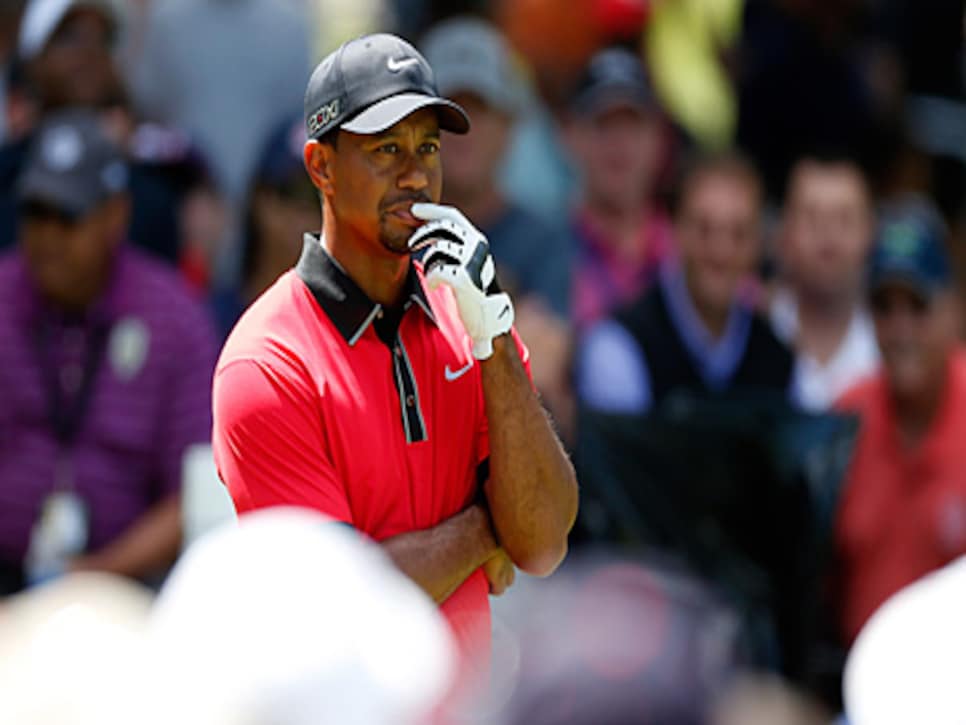 Hmm. How much do I want to win by?
Tiger Woods: The World No. 1 won for the eighth time at Firestone CC and for the 79th time on the PGA Tour. But as his detractors are quick to point out, it wasn't a major. When did everyone get so tough to please? Still, there are more incredible numbers. It marked the 12th time Woods has won by at least seven shots and it was his 18th World Golf Championship. No one else has more than three. In other words, this guy is pretty good. Speaking of good, we're a big fan of. . .
Good guys: Golf Digest released its rankings of the "Good Guys on the PGA Tour." Not surprisingly, two Wake Forest products, Bill Haas (No. 11) and Webb Simpson (No. 20) made the list, following in the footsteps of Arnold Palmer, another Demon Deacon and the godfather of good guys in golf. Yes, I went to Wake Forest.
Gary Woodland: Remember when this athlete was going to be the next big thing in golf? Well, maybe he still might be. After a rough 2012 and a pedestrian 2013 to this point, Woodland won the Reno-Tahoe Open with a score of 44 (more on that later) points for his second PGA Tour title.
Stacy Lewis: A birdie-birdie finish to win a major is pretty sweet, but doing it at St. Andrews? Lewis hit a 5-iron to within three feet on the treacherous Road Hole and then drained a 25-footer on No. 18 to pick up her second major at the Women's British Open. And if Tiger Woods hadn't won a pretty big event later in the day, Lewis' accomplishment might have actually gotten the attention it deserves.
Inbee Park: Sorry, Winbee. It's tough to criticize you after the your remarkable season, but you had a chance to really put women's golf in the spotlight and you came up short. Still, three out of four ain't bad. Hey, Meat Loaf, we've got the name of your next big hit!
Stableford scoring: Or is it modified Stableford? Either way, this format ranks second to the FedEx Cup points system in terms of confusion in golf. If a lower-tier tournament is looking to add a little buzz, just make the course play easy and watch the birdies flow like at the Waste Management Open. There's no need to have players, caddies and fans scrambling for their calculators.
Firestone CC: The Akron course is just one long par 4 with a tree-lined fairway after another. Yawn. Seriously, other than the 16th hole, the par 5 that's about 800 yards, is there one hole that stands out in your mind? And other than Tiger Woods, is there one golfer that truly loves playing there each year?
U.S. Solheim Cup team: Ten of the 12 players on the squad haven't won a tournament this year. That number could have only been nine, but captain Meg Mallon picked Michelle Wie over Jennifer Johnson for one of the final two spots. Yeah, not exactly the "Dream Team."
The PGA Tour heads to Rochester, N.Y. for the PGA Championship, aka the tournament that used to be referred to as "Glory's Last Shot." Oak Hill will host the event for the first time since 2003, aka that time some guy named Shaun Micheel won.
Random tournament fact: The 2003 PGA Championship is the only PGA Tour event Micheel has ever won. OK, so you probably already knew that.
WEEKLY YAHOO! FANTASY LINEUP
Amazingly, we are not backing the guy who won last year's PGA Championship by eight shots. In case you haven't heard, Rory McIlroy is in a season-long slump. Here's who we're backing instead at "Glory's Last Shot." Oops. Bad habit.
Starters -- (A-List): Tiger Woods: OK, we'll take the bait. Again. Time for No. 15.
(B-List): Keegan Bradley: After coming through for us with a T-2 last week, we'll ride the 2011 PGA Champion once more.
(B-List): Matt Kuchar: If there's anyone more due to win a major than Tiger Woods, it's this guy. My non-Tiger pick.
(C-List): Henrik Stenson: The Swede was second at the Open, T-2 at Firestone and ranks second for the year in ball-striking. He has quietly moved to just outside the top 10 in the Official Wold Golf Ranking.
Bench: Sergio Garcia, Hunter Mahan, Graham DeLaet and Adam Scott.
THIS WEEK IN DUSTIN JOHNSON-PAULINA GRETZKY DISPLAYS OF PUBLIC AFFECTION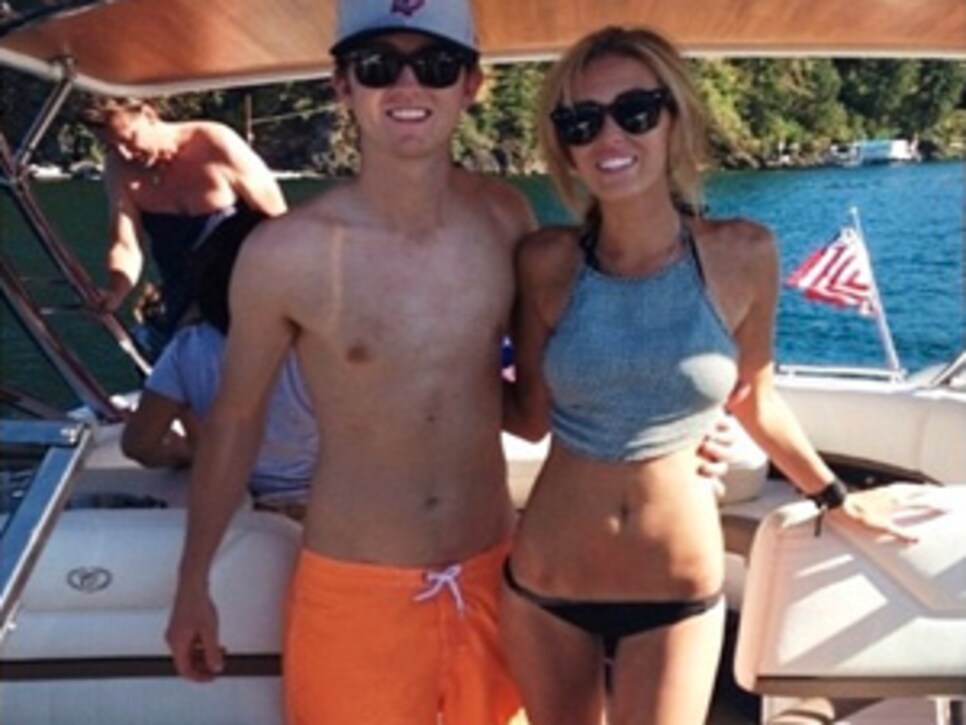 OK, so we cheated again with this one, but it's still a pic of Paulina and her younger brother, Ty. See? She's just a nice, wholesome, family girl. Wait a minute. Is that Wayne in the background with a purple towel wrapped around his chest? Hmm. . . Nope, we're not going to pass judgement on a guy who racked up 1,000 more points than anyone else in NHL history. Also, he just happens to be my boss' favorite athlete ever.
Paula Creamer gets her own special photo in front of the Swilcan Bridge at St. Andrews: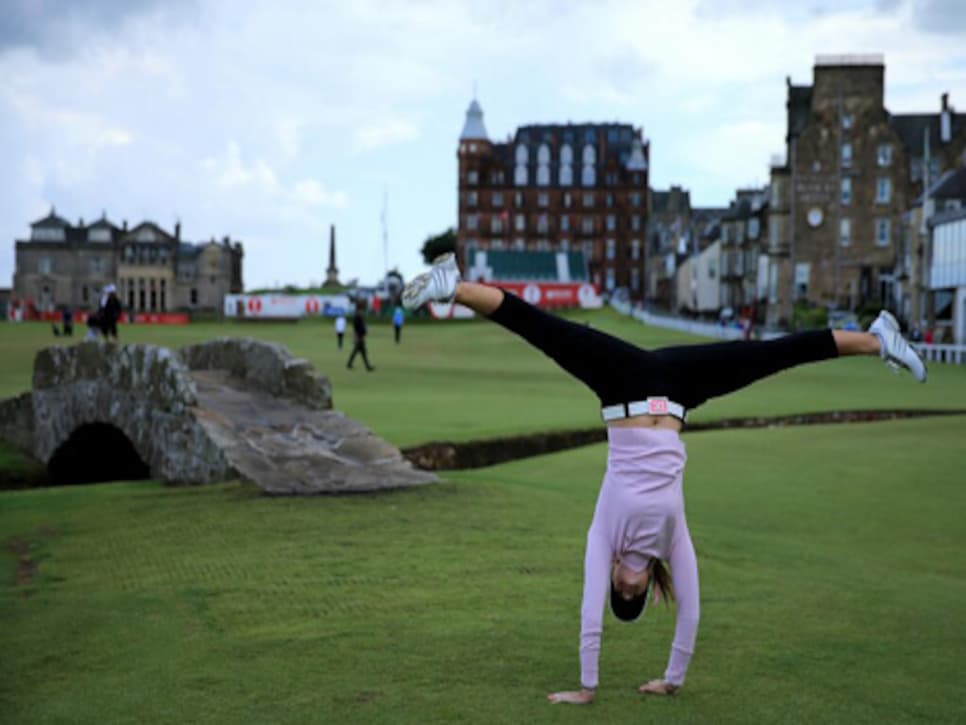 When Jack Nicklaus posed on that bridge, all he did was wave. Boring.
Tiger Woods has won 79 PGA Tour events, but this was the first one that his four-year-old son, Charlie, was in attendance for. Here, the two share a nice moment following dad's latest big victory:
After watching that, how did Tiger not make our list of Good Guys?!
RANDOM PROP BETS OF THE WEEK
-- Jim Nantz will slip and say "Glory's Last Shot" at some point: 2-to-1 odds
-- Tiger Woods will win by seven shots again: 1,000-to-1 odds. On second thought. . .
-- Rory McIlroy will win the PGA Championship by eight shots again: 1 Million-to-1 odds
-- Tiger and Rory will engage in a bro hug at some point: LOCK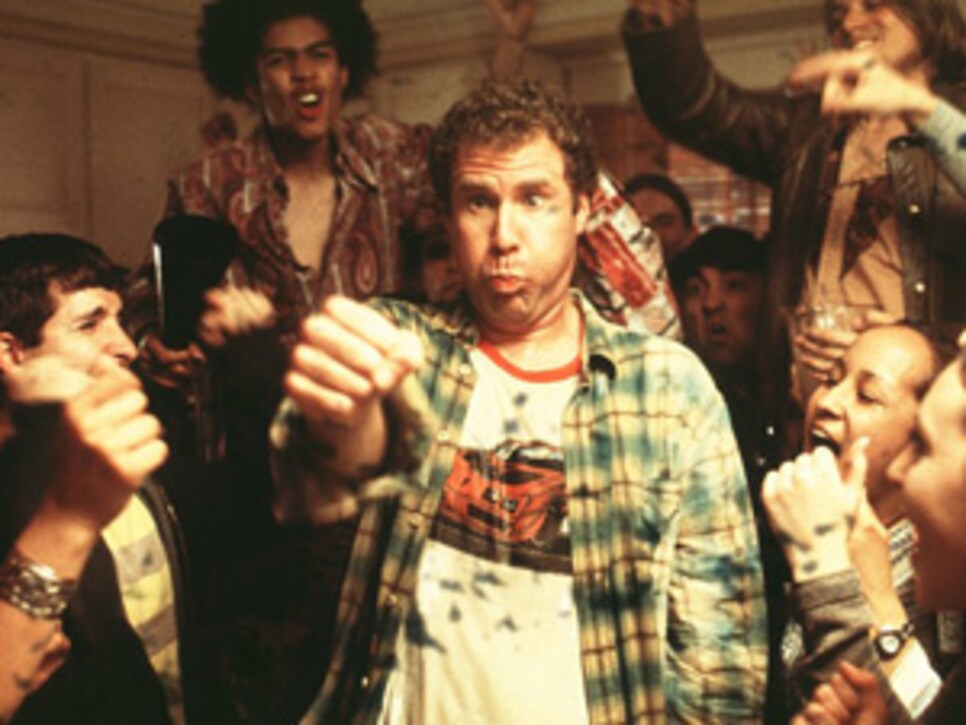 Tom Pernice Jr. won the Champions Tour's 3M Classic. Tom Pernice Jr. is on the Champions Tour? . . TV ratings for the final round of the Bridgestone Invitational were up 138% from last year. We didn't realize Henrik Stenson was that popular. . . . Speaking of that, we overheard a fan at Firestone yell out "Hank The Tank!" for Stenson as he teed off on Sunday, a reference to the "Frank The Tank" nickname of Will Ferrell's character in "Old School" (above). It is now our main mission to make "Hank The Tank" stick.
RANDOM QUESTIONS TO PONDER
Is Charlie Woods breaking 80 yet?
Will Paulina Gretzky actually to go to upstate New York to follow Dustin Johnson?
Can we end all of this Woods-major-drought talk? Tiger, you know what to do.