The Loop
The Grind: Streakers, squirrels, Tiger PDA & a soggy Presidents Cup
Welcome to another edition of The Grind, where we are worried about a potential streaking epidemic in golf after learning the Presidents Cup streaker only received a $99 fine and was even allowed back on the grounds to retrieve her clothes. Fortunately, Kimberly passed our "tough" standards for streakers (Female. Attractive. Got it?), but who's next? At a well-attended event, the possibilities are endless. And terrifying. . .
Oh yeah, there was some golf played last week as well. Let's talk.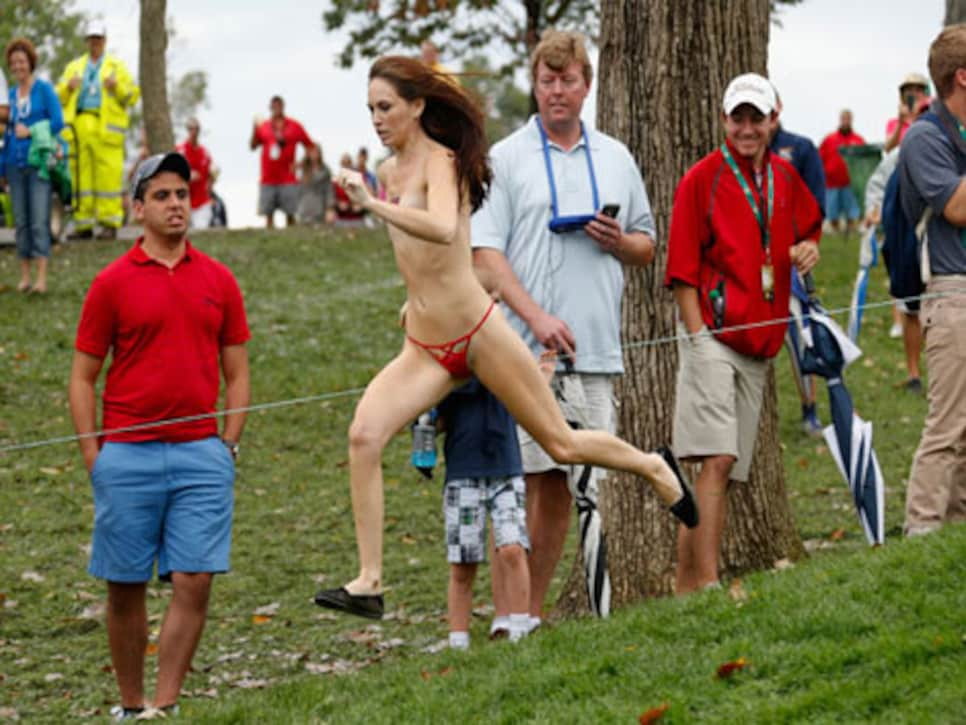 The Presidents Cup: Yes, it was predictable. Yes, the weather was awful. Yes, most had to watch it on tape delay. But you can't argue that the golf played -- when it was actually played -- during a soggy week at Muirfield Village was spectacular. Say what you will about the event, but did you really mind watching some of the world's best players rack up birdies and eagles?
Tiger Woods: The world No. 1 once again played like it wasn't the Ryder Cup and earned more points than anyone on either team, helping the U.S. team to continue a streak of its own. Woods also seemed to have a lot of fun, at least until he hurt his back. Again. Hey, we have an idea for how to make the Presidents Cup competitive! Just make Tiger play with one hand tied behind his back.
Jason Dufner: Tiger's new BFF might have matched Woods if he had played five matches. Instead, he merely went 3-1 to run his overall record in team competitions to 6-2. More importantly, he took this behind-the-scenes photo with the caption "Ain't nobody as fresh as my clique..."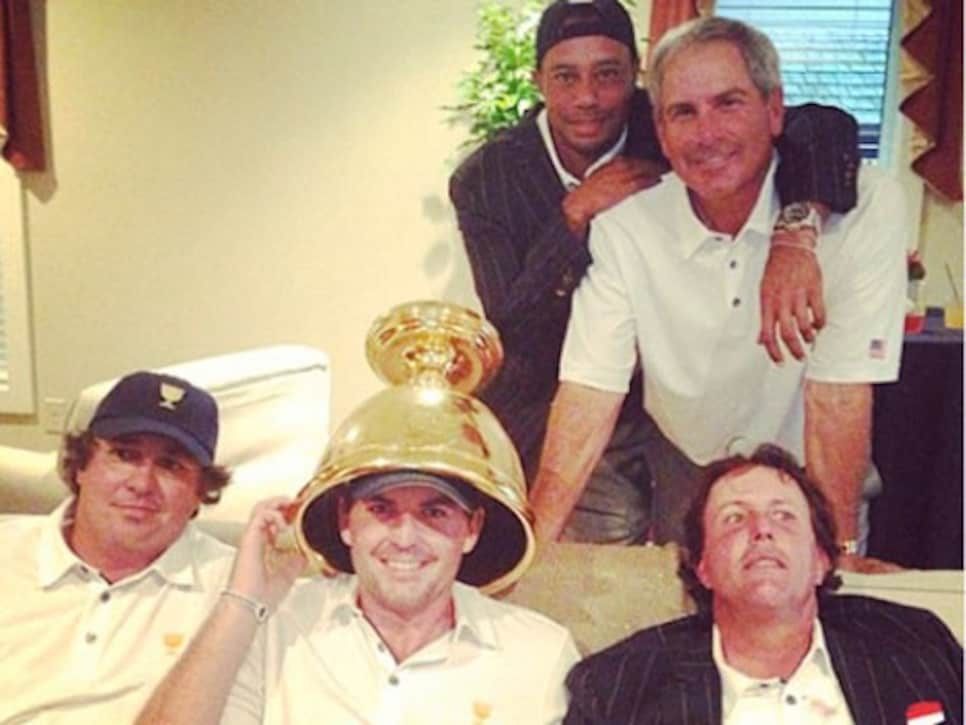 Kimberly the Streaker: The speedy streaker wanted her 15 minutes of fame and she got it. Hopefully, she also collected on a few side bets. Nice job by Ryan Ballengee and Stephanie Wei (among others) tracking her down for an interview. Now that's some hard-hitting journalism!
South Africa: When Charl Schwartzel and Louis Oosthuizen got butchered by Muirfield Village's barber Tuesday before the Presidents Cup, we should have known it was going to be a rough week. The two combined for only 3.5 points, but fellow countrymen Richard Sterne and Branden Grace were even worse, getting shut out in eight matches.
Beijing air: Smog delays at a golf tournament? Fun! Even when play resumed in the first-ever LPGA event in China, the air was so bad players were wearing surgical-style masks over the weekend. We know the LPGA is willing to do just about anything to strengthen its financial status, but at what cost?
Sammy the Squirrel: Speaking of health hazards, excuse the pun, but is Davis Love III nuts?  We don't care how cute and cuddly little Sammy is, he/she is still a wild animal. We're just glad the U.S. successfully avoided the first widespread rabies outbreak in sports history.
And just like that, the PGA Tour is back! Sweet off-season. Those who didn't play in the Presidents Cup might even have had time to hit a couple large buckets at the range.
Random tournament fact: At No. 30, Hideki Matsuyama is the only player ranked in the top 30 playing at the Frys.com Open this week. Despite that, this is still the most relevant the Frys.com Open has ever been.
WEEKLY YAHOO! FANTASY LINEUP
Um, so apparently even Yahoo! isn't equipped for this new wrap-around season. Good, that gives us more time to bask in the glory of a successful campaign in which we picked three winners, including Jordan Spieth's first victory at the John Deere Classic. But seriously, if there's no fantasy component to a sport, can we really say that sport is in season?
THIS WEEK IN DUSTIN JOHNSON-PAULINA GRETZKY TIGER WOODS-LINDSEY VONN PUBLIC DISPLAYS OF AFFECTION
We're going to switch things up this week (Mainly thanks to Dustin Johnson not qualifying for the U.S. Presidents Cup team) and focus on the rare PDA exhibited by Tiger Woods with girlfriend Lindsey Vonn.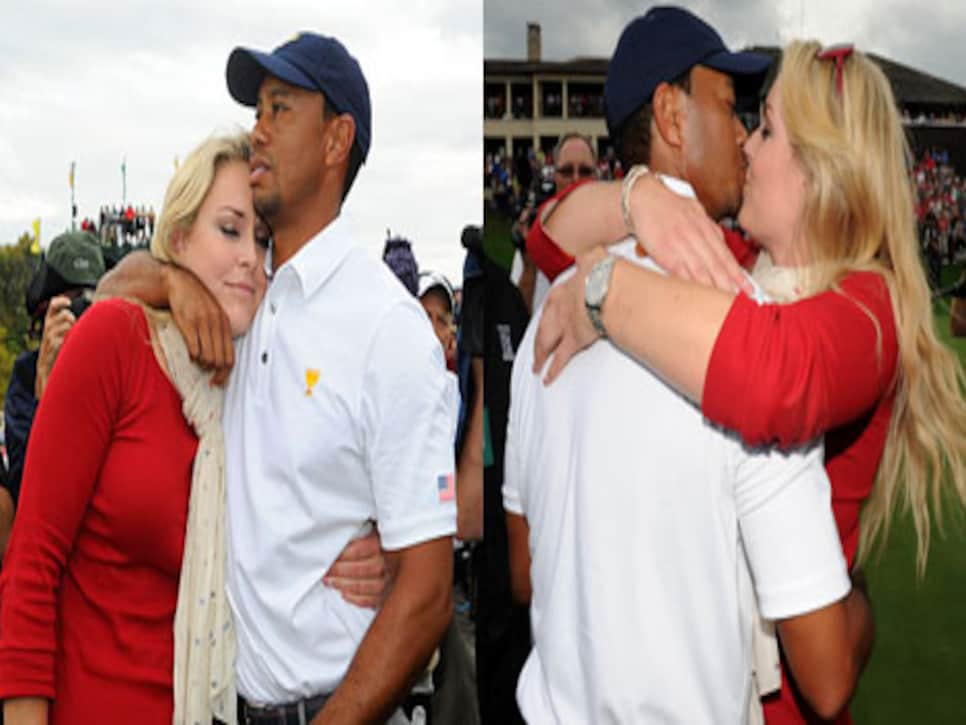 Uh oh, DJ and Paulina. You might have some competition in this category going forward.
PHOTO OF THE WEEK (NOT INVOLVING KIMBERLY THE STREAKER)
Before rain and squirrels and streakers and more rain stole the headlines, this iconic picture of Tiger Woods and Phil Mickelson (and Jason Dufner) was all the rage. What a shot by Getty Images' Chris Condon.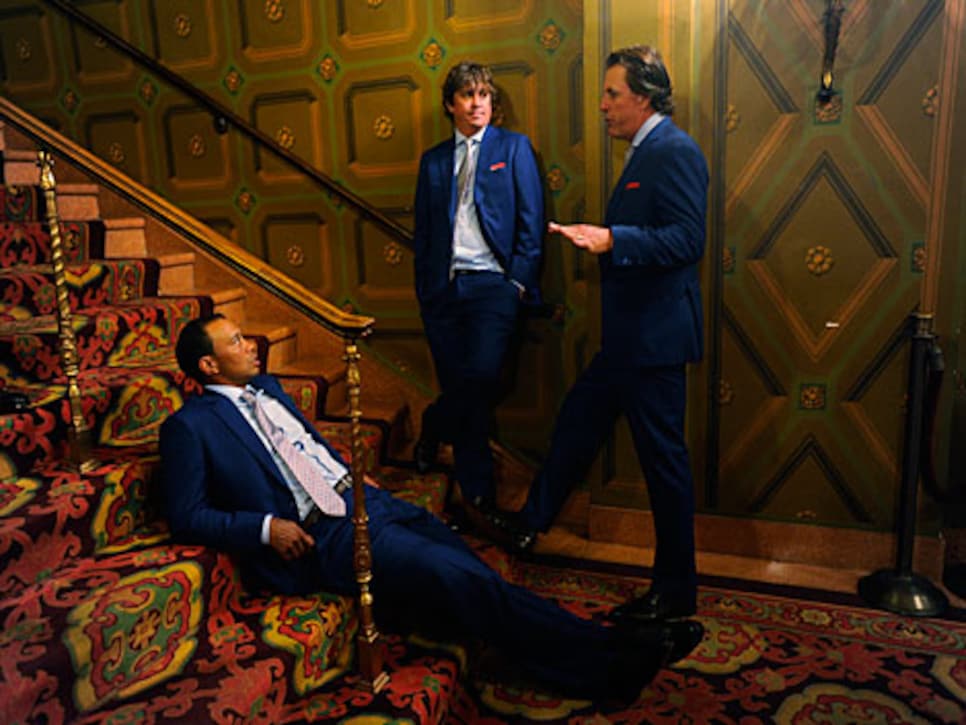 "Tiger, I'm telling you, you've got to marinate your chicken longer."
This video of Tiger and Sammy the Squirrel has more than 3 MILLION views on YouTube in five days. Jeez, people will watch anything:
Continental Europe held off Great Britain & Ireland to win the Seve Trophy. This would have been a great event if any of the Ryder Cup stars had actually played. . . . John Daly tweeted to Miley Cyrus about his sex life. It was weird. . . . Butch Harmon is once again No. 1 on Golf Digest's 50 Best Teachers list. This one was more obvious than the U.S. winning the Presidents Cup. . . . Speaking of teaching, Brendon de Jonge taught us an important lesson last week at Muirfield Village: You don't have to choose between drinking a milkshake and a beer. Well done, sir.
RANDOM QUESTIONS TO PONDER
Are Kimberly the Streaker's friends jealous of the attention she received?
Are Sammy the Squirrel's furry friends jealous of the attention he/she received?
Can't Davis Love III afford a real pet?