The Loop
The Grind: Ryder Cup hype, PGA Tour cards, and a famed beauty queen joins the world of golf
Welcome to another edition of The Grind, where we are glad our writing privileges for next year don't come down to the performance at one tournament. That's a lot of pressure to deal with, and sometimes, you just have an off week with typos, bad predictions, or even worse, bad jokes. Hopefully, that's not the case this week as we get caught up on what's been going on in golf and get set for one of the most exciting events of the year. Did you hear the one about the Ryder Cup and the Pope? Never mind. We'll stop.
Web.com Tour heroes: Congrats to Derek Fathauer for making his first pro victory a big one at the Web.com Tour Championship. Fathauer is now fully exempt on the PGA Tour next year. Also fully exempt in 2014-15? Adam Hadwin and Carlos Ortiz. Also going to the majors after clutch performances? Zac Blair, who finished second, and Nick Taylor, who shot a final-round 63 to earn his PGA Tour card for the first time. These "other" guys on the developmental tour are pretty darn good, too.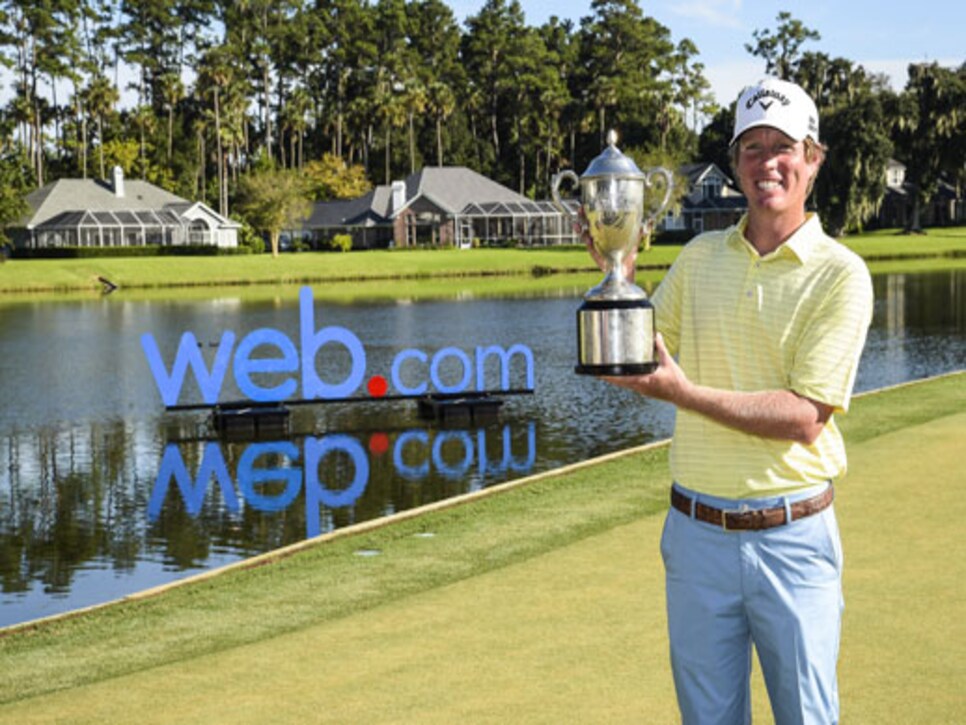 Smile, Derek! You're on the PGA Tour!
Paul Goydos: In his fifth start on the Champions Tour, the popular Goydos picked up his first title. Goydos reeled off four straight birdies on Sunday to beat Fred Funk and Scott Dunlap by one. The "older" guys were battling high winds in Hawaii -- hence, why the winning score was only 19 under par on the senior circuit this week.
New BACK9NETWORK talent: The BACK9NETWORK announced a bunch of new faces will be joining the new television channel, which is set to make its debut on DIRECTV on September 29th. Among the hires, Shane Bacon, Jeff Rude, Matty Blake, and John Maginnes. Oh, and (from top left to bottom right) Erica Bachelor, Will Christien, Katie Sundseth, and Alexis Morgan: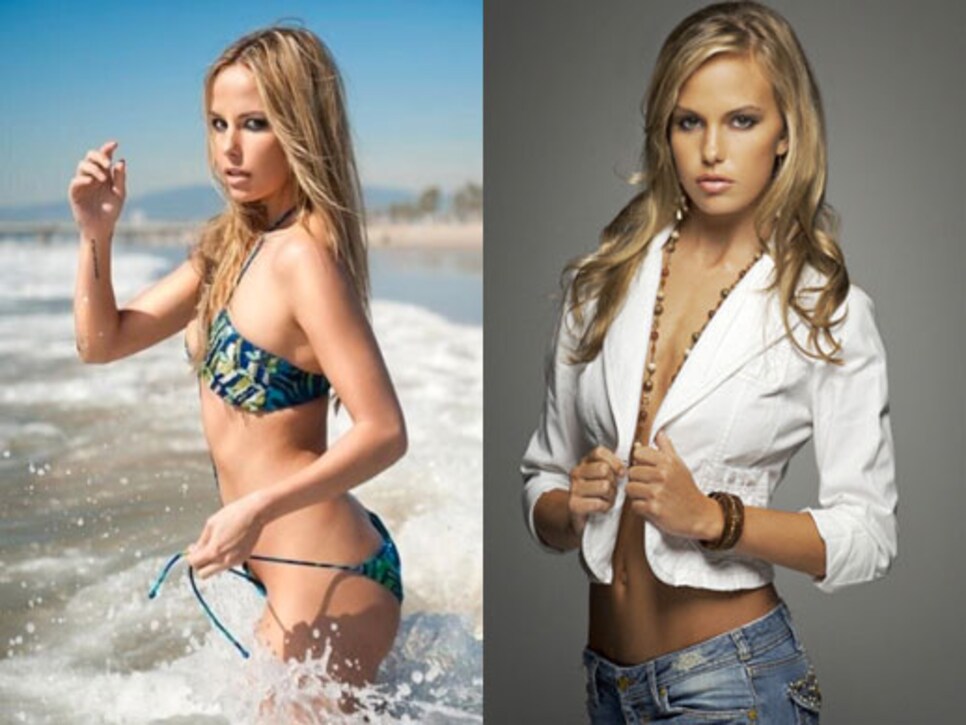 Random tournament fact: U.S. captain Tom Watson won five claret jugs, including four in Scotland. This is supposed to really matter somehow, even though Watson isn't playing and the Ryder Cup is being held on one of the more Americanized courses in Europe.
RANDOM PROP BETS OF THE WEEK
-- Tom Watson will shave "USA" into the side of his head: 1 million-to-1 odds
-- Rory McIlroy is in charge of making sure Europe's players get to the course on time this week: 1,000-to-1 odds
-- Almost captain's pick Billy Horschel will be discussed as much as actual captain's pick Webb Simpson: LOCK
Two days after winning $11.4 million, Billy Horschel's greatest week ever culminated with the birth of his first kid, daughter Skylar. It can't get much better for Mr. September.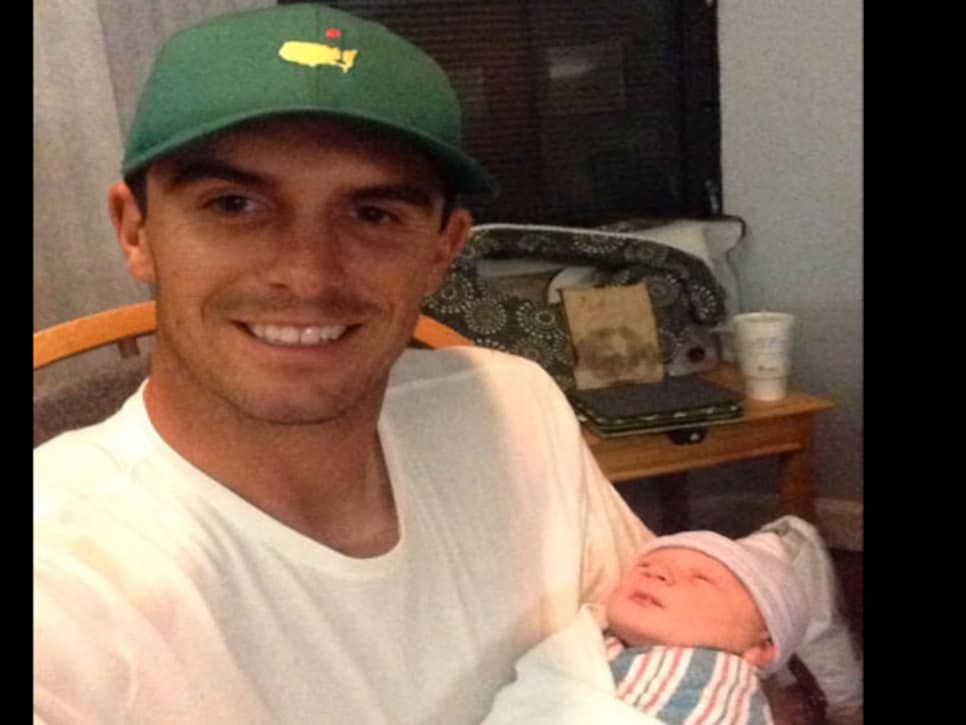 "I thought it was too far right but it's all downhill and downwind and it must have luged down the fairway. If all the stars align you can hit it a long way." -- Nicolas Colsaerts after hitting the longest (447 yards!) drive in European Tour history. We think this might qualify as the understatement of the year.
Miami Dolphins wide receiver Brian Hartline endeared himself to golfers everywhere with this creative touchdown celebration:
Despite hubby Jason being an Auburn superfan, Amanda has remained true to her college team, Alabama.
THIS WEEK IN LINDSEY VONN MAKING US LOOK BAD WITH HER TRAINING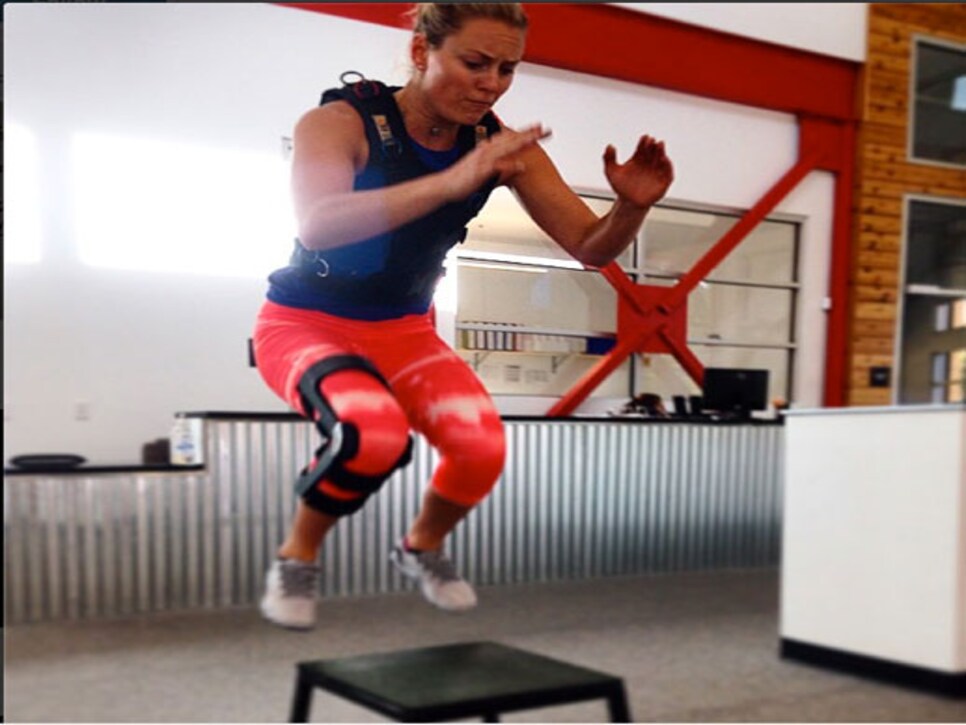 As if doing these jumps weren't enough, it appears that Vonn is wearing  a weighted backpack for even more of a challenge. We give up.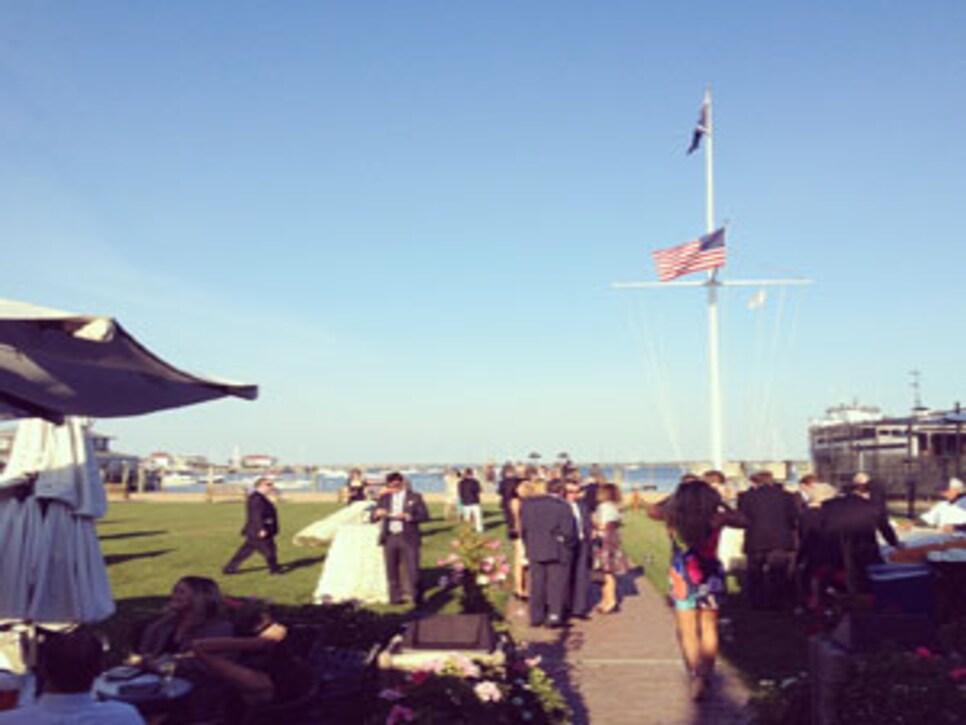 The 2015 World Golf Hall of Fame induction ceremony will be held at St. Andrews, deviating from past presentations in St. Augustine, Fla. The "Home of Golf" seems like a pretty fitting place for this. . . . Mi Jung Hur held off Stacy Lewis for her second LPGA title. For Lewis, it was a fifth runner-up of 2014. She's like the Jim Furyk of the PGA Tour -- only she also has three wins this year. . . . Former Manchester United manager, Alex Ferguson, will deliver a motivational speech to Europe ahead of the Ryder Cup. Apparently, if you follow soccer -- and you're a Manchester United fan like Rory McIlroy -- this is a BIG deal. . . . Congrats to my friends, Ryan and Merrell, on getting married over the weekend in Nantucket. As you can tell from my photo, Nantucket is a DECENT location for a wedding. Something tells me the weather won't be quite as good when I'm in Scotland this week. . .
RANDOM QUESTIONS TO PONDER
Better golf celebrations: U.S. or Europe?
Better golf swing: Kate Upton or Caite Upton?