The Loop
Jason Day breaks a betting slump, Paulina and DJ move on after a rocky majors season, Phil's wild ride, and Tiger's new restaurant
Welcome to another edition of The Grind, where we finally figured out the key to making a winning bet at a major championship: Have as little to do with it as possible. Our fortunate tale begins at the British Open where I won a small wager on Danny Willett for him placing in the top six. With me having to fly home early, colleague Geoff Shackelford was kind enough to cash my ticket and when he got to the Ladbrokes, he discovered I was entitled to two five-pound refund bets due to two of my picks missing the cut at St. Andrews. Geoff placed that 10 pounds on Jason Day at the PGA Championship. Thanks, Geoff! And thanks, Jason, for putting on such a tremendous display of golf. Not coincidentally, this is how I looked walking around my living room when Day wrapped things up: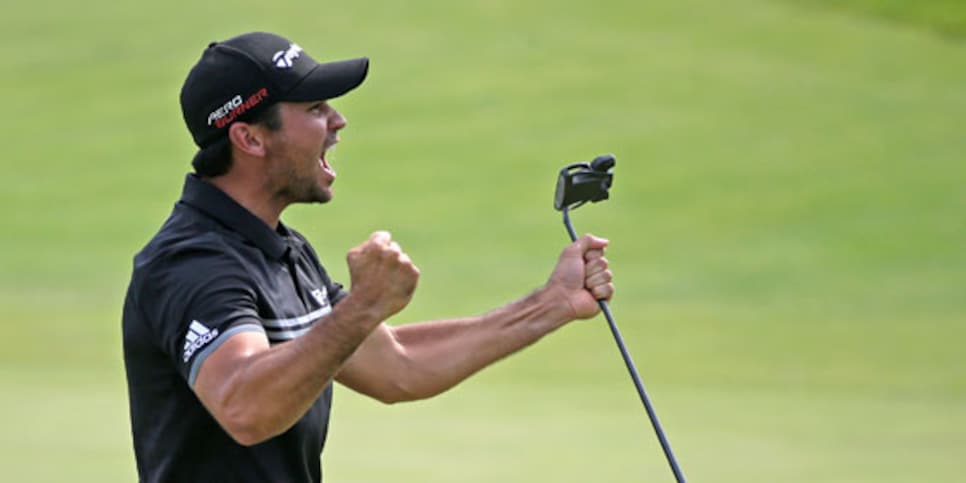 Dustin Johnson: For a third straight major, DJ grabbed the opening-round lead and then, well, you know. This time, his Sunday meltdown happened early with a quadruple bogey on the first hole. He was seven under the rest of the round to finish T-7, but anything less than a win at this point is a disappointment. And now he has one fewer talented majorless golfer to commiserate with.
Tiger Woods: It wasn't as bad as it was at Chambers Bay or St. Andrews, but Woods still missed an unthinkable third consecutive cut at a major. On top of that, he had two of his major records (low score in relation to par at both a single event and for a season) broken. The good news for Tiger fans is his surprise decision to play the Wyndham Championship this week. Woods may be struggling, but it doesn't appear he's giving up the fight.
Adam Scott: Much was made about this being Tiger's last major before turning 40, but Scott faces a much scarier prospect. This was his last major before the anchoring ban goes into effect. Unfortunately, the Aussie didn't take advantage, missing the cut by five shots in what also might be his last major with Steve Williams on the bag (LOL). With that swing, Scott will always be able to make a living playing golf, but he's going to have to figure something out on the greens if he's ever going to win another major.
Major Break: Majors season sure is fun while it lasts, but now we have to wait nearly EIGHT months until the next one? And imagine how someone like Dustin Johnson must feel? At least, we'll have football soon.
The PGA Tour heads to Greensboro and Sedgefield Country Club for the Wyndham Championship, aka that event Tiger Woods is playing in for the first time.
Random tournament fact: Sam Snead holds PGA Tour records for most wins in a single event here (eight -- tied with Tiger at Arnold Palmer Invitational and Tiger at WGC-Bridgestone) as well as for being the oldest player to win a tour event when he won this title in 1965 at nearly 53. Woods, 39, is four behind Snead on the all-time wins list. Don't worry, Tiger. As Sam showed, you have plenty of time.
RANDOM PROP BETS OF THE WEEK
-- Tiger Woods will slide down a hill at Sedgefield CC: 1 MILLION-to-1 odds
-- Rory McIlroy isn't done being No. 1 in the world: LOCK
VIRAL VIDEO(S) OF THE WEEK
As we previously mentioned, there was Phil sliding down a hill:
"I guess you can take me off that 'best player never to win a major' list.' -- Jason Day. Guess so, Jason. Nice job. And nice timing.
THIS WEEK IN JASON DAY-ELLIE-DASH PUBLIC DISPLAYS OF AFFECTION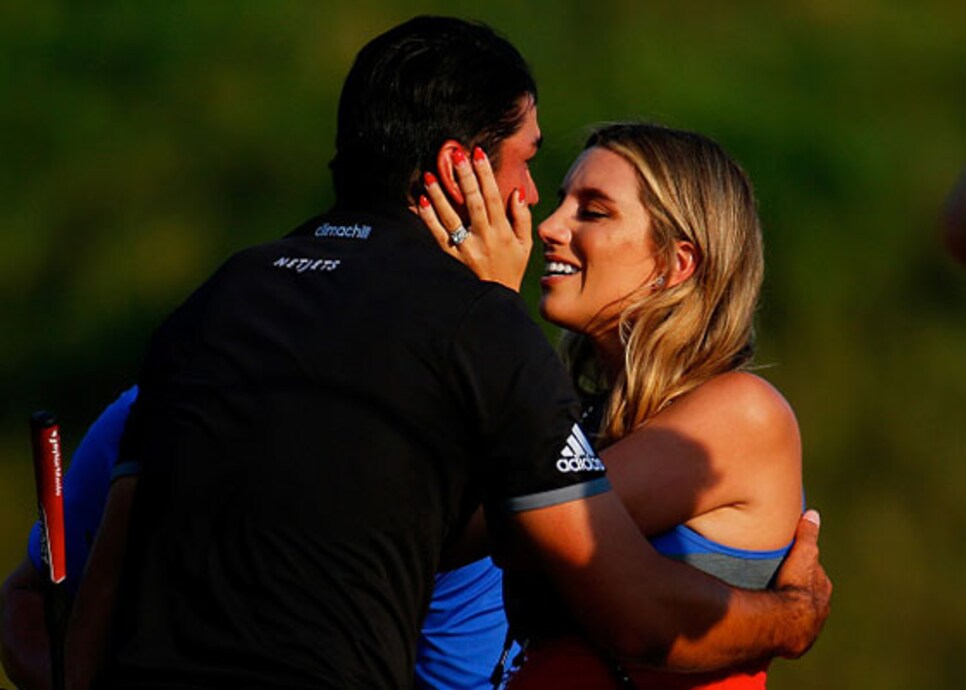 Although, it all led to one well-meaning, but very awkward tweet from NBC sports personality, Josh Elliott. . .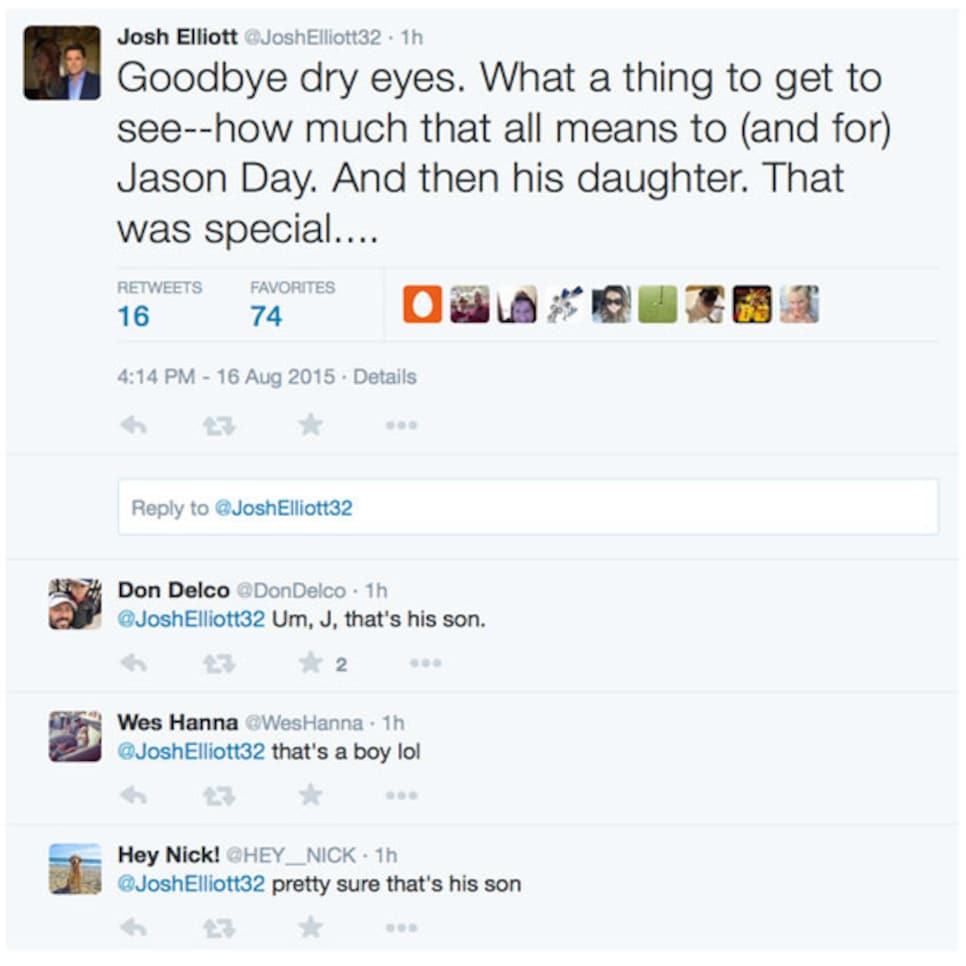 For a second consecutive year, the PGA Championship was the highest-rated non-Masters golf telecast. Who says it's the fourth major?! Canadian Brooke Henderson, 17, won her first LPGA Tour event. By EIGHT shots. Somehow, she's still not officially an LPGA Tour member. . . . Congrats to Hannah O'Sullivan for winning the U.S. Women's Amateur. By the way, she's the same age as Brooke Henderson. . . . That OMEGA "Hall of Fame" ad featuring Rory McIlroy was unofficially played 4,732 times during the PGA telecast. Please, PLEASE make a new commercial for next year. We're begging you, OMEGA. . . . Tiger Woods' new restaurant, The Woods Jupiter (above), finally opened up this past week. Are those BBQ lamb chops?! Mmm.
RANDOM QUESTIONS TO PONDER
How many majors will Jason Day win?
Could Dash Day fit in the Wanamaker Trophy?
How are the wings at The Woods?