The Loop
The Grind: #Dufnering spreads, Holly Sonders poses, & Valero picks
Welcome to another edition of The Grind, where we treat every week with the same excitement that "Opening Day" gets in baseball. And now, the Masters is here! Woo! Wait, that's next week? Dagger. OK, OK, we said we treat every week like it's special so we'll stick to our promise. Here's what has us buzzing at the moment.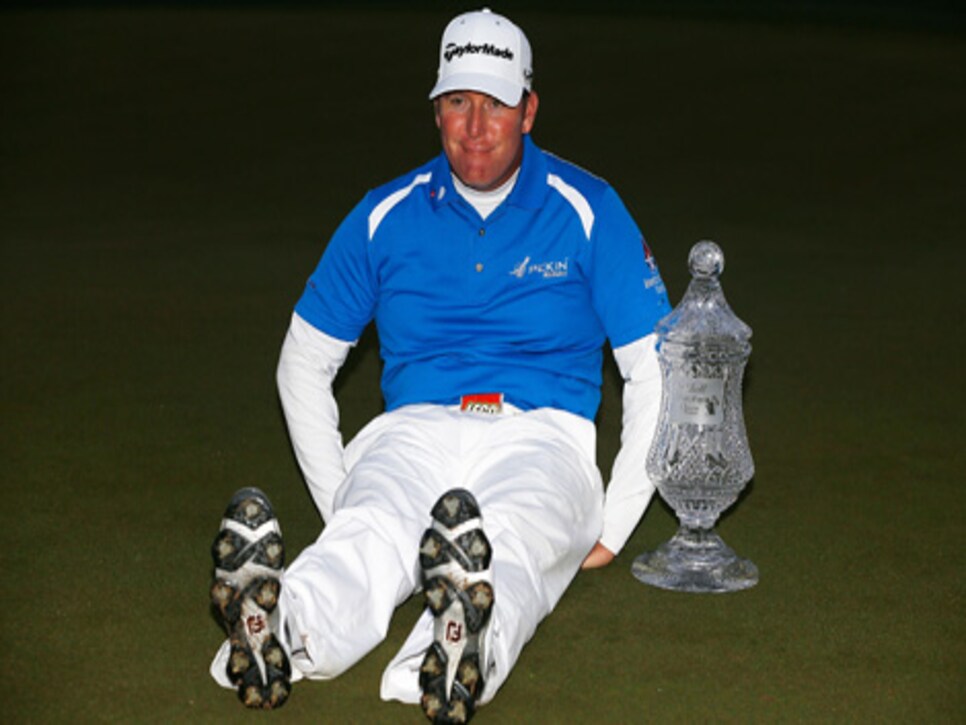 D.A. Points. The 36-year-old was previously best known as the golfer who danced with Bill Murray at Pebble Beach. Now, he'll also be known as the guy who won with a putter he stole from his mother while wearing a Lego belt buckle. Congrats, Darren Andrew. With a second PGA Tour win, you are no longer a "journeyman" in our book.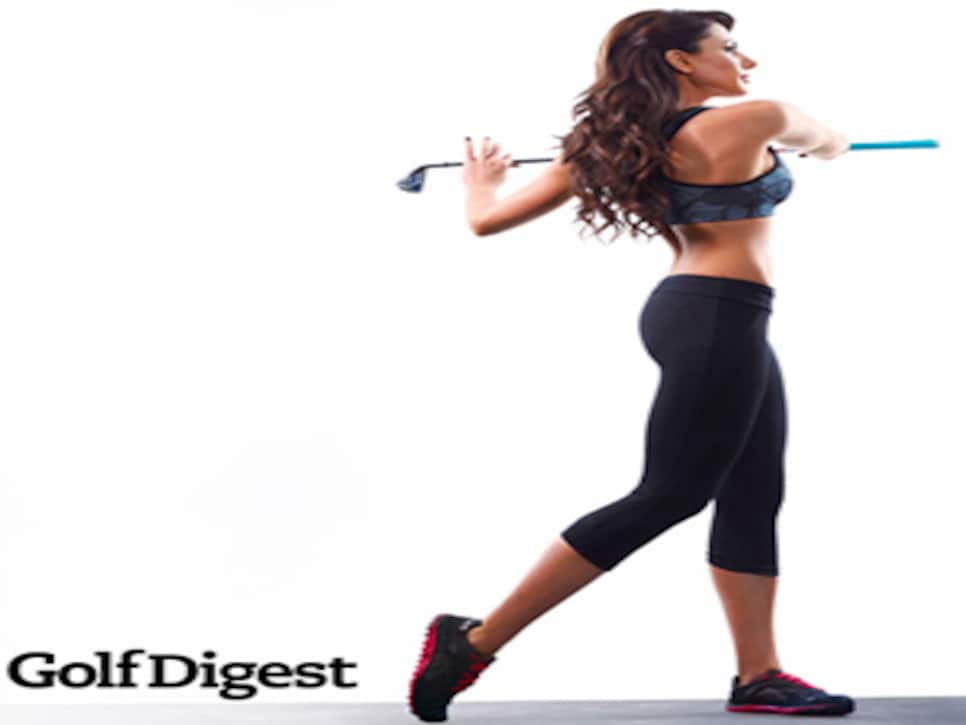 Henrik Stenson. The Swede who once rose as high as fourth in the Official World Golf Ranking needed a strong performance in Houston to qualify for the Masters and he came up clutch. A final-round 66 earned him a T-2 and an invite to Augusta, where he was a surprise first-round leader last year. That is, until he made a snowman on the 18th hole. You sure you want to go back, Henrik?
Bill Haas. I hate to criticize my Wake Forest classmate, but Haas has not been getting the job done in final rounds. Sure, the five top-10 finishes have him tied with Keegan Bradley for the most on the PGA Tour, but he's failed to break par in the final round in the past three of them, and in two of those, he had the 54-hole lead. Bill, it might be time to change up your Sunday routine.
Drivers. As Hank Haney recently pointed out, many of today's top players aren't hitting driver much anymore, in large part to the technological advancements that have made 3-woods almost as long. How much does Phil Mickelson love his new 3-wood? The man once famous for putting two drivers in his bag for certain tournaments was carrying two 3-woods and no drivers in Houston.
Rory McIlroy. Another mediocre performance prompted McIlroy to add this week's event to his schedule so he could have more preparation for the Masters. We like that he cares about playing better, but we wish it didn't come at the expense of cancelling a planned trip to Haiti. How bad have things been for Rory in 2013? He went to the much-hyped Spurs-Heat game the other night only to see LeBron and Dwyane Wade sit out.
The PGA Tour stays in the Lone Star State for the Valero Texas Open. Usually, this tournament is played at some point after the Masters, but the decision to hold the Masters a week later than usual this year (Boo!) opened up an earlier date.
Random tournament fact: The Greg Norman-designed TPC San Antonio will play host to this event for a fourth time. It is NOT a favorite of players. . .
WEEKLY YAHOO! FANTASY LINEUP
OK, so last week was rough. But Tiger Woods not playing makes things a lot harder to predict. Here's who we're going with this week:
Starters -- (A-List): Rory McIlroy. Do you think Rory will be a big part of the TV coverage this week? It seems silly to play him despite his rough stretch, but we haven't started him yet this year and this field isn't exactly stacked with the guys leading the current FedEx Cup standings.
(B-List): Charley Hoffman. Hoffman has finished in the top 13 all three times TPC San Antonio has hosted this event, including a T-2 in 2011.
(B-List): Cameron Tringale. Still riding high from a career-best third-place finish in Tampa last month, Tringale has finished T-8 and T-5 here the past two years.
(C-List): Charl Schwartzel. As with the McIlroy pick, it's tough to overlook a major champion in this spot.
Bench -- Kevin Chappell, Matt Kuchar, Fredrik Jacobson and Jordan Spieth.
Just enjoy the games, especially watching Chris Paul-clone Trey Burke and Michigan. There's no need to take any action on any of the action.
(Side note: I already won my NCAA Tournament auction pool. Woo!)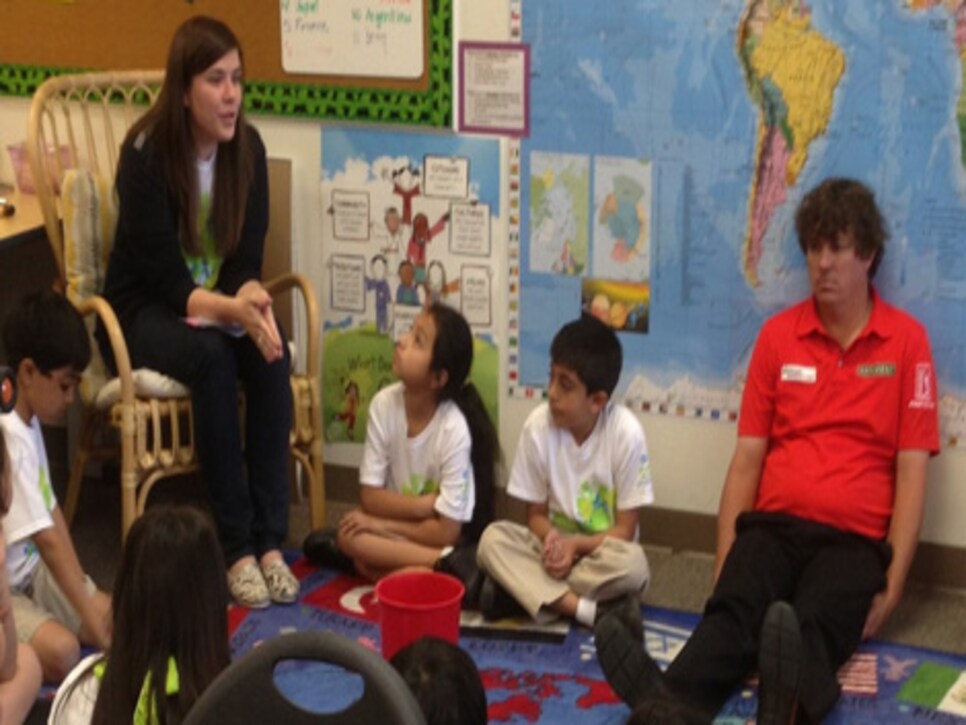 RANDOM PROP BETS OF THE WEEK
-- Last year's Valero winner, Ben Curtis, will repeat this year: LOCK*
*April Fools! He's probably about a 1,000-to-1 shot.
-- Whoever wins this week will follow Points' lead and take a picture #Dufnering with the trophy: 2-to-1 odds
-- That "tradition" will stop at next week's Masters: LOCK
Henrik Stenson, move over. Andreas Harto became the latest pro golfer to hit a shot in his underwear at the Trophee Hassan II event in Morocco. On the par-3 14th hole, Harto took his pants off to blast his golf ball out of a water hazard. Kudos to the broadcaster for his "not quite Hasselhoff" line.
RANDOM QUESTIONS TO PONDER
What percentage of people wear their Easter dinner outfits to work on Monday?
How did my boss not realize why I was so dressed up?
Can we just fast forward to Masters week?