Voices
Serendipity created the greatest group in WGC-Dell Match Play history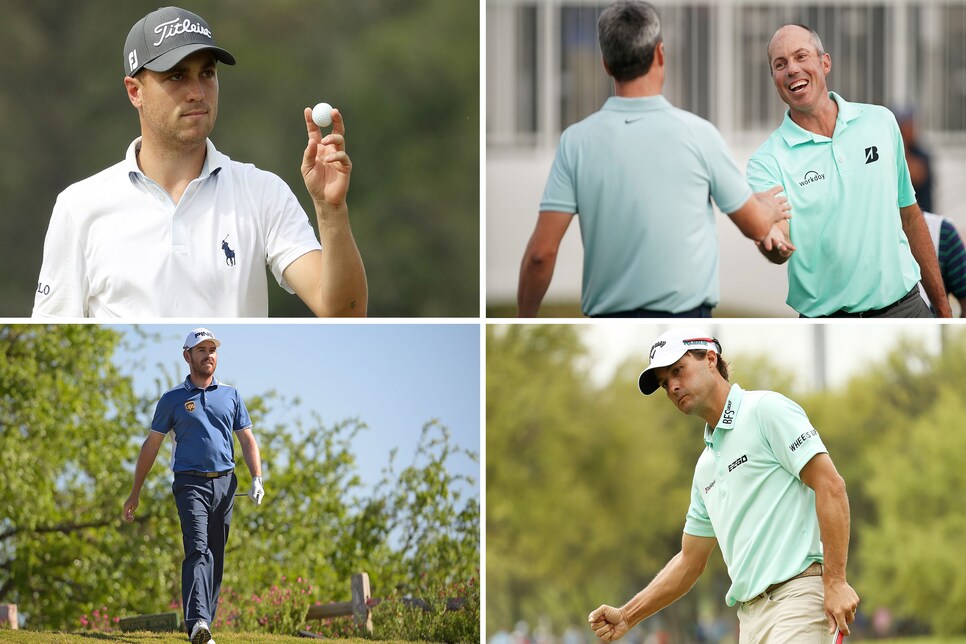 AUSTIN — Despite the melodramatic nature of the headline, let's begin with a mild disclaimer: The current pool-play format at the WGC-Dell Match Play has only been around since 2015. This will be the sixth installment, then, of the "new" format, which means we've now seen 96 match-play four-man groups to breakdown and assess. With those caveats aside, let's get back to big proclamations:
By match-play standards, Group 2 at the 2021 edition of the championship—consisting of Justin Thomas, Louis Oosthuizen, Kevin Kisner, and Matt Kuchar—is the greatest of these 96 groups ever assembled.
To see all four names on paper, after the PGA Tour's selection show, was astounding. The phrase "Group of death" is often used in these scenarios (talk about melodramatic). Still, even that bit of ominous lingo doesn't do the situation justice. It's more like "Armageddon Group," in the sense that the metaphorical death here is on a massive, unprecedented scale. Again, we're talking purely about the strength of each player's match-play resume, and when viewed from that angle, the success is astounding.
The groups for this event are selected randomly, based on World Ranking (one player from the Nos. 1-16 in the ranking, one from Nos. 17-32, etc.), so there's nobody to blame or to thank for this but fate itself. It's a nightmare for the players—Justin Thomas in particular has every right to curse his bad luck—but a huge boon for fans like us, because it will make for some riveting action in the early going. Any one of these players would have been favorites or near-favorites in any other group, but instead we get to watch them battle for a single spot in the knockout rounds.
Let's look at their match play bona fides:
• Thomas has been a world-beater at both the Presidents Cup and the Ryder Cup since he first joined those teams in 2017. After a little digging in Melbourne in late 2019, I discovered that he became the fastest player in U.S. history to reach 10 points at those events, doing so in just 13 matches (in this effort, he tied Sam Snead). Interestingly, he has the worst record of his group in this particular event (7-8-1), but he reached the semifinals in 2018, and, again, the man is literally the best team match-play golfer his country has seen in decades.
• Oosthuizen is 9-6-4 in his Presidents Cup career, and that should tell you something, because until 2019, the International team has been miserable in that competition. To hold a .500 record is heroic, but to actually have a winning mark? That's monumental, as shown by the fact that only he, Mike Weir and Steve Elkington have at least 10 matches and a winning percentage better than .550. It should come as no surprise, then, that he's 22-12 at the WGC, with four quarterfinal appearances and a run to the championship match in 2016, when he lost to Jason Day. In that time, the 38-year-old South African has probably beaten your favorite Ryder Cup golfer.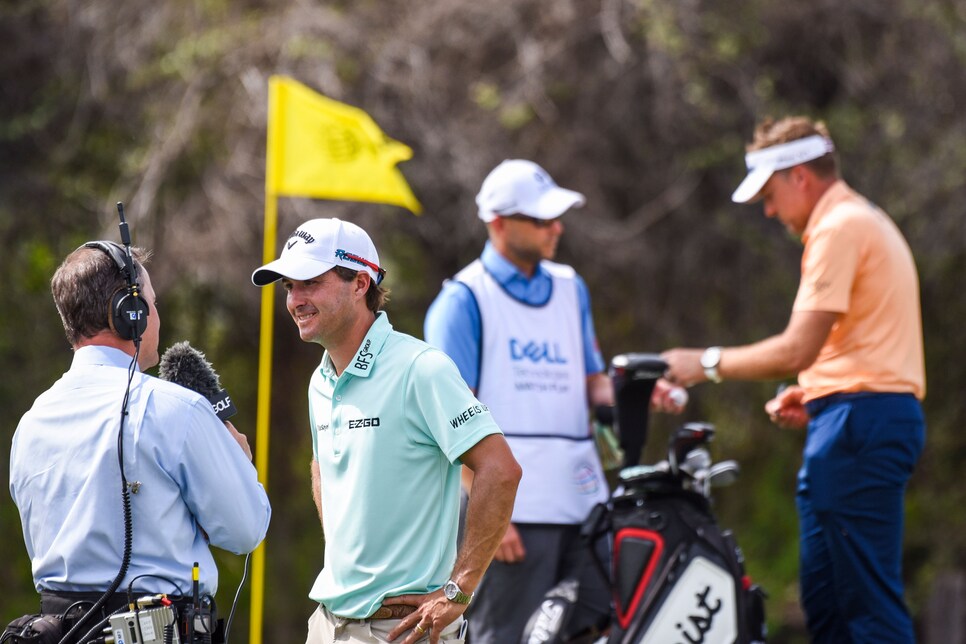 Kisner smiles while being interviewed by Steve Sands on the 12th hole green following his 8-and-6 victory over Ian Poulter in the quarterfinals back in 2018.
Keyur Khamar
• Kisner has only played in the WGC-Match Play four times, but he already has been a winner and runner-up. His 14-5-1 overall record is just gaudy, and while he's only been invited to one team event—the 2017 Presidents Cup—he went 2-1-1 at Liberty National. He's the unsung giant of American match-play golf and get a load of the big names he's taken down in Austin: Patrick Reed, Dustin Johnson, Matt Kuchar (twice), Ian Poulter, Tony Finau and Oosthuizen himself.
•For Kisner to have beaten Kuchar twice is saying something since the former U.S. Amateur champion has the third-most wins in WGC-Match Play history, behind Tiger Woods and Ian Poulter. Like Kisner, Kuchar boasts an absurd winning percentage (28-10-4, .714). He has one championship (2013), a runner-up (to Kisner in 2019) and a third-place finish (2011). His Ryder Cup and Presidents Cup records are more modest, but when it comes to the WGC, he's one of the greatest ever.
You could make a pretty good argument that all four of these guys would have been the toughest match-play outs in any group—top three, at the very least—and it worked out in such a way that they ended up together. Wild.
To back up the claim that it's the best group ever, though, requires some historical comparison. Dusting off the World Wide (Cob)Web(s), here is a best guess at the "Groups of Death" from the previous five Match Plays during in the pool-play era:
2015: Louis Oosthuizen, Bubba Watson, Miguel Angel Jimenez, Keegan Bradley
2016: Jason Day, Thongchai Jaidee, Graeme McDowell, Paul Casey
2017: Brooks Koepka, Kevin Kisner, Patrick Reed, Jason Dufner
2018: Ian Poulter, Tommy Fleetwood, Kevin Chappell, Daniel Berger
2019: Henrik Stenson, Jason Day, Phil Mickelson, Jim Furyk
If you went back and looked at each of the groups, you might quibble with one or two of my picks, but there's no arguing that any of them hold a candle to Group 2 in 2021. Some of them would be better as stroke-play groups, but in every case, there's a weak match-play golfer in the mix that diminishes the group.
With Thomas, Kisner, Kuchar and Oosthuizen, there is no weakness. It's an historically great group, and if the play in Austin can live up to their past achievements, we're in for three days of fireworks.