The Loop
The freewheeling Couples is hungry for his first win of the season
SAN FRANCISCO -- Fred Couples earned eight victories in his first three years on the Champions Tour, at least two a season. He has been shut out during 2013, but that could soon change.
With his second consecutive 65 at TPC Harding Park, Couples is 12 under and leading Peter Senior by two strokes through 36 holes at the Charles Schwab Cup Championship. (Bernhard Langer, who must win the tournament and have Kenny Perry finish out of the top five to overtake Perry in the season-long Schwab Cup points competition, is five strokes behind in fourth place after a 68. Perry is T-11.)
"It's my last chance, it's a big event," Couples said. "The top 30 players [are here] and I want to win, there's no doubt. I certainly am not playing better this week because I want to win. I wanted to win at Birmingham and Seattle and Chicago and Newport and everywhere else I finished second."
Couples -- who has been a runner-up four times in 2013 -- has piled up 15 birdies over two days, including six in a bogey-free round Friday on a glorious fall afternoon. He is making it look easy as he can do, his power allowing short approaches and his putter (only 53 putts through two rounds) capitalizing on them. He two-putted for a birdie on the 525-yard, par-5 ninth hole after a 4-iron second shot and hit a wedge into the 480-yard, par-4 12th hole.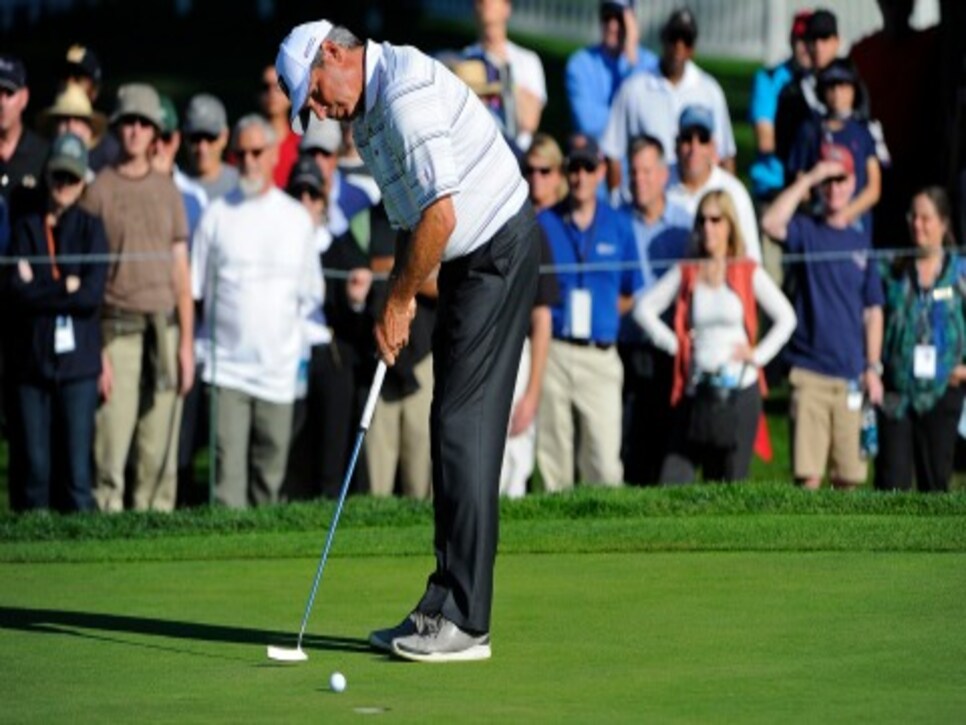 "We enjoy playing together," said Senior, who is looking for his first Champions Tour victory. "I think Freddie enjoys it more because he gets me about 70 yards off the tee. But he's a great guy and we get on pretty well together."
Like Corey Pavin, another control player, Senior has never known anything different.
"Corey Pavin and I talk about this a lot," Senior said. "He even said that he was getting out-hit by a girl 50 yards last week, so we sort of had a giggle about that. But something we've always done, we've put a score on the board. I've never been afraid of guys who hit it past me. If you put a score on the board, you're going to do pretty well."
Besides his length, Couples feels at home at Harding Park, a public (if now upscale) layout like Jefferson Park, the Seattle muny where he got his start in the game.
"The similarity is there's trees down the right and left, they gobble up balls and the greens are really small," Couples said. "Most courses in Seattle, the greens are teeny. I don't know, it's just nice. The cypress trees are spectacular."
Through 36 holes, the same could be said of his golf.