The Loop
The Eagles give the middle finger to America and the rest of the worst bad beats of the weekend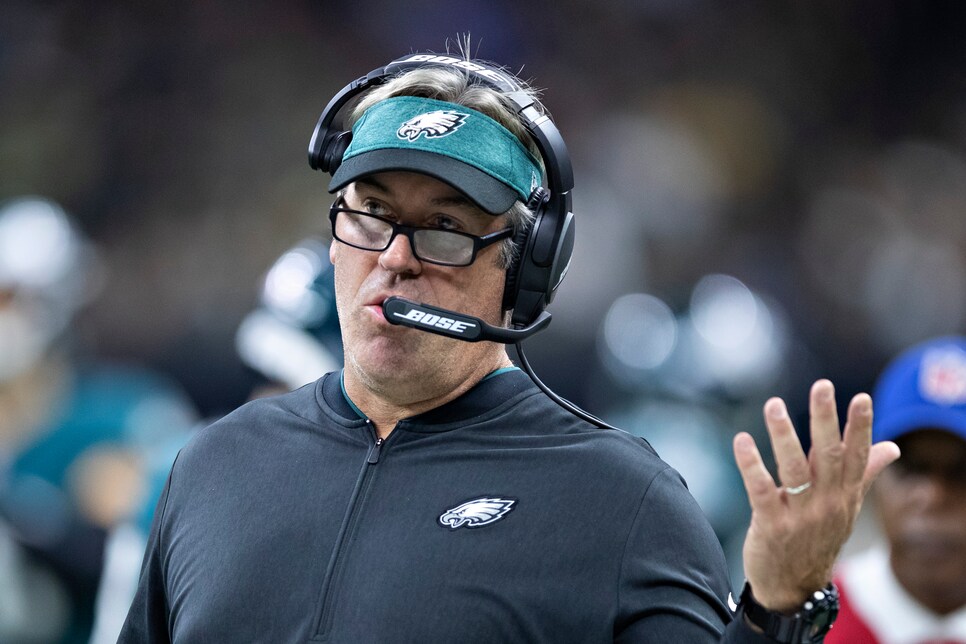 We've all had great gambling stretches when you felt like you were untouchable. "Vegas? LOL," you say. "I can't miss!" you declare. But deep down, we all know the reckoning is coming. The house always wins, right?
Like many of you, I embarked on another great weekend of football full of optimism, ready to attack both Saturday and Sunday with an enthusiasm unknown to mankind. Yet I had a sneaking suspicion, one that told me this was the week Vegas would return as rightful king. This suspicion proved correct, and that's all I have to say about that. Let's dive in to another sad weekend of bad beats.
Philadelphia Eagles @ New Orleans Saints Over 56.5
To all who bet this, I feel your pain. This was doomed from the start. In order for an over this high to hit, you need contributions from both teams, and when the score was 17-7 with nearly nine minutes left in the half, we looked well on our way! The shootout America wanted was happening, and even when New Orleans took a 24-7 lead into halftime, the expectation was that Philadelphia would still compete in the game, which meant more points, points, points.
Instead, the second half was an utter bloodbath, like many of the Saints' recent games have been. In a blink, Drew Brees & co. took a commanding 45-7 lead with 13 minutes to go in the game. Then, after turning Philly over on downs, the Saints looked poised for a 50 spot, reaching the Eagles' one-yard line on their next drive. But they couldn't punch it in, kicking field goal to go up 48-7. Would the Eagles show some freaking pride and score a garbage time touchdown? How about a big fat NOPE:

In case you're wondering why it says 48-9 there, that's because the Saints ran out of the back of the end zone after their final interception. I thought it was a safety too, but alas, it was not.
Final score: 48-7, New Orleans
NC State @ Louisville Over 66
Won't bore you with the details of a Louisville football game right now. All you need to know is down 52-10 with five minutes remaining, the Cardinals went on a 13-play, 95-yard drive and nearly picked up the garbage-time TD over bettors needed. Until they didn't:
Final score: 52-10, NC State
Miami @ Virginia Tech Over 52.5
Let's stick with overs in games between a pair of bad ACC teams. This game was 38-14 at the end of the third quarter, putting it right on the damn number at 52. ONE MORE POINT. I know that's not even possible in football, but over bettors would have taken anything. Safety? Sure! Field goal that hits both uprights and still goes in? Perfect! Anything ... anything at all ....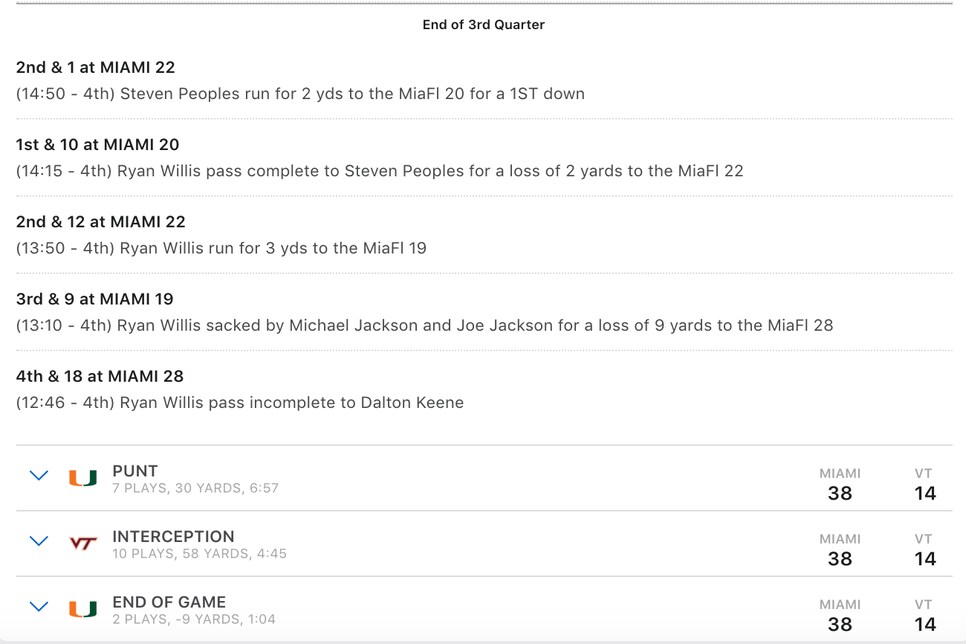 Final score: 38-14, Miami
Pittsburgh Steelers @ Jacksonville Jaguars (+4)
Betting on the Jags was a dicey proposition on Sunday given their play of late. Since a 31-12 home victory over the New York Jets, Jacksonville had lost five straight, going from Super Bowl contender to .. well, the same old Jaguars in the process. But after thumpings at the hands of the Kansas City Chiefs, Dallas Cowboys and Houston Texans, the Jags showed a bit of life in their last two games, nearly beating the defending Super Bowl champion Eagles in London and fumbling away a potential victory on the final possession in Indianapolis against the Colts.
Those last two weeks, plus the fact they had the Steelers' number, and the fact they were at home, made the Jaguars a tasty home underdog on Sunday. When they took a 16-0 lead with two minutes to go in the third quarter, it was LOCKED up. Key word "was":
To those who say "at least you still got a push," oh, how wrong can you be. When you have a 16-0 lead as a four-point underdog, a push is as good as a loss. Sickening stuff.
Final score: 20-16, Pittsburgh
Boston College (-3) @ Florida State
We're back in the average ACC! If you haven't realized by now to stop betting on any of these teams that aren't named Clemson, this is your final warning. Up 21-16 with less than three minutes to go, Boston College punted it to the Florida State 13-yard line, meaning the putrid Seminoles would have to go 87 yards to score a touchdown and cover the spread. As Shannon Sharpe says in a high-pitched voice to Skip Bayless in that hilarious viral video, "dat ain't no problem":
Final score: 22-21, Florida State