News
The clubs Michelle Wie used to win the HSBC Women's World Championship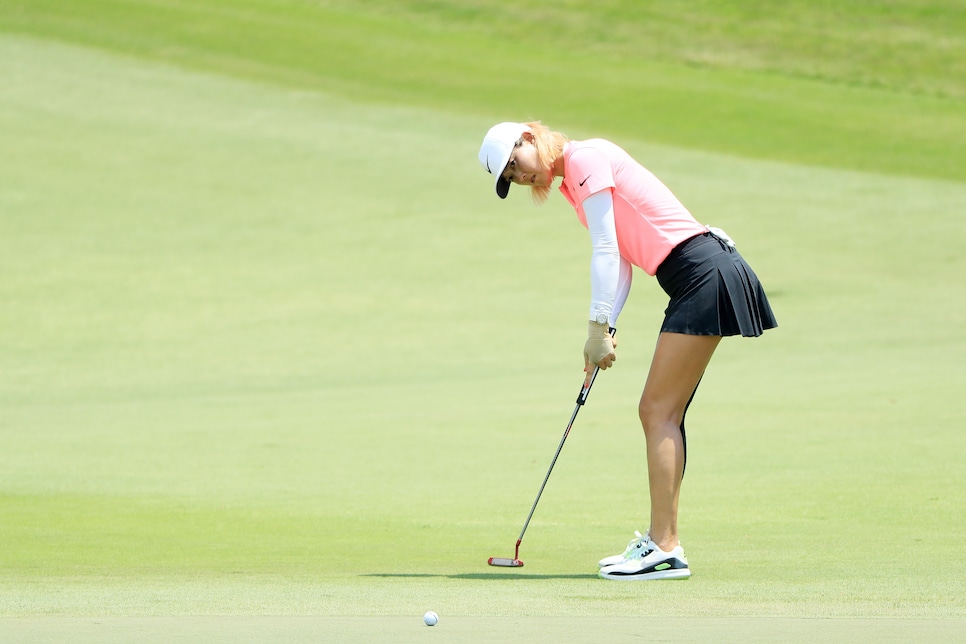 Michelle Wie's win at the HSBC Women's World Championship was certainly dramatic. Saying she knew she had to shoot low to even have a chance, Wie fired a 65, culminated by a 35-foot putt birdie putt from the fringe on the final hole that proved the difference in her first victory since the 2014 U.S. Women's Open.
That putt was made with a modified Odyssey O-Works #1 Wide Red, a somewhat oversize blade model. "There is no better feeling than when you sink that winning putt," Wie said. "It's a high, for sure. You go out there, and it's this feeling that gets you going. It's this feeling that makes you practice. It's that winning putt that makes you practice for hours and hours and hours. You know that good feeling is on the other side."
Wie, who signed an equipment deal with Callaway a little more than a year ago and is now No. 2 on the LPGA money list, used 14 Callaway/Odyssey clubs as well as the company's Chrome Soft X ball. Of particular note in her bag is the company's new Rogue driver at 10.5 degrees loft with a Mitsubishi Diamana X-flex shaft, in addition to carrying a 7- and 11-wood (a Great Big Bertha Epic model for the former and the Rogue for the latter). She starts her iron set with her 6-iron. Her trio of Mack Daddy 4 wedges have a Hawaiian theme with stampings and engravings.
Still, it was the putter that stole that show. "I'll for sure be replaying that [putt in my mind] a couple of times," said Wie, who now leads the LPGA Tour in putting average.
What Michelle Wie had in the bag at the HSBC Women's World Championship
Ball: Callaway Chrome Soft X Golf Ball
Driver: Callaway Rogue, 10.5 degrees
3-wood: Callaway GBB Epic, 15 degrees
5-wood: Callaway Rogue, 19 degrees
7-wood: Callaway GBB Epic, 21 degrees
11-wood: Callaway Rogue, 25 degrees
Irons (6-7): Callaway Rogue Pro; (8-PW): Callaway X Forged
Wedges: Callaway Mack Daddy 4 (52, 56, 60 degrees)
Putter: Odyssey O-Works Red #1 Wide
You are using an unsupported version of Internet Explorer. Please upgrade to Internet Explorer 11 or use a different web browser.