Instruction
The clever reason Jon Rahm times his practice sessions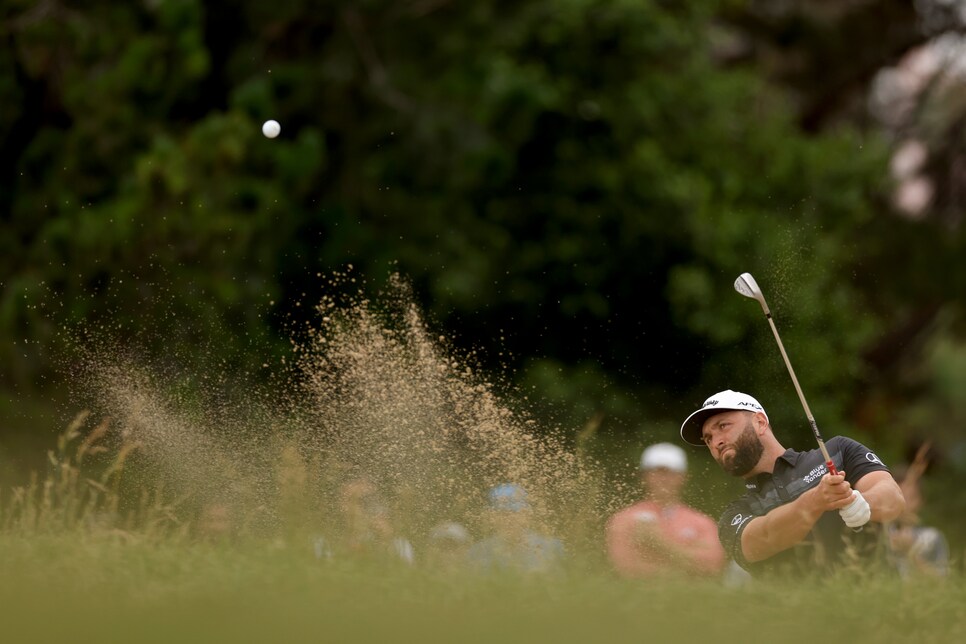 If you're finding that your practice sessions are losing their effectiveness, try taking a page from men's world No. 2, Jon Rahm, who has started timing himself to increase the productivity of his practice sessions.
During Tuesday's press conference at the Travelers Championship, Rahm explained that he doesn't always find common practice methods to be the most productive for his game.
Rahm says he doesn't feel like he can give 100 percent where there aren't stakes attached. He's competitive, as his Golf Digest Top 50 coach Dave Phillips said last week at the 2023 U.S. Open.
"We've gamified so much of his practice," says Rahm's coach and TPI co-founder Dave Phillips. "He's such a competitive guy. This is how he makes practice fun, and puts some pressure on himself."
To help boost his focus while working on different areas of his game, Rahm has started to time his drills and cap them, so he's forced to be mindful while practicing.
"I think it was basketball coach John Wooden who said he always liked to have an exact amount of time from start to finish so every player would give 100 percent instead of reserving energy, so a lot of those games that I have are timed," Rahm says.
Why (and how) Rahm times his practice
Rahm says he doesn't time his entire practice session. Typically, he picks two or three drills for each aspect of his game. Usually, each game or drill takes anywhere from eight to twenty minutes apiece, totaling the timed practice section to one or two hours. The length of each drill or game varies, but Rahm is strict about timing no matter how long he's on the clock—even if he's close to achieving the goal.
"Sometimes I get it done in the first few minutes, and it's done; sometimes I don't get it done," Rahm says.
This might sound like it's not as effective if he's not meeting his goal, but it's actually more beneficial for Rahm's game as timing drills creates pressure and mimics the feeling of playing in an event.
"If I don't get it done, I don't get it done, which is very similar to what we do in real life," Rahm says.
Not only is Rahm getting more out of his practice sessions, but he's also able to perform that much better under pressure when the time comes.
So how does he decide what drills are timed and what drills are not?
It comes down to the kind of work that he's doing. Sometimes Rahm's working on a drill or technique that requires repetition. For these, he doesn't restrict his practice time. But, during drills or games that require his complete concentration, Rahm says that when he implements the timer into his practice.
"It's just a way for me to put 100 percent of my attention and focus on getting something done in that moment," Rahm says.
So how can you use this in your regular practice sessions?
We'd suggest testing it out with simple games like: playing nine holes around the practice green, making 20 three-footers, or even a simple ladder drill (putting or chipping).
The big key here is sticking to the time you've allotted yourself. Give yourself anywhere from eight to 20 minutes a section, and stop yourself once you've achieved your goal or the time has run out.
It can be really tempting to continue after the buzzer, especially if you're close to reaching your goal, but it's important to be strict with yourself. Remember that Jon Rahm doesn't always accomplish his goals, and you're not always going to accomplish yours, and that's ok.
As Rahm says, "that's golf."