The Next One's Good
One course for the rest of your life? It's the best question you can ask a golfer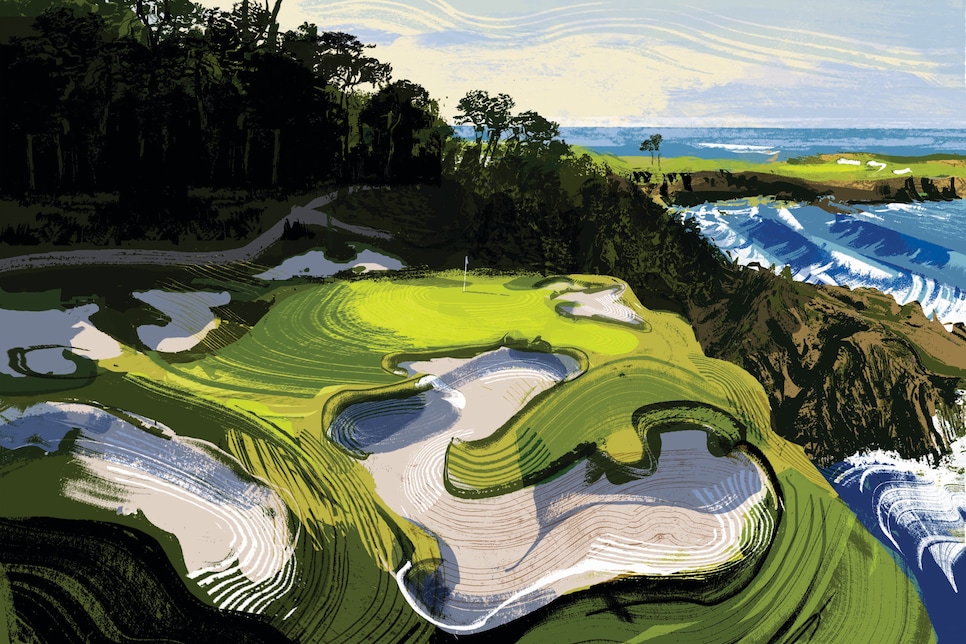 The awesome 15th at Cypress Point. Illustration by Andy Lovell.
The hardest golf course I ever played was Pine Valley—backward. The practice has been discontinued, but for many years, Pine Valley members used to gather on the Saturday after Thanksgiving and play the No. 1 course in the country not from tee to green, but from green to tee (or more precisely, to the previous green). For example, we used to tee up on the collar of the 18th green and play over hill and hazard to the 17th green—now that is a monstrous par 4! I've never wavered in believing that Pine Valley, frontward or backward, is America's greatest golf course, but it's not the answer to this question: If you could play only one course the rest of your life, which would it be?
Dave Anderson wrote a story for Golf Digest on this topic in 1983 in which he surveyed 50 of golf's cognoscenti, and the predominant answer was Cypress Point. I remember him telling me he called Ben Hogan's office in Fort Worth and left this question for the taciturn Hogan. A couple of days later, he received a call back from Claribel Kelly, Ben's secretary, who had once been his elementary school classmate. She said Mr. Hogan replied, "Seminole. Of all the courses I've played, I've enjoyed it the most."
Anderson, a Pulitzer Prize winner for The New York Times, asked if Mr. Hogan could explain why. There was a long pause on the other end of the phone until finally Claribel said, "Mistah An-duh-son, I think you should feel lucky you got what you got."
Both Ben and Dave are gone now, so I decided to ponder this question anew among some golf people I know. The richness of the responses underscored the sport's variegated appeal.
Tom Watson wrote, "The course I grew up on with my dad, brother, son and great friends: Kansas City Country Club. Whenever I play it, the memories are my most enjoyable caddie." PGA Tour commissioner Jay Monahan struck a similar chord: "Five generations of Monahans have played golf at Winchester (Mass.) Country Club, a phenomenal Donald Ross design. The memories from hundreds, probably thousands of rounds in every weather condition imaginable could easily sustain a lifetime." Renee Powell chose Clearview in Ohio, the first course in the United States built by an African American, her father, Bill.
Jack Nicklaus said he would go with geography—Muirfield Village when he's in Ohio and The Bear's Club in Florida—but if he only had one round to play, Pebble Beach. Tom Brokaw agreed: "I've only played it twice and given my very erratic game I need distractions. The setting, the sea, the cypress, the air—magical." My friend Sam Reeves said, "Pebble embraces the test of time; it's as relevant today as it was 100 years ago."
Royal Melbourne in Australia, Sand Hills in Nebraska and North Berwick in Scotland were all proposed. Juli Inkster picked Arnold Palmer's Tradition in La Quinta, Calif., because "the older you get, you want user-friendly." Judy Rankin called me to say Sunningdale Old in England because it's "such a nice walk," and there's the memory of a caddie named "Mullin." Ryder Cup captain Paul McGinley also went with the ambience of Sunningdale, where the Willie Park Jr. and Harry Colt design "can be played on the ground as well as in the air with not one green closed by a bunker or water hazard on the par 4s and 5s."
Minimal to no forced carries is a good architectural quality when playing "the rest of your life." There's a truism that golf gets more interesting the longer the ball spends on the ground.
As you get older, forward tees, generous fairways, not a lot of uphill, and just enough rough to give you a cushion under the ball get my vote. If I were to round out the ultimate experience, I'd also commend the smell of sea air and the sound of waves crashing; a place where money is bet, but not excessively; oversize shower heads; a small menu that includes homemade soup; no televisions in the clubhouse, and a sufficient number of pleasant members who are well read and conversational.
As I made my way around the game, despite all these good courses named, there seemed to be a consensus that I agreed with. Two "correct" answers emerged: Cypress Point (still) and The Old Course at St. Andrews.
Both the outgoing and incoming CEOs of the USGA, Mike Davis and Mike Whan, picked Cypress—was this a question on their employment test? Davis mentioned "the strategy, the firm turf and sheer fun"; Whan cited "the change of seasons that happen almost every day." It goes without saying, there's no more beautiful place in the world.
Mike Clayton, the Australian pro and architect, picked The Old Course: "Nothing really matches the variety of options, with so many faces or moods." Ben Crenshaw said playing it the rest of his life would give him a chance to learn the course, and "in the case of St. Andrews, you learn something new every time you play it." There should be a sign: "Golf began here." The R&A's chief executive, Martin Slumbers, naturally favored The Old Course, in a tie with his home club, Worplesdon in England ("a bouncy heathland course that makes you think about where to land the ball").
All these courses have a spiritual quality. It brings to mind a story Sam Reeves told me about the pro at Cypress Point, Jim Langley, who lost the use of one arm in a tragic car accident but played on, remained a beloved fixture at the club and, in quiet solitude, walked the course every afternoon for many years. As he made his way up the 14th, through the ancient cypress trees with their connecting roots, he would say a prayer for his absent friends. Then at 15, every day he would take a ball from his back pocket and toss it into Monterey Bay in remembrance of a caddie. Today, you'll notice there's a pipe sticking up at the end of the 15th tee where invariably rests a new golf ball. Passing golfers sometimes swipe the ball, but knowing members always replace it with a ball of their own—in memory of the old pro who played one course the rest of his life.