Genesis Scottish Open
The art of playing links courses is a mystery even to many tour pros, especially around the greens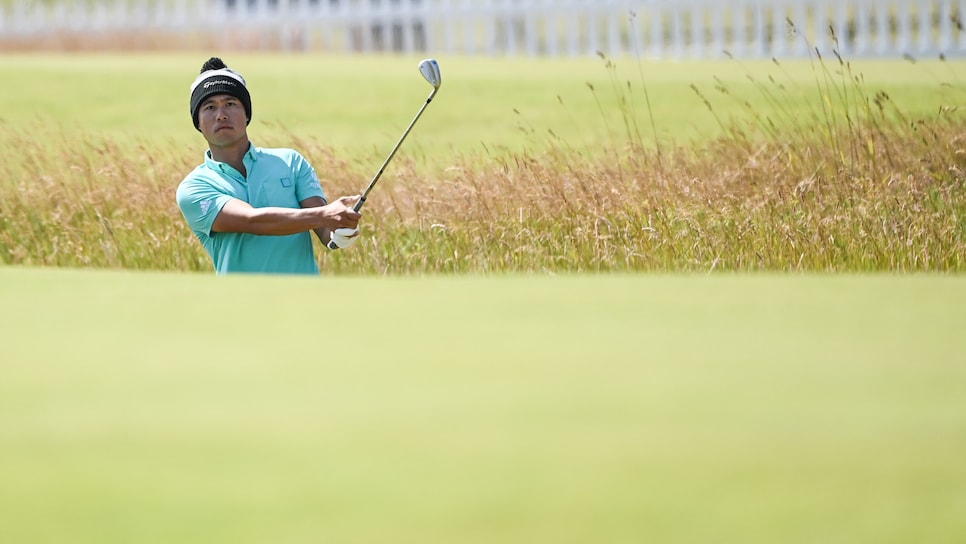 GULLANE, Scotland -- Perhaps the greatest thing about links golf at the professional level is the raft of questions asked of the participants. They're not necessarily harder than any other week on tour. But they are different. Which, at least initially, does make them more difficult.
There's plenty of evidence to that effect. Former European No.1 Ronan Rafferty is the "Global Ambassador" at the Renaissance Club, venue for this week's Genesis Scottish Open, and has spent the last few days shaking his head at some of the things he has seen, especially around the greens.
"It has been interesting to see the chip shots chosen by so many players," says the Northern Irishman, a Ryder Cup player in 1989 at The Belfry. "Typically, they go with loft, using their 60-degree wedges. But links golf is played on the ground. They are playing the wrong shot. I get that though. Ninety-eight percent of their golf is played on courses where that is the shot required. But it is odd that, when they come to Scotland, they don't seem to have any idea what shot to hit. That they are reluctant to even try the correct shot is even more puzzling. Links golf seems to have them scratching their heads."
So what exactly are we talking about here?
We're talking the (usually lower) flighting of balls in the wind. We're talking "seeing" shots bouncing and rolling rather than flying and stopping. We're talking feel and imagination rather than consulting yardage books. We're talking acceptance and adjustment on the greens, where left-to-right putts are prone to breaking right-to-left when the wind decides to gust. Patience is a big thing.
"Typically what happens first is that every player requests a new club,' says Mike Walker, who coaches U.S. Open champion, Matt Fitzpatrick. "Invariably that is some kind of driving iron to replace a 5-wood or a 7-wood. It might not be the most beautiful looking thing, but it is effective in a wind.
"On the range there are a lot of knock-down shots getting hit," continues Walker. "Putting the ball back in the stance is just one element of that though. The major problem is that, having moved the ball back, players tend to lose the synchronization that makes their swings work so well. They either get a bit narrow and steep on the way down, or they do the opposite and create too much spin and therefore height. That can bring in directional errors too."
When it comes to driving, Walker is one who doesn't see the need for too many changes. He subscribes to the Tom Watson theory. The five-time Open champion always claimed that all he tried to do when playing in a strong wind was hit the ball solidly.
"But that's just one way to do it," says Walker. "Some players like to hit knuckle balls. Matt is one of those. He used to have four different tee shots, depending on the condition and circumstances. There was a 'stock,' a 'second serve' (when he didn't want to hit a 3-wood, but wanted to hit it 3-wood distance), a 'bomb' when he needed a big carry and a 'bullet' for into the wind."
When it comes to chipping, Walker acknowledges Rafferty's point regarding choice of shot. But there is at least one mitigating factor.
"The leading players play most of their golf in the States," says Walker. "So they don't hit many chip-and-runs. It used to be that players were taught to vary the loft on the club depending on the shot required. You can do that by changing the club, of course. And there is still an argument for doing that. But, as Ronan says, many guys simply pull out their 60-degree wedge. Which can be fine too. At least it is consistent.
"Still, it's difficult to hit high shots from the tight lies you get on a links," he continues. "So there is a premium on your low point of the swing. Then your imagination comes into it. You have to use the topography to get the ball to the hole, rather than just flying it up there. If you have a good chipping action, you will have good control of your low point. In turn, that gives you good strike, initial direction and flight. All of which is more difficult to achieve this week because of the tightness of the turf."
When it comes to putting, the biggest adjustment for tour players is the speed of the greens. Because of the ever-present danger that is high winds, links putting surfaces have to be slower than those you'd see elsewhere on tour. This week, according to putting guru, Phil Kenyon, the greens at Renaissance are running at "no more than nine on the Stimpmeter."
"Monday and Tuesday I spent a lot of time with players getting used to the speed," reveals Walker. "The big thing about speed is that, when you add slope either downhill or uphill, it has a profound impact on the putt. Uphill into the wind are so slow, or feel so slow it is hard to convince yourself to hit the ball hard enough. How slow the ball decelerates takes a bit of getting used to. Visually, that's a lot to take in. So your feel and instinct have to adapt. Which comes from the pictures you see in your head and how you respond to those.
"When you slow greens down you bring the field closer together," he continues. "Faster greens tend to be better conditioned. On slower greens luck becomes more or a factor. Putting is more random. And the more skilled putter has fewer opportunities to show off that skill. Conditioning as much as speed is a factor on links greens. Not only are they slower, they are less true. So putting is a bit more random."
It is true, however, that certain types of strokes find it harder to adapt to links conditions than others. A longer, languid stroke is likely to find it harder to adapt to slower greens. Especially if it's windy. It's almost like a full swing in that a punchier action is advantageous. Higher-tempo strokes that are more compact have a definite edge on links greens.
"A lot of feel and instinct is also required," says Kenyon. "And you have to be patient. I was talking to a player this week about putting in the wind. He wanted to know what he needed to do differently. Some guys widen their stances. But that doesn't really make much difference. It's a mental challenge more than a physical challenge. You need a lot of patience and commitment. Things can get in your head as you struggle to adapt."
It can be done though. One year ago, Collin Morikawa finished a lowly T-71 in the Scottish Open. But one week later at Royal St. George's he was Open champion.
"Collin had a terrible time here last year," says Rafferty. "He was duffing and thinning chips. Until someone pointed out he had, for links golf, the wrong bounce on his wedges. Then a week later he won the Open, thanking Renaissance for teaching him how to hit chip shots. Which was nice of him. But he just needed a lot less bounce on his wedges. The firmer a course is, the lower you want the bounce to be. He figured that out and never looked back."