SCOTTISH OPEN
Scottish Open provides examples aplenty of links golf at its best and most confounding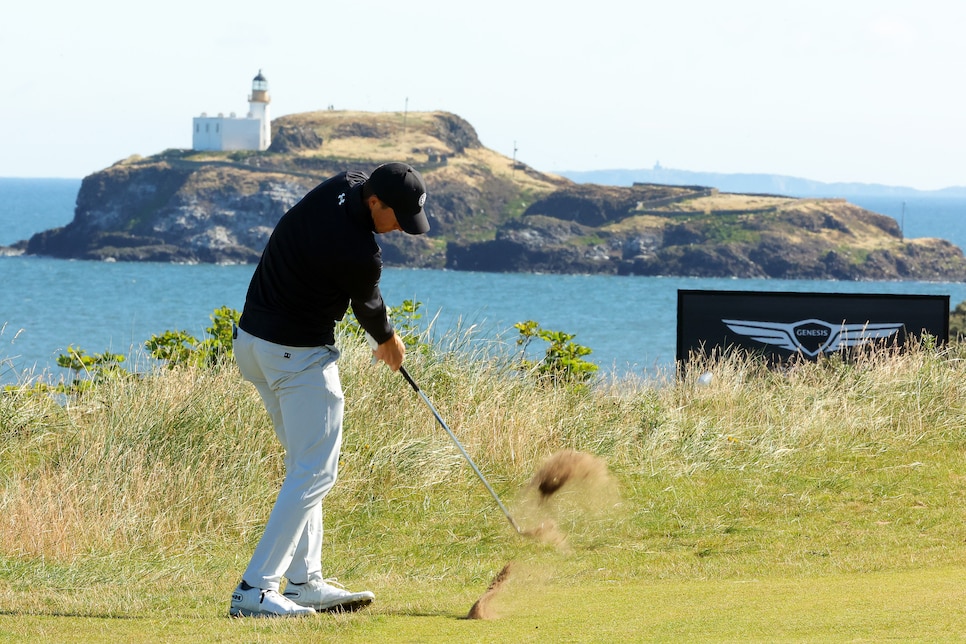 Jordan Spieth plays his second shot on the 10th during the first round at the Genesis Scottish Open.
Kevin C. Cox
GULLANE, Scotland — Everyone says so. So it must be true, or at least the correct thing to say when conversation turns to the many intricacies and nuances of golf by the seaside. By nearly unanimous acclaim, links golf is superior to every other form of the game Scotland long ago passed on to the world. It's more interesting. It's more thought-provoking. It's more entertaining. It's just better.
But we need examples to back up such extravagant claims. This week's Scottish Open is being played at the Renaissance Club in East Lothian, a course surrounded by famous links. Muirfield is next door. Gullane is just down the road, as is Luffness, Kilspindie and Longniddry. North Berwick is less than five miles away in the other direction, with Dunbar a little farther down the North Sea coast.
Those courses vary in standard and length, but they share one thing in common: especially in a wind, they all demand thinking and strategy that goes outside the relatively one-dimensional stuff that is professional golf around the globe. And the opening round at Renaissance was no different. A variety of players found themselves hitting a variety of shots with a variety of clubs and to a variety of distances.
"Today the par-3 sixth hole was playing 137 yards," says Luke Donald, who shot a level-par 70. "I stood there thinking I could hit a 7-iron, which for me is a 175-yard club. The wind wasn't blowing that hard, but it was enough to make me pause. It always makes me smile to think of Americans coming here for the first time. They will be scratching their heads thinking they don't really know what to do in certain situations."
Not just Americans. Russell Knox is a Florida resident these days. But he grew up in Inverness in the Scottish Highlands and played much of his golf at Nairn Dunbar on the southern shore of the Moray Firth.
"The short sixth today was great fun, even if I made a mess of it and made bogey," says Knox, who shot 68. "I could have hit just about any club off the tee. I could have run a 5-iron in there or hit a full 8-iron. Which is what I would have done in the States. But faced with that shot growing up I wouldn't have looked at the yardage. It would have been all about feel. I'd have stood on the tee and imagined the shot. But as a pro it's different. I'm so into yardages I forget how to play. Sometimes, you just have to really switch off and go with what feels right."
As you'd expect from an Open champion, Jordan Spieth knows a thing or two about links golf. But even he is always learning.
"I think you can throw pins out more than yardages," says the Champion Golfer of 2016, who opened with a 68. "Sometimes you have to realize that hitting to 40-feet is actually a good result. And today I can think or two or three shots where, with hindsight, I would play a totally different shot. I like that aspect of links golf. And that's the kind of stuff I'm trying to gain from this week. If I hadn't played some links golf in Ireland last week, I had a couple of shots today that I might have messed up. I would have played different shots and been worse off. That experience and knowledge helped me for this week."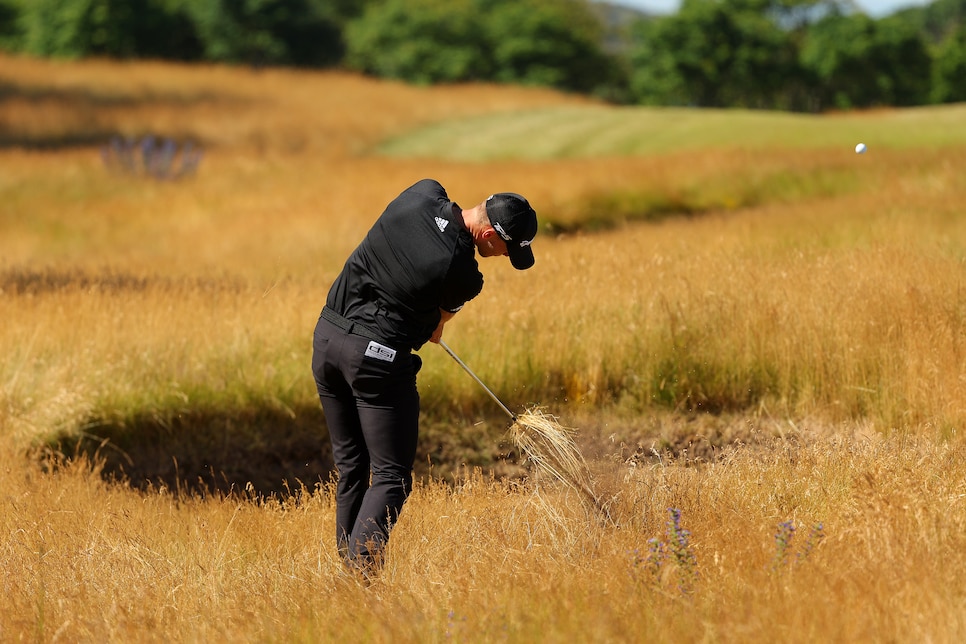 Nicolai Hojgaard plays a shot on the 16th during Round 1 of the Genesis Scottish Open at the Renaissance Club.
Kevin C. Cox
Happily, the joys of links golf are not lost on the younger generation. Exactly how Nicolai Hojgaard had to go about achieving his round of 67 was clearly relished by the 21-year-old Dane, who next week at St. Andrews will play in his second Open Championship.
"I had to think differently on a few shots today," he said with a smile that was only slightly dampened by hearing that his identical twin brother, Rasmus, had nipped him by a shot. "On the third, a par 5, I played the hole in a way I never would on a non-links. After my drive I was hitting a 4-iron approach from 260-meters [285 yards] and trying to roll the ball onto the green. I ended up on the front edge which was all I could hope for in that situation. Revising expectations is something you have to learn on a links.
"It was windy today and you had to avoid the bunkers," he continued. "So sometimes the semi-rough was a good place to be. Sometimes you want to drive into the rough. That can give you a little jump on the second shot. You just have to think creatively. You have to create the feel and go with what seems right at that moment. It's fun. And it's a great test."
Yes, it is, all of the above, as Donald confirmed during an eve of the championship walk around the inward half at Renaissance.
"Today it wasn't quite blowing hard enough to provoke too much confusion," says the former World No. 1. "But yesterday I walked the back-nine and bumped into Scottie Scheffler. He told me hit a 6-iron, a 5-iron and a 4-iron to the 14th green. And came up short with them all."
Links golf at its best then. And its most confounding, of course.